Feature Overview
After creating an event in Feishu Calendar, you can invite others by sending an invitation. In addition, when someone invites you to an event, you can view the schedule in the calendar and respond to the invitation directly from the event card. Starting from V3.8, you can even leave a message for the event organizer.
Procedures
I. Send an event invitation
1. Invite
contacts or groups to your event
Open Calendar, click the + at the bottom right corner to create an event, fill out the event details, such as title and time, and search for the contacts or group you want to invite.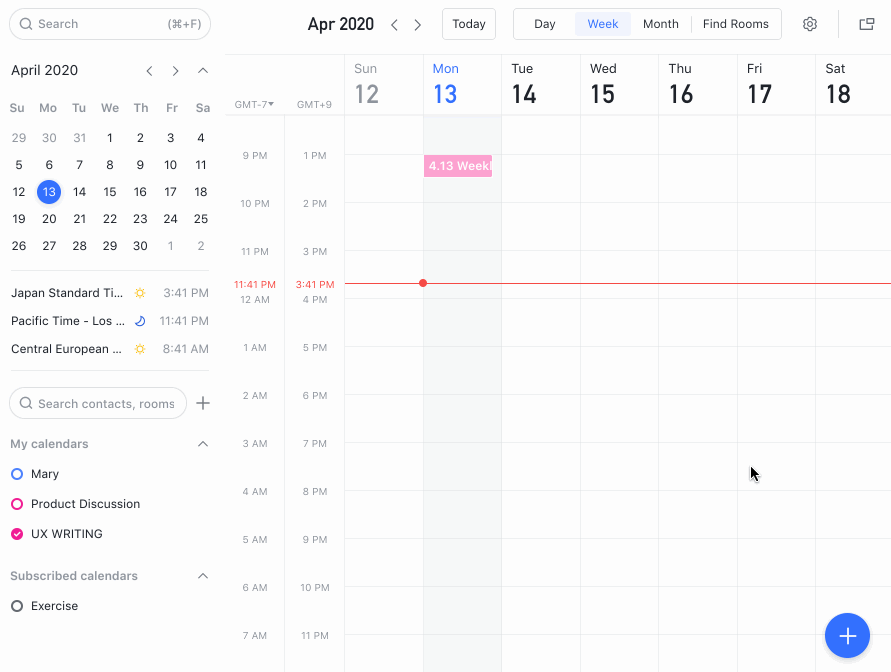 Note: After adding guests, you can see their availability on the right. If there is no availability information on the right, click the eye icon.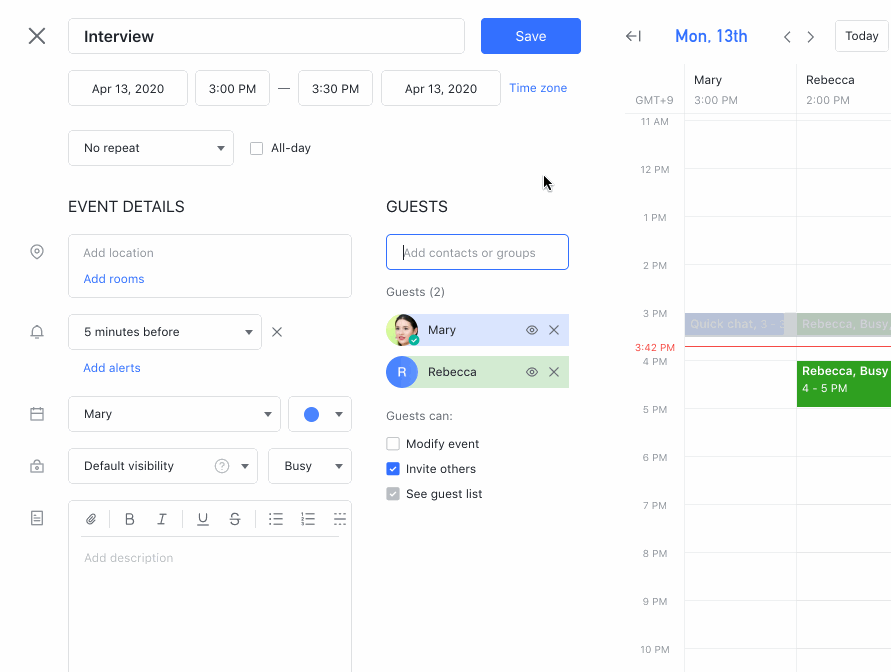 After finishing editing the event, click Save. A pop-up window will ask you if you would like to send an invitation to guests.
If you choose Send, guests will receive an invitation message from Calendar Assistant.
If you choose Don't send, guests can find the invitation in their calendar.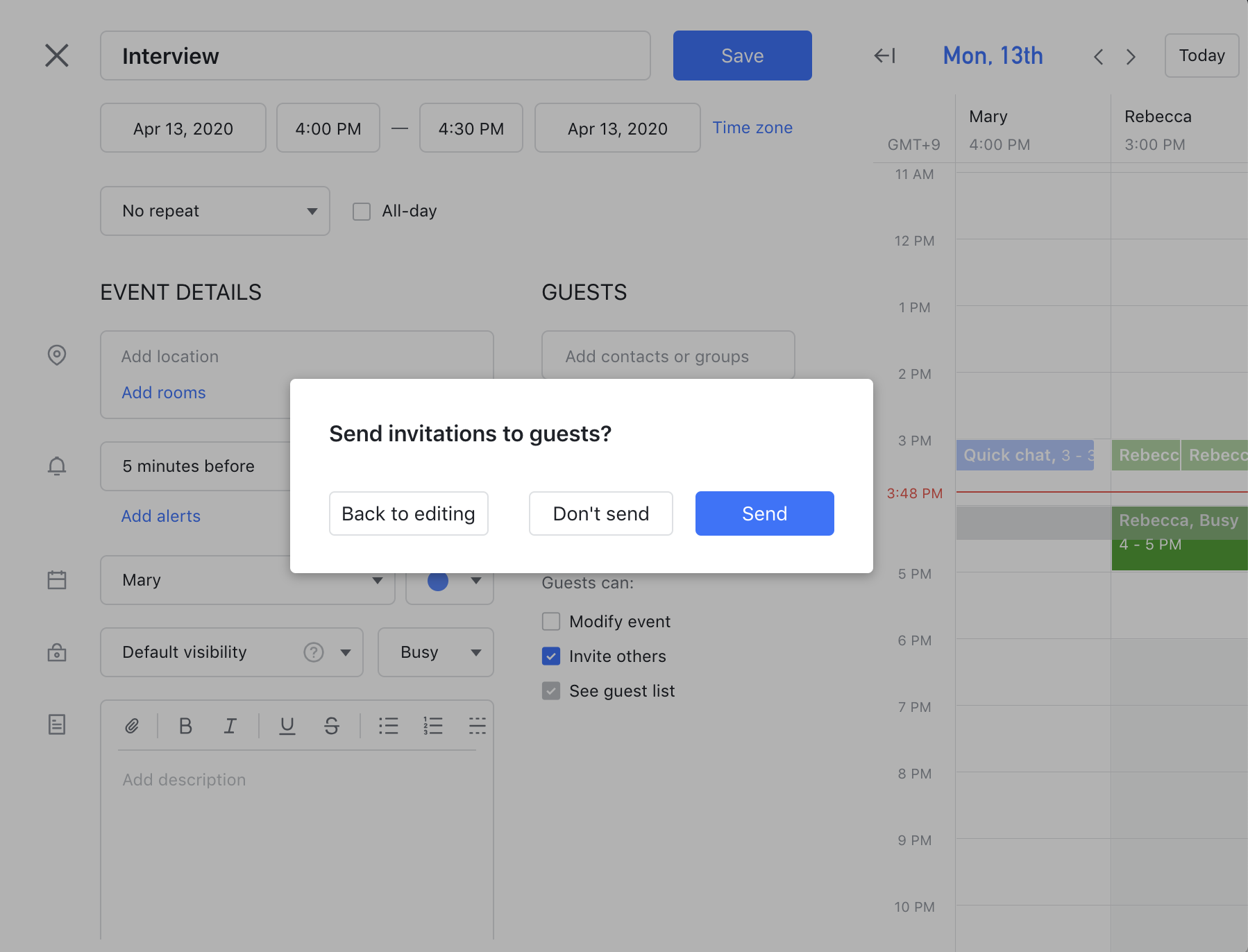 2. Mark guests as optional participant
To mark a guest as an optional participant, hover over the guest's name and click the person icon.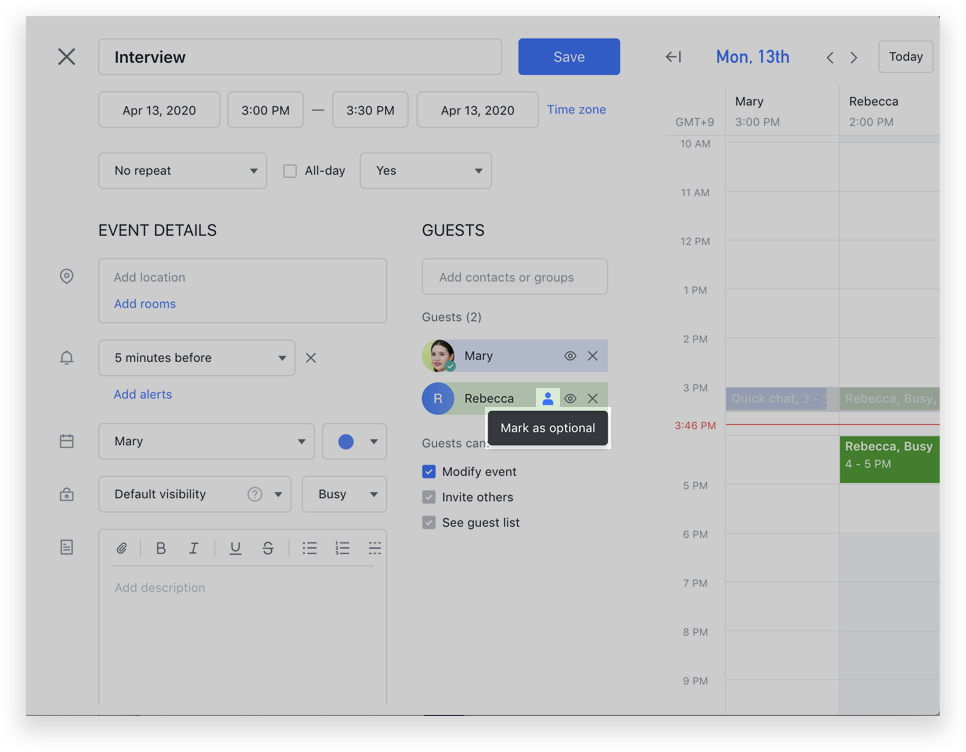 3. Set event permission
If you don't want guests to invite other people, uncheck Invite others. In addition, you can set other permissions for participants, such as permissions to modify this event.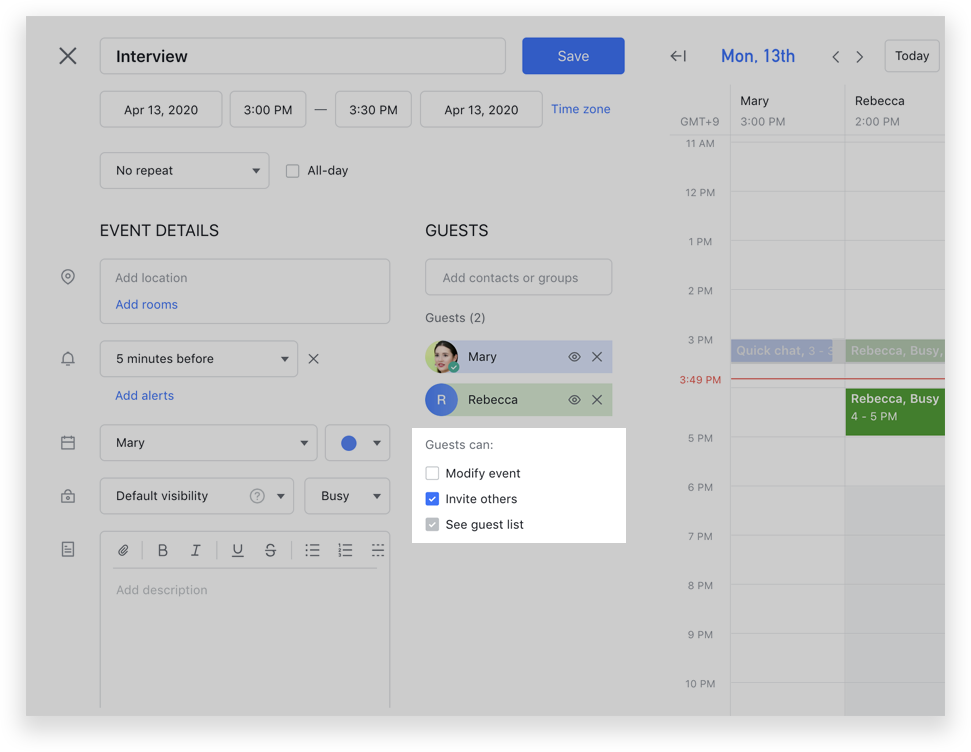 4. Check guests' RSVP status
To see who has responded to your event, click the event on your calendar to view RSVP status.
To find out who has declined your invitation, switch on Notify me of any declined invitation in calendar settings. Whenever someone declines your invitation, you will receive a message from Calendar Assistant.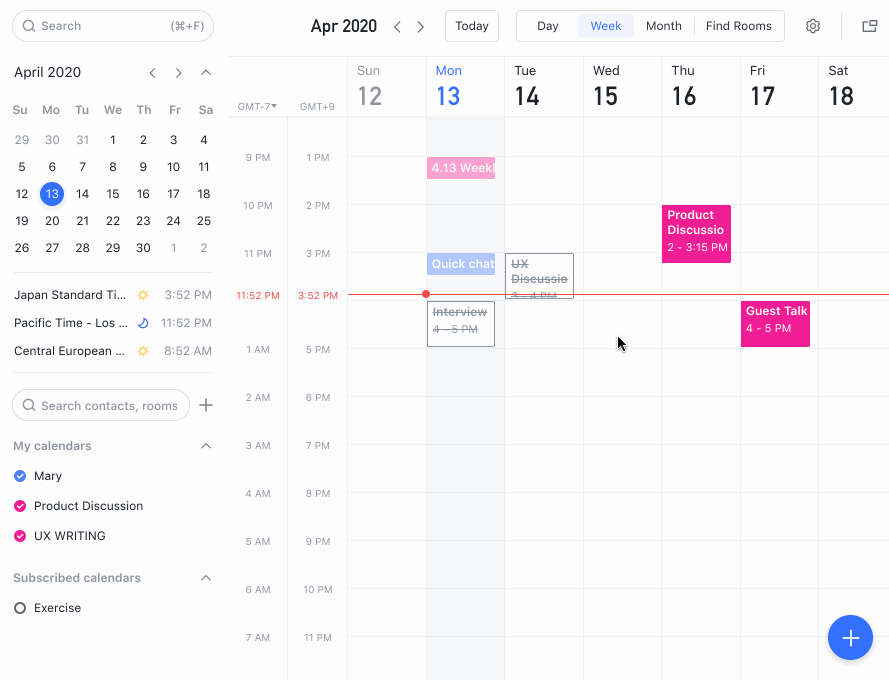 II. Respond to an event invitation
1. Choose status to respond
While viewing the details of an event, you can notify the organizer of your participation status by clicking Yes, No, or Maybe.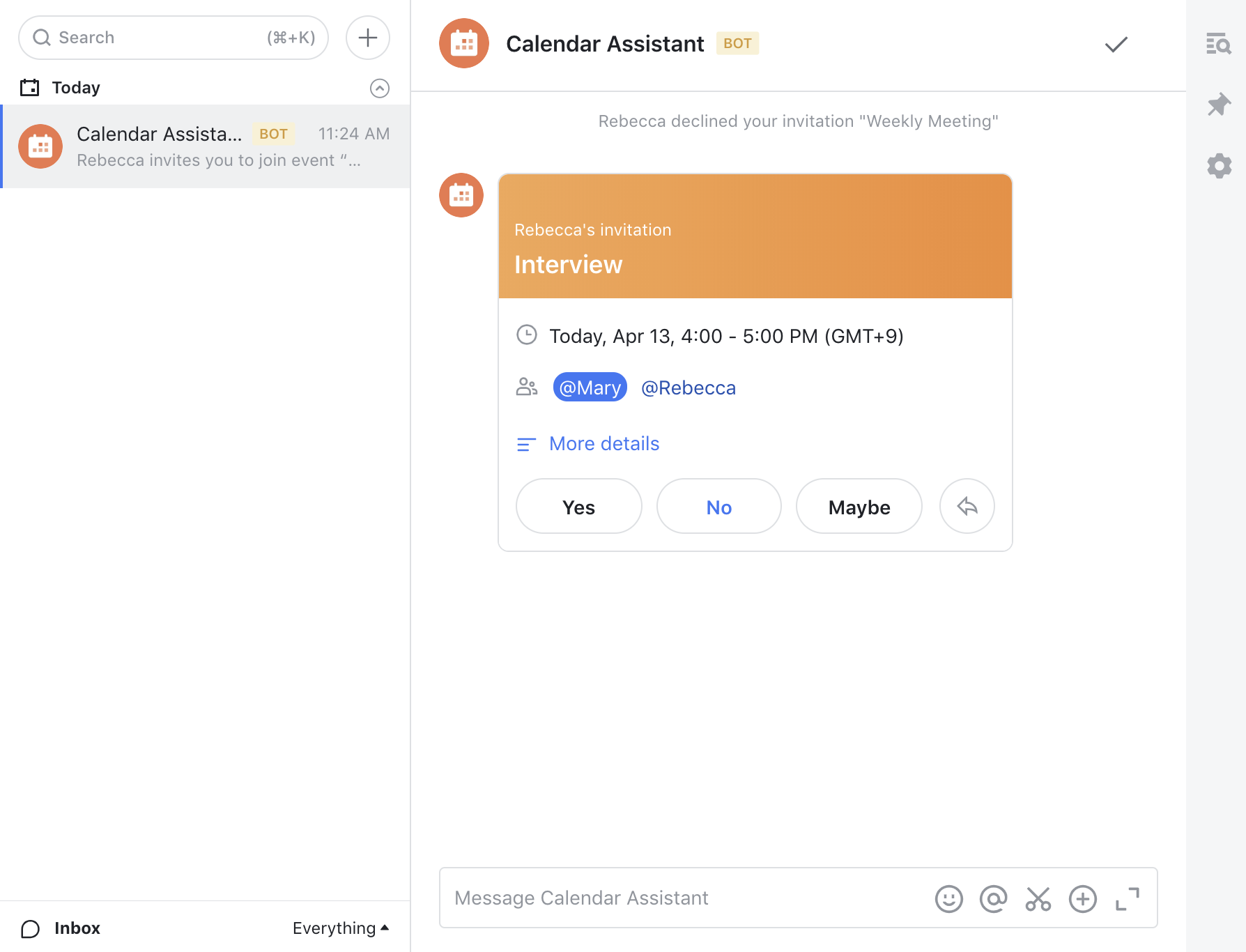 2. Leave a message for the organizer
Click on the leftwards arrow next to Maybe at the bottom of the event card, and type your message in the box. 
Press Enter, and a chat between you and the organizer will automatically open, displaying both the RSVP card and your message.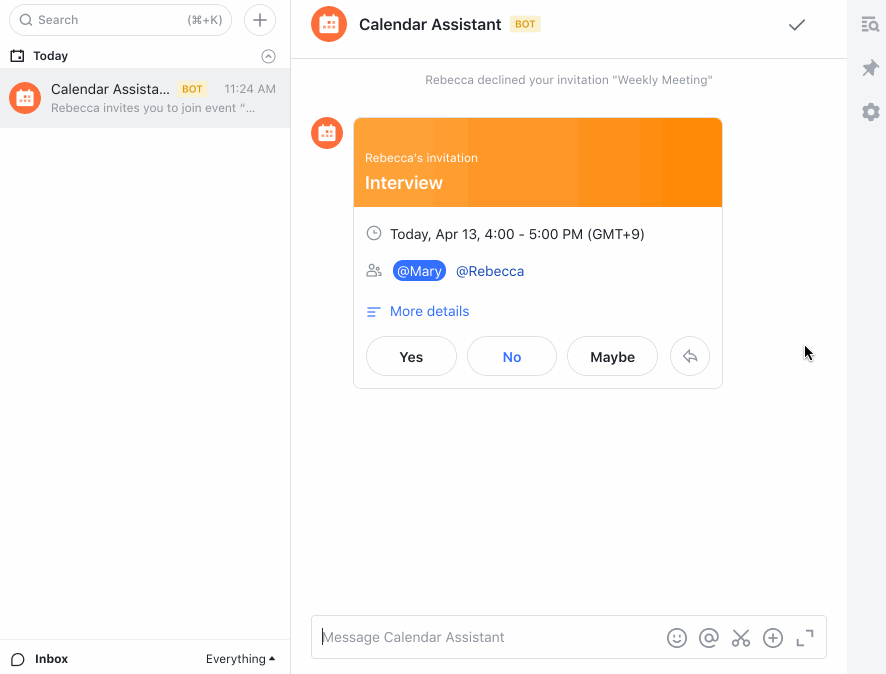 👏 Congratulations! You now know how to send and respond to an event invitation.
💗 If you want to know more about Calendar, click here.
💗 If this article doesn't answer your questions, you can go to Profile photo - Contact Support and talk to our human agents.