Always One, Always Agile
Feishu creates highly productive collaboration experiences by combining a wide variety of interactive features in one suite to improve team efficiency.
Our features
Quick response with reaction emojis
You can quickly respond to a single message with reaction emojis to avoid creating unnecessary notifications.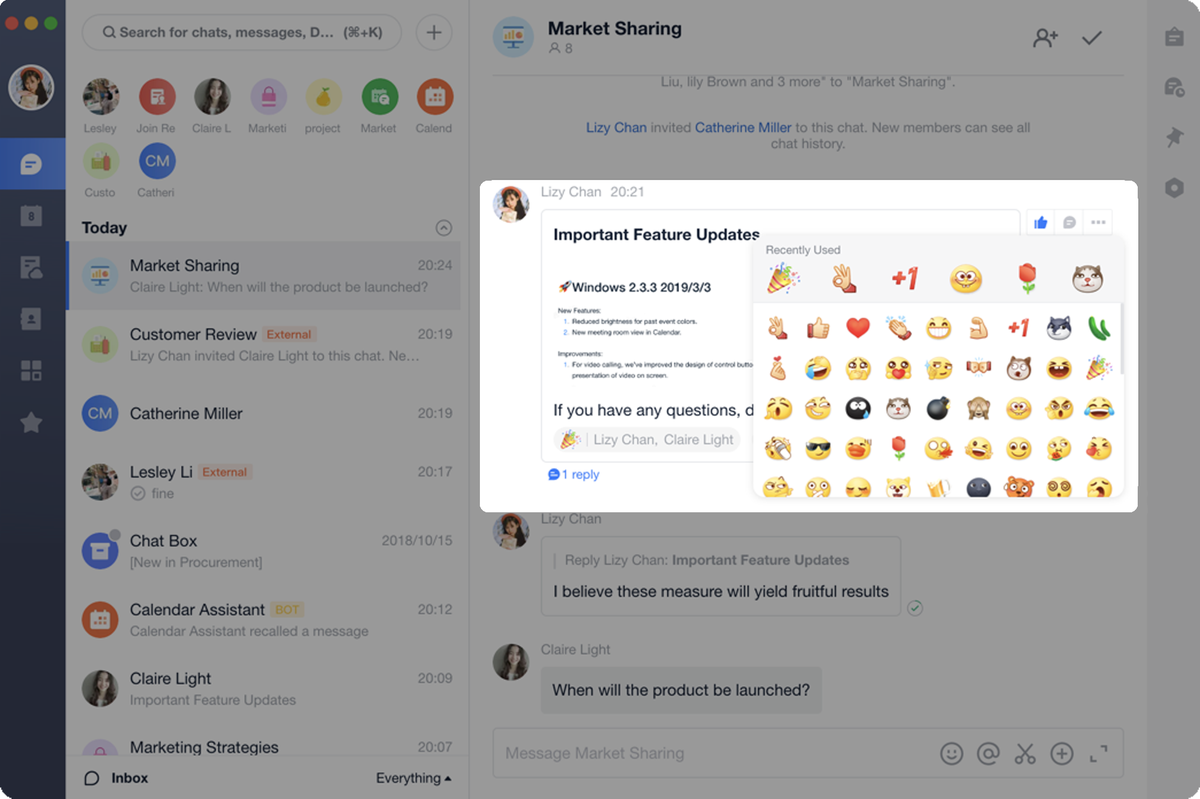 Clear group chats with efficient thread tracking
Feishu supports targeted replies in groups that link relevant discussions together to provide clear context, regardless of the number of messages.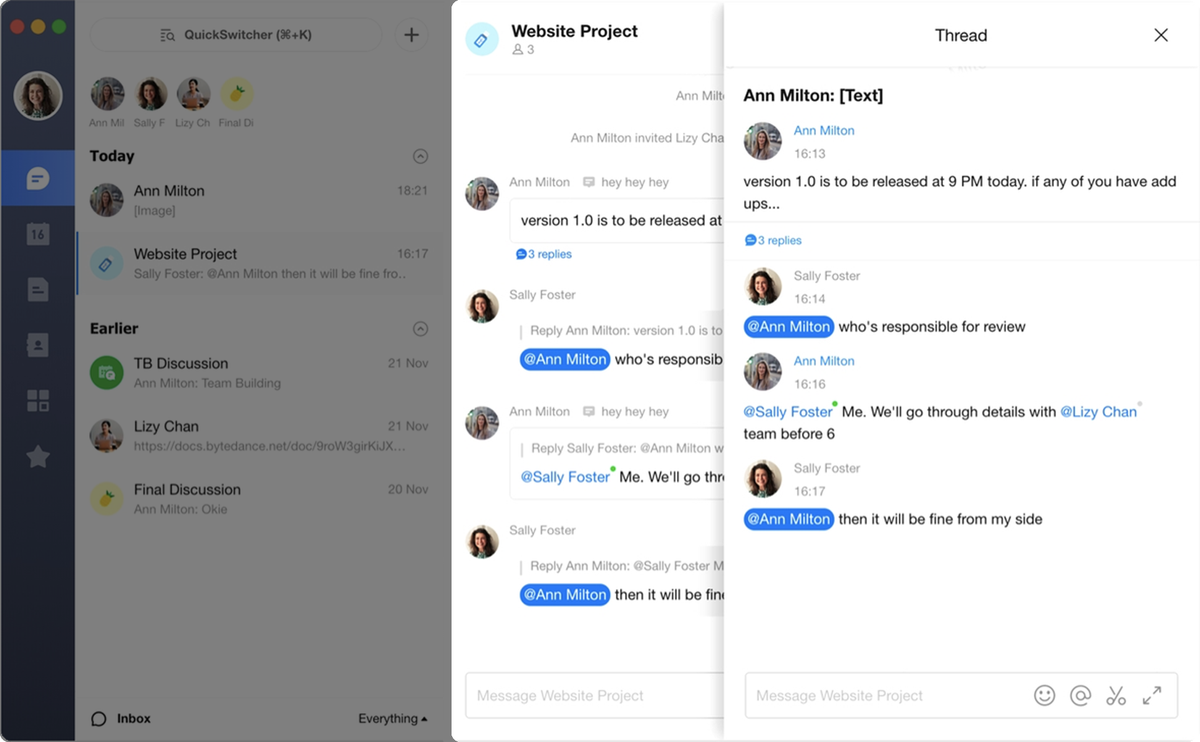 Rich text messages available
Feishu supports rich text messages that contain a title, images and text to assist clear descriptions of complex topics.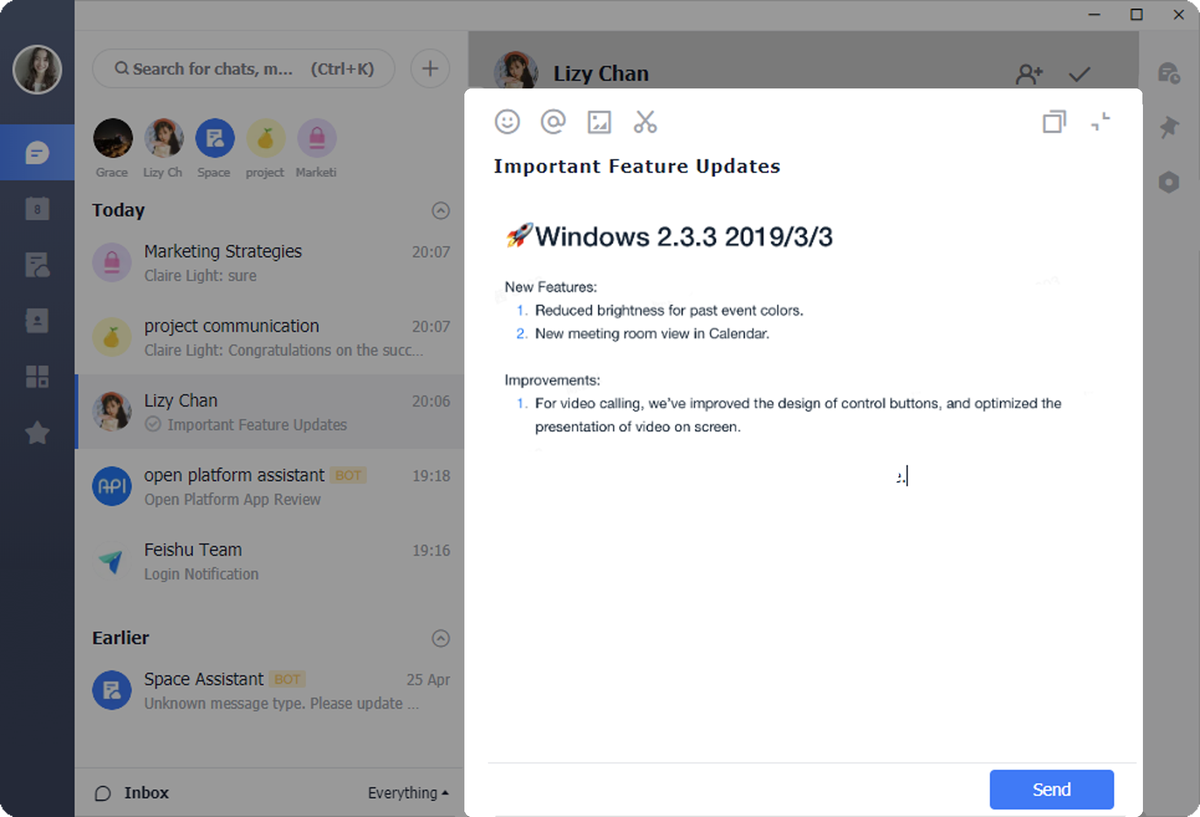 Pin multiple chats to the "QuickSwitcher"
This special design allows you to save important and frequently-used chats. Pinned chats highlight important conversations and occupy very little space on the screen. Even more than a dozen of pinned chats will still only occupy a minimal space.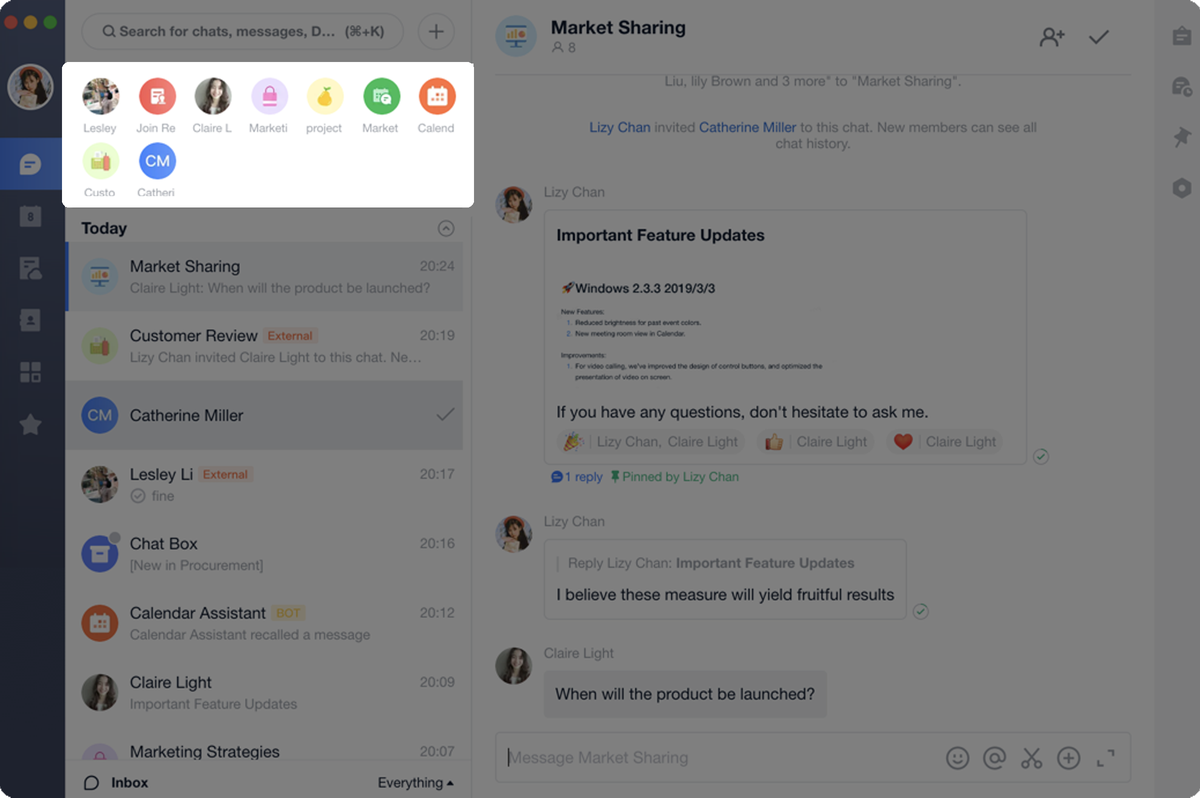 Pin messages in chats
Important messages, such as announcements, deadlines, or anything else that matters, can be pinned in chats as a reminder for future reference.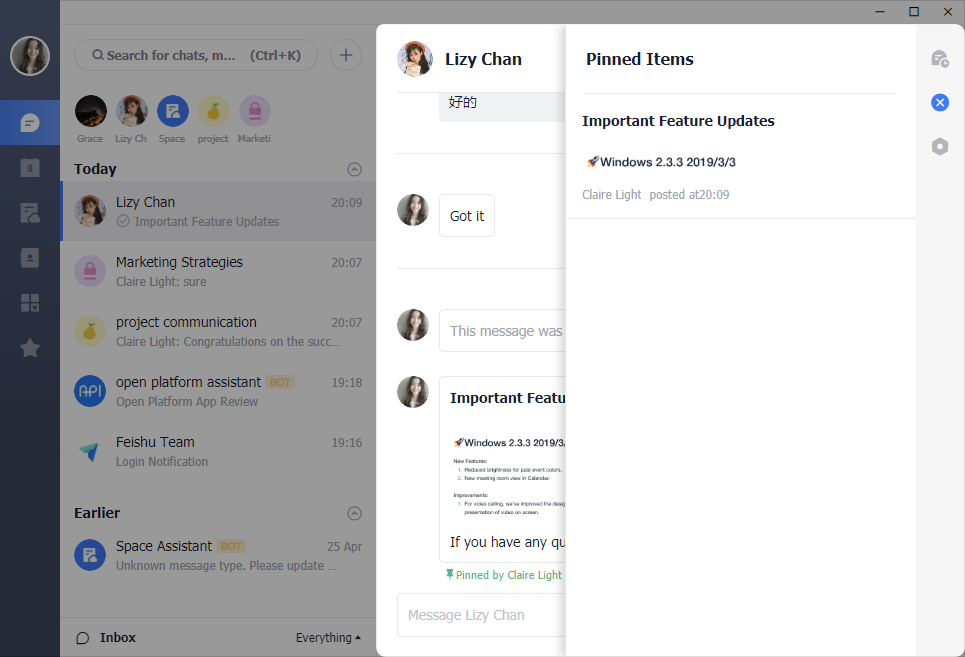 Chat Box
Are the chat's messages bothering you? Move to Chat Box allows you to no longer to be notified of unread messages in this chat.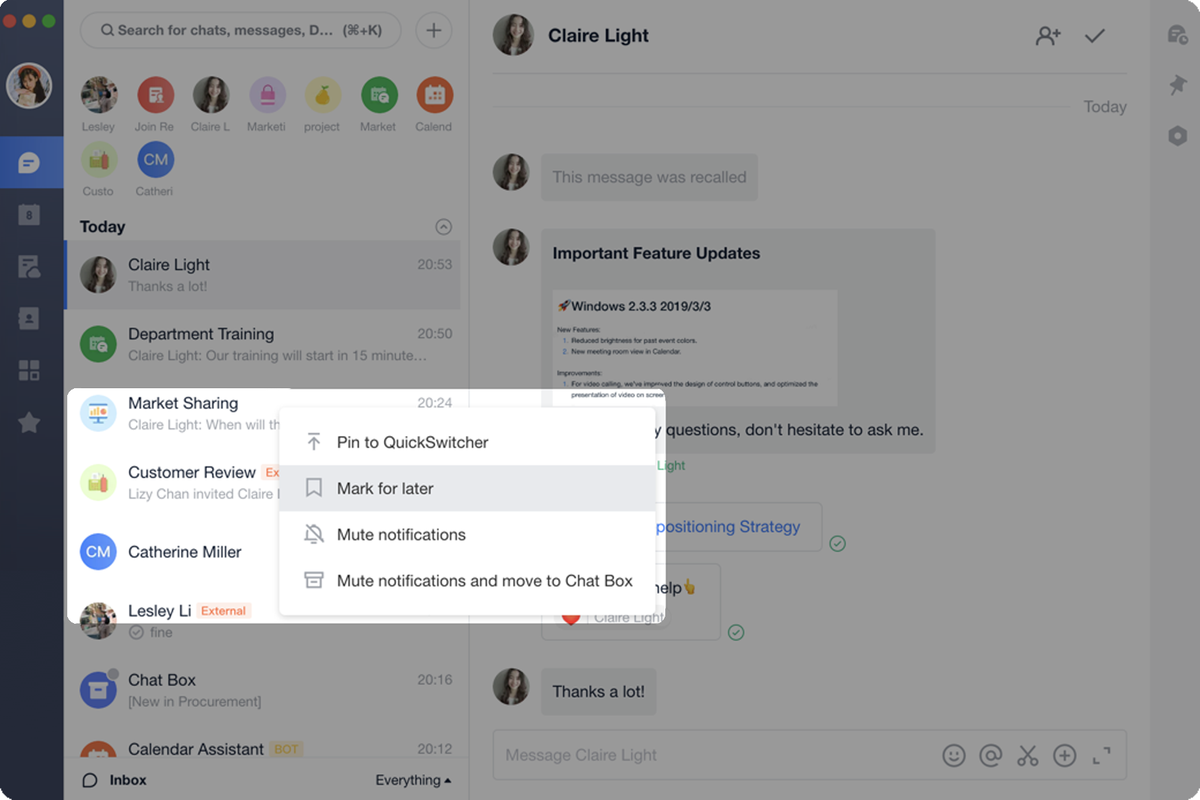 Secure and convenient permission management
There's no need to log in to multiple applications. Your Feishu account provides access to everything. Permission authorization can be set automatically with no security concerns. You can also mention Feishu contacts in documents with "@[name]" to send notifications. Mentioned users can edit documents or reply to comments without opening another web page.
Flexible insertions
Feishu makes things happen! You can insert web pages, documents, sheets, images, group chats, or even a poll into a document. Invite people to join a group or cast a vote right on a single document.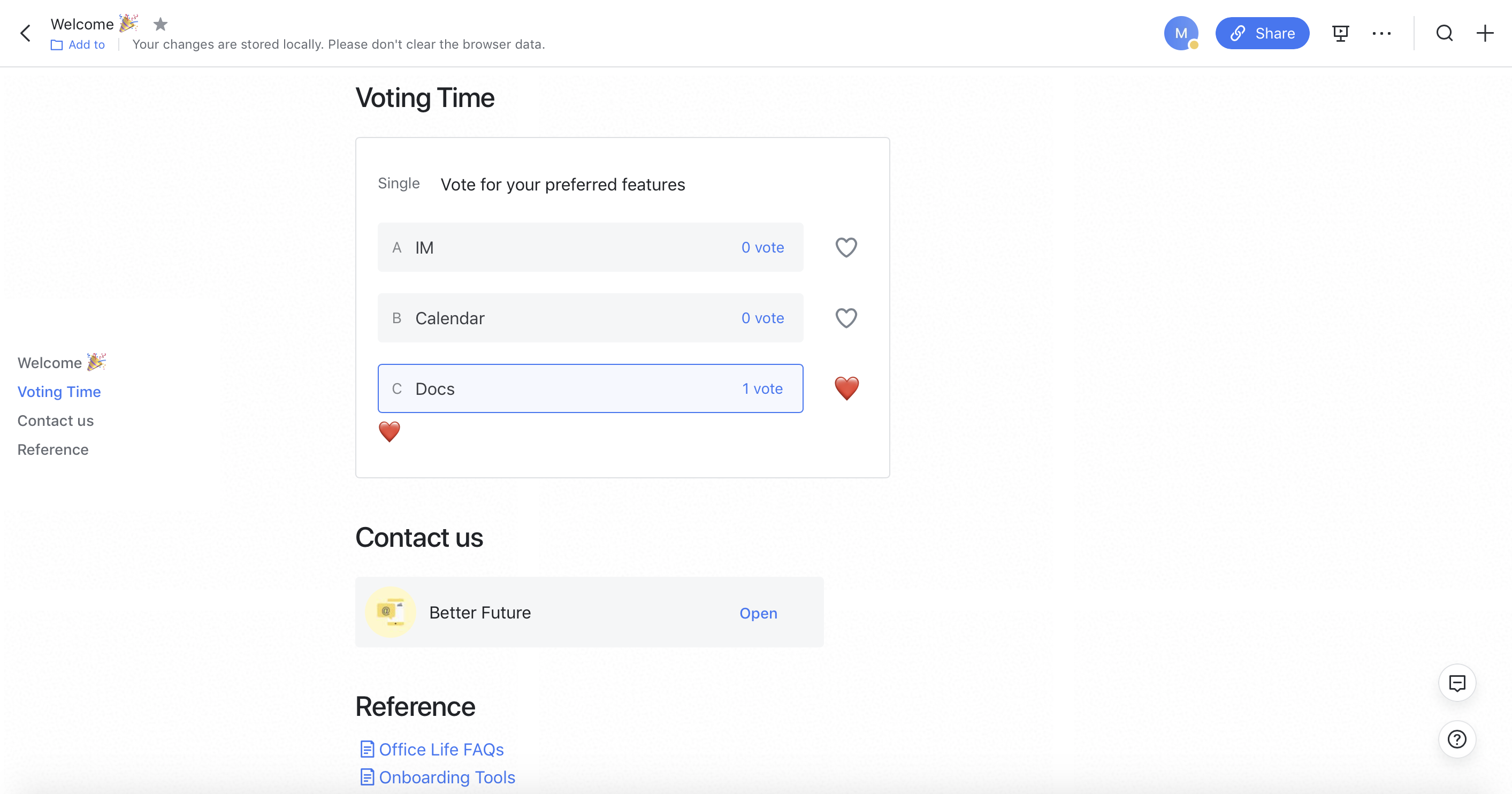 Docs for secure content storage and sharing
Feishu supports high-speed uploads, downloads, and preview of multi-format files. In addition to content creation, you can enjoy secure and efficient content management with cross-platform synchronization.
| | |
| --- | --- |
| File formats supported in preview | Detailed types |
| Document | doc, docx, txt |
| Excel | xls, xlsx |
| Presentation | ppt |
| Image | png, jpg, jpeg, gif, ico, bmp, svg, webp, sketch |
| Desktop publishing | pdf |
| Video | mp4, mov, ogv, webm |
| Audio | mp3, aac, ogg, wav, flac |
| Code Documentation | C, JSON, JAVA |
Collaborative
 Calendar for better planning
Subscribe to individual or group calendars and know everyone's availability instantly.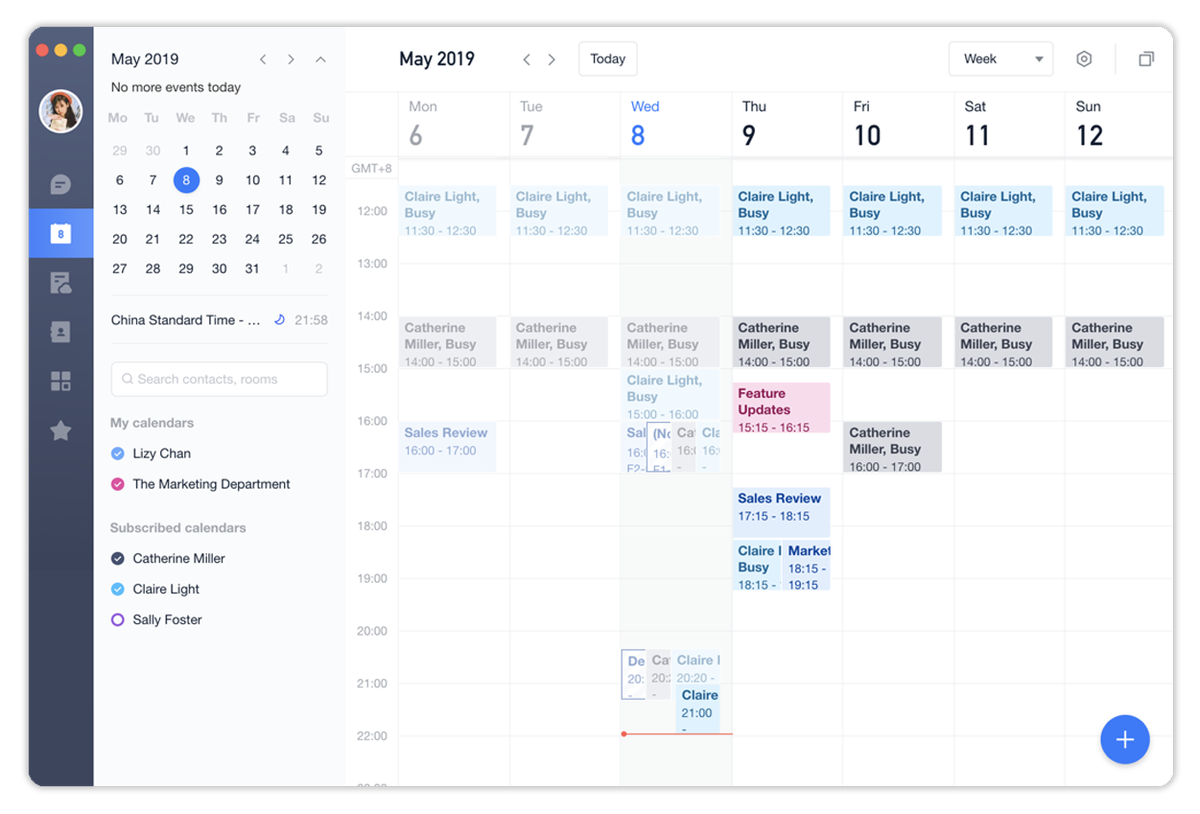 Meeting Group Chat
To create a group chat, you don't have to invite attendees from the contact list one by one. With a simple click, you can start a discussion instantly via calendar events, where all members can share documents and ideas on a specific topic.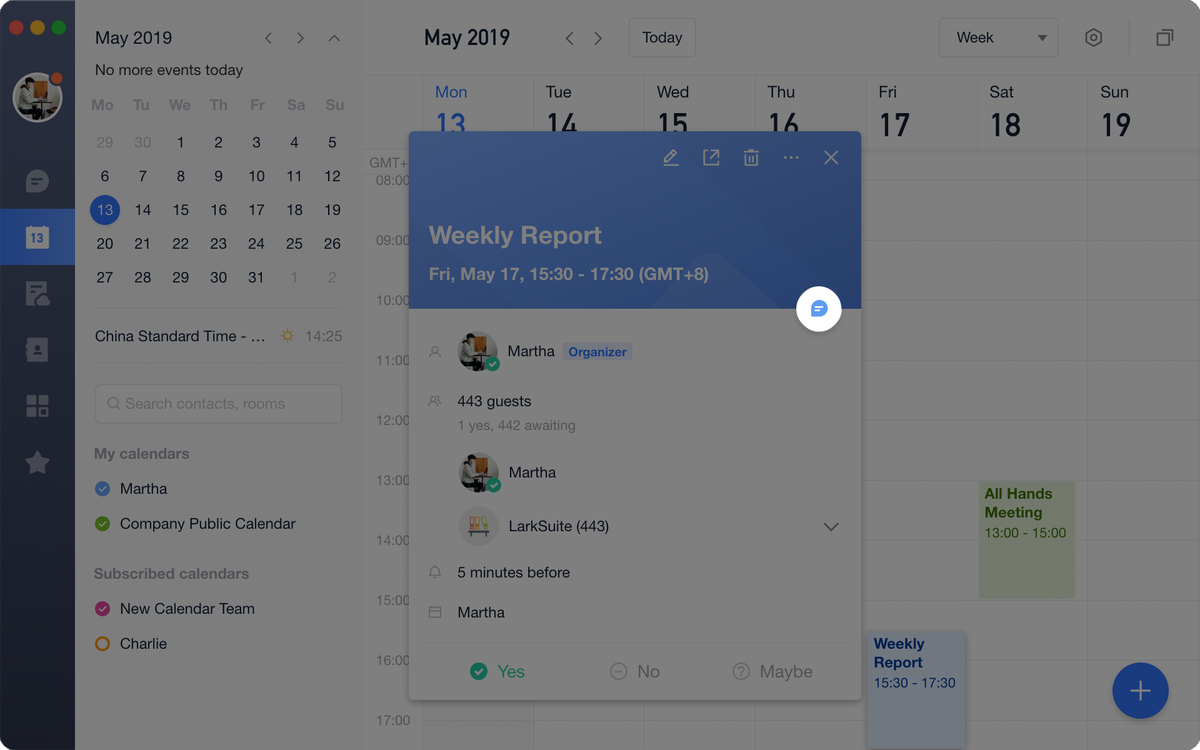 Calendar Assistant
Feishu Calendar Assistant will send you a notification if there are any event conflicts to help make quick decisions.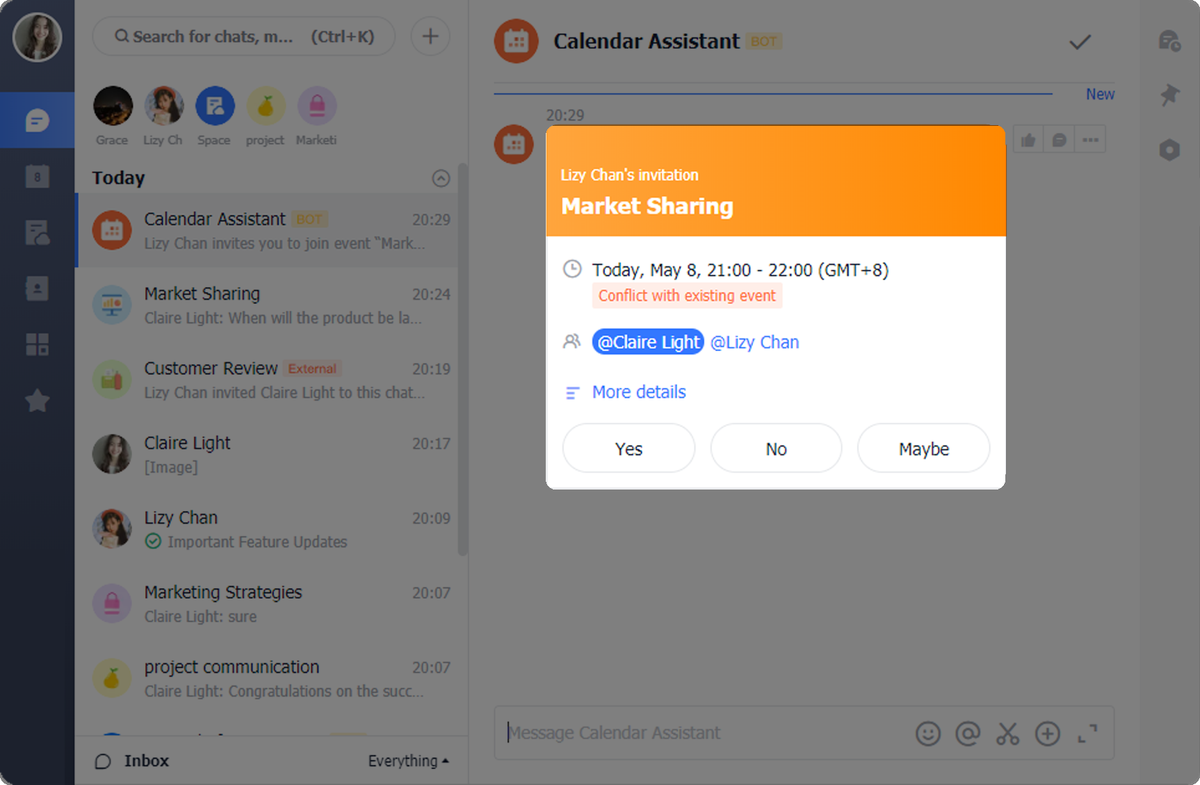 Public Calendar
You can create a company's public calendar for items such as holiday arrangements, company classes, etc. Team members can learn more about the calendar by subscribing to it. No repeated notifications are required, reducing work interference and message overload.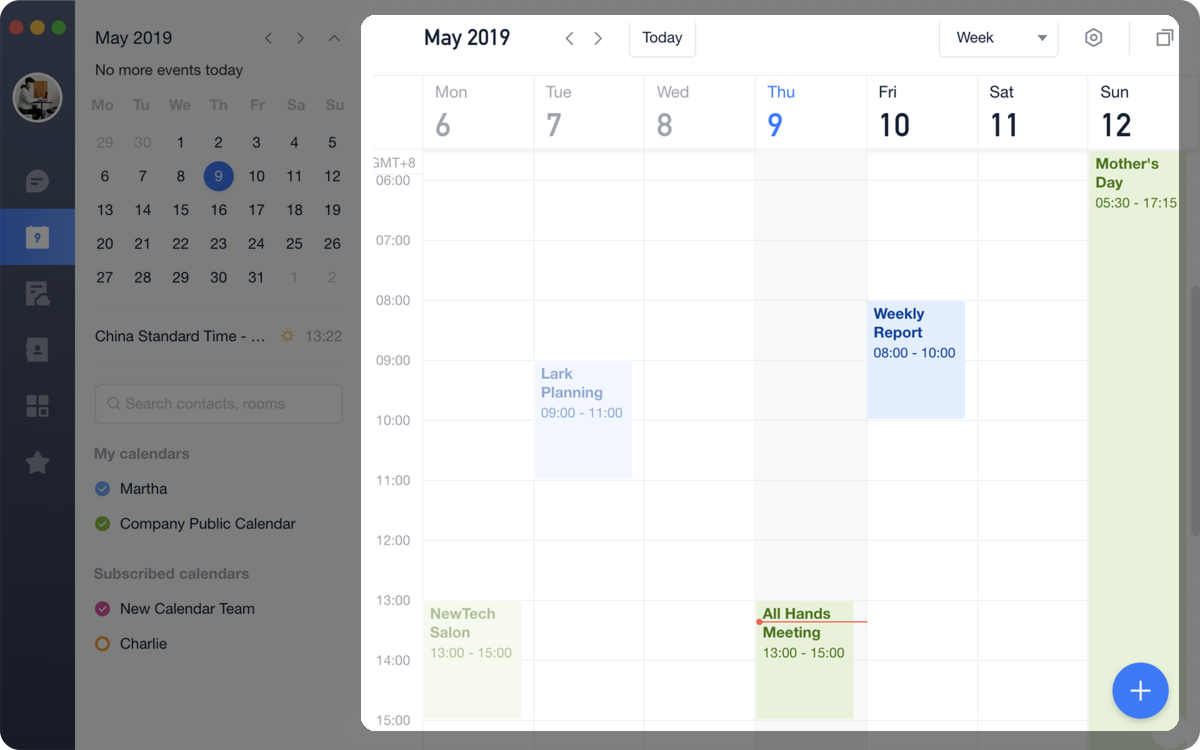 Contact Us
Thank you for reading these tips we prepare specially for you! ❤️
If they don't answer all of your questions, please contact us for help.