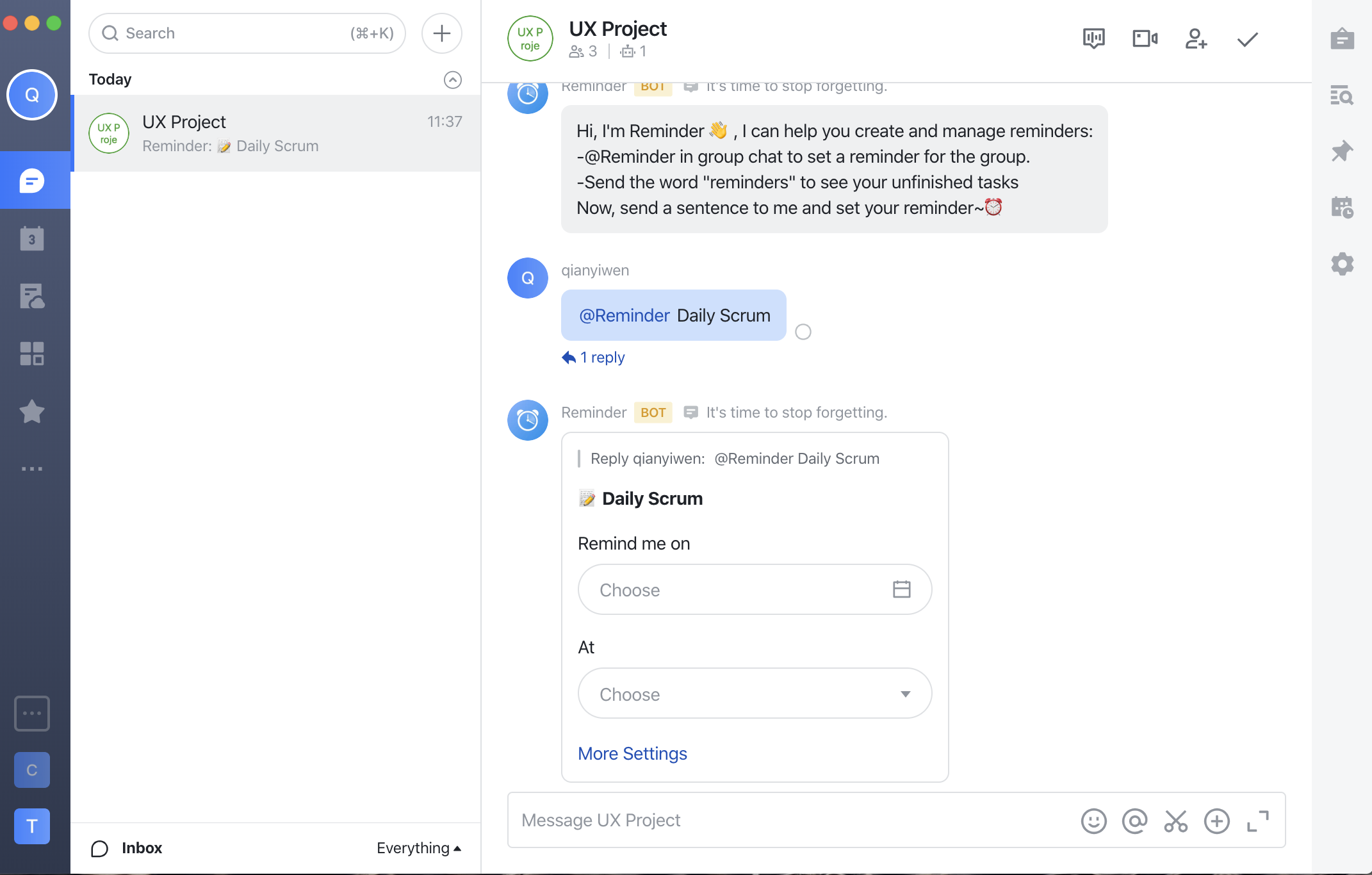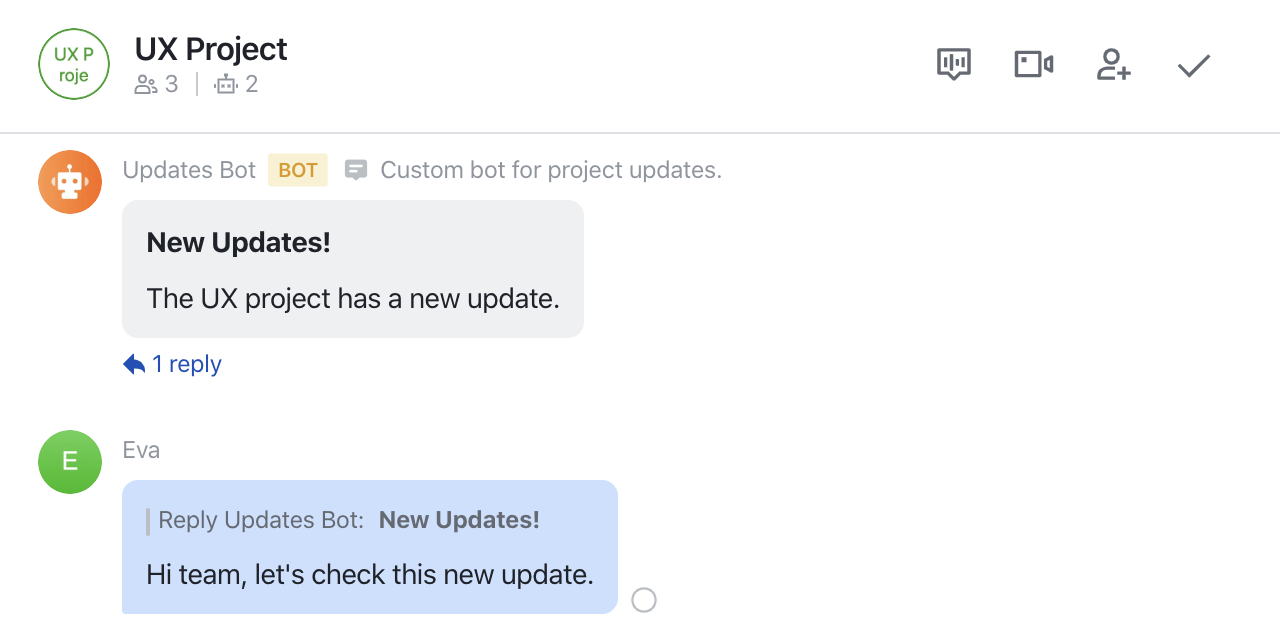 Note:
You can add up to 15 bots to a single group.
1.

​

Using chat bots in a group
Enter the group chat and click the
Settings
icon. Go to the
Bots
tab and click
Add Bot
. Click the
Chat Bot
tab and select the bot you'd like to add to the group chat.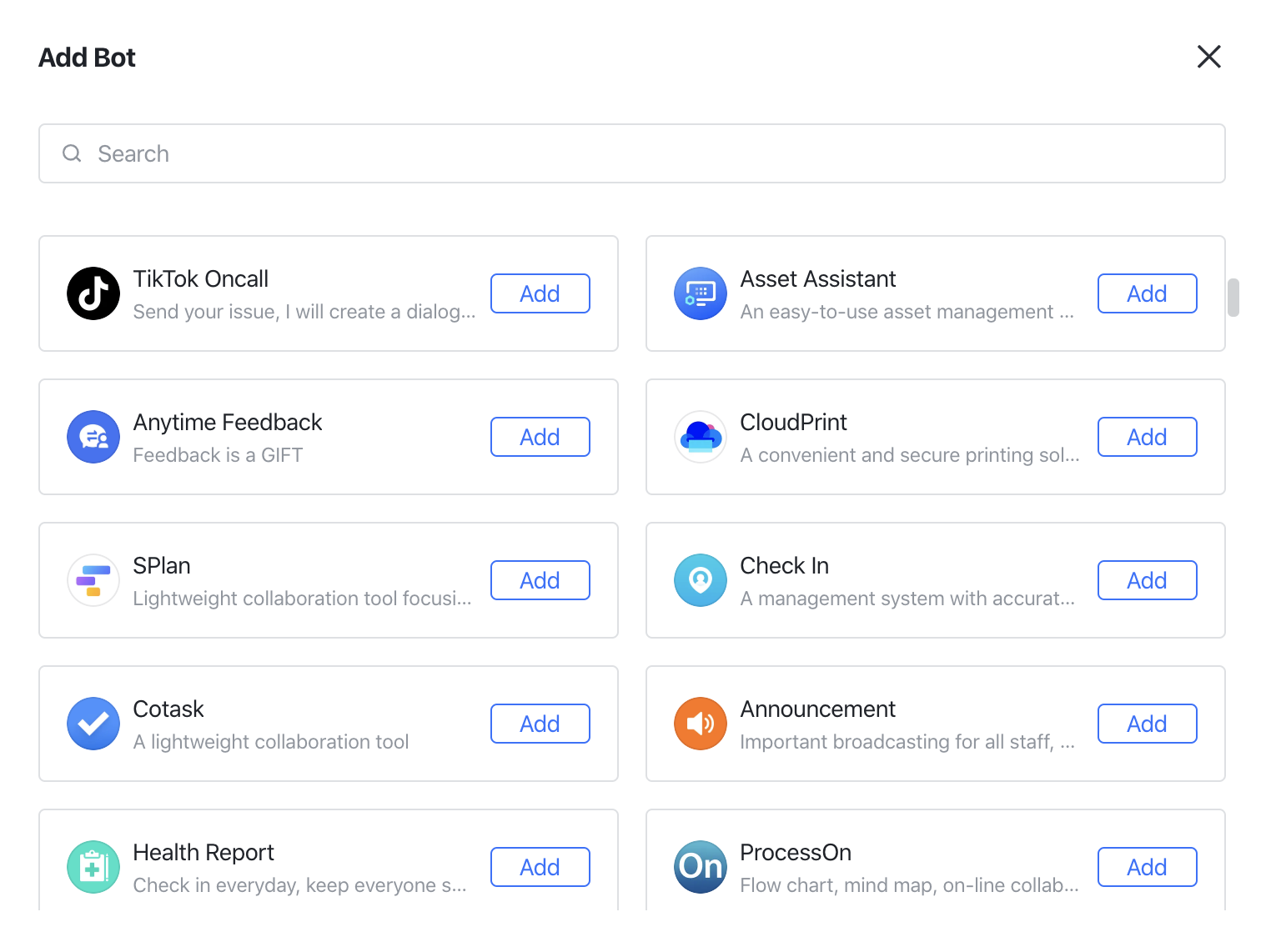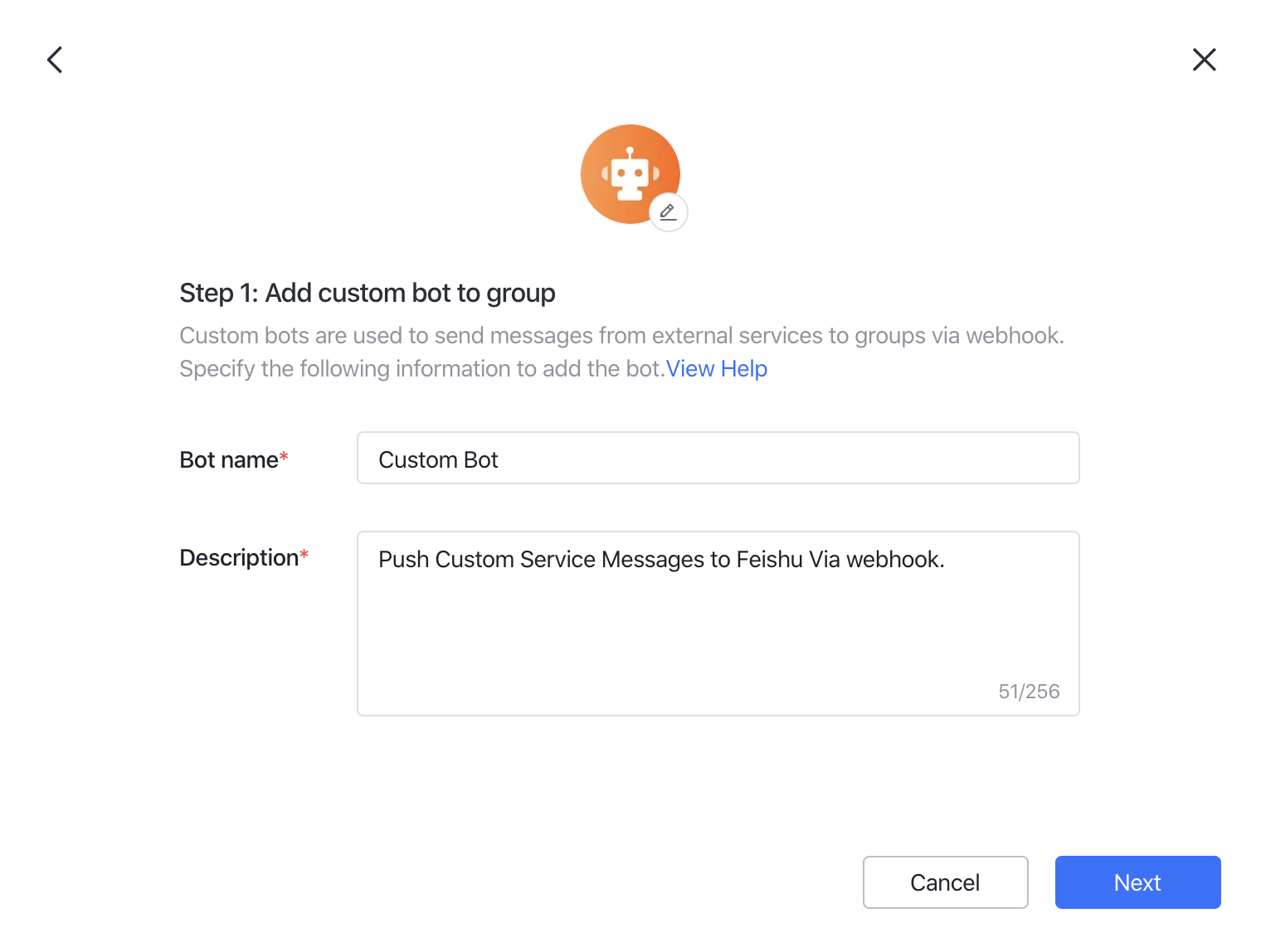 https://open.feishu.cn/open-apis/bot/v2/hook/xxxxxxxxxxxxxxxxx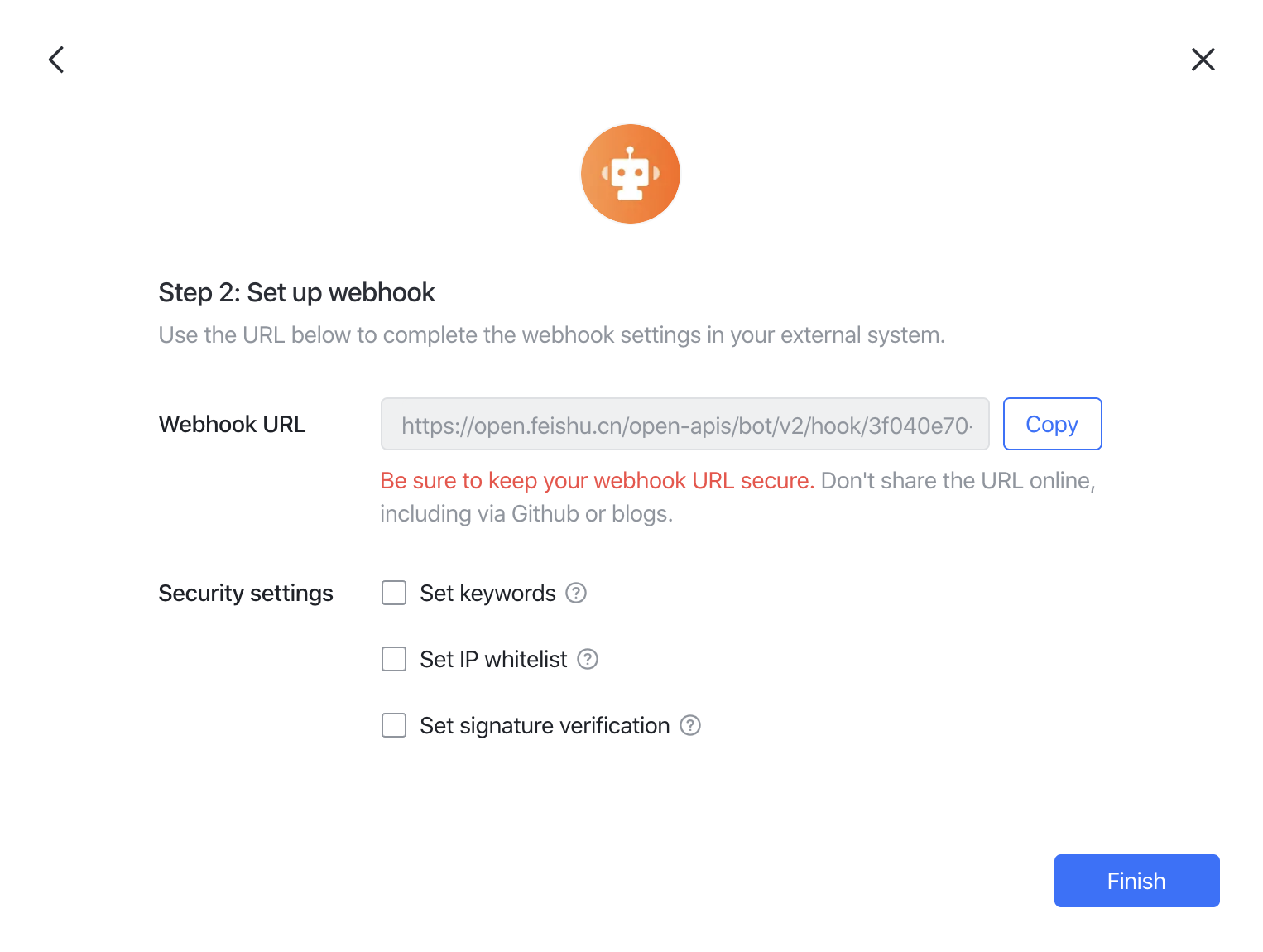 Note: If the webhook you use is in this pattern:
​
https://open.larksuite.com/open-apis/bot/hook
​
/
​
xxxxxxxxxxxxxxxxxx
​
(no
v2
in the URL), please refer to the Appendix for instructions about how to use the previous version of wehbhook.

// keywords verification failed
{
        "code": 19024,
        "msg": "Key Words Not Found"
} 

// IP verification failed
{
        "code": 19022,
        "msg": "Ip Not Allowed"
} 

func GenSign(secret string, timestamp int64) (string, error) {
   //timestamp + key as sha256, then base64 encode
   stringToSign := fmt.Sprintf("%v", timestamp) + "\n" + secret

   var data []byte
   h := hmac.New(sha256.New, []byte(stringToSign))
   _, err := h.Write(data)
   if err != nil {
      return "", err
   }

   signature := base64.StdEncoding.EncodeToString(h.Sum(nil))
   return signature, nil
} 
// send text msg after signature verification
{
        "timestamp": "1599360473",
        "sign": "xxxxxxxxxxxxxxxxxxxxx",
        "msg_type": "text",
        "content": {
                "text": "request example"
        }
} 
// signature verification failed
{
        "code": 19021,
        "msg": "sign match fail or timestamp is not within one hour from current time"
} 
{
    "msg_type": "text",
    "content": {
        "text": "New Updates"
    }
} 

{
    "msg_type": "post",
    "content": {
        "post": {
            "zh_cn": {
                "title": "Project Updates",
                "content": [
                    [
                        {
                            "tag": "text",
                            "text": "You have a new update: "
                        },
                        {
                            "tag": "a",
                            "text": "Go check",
                            "href": "http://www.example.com/"
                        }
                    ]
                ]
            }
        }
    }
} 

{
    "msg_type": "share_chat",
    "content":{
        "share_chat_id": "oc_f5b1a7eb27ae2c7b6adc2a74faf339ff"
    }
} 

{
    "msg_type":"image",
    "content":{
        "image_key": "img_ecffc3b9-8f14-400f-a014-05eca1a4310g"
    }
} 

{
    "msg_type": "interactive",
    "card": {
        "config": {
                "wide_screen_mode": true,
                "enable_forward": true
        },
        "elements": [{
                "tag": "div",
                "text": {
                        "content": "West Lake is a freshwater lake in Hangzhou, China. It is divided into five sections by three causeways. There are numerous temples, pagodas, gardens, and artificial islands within the lake.",
                        "tag": "lark_md"
                }
        }, {
                "actions": [{
                        "tag": "button",
                        "text": {
                                "content": "More Recommendations",
                                "tag": "lark_md"
                        },
                        "url": "https://www.example.com",
                        "type": "default",
                        "value": {}
                }],
                "tag": "action"
        }],
        "header": {
                "title": {
                        "content": "Travel Destination of the Day",
                        "tag": "plain_text"
                }
        }
    }
}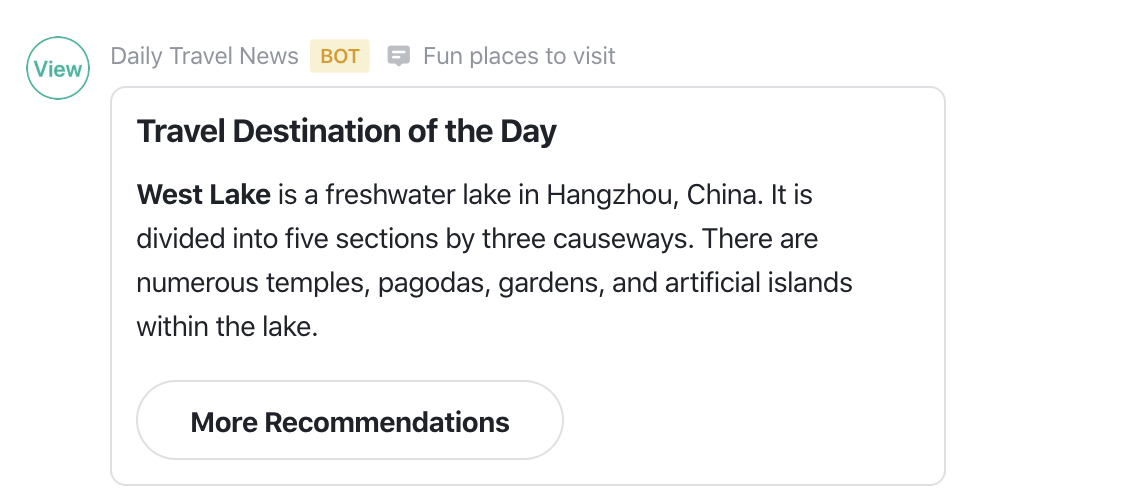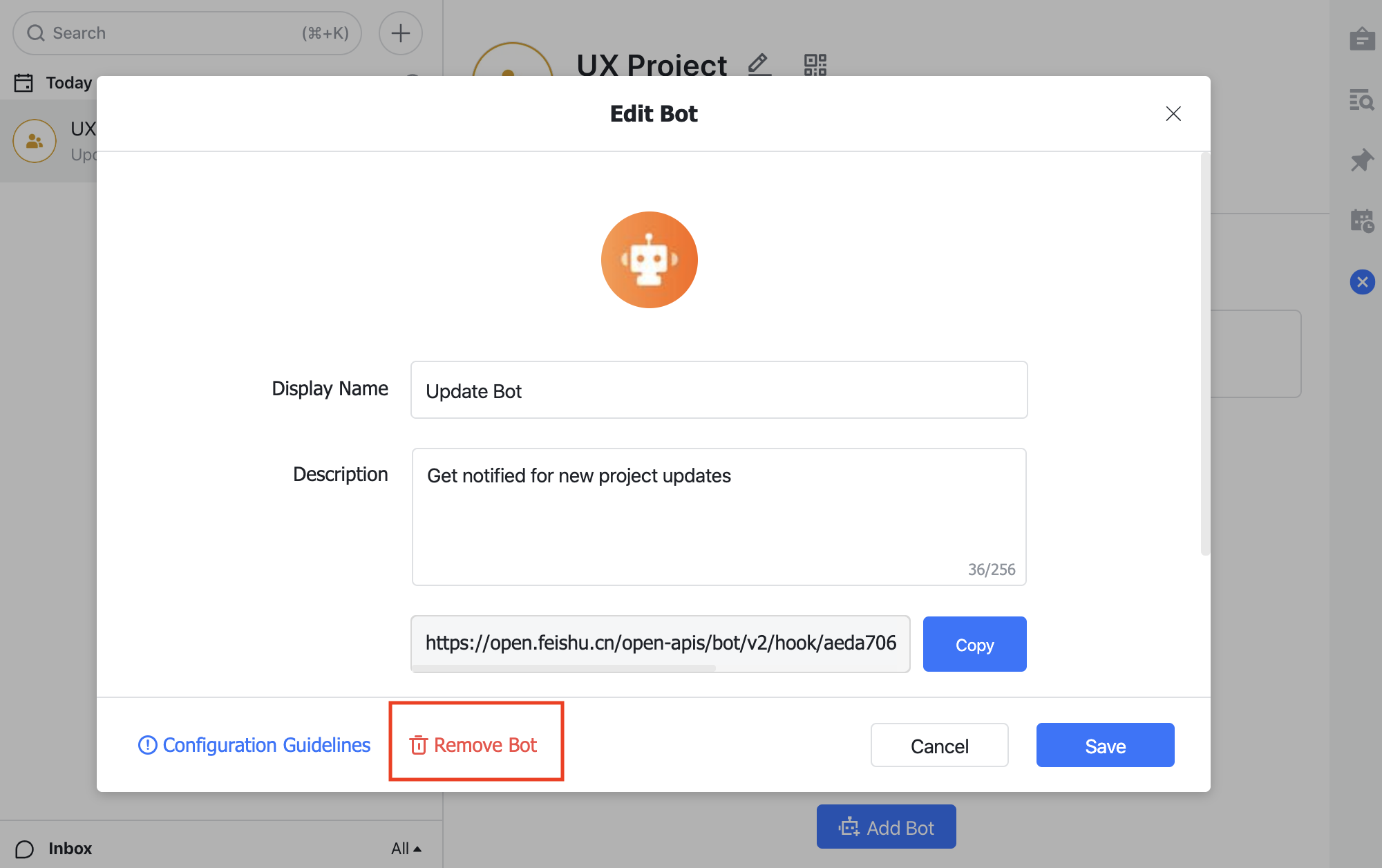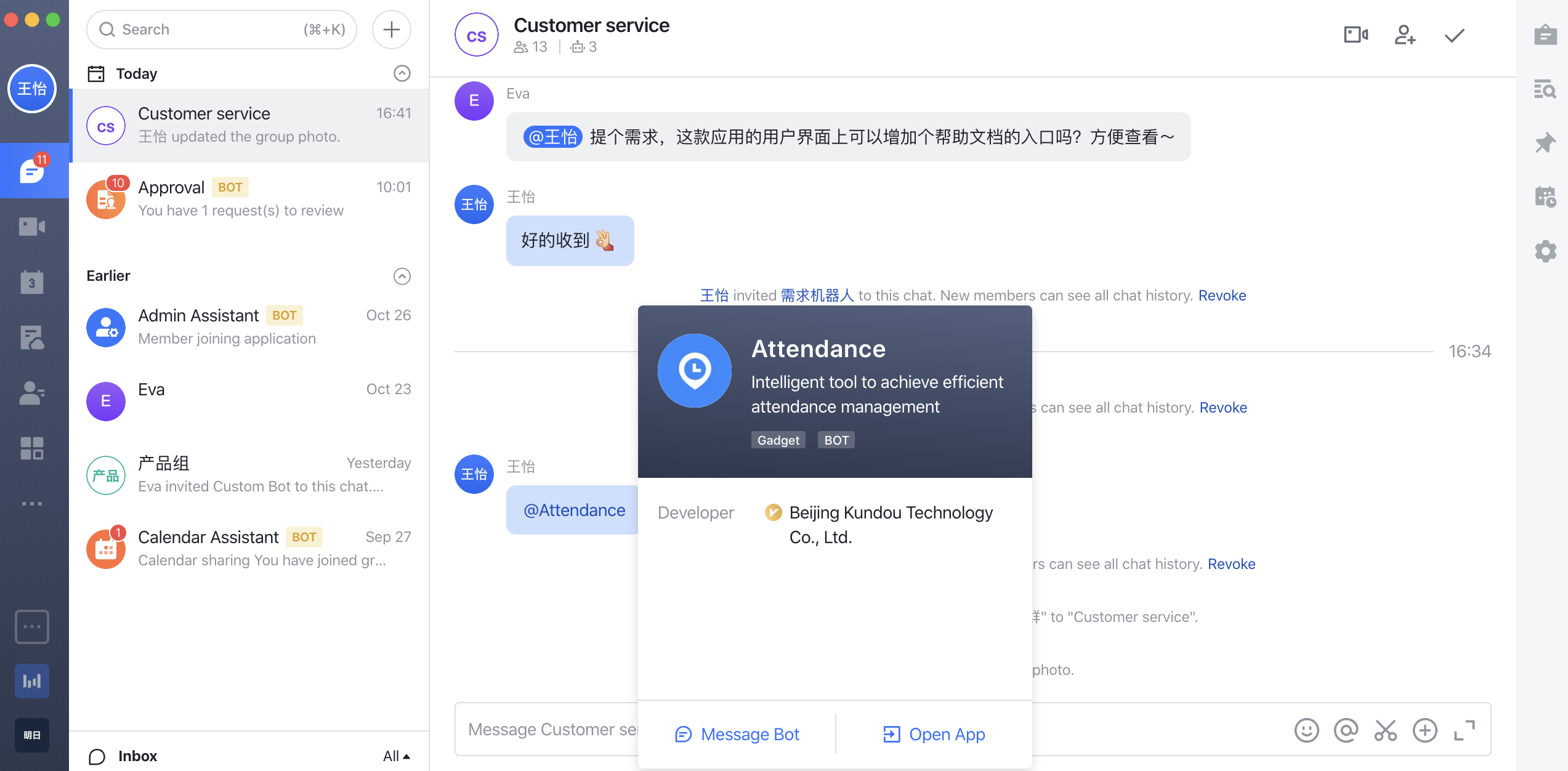 https://open.feishu.cn/open-apis/bot/hook/xxxxxxxxxxxxxxxxxx 
{
"title": "Hello Feishu",  # optional
"text": "Good Feishu"  # required
}   
curl -X POST -H "Content-Type: application/json" -d '{"title": "Hello Feishu", 
"text": "Good Feishu"}' https://open.feishu.cn/open-apis/bot/hook/xxxxxxxxxxxxxxxx