Feishu Search allows you to quickly find contacts, messages, groups, documents, apps, events, or other information. You can make a global search in
quick search
, or search for historical messages, events, emails, or other types of content in specific modules such as Messages, Docs, or Email.
1.

​

Search on Feishu desktop client
•

​

On Feishu desktop, click the search bar in the upper-right, or use the shortcut

Command

or

Control + K

. This is default shortcut can be modified in settings.
•

​

Enter a keyword to search, such as user, group, document, or app name.
•

​

Search results will be displayed in the

Top Results

category. For specific information, such as a message, a document, or an event, click the corresponding category to search.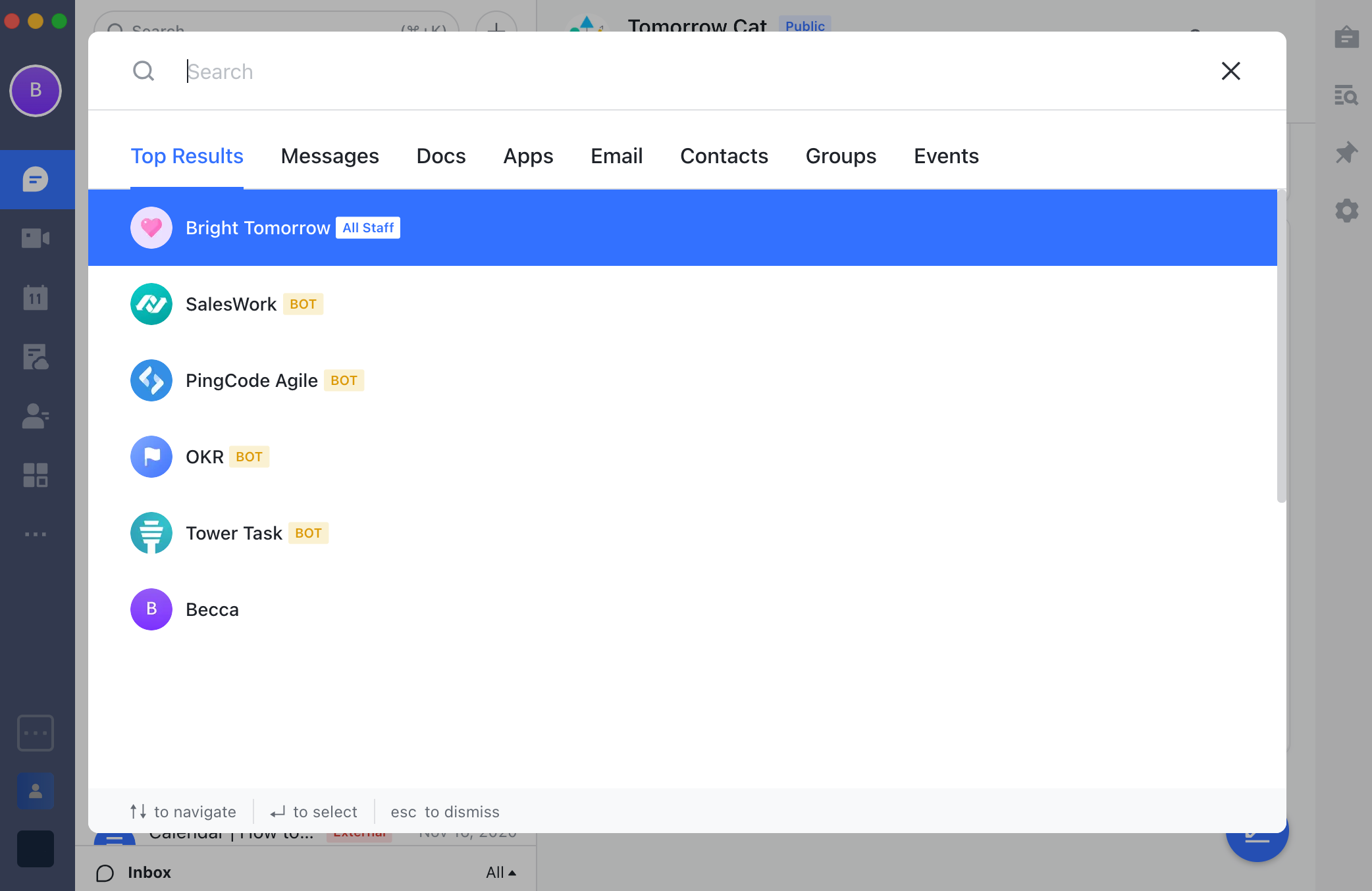 Searching by category enables you to find specific type of content more precisely. When you make a search in the
Messages
category, you can see the context of each message in the chat to determine whether the message is what you need.
•

​

Click the search bar and select the content type under the input box, such as

Messages

.
•

​

Enter a keyword and the search results containing that keyword will be displayed.
•

​

Click a message in the search result list, and a preview of the message context will be displayed.
•

​

You can click

Open the chat

in the preview pane to go to the chat.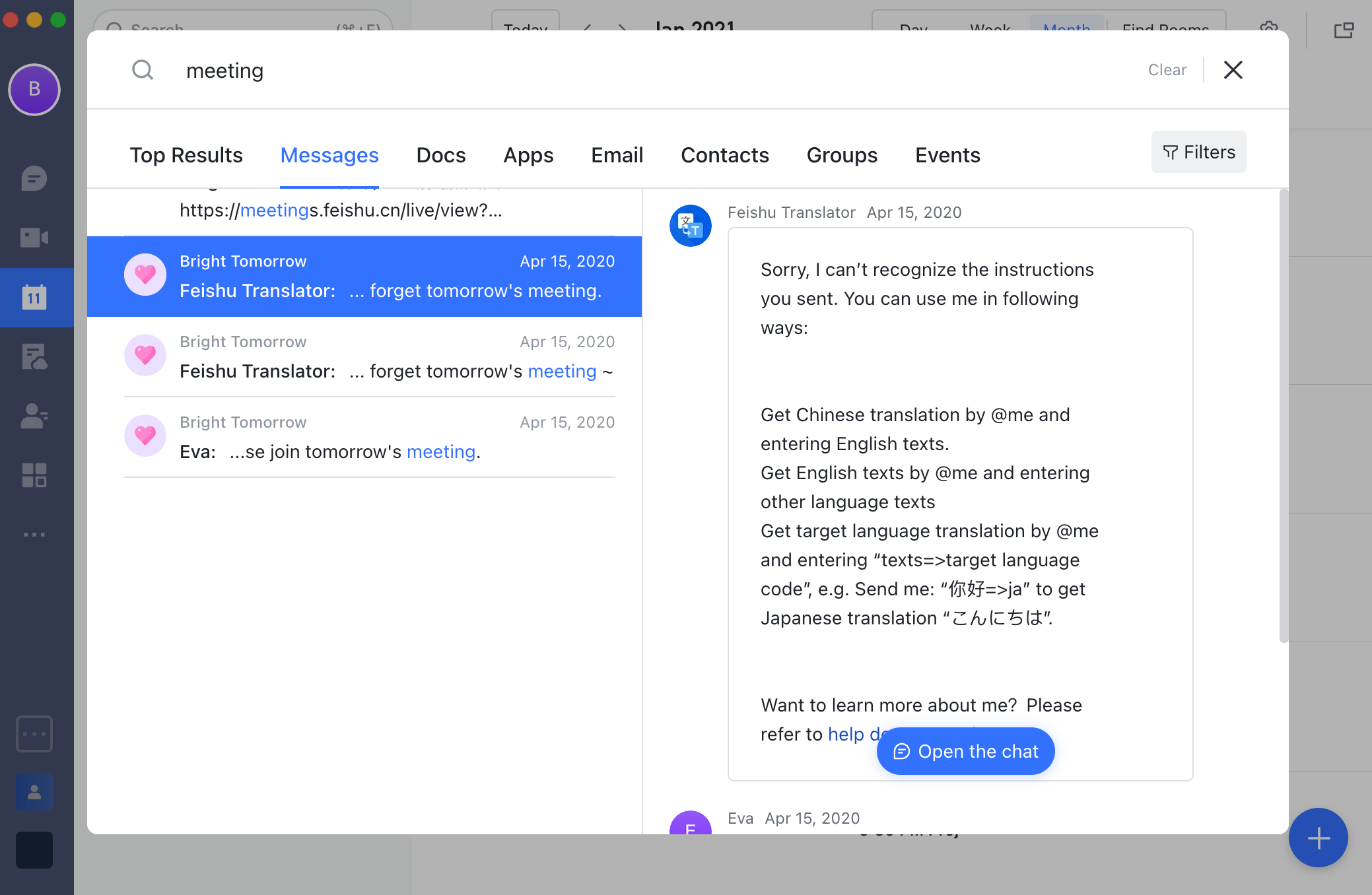 You can set filters for Messages, Docs, Events, or other modules to find exactly what you need.
•

​

Click in the search bar and select the

Docs

, for example.
•

​

Click

Filters

in the upper-right corner to open the filter options page.
•

​

Set the document owner, chat, type, last time viewed and other filtering conditions.
•

​

Click

Apply

to apply the conditions and narrow down your search results.
Note: You can follow a similar procedure to set filters for Message and Event searches.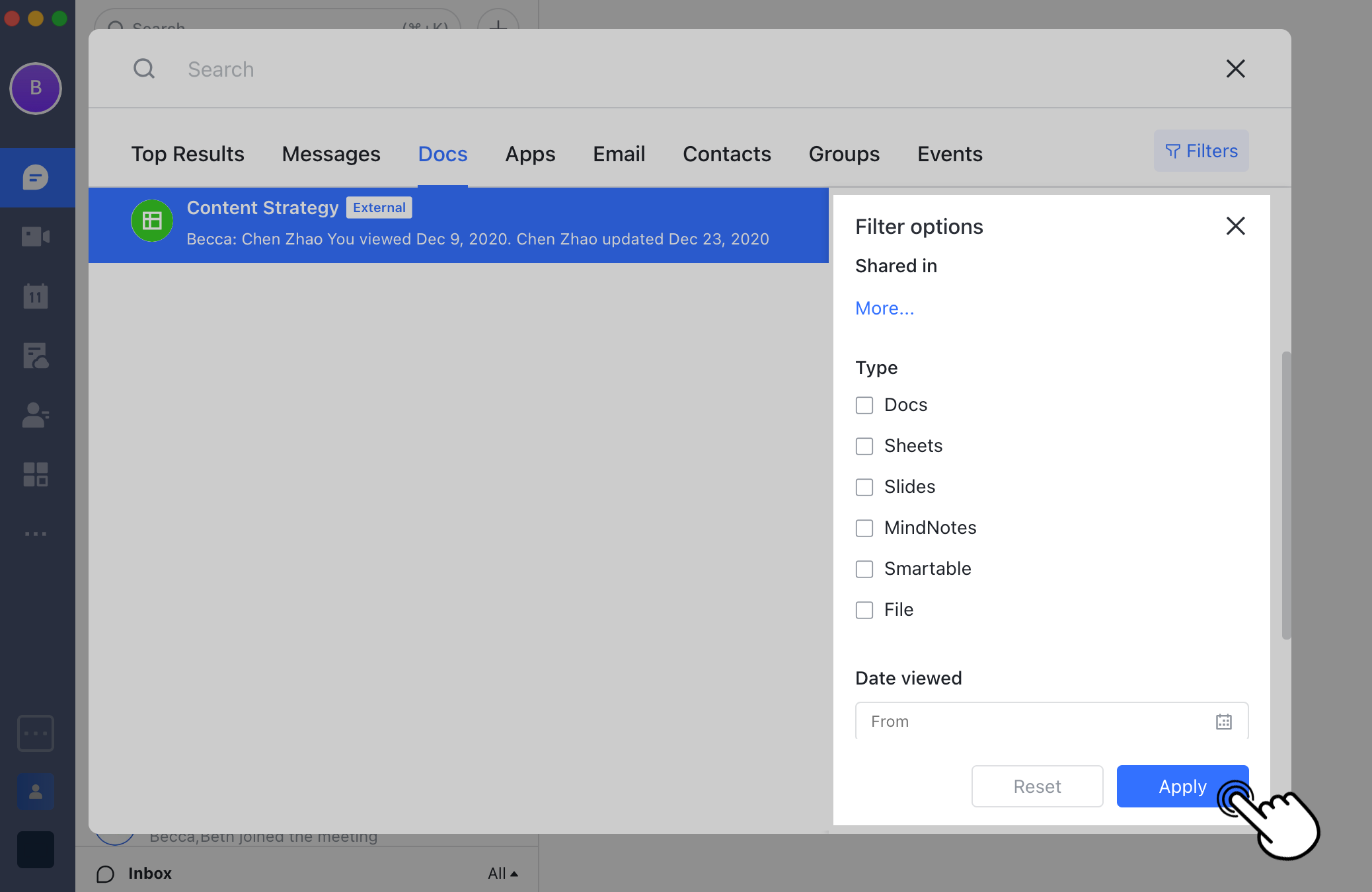 You can also search for a historical messages by category within a chat.
•

​

Open a chat on Feishu desktop and click

Search

in the right sidebar of the chat window.
•

​

Enter a keyword and select

Messages

,

Docs

,

Files

,

Photos

, or

Links

as the

category

.
•

​

Hover the cursor over the search result, and click the

View in Chat

button to be redirected to the message in the chat.
•

​

When searching for messages or documents, use

Advanced Search

to jump to the corresponding category on the global search page where you can set filters to further narrow down the search.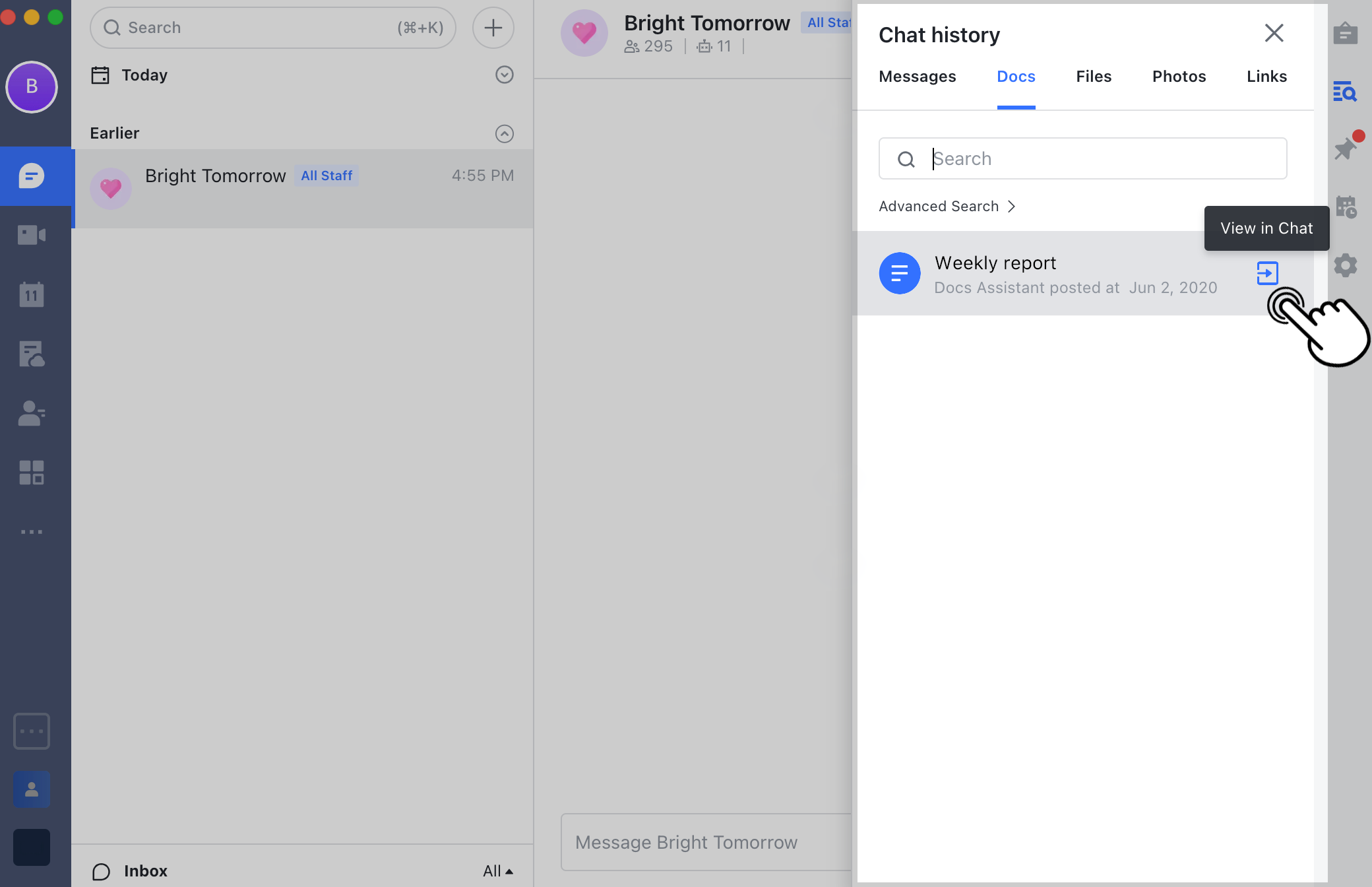 Searches on functional pages
The main interfaces of the features on the left navigation bar, such as
Calendar
and
Email
, all contain a search bar in the upper-left corner. You can click in the search bar to make searches by category.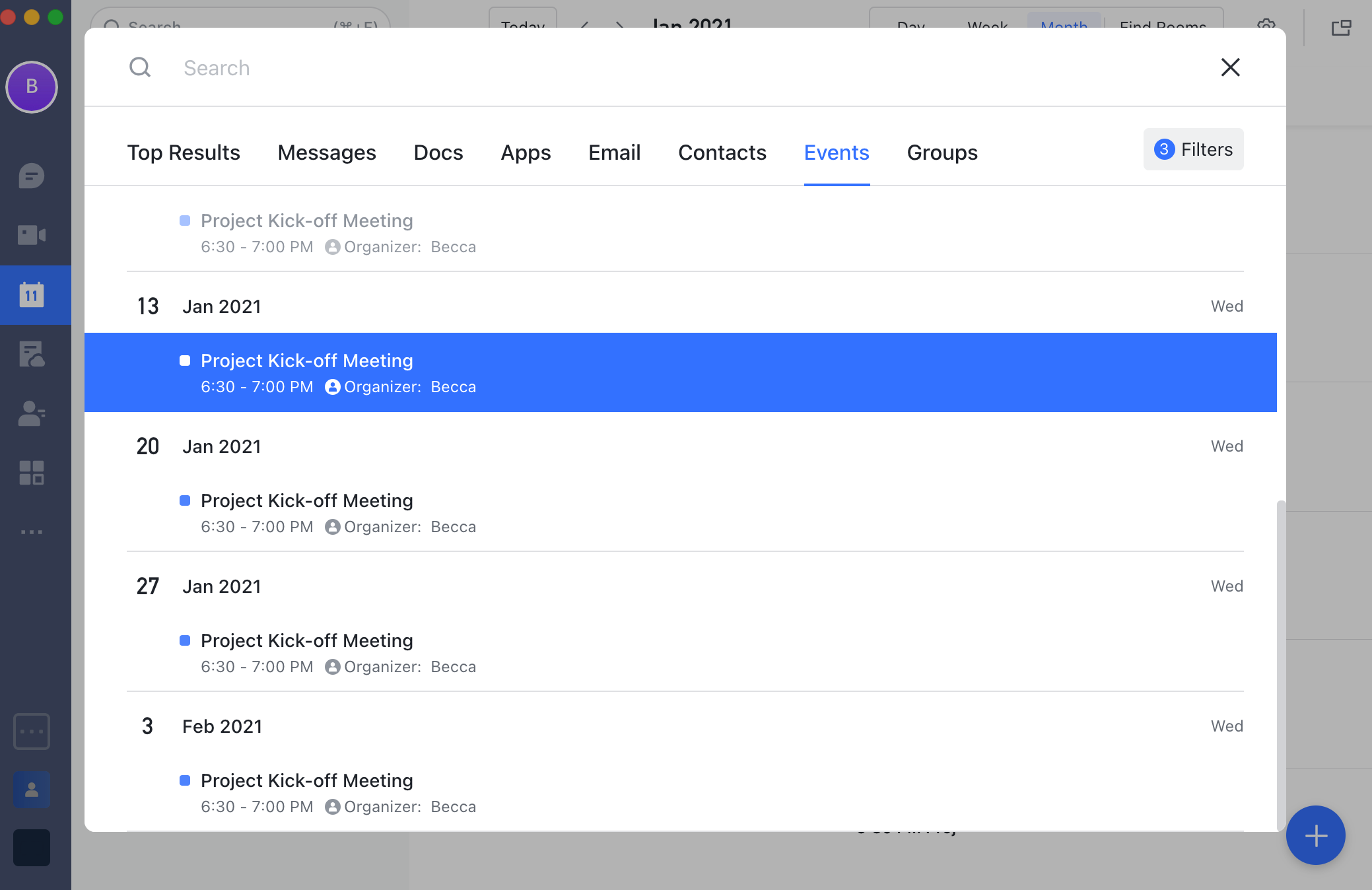 2.

​

Search on Feishu mobile app
•

​

Click the

search box

at the top of the main page to go to the search interface then enter the keywords.
•

​

Click on the search results to view the contacts, groups, messages or Docs that you're looking for.