Feature Overview
You can now directly schedule meetings through chats without switching between Messenger and Calendar. You can also view your coworkers' calendars as well as create and share schedules in a private or group chat.
Note: this feature is available on desktop for V3.10 and mobile for V3.11 or later, and not supported in external groups, customer service groups or large groups with more than 1000 members.
Procedures
Click the View Calendar icon on the right sidebar of a private or group chat.
Select the group member whose calendar you would like to view by clicking the Select member icon.
Find the most suitable time for you all and click on the blank area to create an event.
Click the event to edit, and it will appear on the participants' calendar.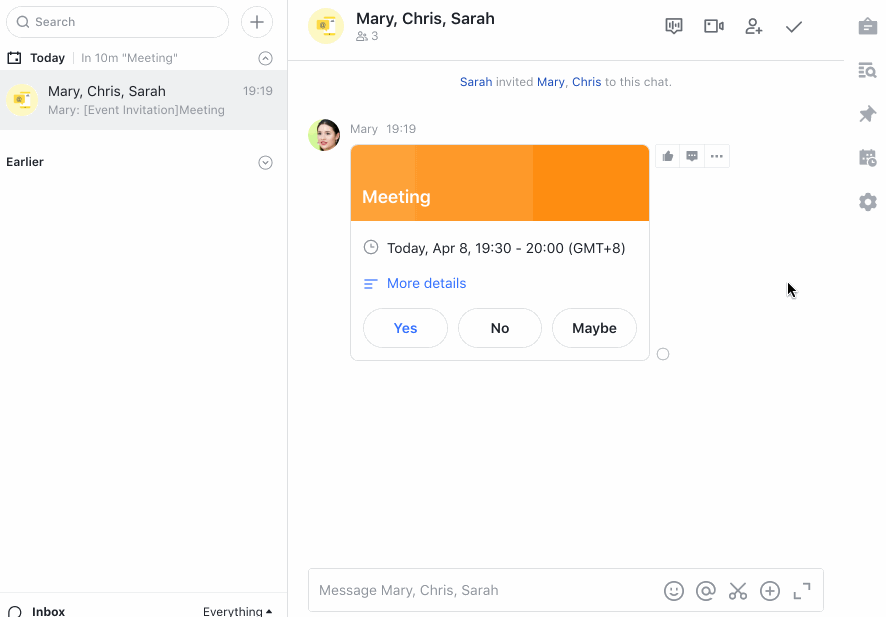 👏 Congratulations! You now know how to schedule meetings through chats.
💗 If you want to know more about Calendar, click here.
💗 If this article doesn't answer your questions, you can go to Profile photo - Contact Support and talk to our human agents.