👏 Happy New Year and welcome to Feishu!
Feishu is an one-stop corporate communication and collaboration platform that combines smart apps, online documents and sheets, instant messaging, calendars and scheduling, audio-video conferencing altogether, dedicated to establishing an efficient working procedure to your company.
At the beginning of 2020, the entire society is worrying about the sudden coronavirus outbreak. Under these special circumstances, Feishu has prepared this guide to help everyone understand how to make remote working smooth and seamless.
🗝 Get started! 3 steps to initialize Feishu
3 steps to get your Feishu account and team:
👏Once you complete the above steps, you will get your Feishu team and you will be the team's creator, administrator and first user
You can download and install
Feishu App
, log in with the phone number you used during registration, and invite members to the team! Next, let's get your team initialized!
3 ways to initialize your team:
Note: Please make sure all team members have installed Feishu App.
💡Using the 2 above methods, members can add themselves to the team without being added by administrators. These are suitable ways for teams that need to enable Feishu immediately. However these ways cannot ensure all members have joined the team.
👉
Method 3: Add members in Feishu Admin (comprehensive)
Administrators can also log in to
Feishu Admin
to import information of members by batch, or invite members to activate their accounts.
🚀 Let's continue with special features in Feishu!
Feishu has various special features, for instance, you can respond to messages using quick emojis, pin important chats to the top
QuickSwitcher
, edit documents simultaneously with others, subscribe calendars, and set meetings. Here we introduce you to 3 major features.
💕 A communication tool with the least noise
So many messages are flooding your screen that you miss important messages? In Feishu, you can reply to a particular message. Even numerous conversations can be organized simultaneously. You can also use quick emojis to respond, avoiding sending unnecessary messages to disturb others. In Feishu, communication can be focused and smooth.
Click here to learn more about Messenger
Tired of switching back and forth between Word, memos and all kinds of sketch tools?
Open Platform
provides various APIs to help companies expand their capabilities. You can connect to numerous apps via Feishu and use them all through Feishu.
Feishu welcomes third party companies to become software suppliers. Third parties can publish apps in
Feishu App Directory
for users to purchase.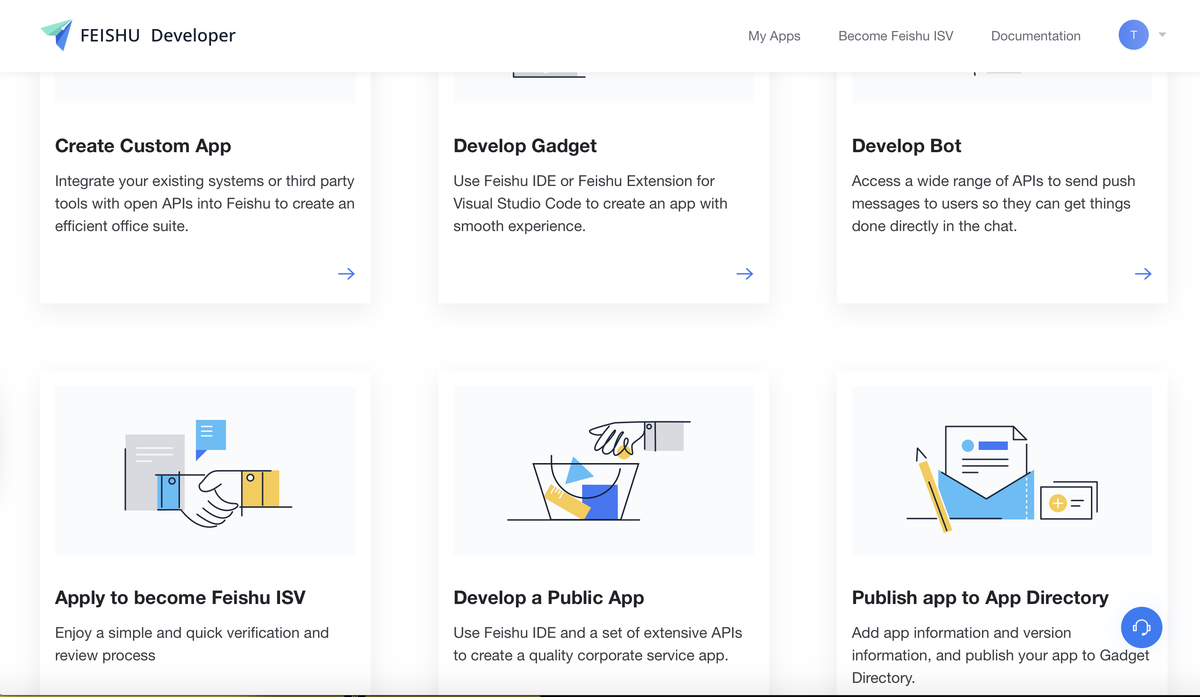 💕 A magic of remote meeting
Teleconference is not as efficient as you'd like? Discussions are drowned in chattering? Still no conclusion after long meetings?
Video Meeting
of Feishu allows the host to
Mute All
with one click; all participants can share their screens; participants can invite others to join during the meeting. These features help you take charge of the 30 minutes with efficiency, improve participants' concentration, and achieve effective decisions.
Click here to learn more about Video Meeting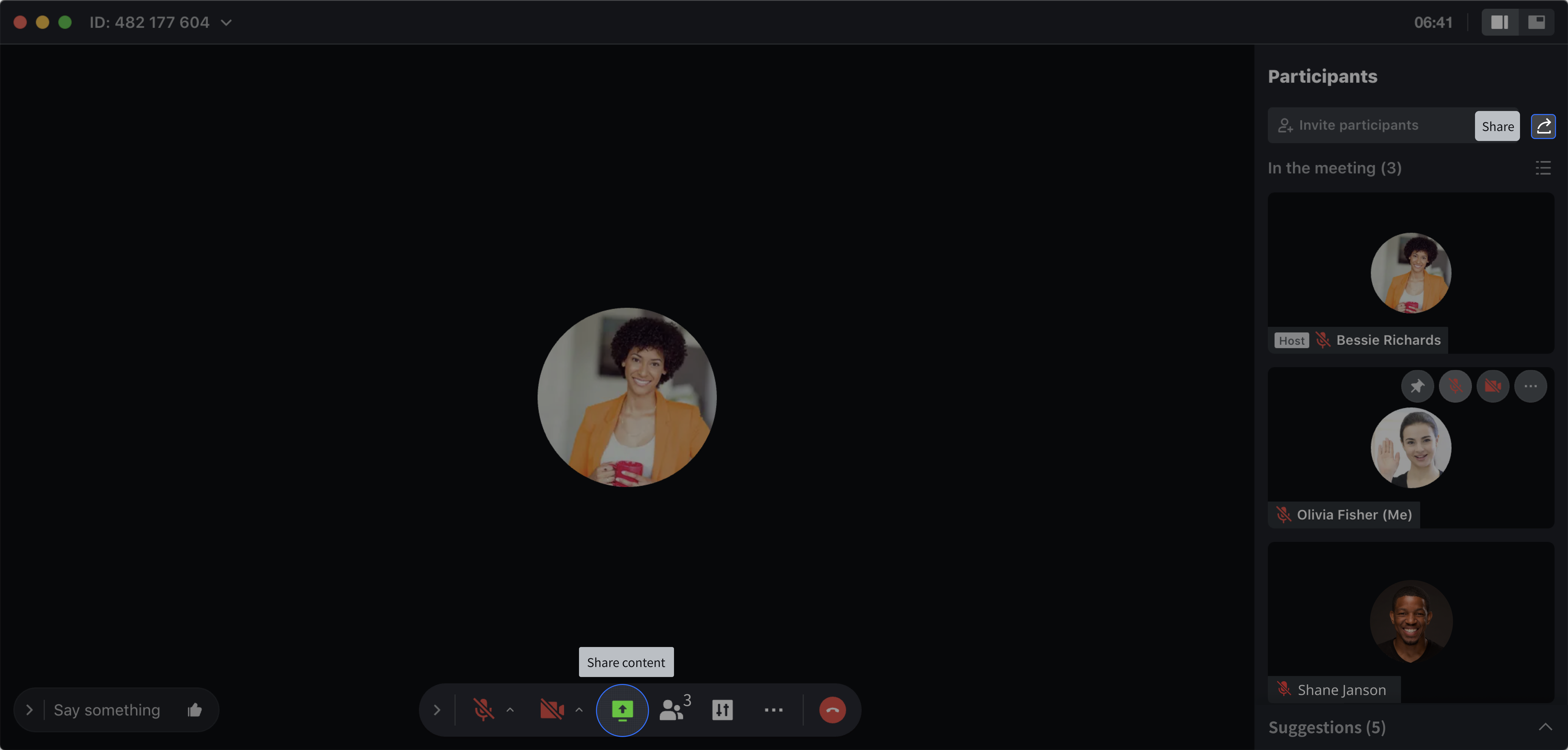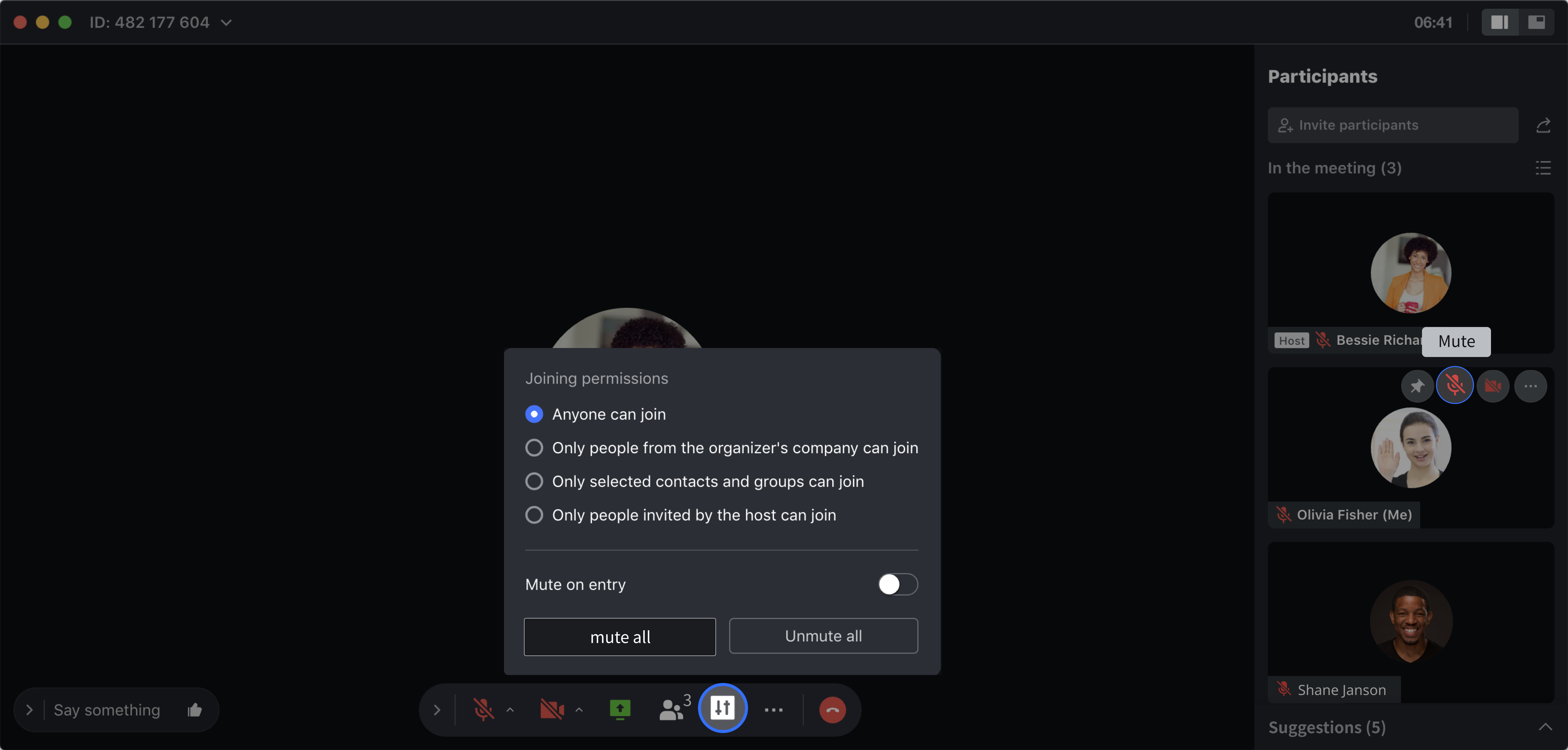 🎉 When you've read up to here, you've become a Feishu mid-level player. Here we've prepared 3 tricks to help you become an advanced player in remote working!
👥 Ultimate skills! 3 Tricks to use Feishu
🍃 Trick 1: Smart apps are here to protect your health.
To fight the outbreak and protect employees' health, we have launched several apps to help companies timely collect the health data of employees and announce the latest policy to the staff.
Administrators can make combined use of
online sheets
,
Health Report
and
Announcement
app
to publish administrators' health information orderly and transparently. These
apps can help company managers collect and analyze employees'
health condition, locations and travel itineraries, minimizing the risk during outbreak
.
Employees can report their health condition to the company daily using
Health Report
app, while the administrators can use the app to quickly collect information, and update employees on the newest data via
Announcement
app.
Click here to learn more about using apps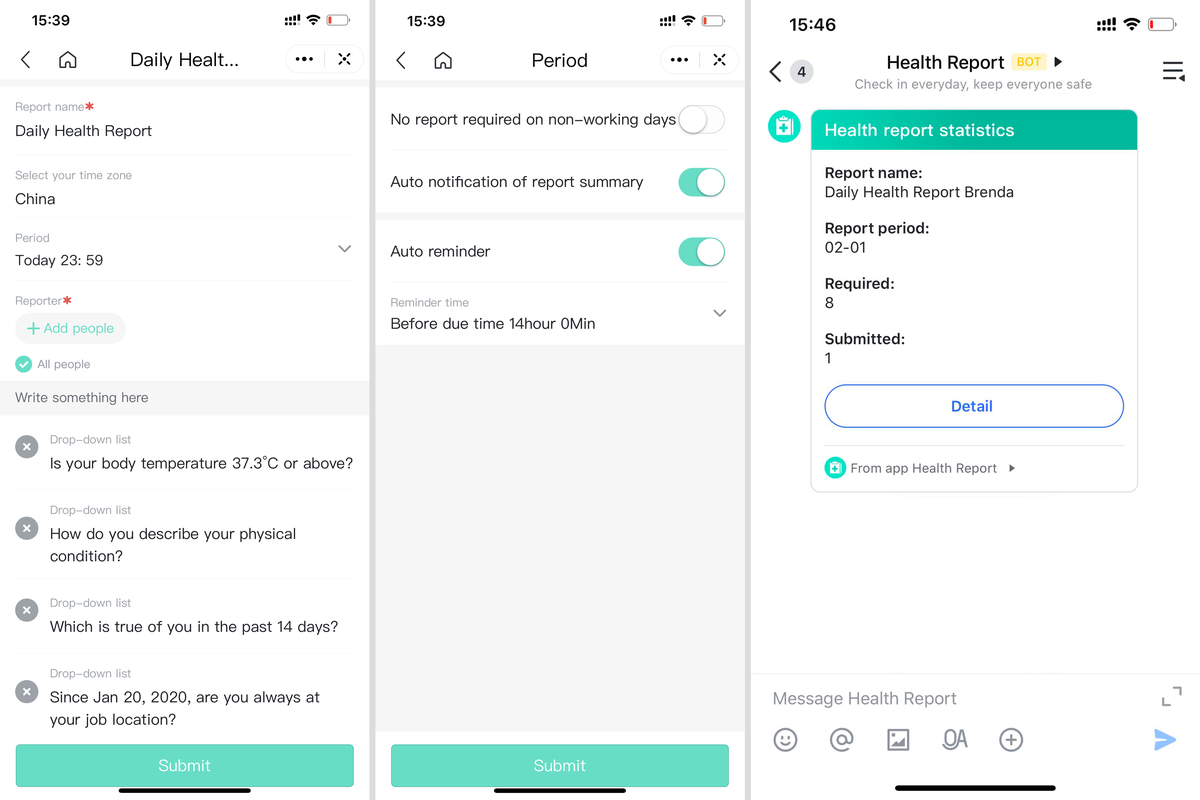 💡 Trick 2: Approval relieves your worries.
Approval
app allows you to complete all kinds of approval processes online to satisfy the various needs. With
Approval
, you can create approval processes for leaves, reimbursement etc, making it easy to deal with sudden changes, to adjust office hours, and to increase your productivity! Meanwhile, you can manage employees' annual leaves, sick leaves, and leave balances in seconds, as well as make modifications securely and conveniently.
Click here to learn more about using Approval app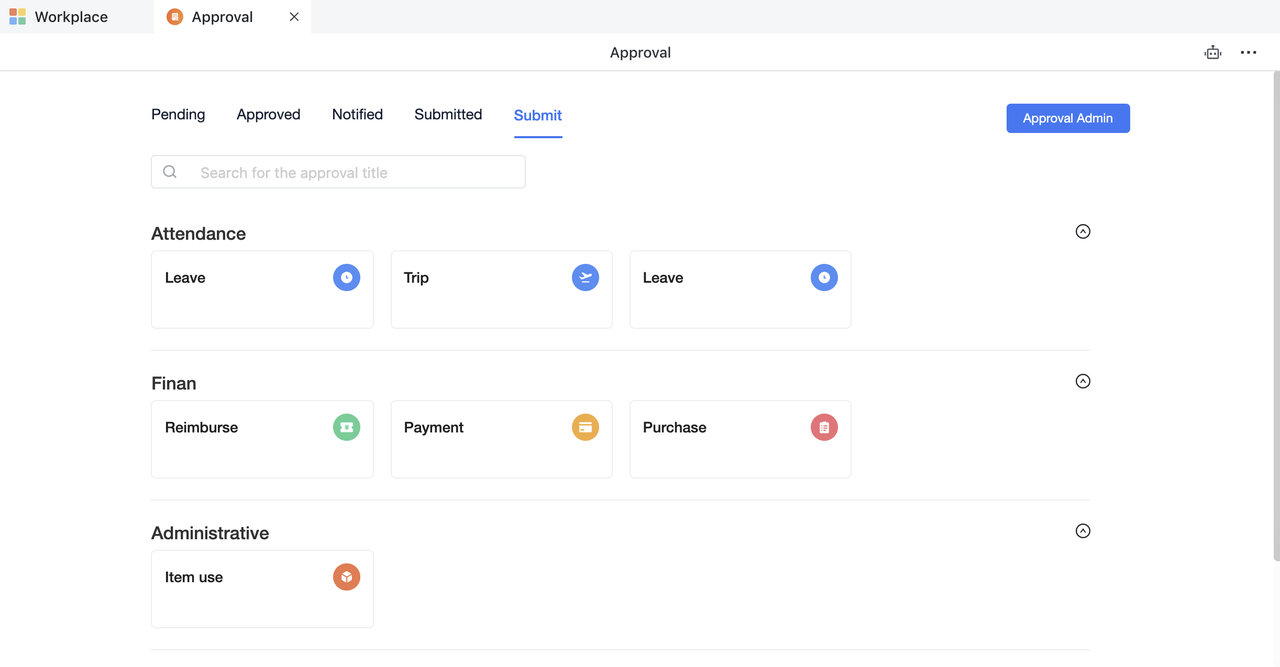 ✏️ Trick 3: Utilize templates to make progress.
How to mobilize the resources remotely and manage the progress when dealing with urgent projects? Online templates are here to help you make reports and collaborate efficiently.
No matter how far you are from your coworkers,
you can use online documents to formulate project cooperation templates and summarize all work progress. Using the calendar subscription function, you can acknowledge the work progress of all members.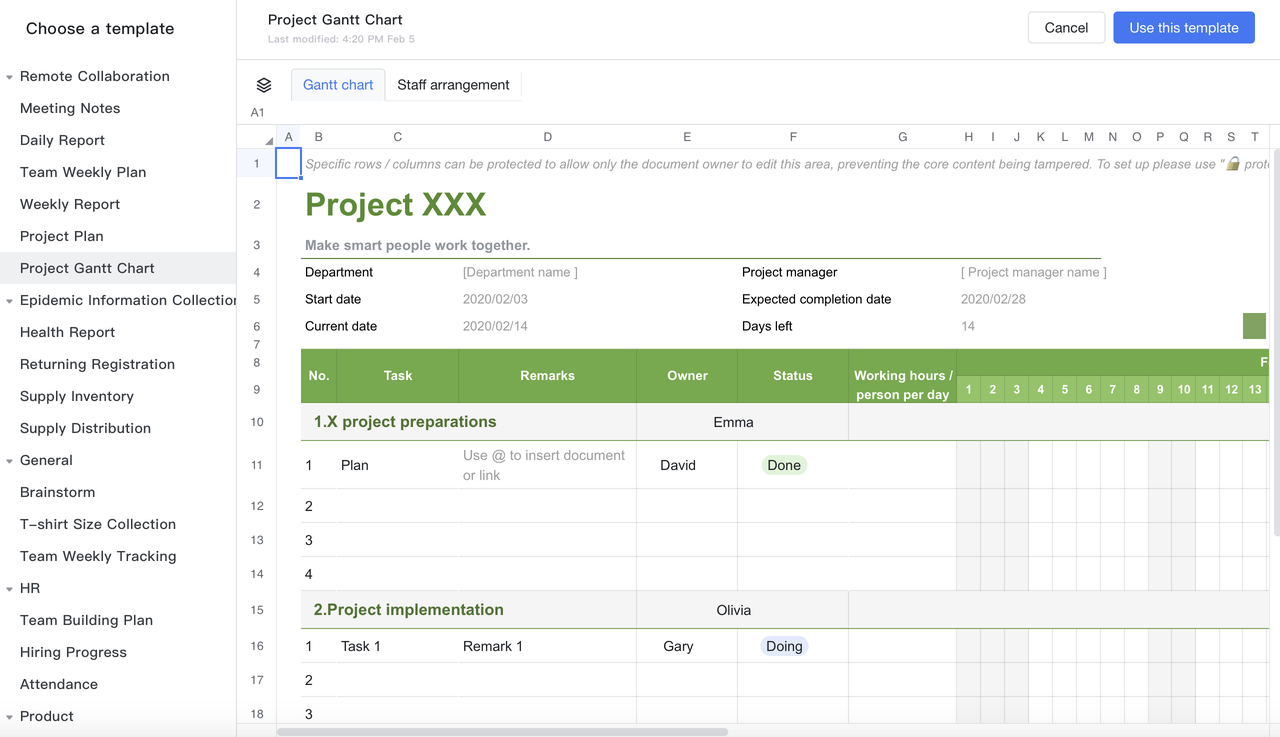 💕Congratulations, now you're a Feishu expert! Go ahead to use it now! Feishu is here to assist you to work healthily everyday. For more Feishu tips, please save and click the page
Work Remotely
.
💕If you have any questions after reading this article, please contact
Customer Support
. Feishu is here to protect you as always.