Feishu helps your company keep track of your employees' health situations while they work at home during the outbreak, as well as make sure the company policies are distributed promptly.
🔥 By reading this article, you will learn how to use the Pneumonia Advisories app, Feishu online forms, and "Health Report" and "Announcements" apps all together to collect and share information about the outbreak.
Note: Starting from Jan 29, 2020, all users can use the Health Report app. If you have any questions this article does not answer, please contact customer service.
🔥
Form and Health Report for
eam
ealth
Administrators can use online forms or Health Report to tabulate employees' travel info and health status during the outbreak to grasp the company's situation.
💻 Option 1: Use online forms to collect employee information
Employees will be reminded to fill out coronavirus daily reports every day. The supervisor then can conduct the analysis.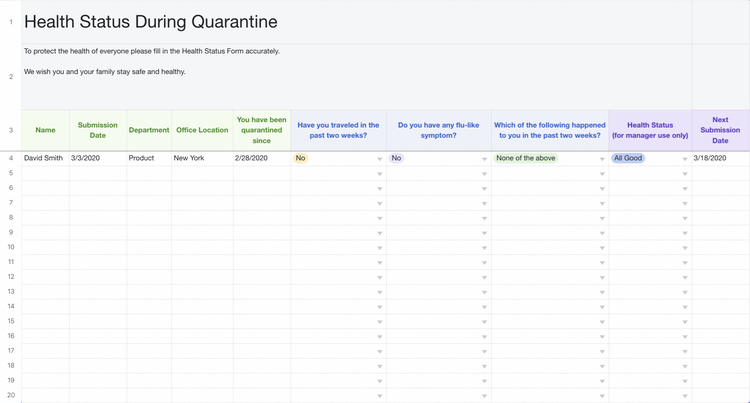 📱 Option 2: Use Health Report

to collect employee information 
Administrators of new users (joined Feishu after Jan 29, 2020): This official app is available to employees by default. Administrators only need to configure the report rules in the Health Report app. 
Administrators of registered users (joined Feishu before Jan 29, 2020) will need to configure the app before using. They have to first obtain the app from the App Directory, and activate the app for employees. 
Employees can use the following two methods to complete health reports:
Method 1: The employee who needs to report will receive a card reminder. Open the Health Report BOT message interface on the phone and select file report.
Method 2: Open Feishu - Workplace  - Health Report on the phone and complete the report.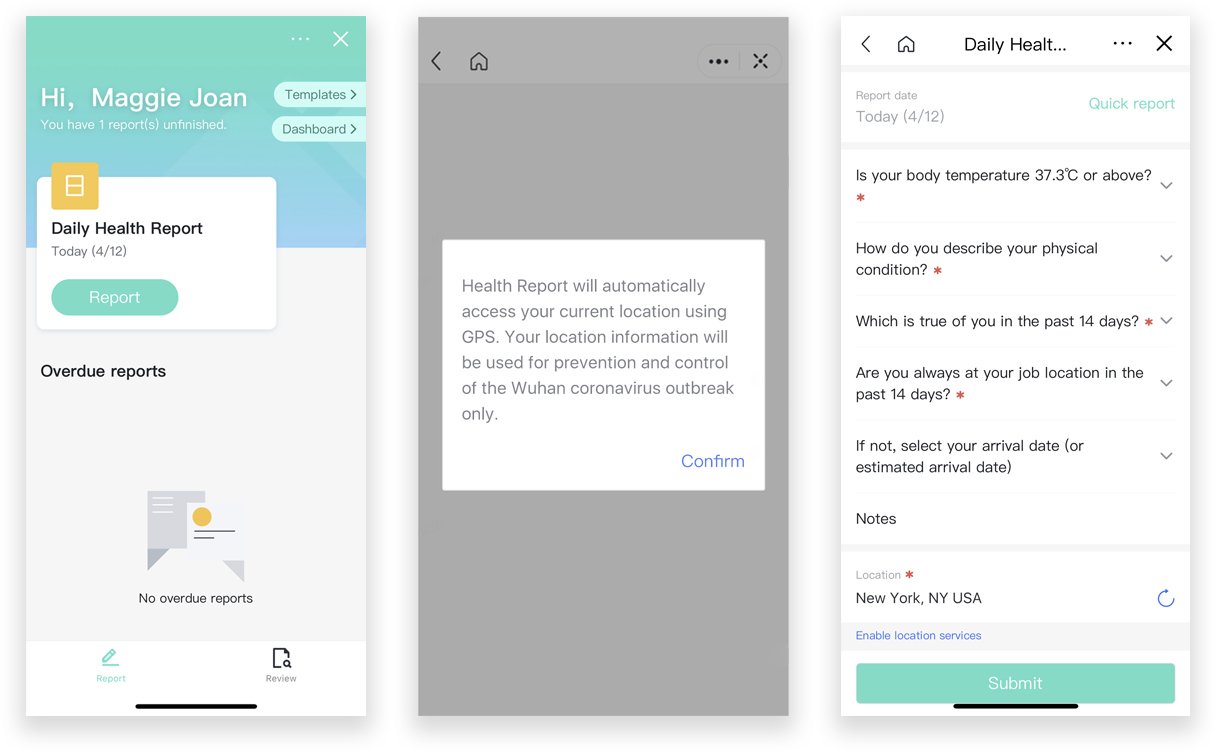 ⛑ 
Announcements makes sure everyone is up to date on the latest outbreak data
Employees who are responsible for data collection can report data, policies of the company and country to all employees via Announcements.
Note:
Companies can use Announcements to regularly send forms and policy notifications to employees to make sure everyone is notified.
Only company and announcement administrators have the permission to issue announcements. 
🍃 Announcement App Usage Guide
Users of the Feishu Commercial version can enable the Announcement app. Company administrators click Workplace - App Directory in admin, locate the app in the list, and click the button to the right of "Enable app and configuration availability" to grant permission to all employees. Announcement app is only available in the commercial version.
Administrators can select to push announcements to all employees or choose to notify a particular group. Once the recipients have been notified, you can get started on editing the announcement's content. Announcement supports Chinese and English. You can even insert images!
After submitting, the administrator can enter the verification code into the Announcement back-end pop-up window. The announcement will then be sent to employees. Announcement also supports advanced editing and notifications. Click here for details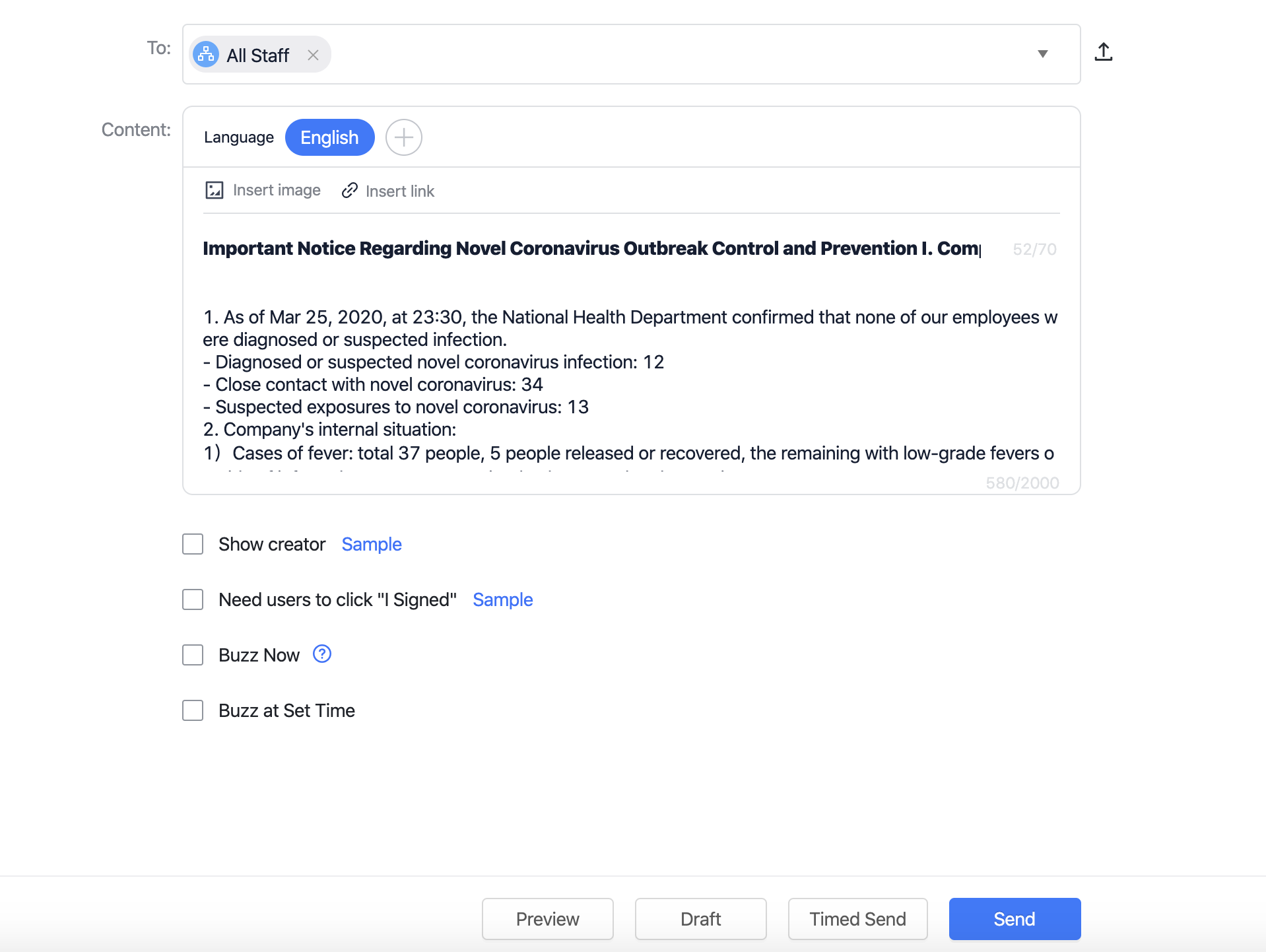 Scroll right to view the complete announcement template. 
🗒 Outbreak Notification Template


[Jan 25 Daily Report-2]: Important Notice Regarding Novel Coronavirus Outbreak Control and 



I. Company Outbreak Control


1. As of Jan 25, 2020, at 23:30, the National Health Department confirmed that none of our 




- 




- C




- Suspected

 exposures to novel coronavirus: X





2. Company's 

nternal 

ituation:




1)Cases of fever: total X people, X people 




2) Special 




- X cases: Relatives 






II. Preventative Measures and Material 

Supplies





1)




2)Other s

: The company purchased 

quantities of disinfectant

 

thermometer






The company is 

following 




N
🌺Congratulations, you've finished courses to learn about our apps! Now you know how to use Feishu to manage employees' health status, and share team health data for everyone. 
💗If you have any questions that this article does not address, please contact Customer Service Personnel.