Help Desk is a platform developed by Feishu for enterprises to integrate internal intelligent service accounts. By combining AI bots and human agents, Help Desk provides smart customer support solution for instant and effective communication. Employees can help themselves through Help Desk.
This article illustrates how to get started on Help Desk.
In enterprise collaboration, employees often have questions and don't know who to ask. Even they make lots of efforts and find someone who can answer the questions, they may not receive replies in time. To avoid such phenomena, we designed Help Desk.
Any department or individual in the enterprise can create and use Help Desk, and set auto Q&As regarding their business. When employees have a question, they can quickly find the corresponding Help Desk by searching the question type, and the AI bot will answer immediately. If the AI bot can not resolve the employee's questions, human agents with the right skills will be automatically involved to answer.
User guide 🌲
1. Create a help desk
1) Go to
Feishu - Workplace
and click
Help Desk
.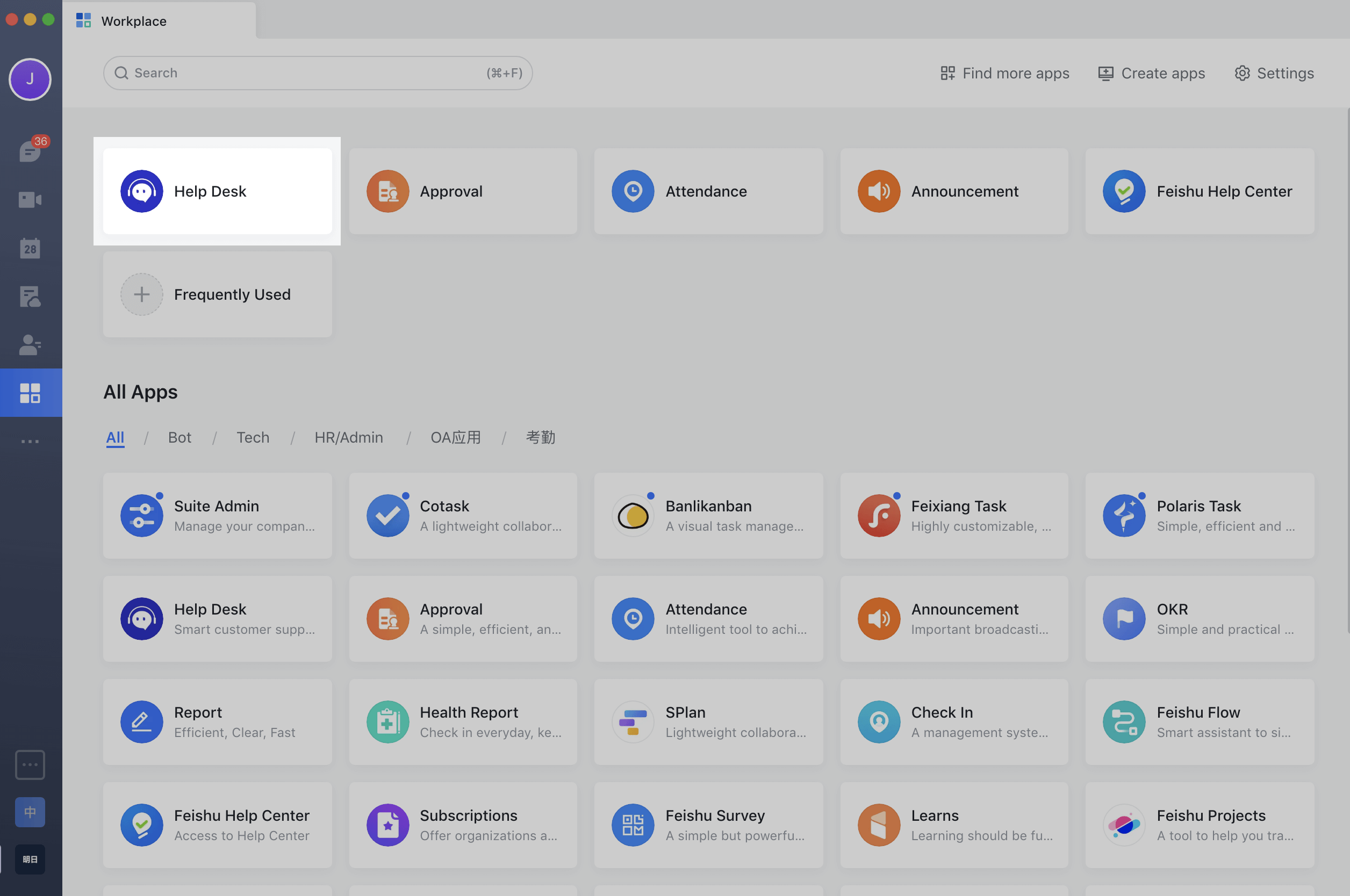 2) Click
Create Help Desks
.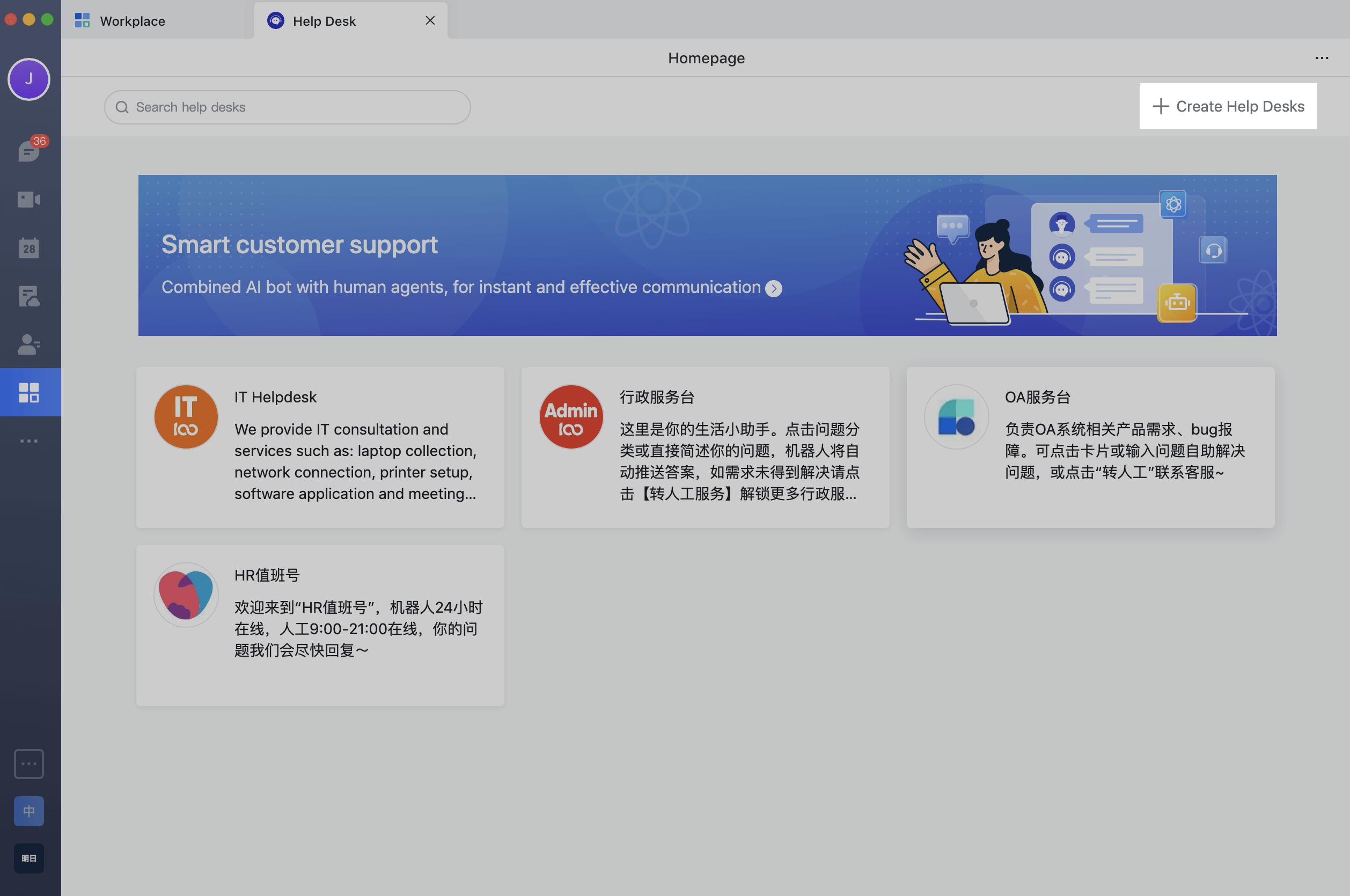 3) Follow the steps to create a help desk on the
page.
Note
: This help
desk will be enabled once your application is approved by the enterprise administrator.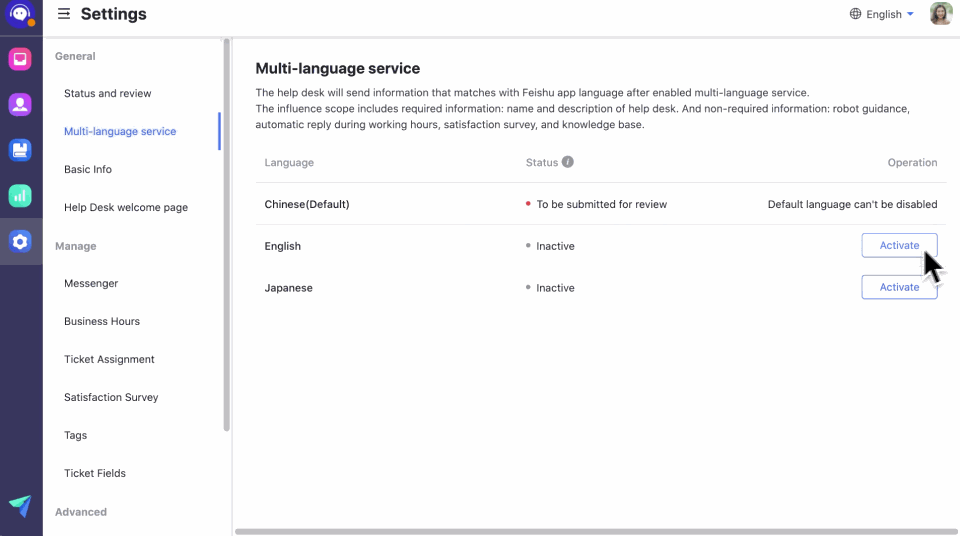 For more information, please see
🏂 Congrats! Here you have learned how to create a Help Desk. Next, let's take a look at
how an enterprise administrator review the help desk in Feishu Admin.
2. Review the help desk
Enterprise administrators can view the status, category, name, application time and other related information of help desks
. Also, they can review, enable, disable and pin help desks here.
Note
: An enterprise administrator may be different from the help desk owner, that is, the help desk creator. The former created the company's Feishu account or has the permission to mange all applications within the account including Help Desk. The help desk owner can be anyone in the company.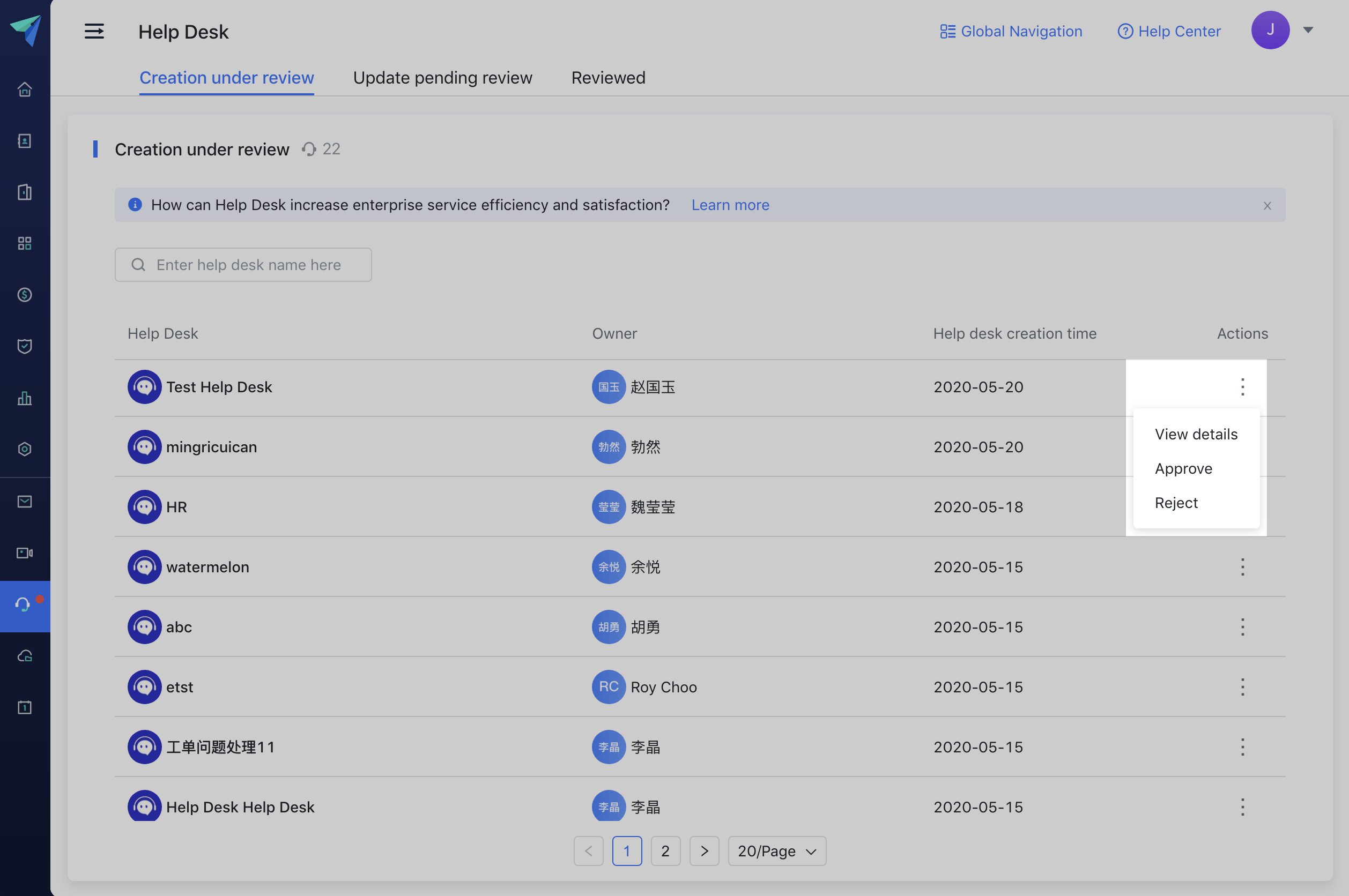 🏂 Congrats! Here you have learned how to review Help Desk as an enterprise administrator.
Now, we will
switch to the role of help desk administrator
, and learn about the basic settings on
Help Desk Admin
page.
3. Set up the help desk
After the help desk is approved, help desk administrators can click the buttons on the left bar to set up
Ticket Center, Agent, FAQs, Report and Settings
for this help desk.
Note: The help desk owner is also a help desk administrator, and can add others as administrators, but only the owner can disable or delete this help desk.
3.1 Ticket Center
When users clicks Help Desk and chat with the AI bot or human agents, tickets will be auto-created. In
Ticket Center
, you can view ticket information and export historical data to improve agent efficiency.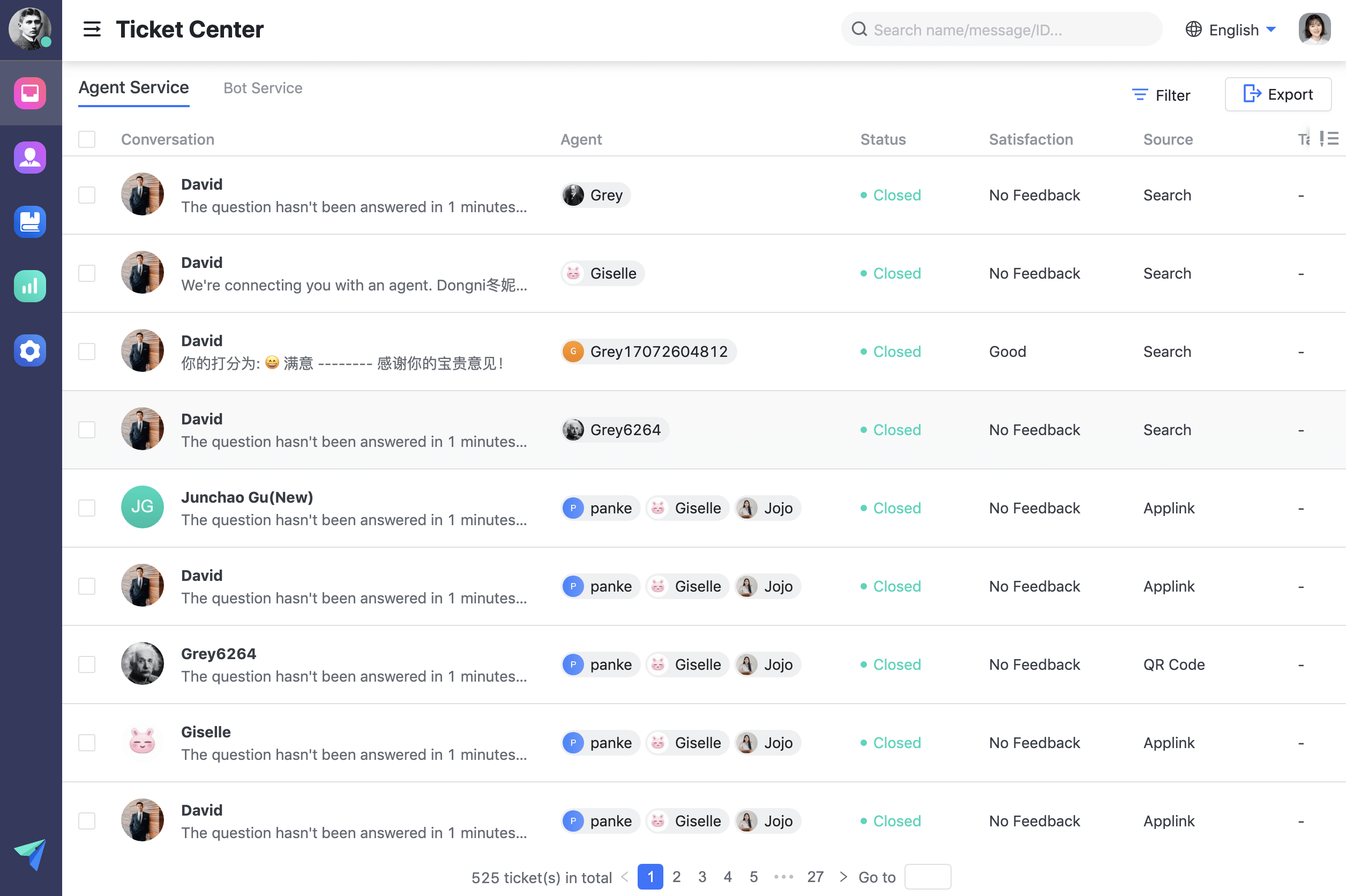 3.2 Agent
You can manage agents including add agents, set agents' skills and service hours.
3.3 FAQs
You can add question categories and FAQs as well as edit them. The AI bot answers users' questions based on the FAQs.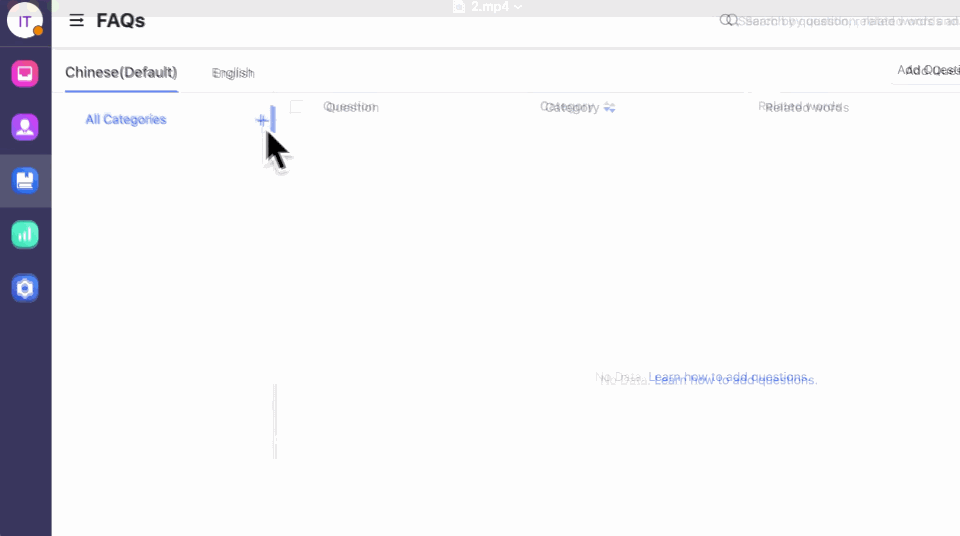 3.4. Report
You can view ticket trends, agent performance, FAQ quality, and satisfaction survey.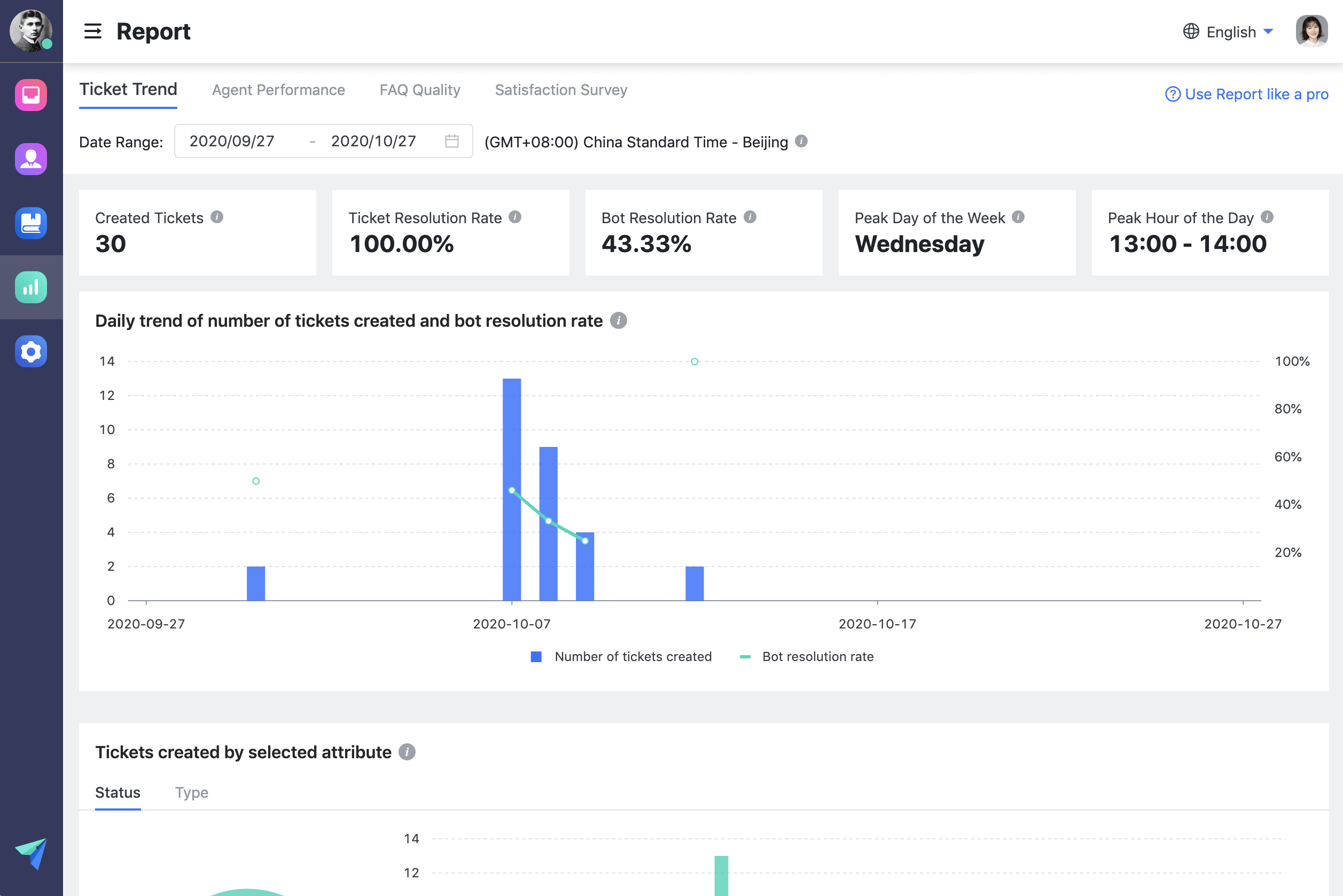 3.5 Settings
You can edit
, and
of this help desk.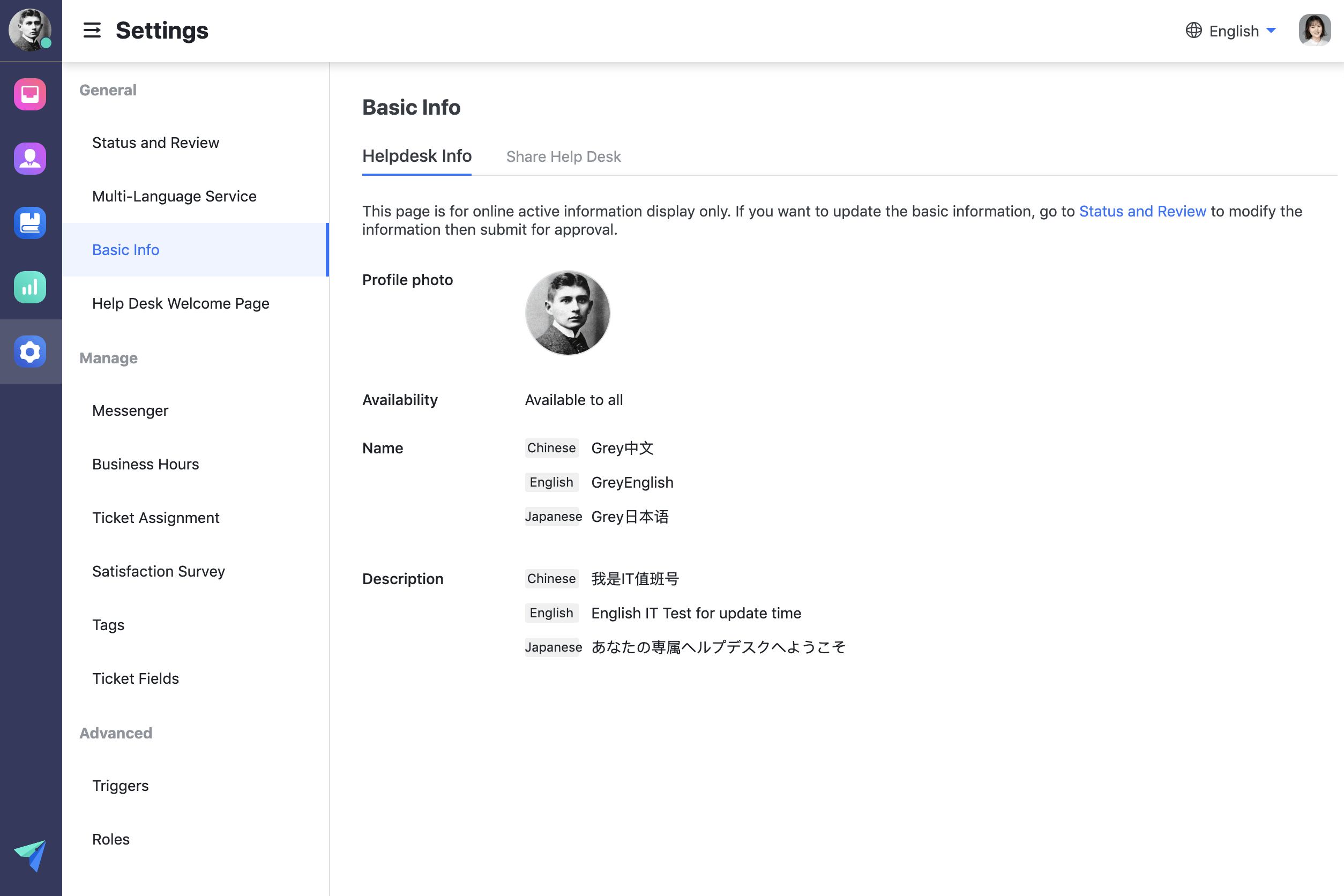 👏 Congrats! You have mastered the methods of creating, reviewing, and setting up a Help Desk. You can create your own Help Desk now!
💕 Feishu is always at your service to build a healthy office. For more information about Help Desk, please
click here!