Whether you telecommute 100% of the time or find yourself navigating this situation for the first time, working remotely can pose a unique set of challenges.
In this article, we'll present 4 Feishu Calendar tricks that you can put into practice right away for higher levels of productivity when telecommuting, regardless of your industry or job type.
1.

​

Find a meeting time that works for everyone
"No, sorry, I can't make it at that time."
"Sorry, can you schedule the meeting later in the day instead?"
Does that conversation sound familiar to you?
Finding a common time among busy team members can result in a long and confusing thread of messages around when to finally meet. That process of finding the best time to meet is inefficient, frustrating, and time-consuming.
With Feishu, you can easily find a time that works for all attendees with one click. Feishu Calendar syncs group members' availabilities and automatically finds the perfect time to schedule a meeting for everyone. Once it's scheduled, that time will be blocked off on your Calendar.
Watch this video to understand this feature better: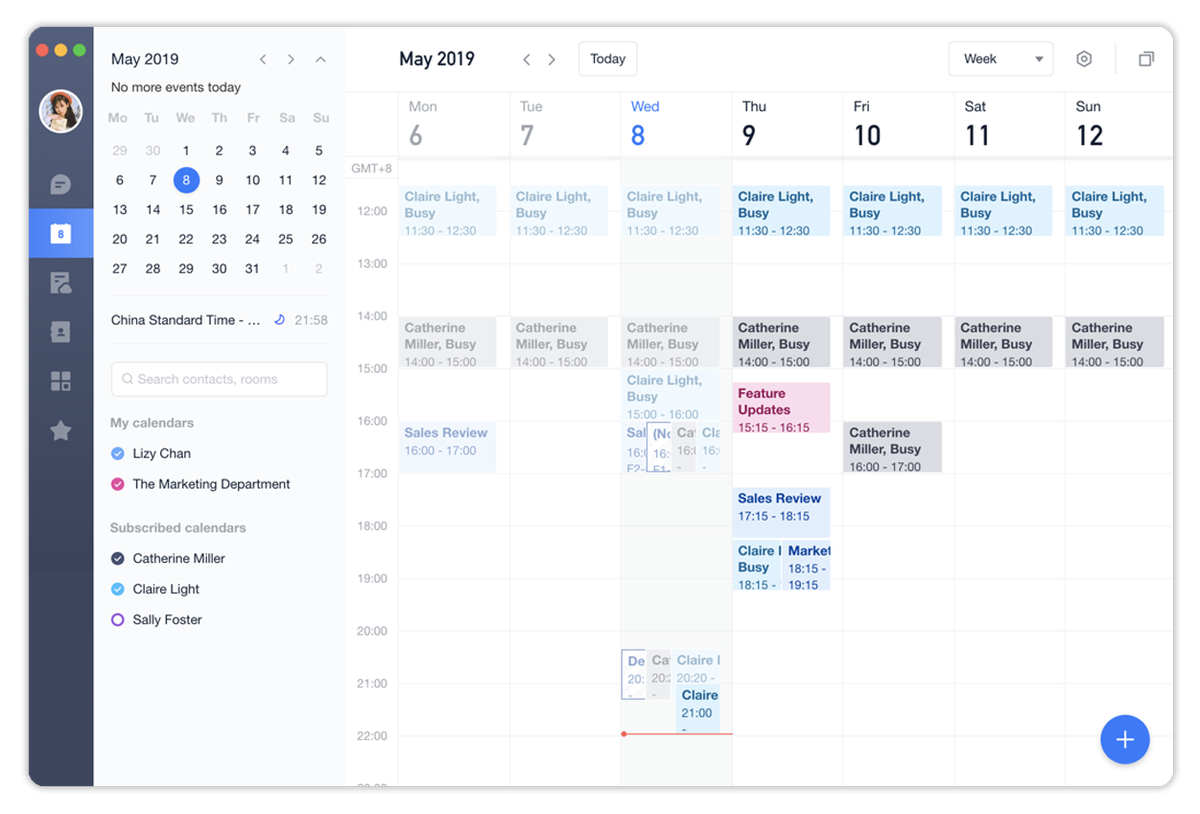 2.

​

Achieve work-life balance
One upside of working from home is the freed-up time spent commuting. However, this could also mean we're unintentionally spending more hours at our desks. With blurry lines between work and leisure, employees working remotely can struggle to maintain healthy boundaries between their professional and personal lives.
Feishu Calendar knows that your "me" time or family time is just as crucial as your work. One solution: use the working hours feature on Calendar to maintain work-life balance. For instance, you can enable working hours to be between 9 am to 5 pm from Monday to Friday. If someone tries to book a meeting outside your working hours, they will get a notification that you may not be able to attend the meeting.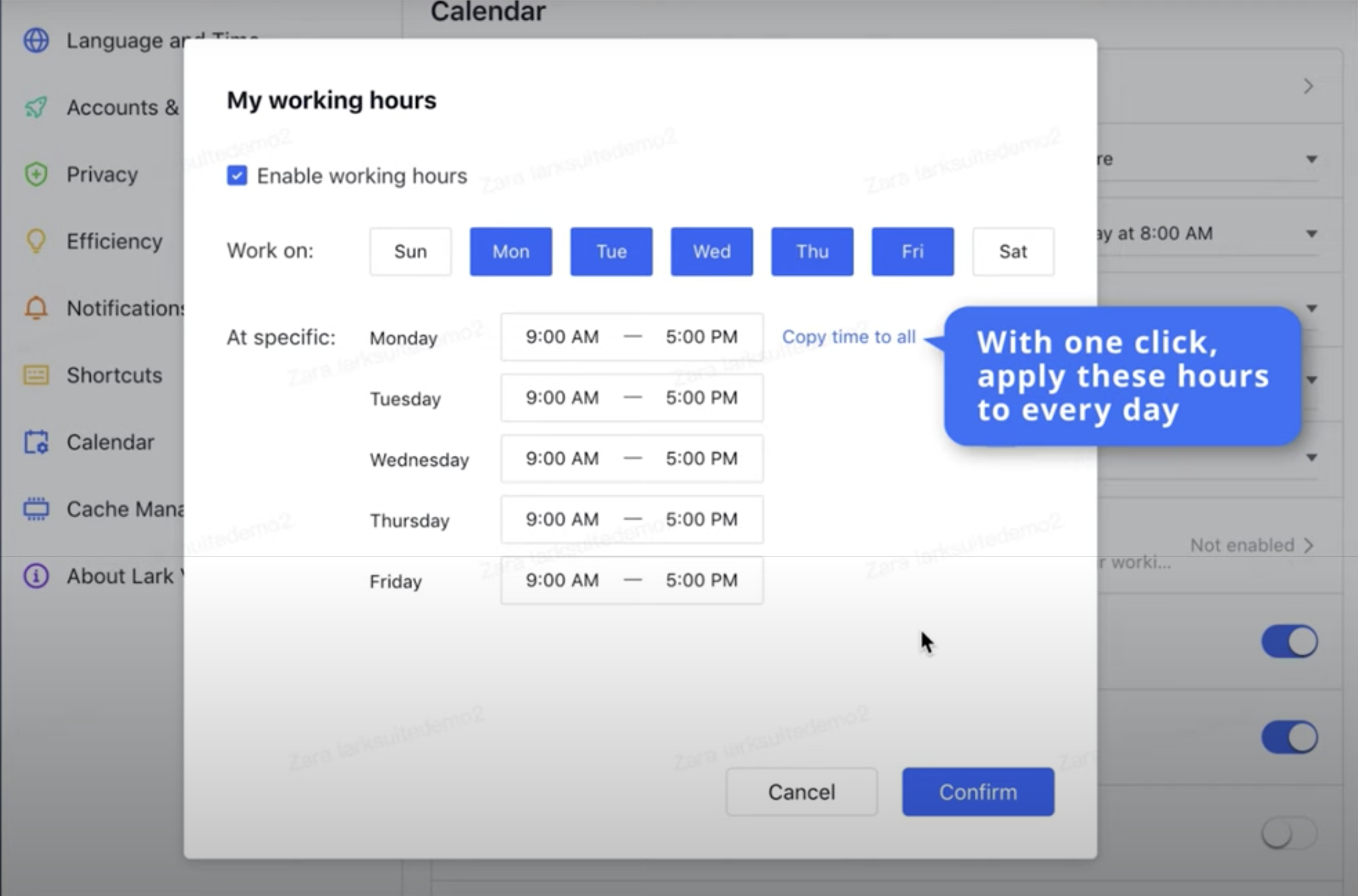 Watch this short video to learn how to use working hours:
3.

​

Never lose your meeting notes
It's best to make sure all meeting attendees have the materials they need (meeting notes, reports or presentations) before the meeting begins, so they don't have to desperately go hunting in their Drives or group chats.
Feishu Calendar lets you attach documents directly to events for attendees to view.
To use this feature, click on an event block in Calendar and click
Create meeting notes
. That will automatically generate a meeting template, which you can customize based on your needs. Those meeting notes will also be attached to the event. This is extremely helpful if you want to review weekly meeting notes so you never lose your notes again.
Watch this short video to learn more:
4.

​

With Feishu, you only need "one" calendar
After you start using Feishu, you may find yourself with two calendars: your Feishu Calendar and another one from Google. Your external partners may also use Google Calendar. This could be tricky when it comes to scheduling meetings with people outside of your organization. It can be annoying to go back and forth between two different calendars.
To solve that, simply integrate Google Calendar with Feishu to sync and centralize all your activities and meetings. Just use Feishu Calendar to send and confirm event invitations, even when your partners only use Google.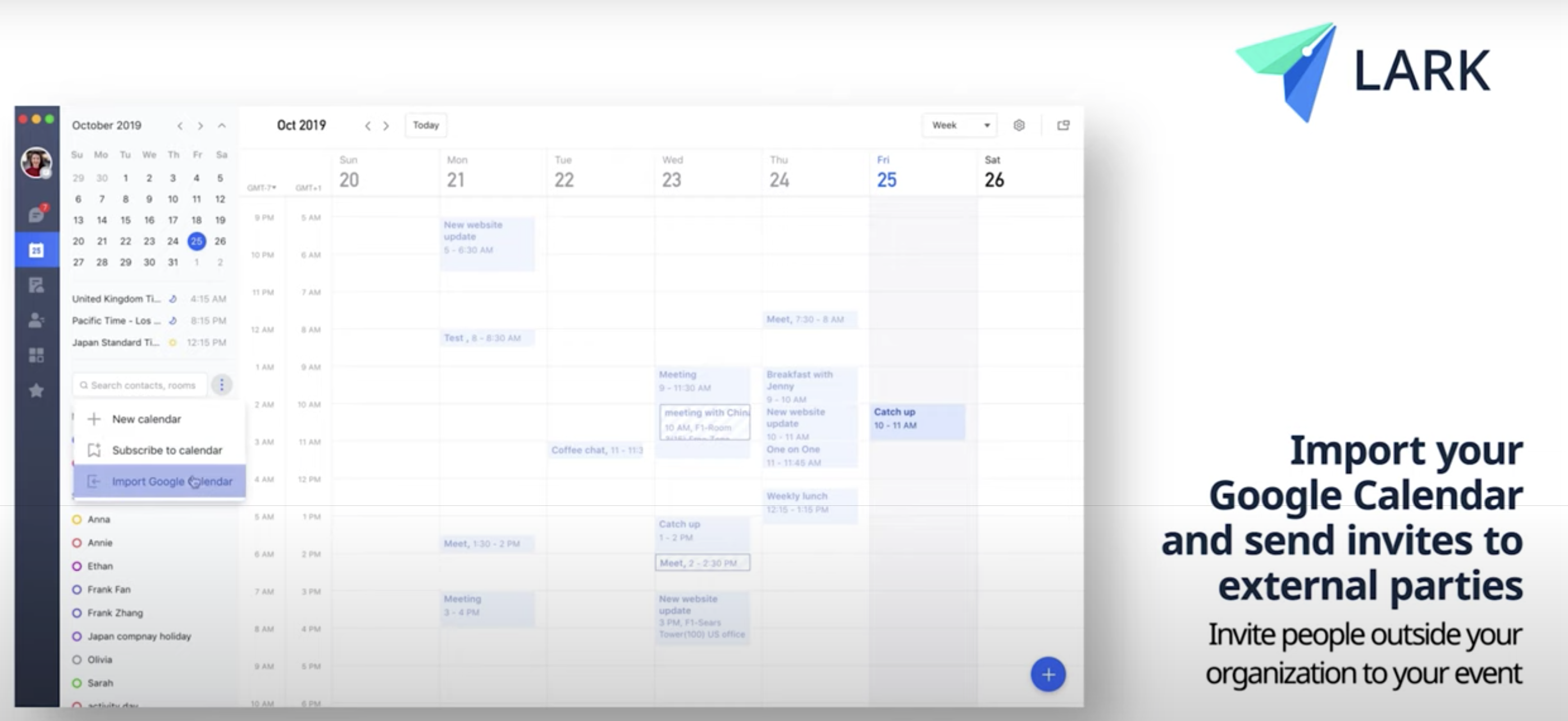 Watch this 40-second video to learn how to use it:
Now that you've learned these Feishu Calendar tricks, how about putting them to use? You can also check out these other Calendar resources to make working from home easier:
Learn more!
If you find this article useful, please give us a thumbs up. If you'd like to know more, please go to
Work From Home
for more useful tips and insights from our Best Practices.