Having an efficient and well-maintained corporate system not only saves operation costs, but also helps employees learn more about the company and employee benefits. However, this ideal situation is not always achieved and many companies are facing problems such as disorganization of documents, untimely updates, and information leaks, etc. 
Docs is here to help. It effectively solves the above problems and store all your organized documents safely in the cloud drive. You are only three steps away from having an efficient corporate system. 
1. Use Docs to organize the framework of corporate system
You need to first import relevant company documents onto Docs. Next up, create a master document and build up the framework of corporate system by organizing hyperlinked documents under their corresponding sections. Employees can use the master document as a menu to find whatever information they need.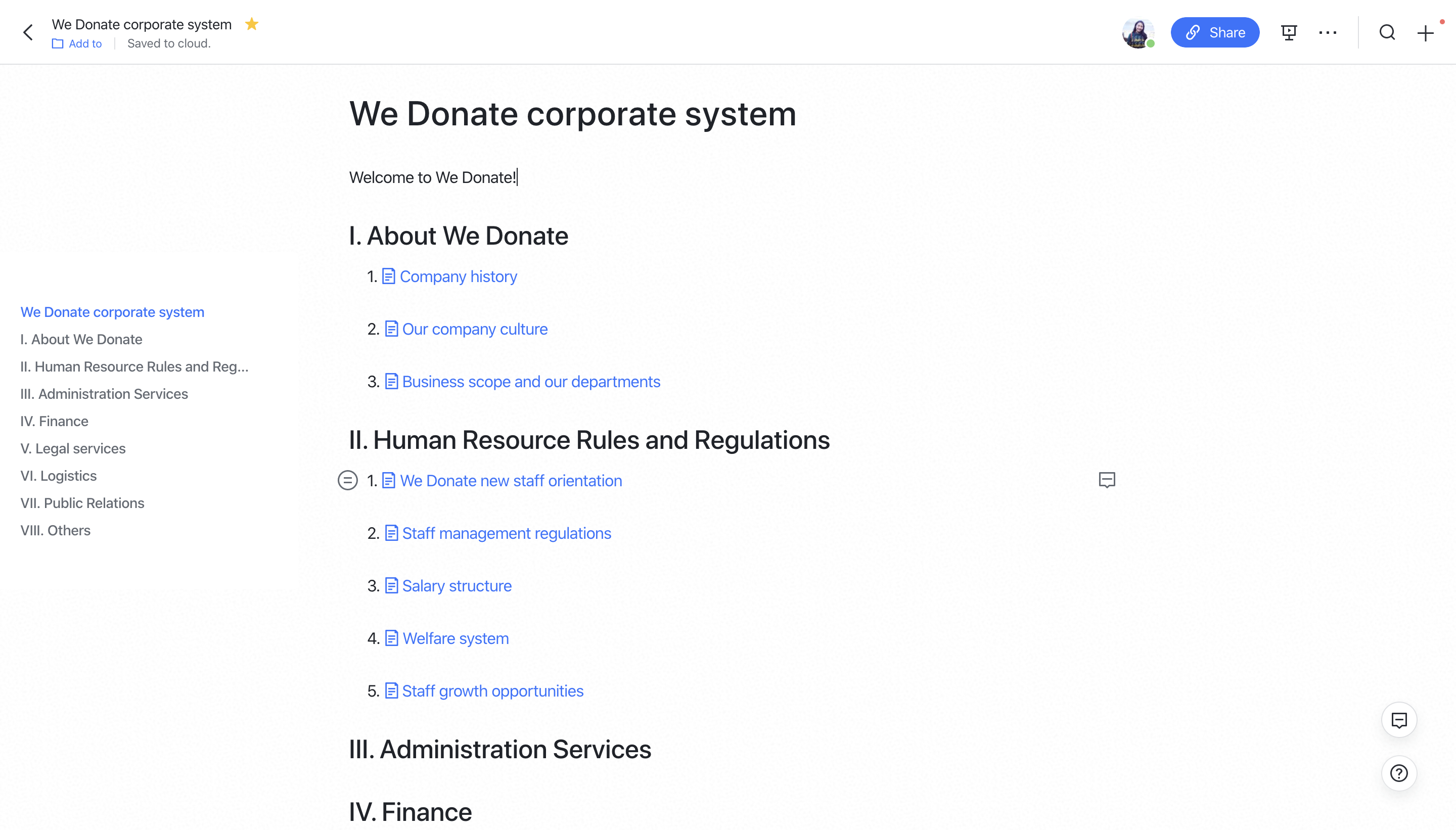 2. Open "view permissions" for employees
The document owner can share permissions to all-staff groups and set their permissions to "Can view". In this way, all employees in the company will be able to read and comment on the document, but are restricted from editing.
Note: You will need to share permissions of the master document as well as all other hyperlinked documents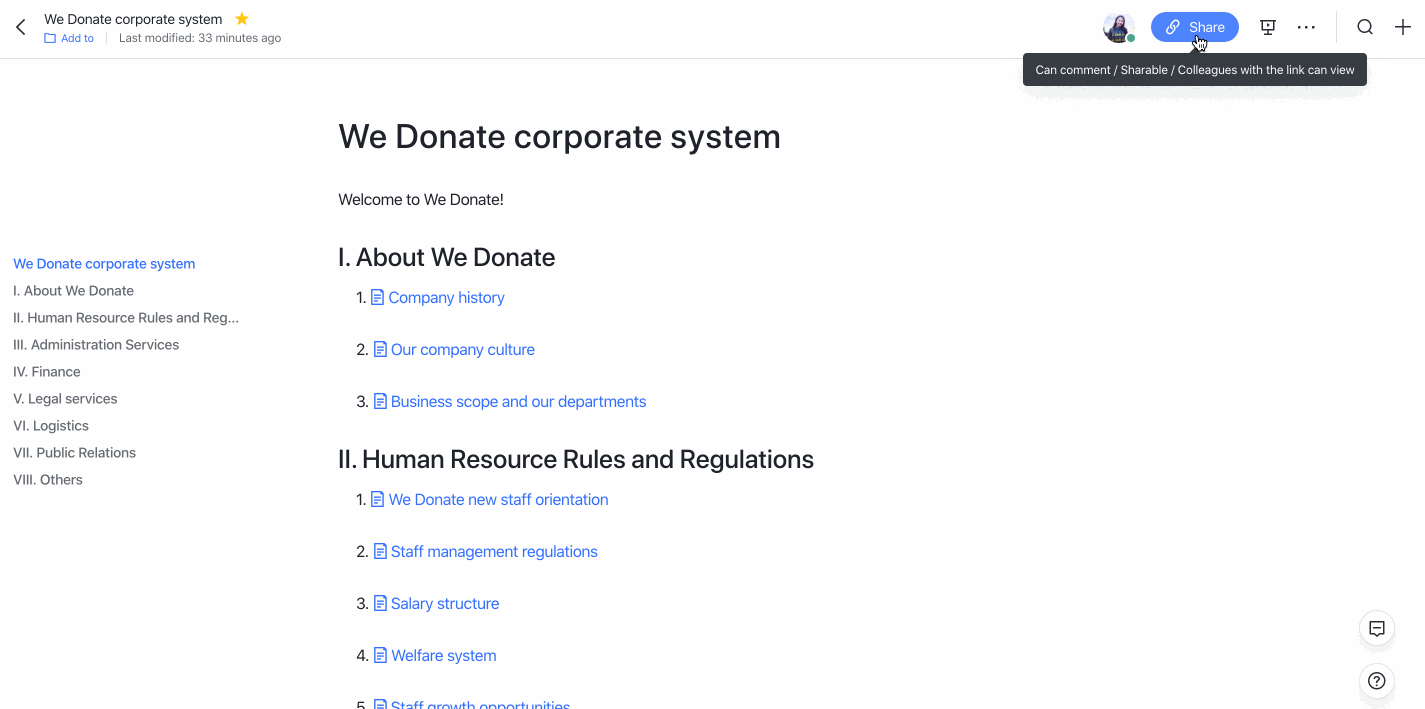 3. Put the document at an accessible location 
You can put a link to the master document in the all-staff group announcement. You can also create a Shared Folder accessible by the all-staff group, and move the master document into this Shared Folder, making it more convenient to grant view permissions to everyone in the company, including any new employees in the future. 
Note: Docs gives edit permissions by default to members of the Shared Folder. Therefore, if you decide to use a Shared Folder, you will need to change permissions of the master document manually to "Can view".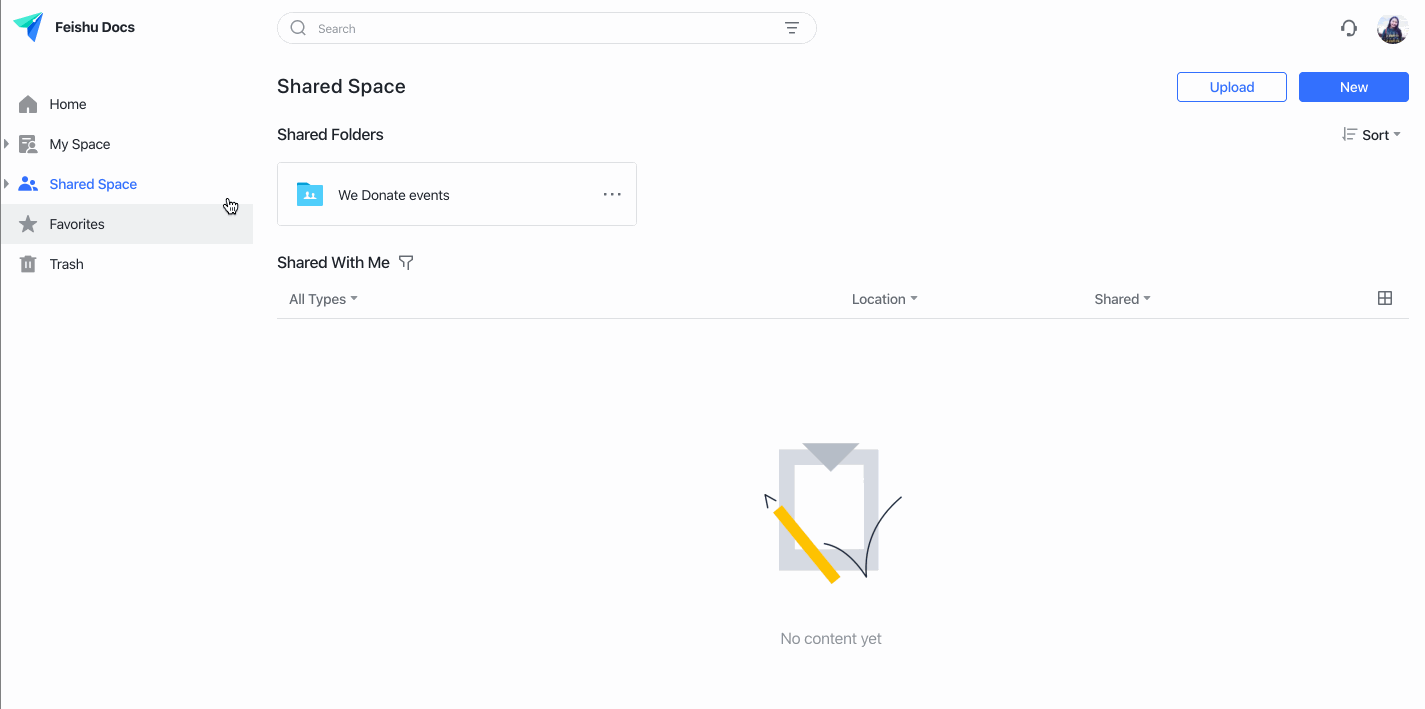 💡How to prevent document leaks?
There are two methods.
Method 1: set permissions of the document. The owner can click Share, and select Colleagues with the link can view. In Settings - Security, select People who can edit can copy, print, or export the file.
Method 2: the administrator can go to the Admin Console and follow Security - Security Strategy - Docs Permissions, select Don't allow users to share documents with people outside the organization.
Note: This Docs permission will apply to all documents within the company.
👏 Congrats on mastering the ways to build up an efficient corporate system using Docs. Try it out now!
💗 To know more about Docs, click here! To unlock more Feishu skills, stay tuned at remote work tips.