Help Desk is a platform developed by Feishu for enterprises to integrate internal intelligent service accounts. By combining AI bots and human agents, Feishu Help Desk provides smart customer support solution for instant and effective communication. Employees can help themselves through the Help Desk.
This article illustrates how to manage agents on Help Desk.
In
Agent
, a help desk owner and administrators can manage agents including add agent, set agents' skill and service hours.
Click
Agent - Add Agent
to enter agent page.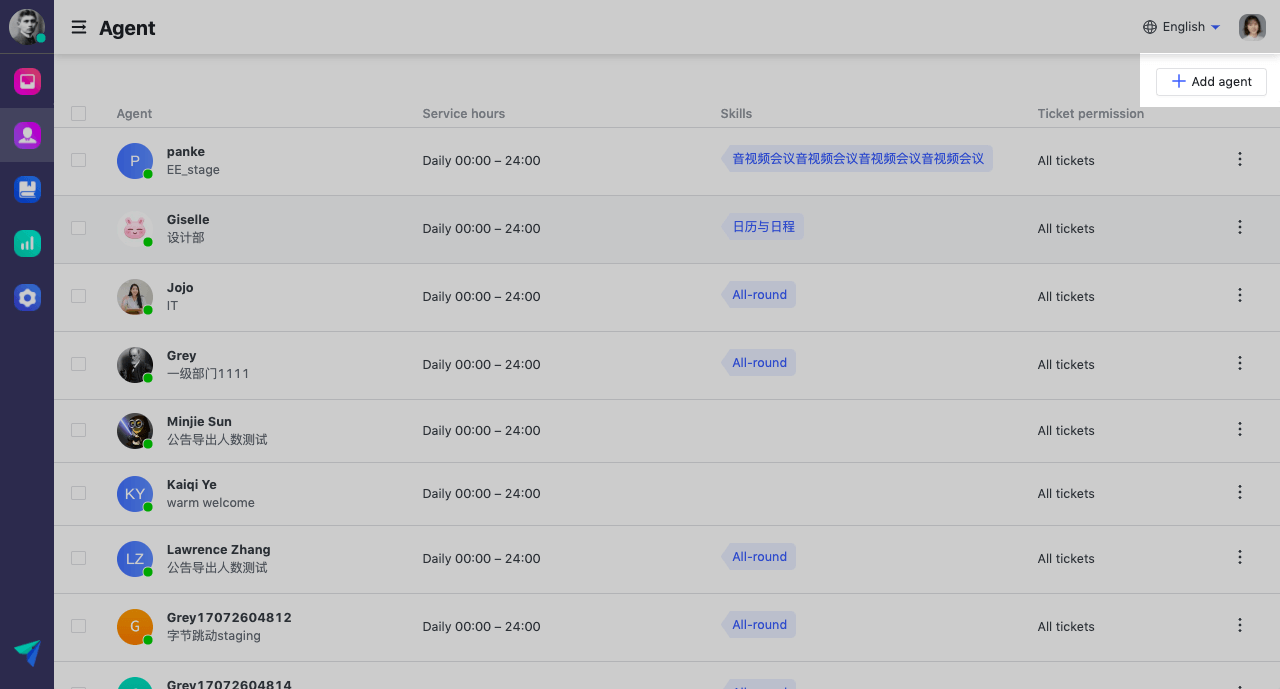 Complete the required information on
the panel, and then click
Confirm
: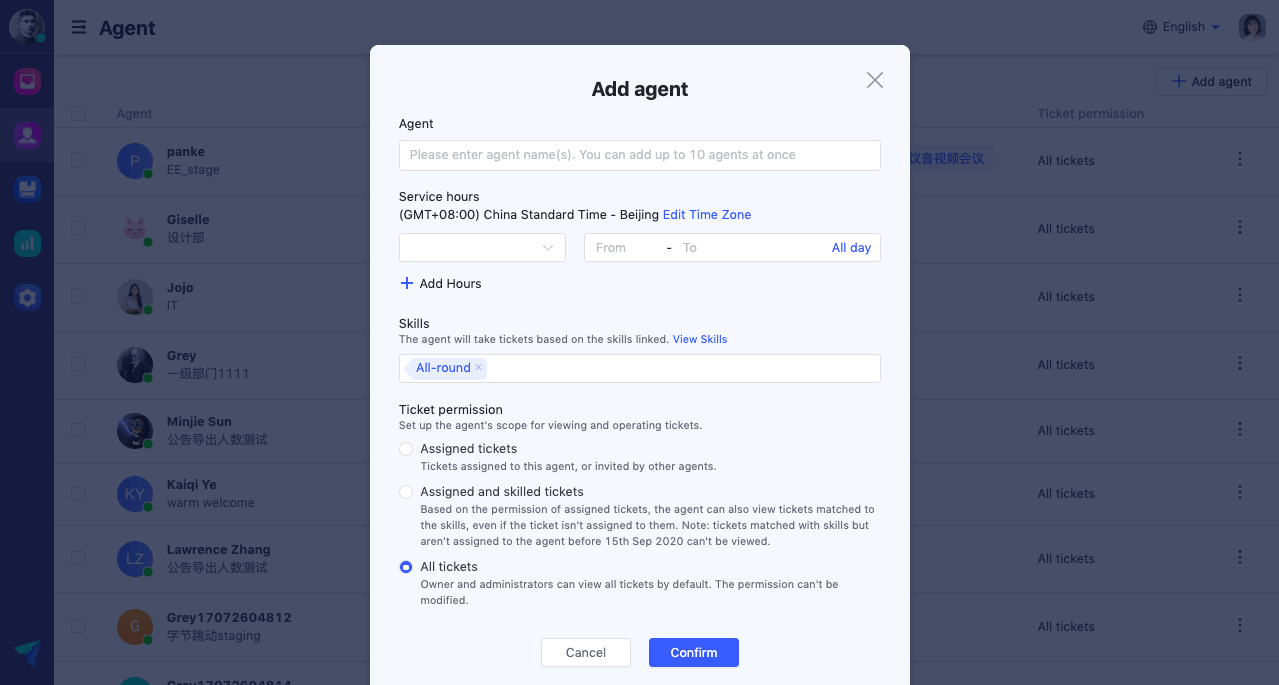 1.1 Agent
Please fill in agents' names. You can add up to 10 agents at once.
1.2 Service hours
Please set up work schedules for the agents. You can also select date range with overnight hours, e.g. 23:00 - 06:00 (on the next day).
1.3 Skills
To assign skills to the agents, click the box and select the skills you want to add.
To remove skills from the agents, click the remove icon on skill tags.
If you want to manage agent skills, you can click
View Skills
and then manage that on
Ticket Assignment
page.
Note: The setting of ticket permission will be affected if you don't select a skill for the agents.
1.4 Select ticket permission
You can help an agent to filter out irrelevant tickets and optimize service efficiency by setting up the agent's scope for viewing and operating tickets. Please select a permission from the following options:
◦

​

Assigned tickets:

Tickets assigned to this agent, or invited by other agents.
◦

​

Assigned and skilled tickets:

In addition to assigned tickets, this agent can also view tickets matched to the skills, even if the ticket isn't assigned to them.
◦

​

All tickets:

This agent can view all tickets. Also, the owner and administrators of this help desk can view all tickets by default, and it can't be modified.
Note: Regardless of ticket permissions, tickets of the AI bot can be viewed by every agent.
2. Edit agent information
Click
Modify
on the right side, and then you can modify the agent's service hours, skills and ticket permissions on
Modify Agent Info
panel.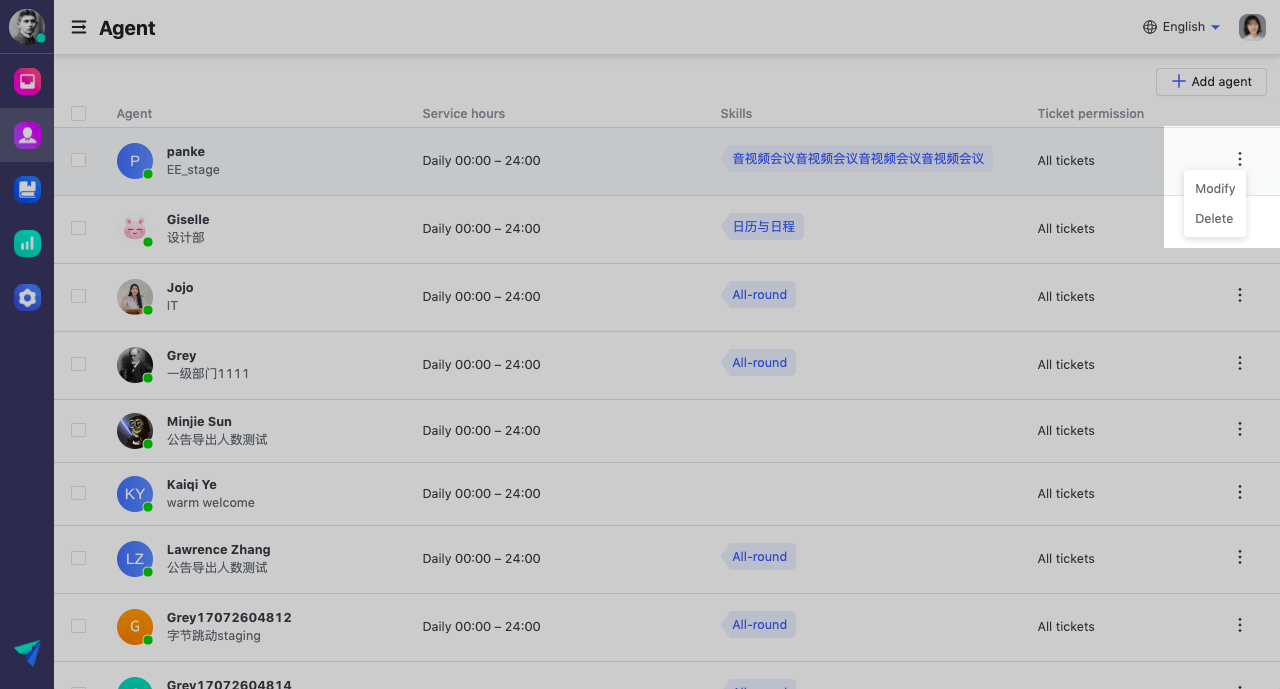 👏 Congratulations! You now know how to use Agent Management in Help Desk.
💕 Feishu is always at your service to build a healthy office. For more information about Help Desk,
click here!