This article will show you how admin staff efficiently collect data with Feishu Sheets.
Applicable scenario: Admin staff collect data
Functions: Sheets
Having to collect data is common in daily work. The traditional methods are sending emails, taking statistics in WeChat groups, using Excel, etc. It is not only a time-and-labor consuming but also prone to error. Feishu Sheets help you collect and process data efficiently.
💐Taking the collection of cultural T-shirt sizes as an example, we will show you the data-processing function of Sheets.  
1. Create a sheet and fill in the header
Before collecting the size information, you need to create a sheet and fill in the header (e.g., department, name, employee ID, size).

2. Send a link to collect data 
You can send the sheet link to the group chat and change the permission of the sheet from "Can read" to "Can edit". Members in the chat can open the sheet to fill in their information.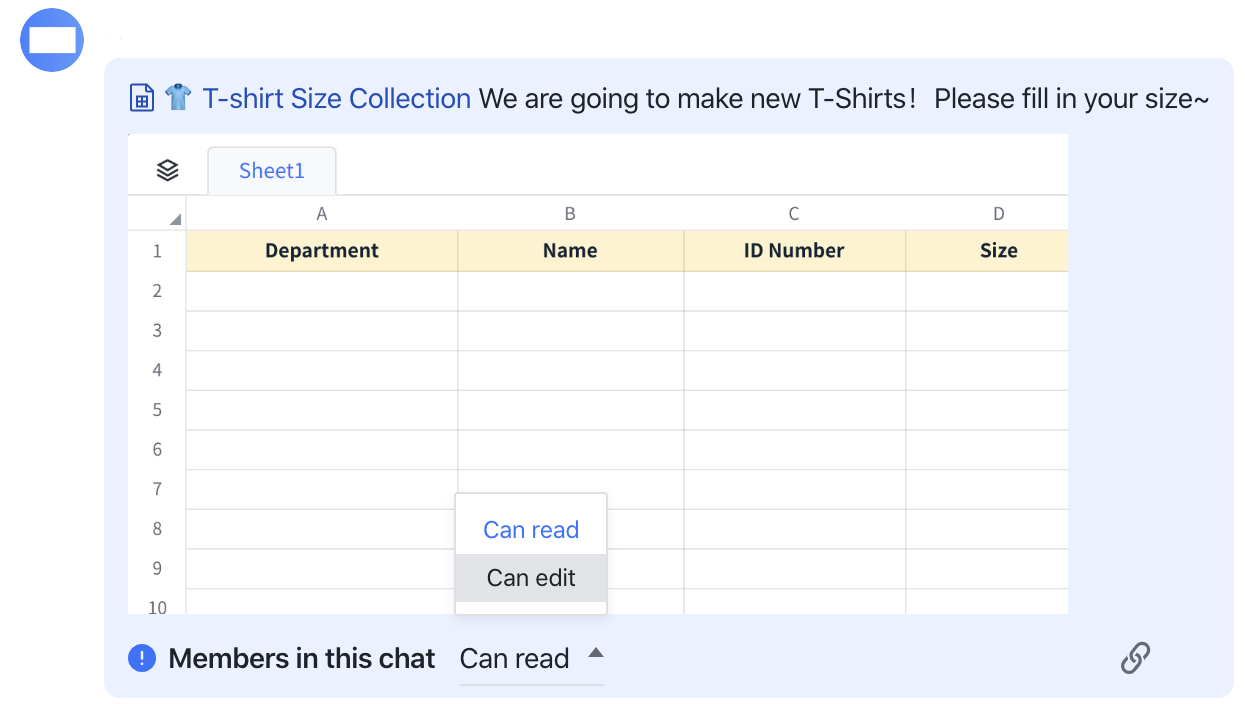 3. Members fill in the sheet themselves
The sheet will display each member's editing status in real-time. Members can see others' input positions and contents without worrying about "conflicting" with each other.

When all the members have filled in their information, the data will be collected automatically. The collection of T-shirt sizes can be easily accomplished.
💡Advantages of collecting data with Sheets
Collaborate with many people efficiently to save time
Modify data at any time and save Sheets in real-time
Mention@ someone in Sheets to remind relevant people to fill in or edit data
Without email notifications, inefficient communication, and manually copying and pasting
👏 Use Feishu Sheets to collect data more efficiently and accurately. Have a try!
💕 Feishu is here to help and accompany you every day.