Situation: Manage team resources and information
Feature: Docs, group chat
When collaborating within a team, you receive all sorts of information every day, that includes videos, messages, documents, images and so on. They may come from different channels and at different times. Does scattered information bother you? Tired of explaining the same things all over again whenever a new member joins the team? Having to scroll through the entire chat history just to find that one particular link?
Feishu helps you manage your team resources by filtering and organizing relevant information, making communications smoother, and collaborations more efficient.
1. Create a master document
Collect all relevant information at one place for easy reference.
When a project involves several tasks and members, the relevant information is likely to be scattered in multiple places. While the project goes on, new documents accumulate and continue to scatter. The difficulty of aligning information across the project team will only increase. There is also a high risk of misplacing important documents.
Here's what you can do with Feishu:
Create a master document and give edit permissions to all relevant members. The respective task owners can help build up the master document by adding hyperlinked documents under different sections to form a comprehensive project directory. This master document can then be used as an easy reference to align information across the project team.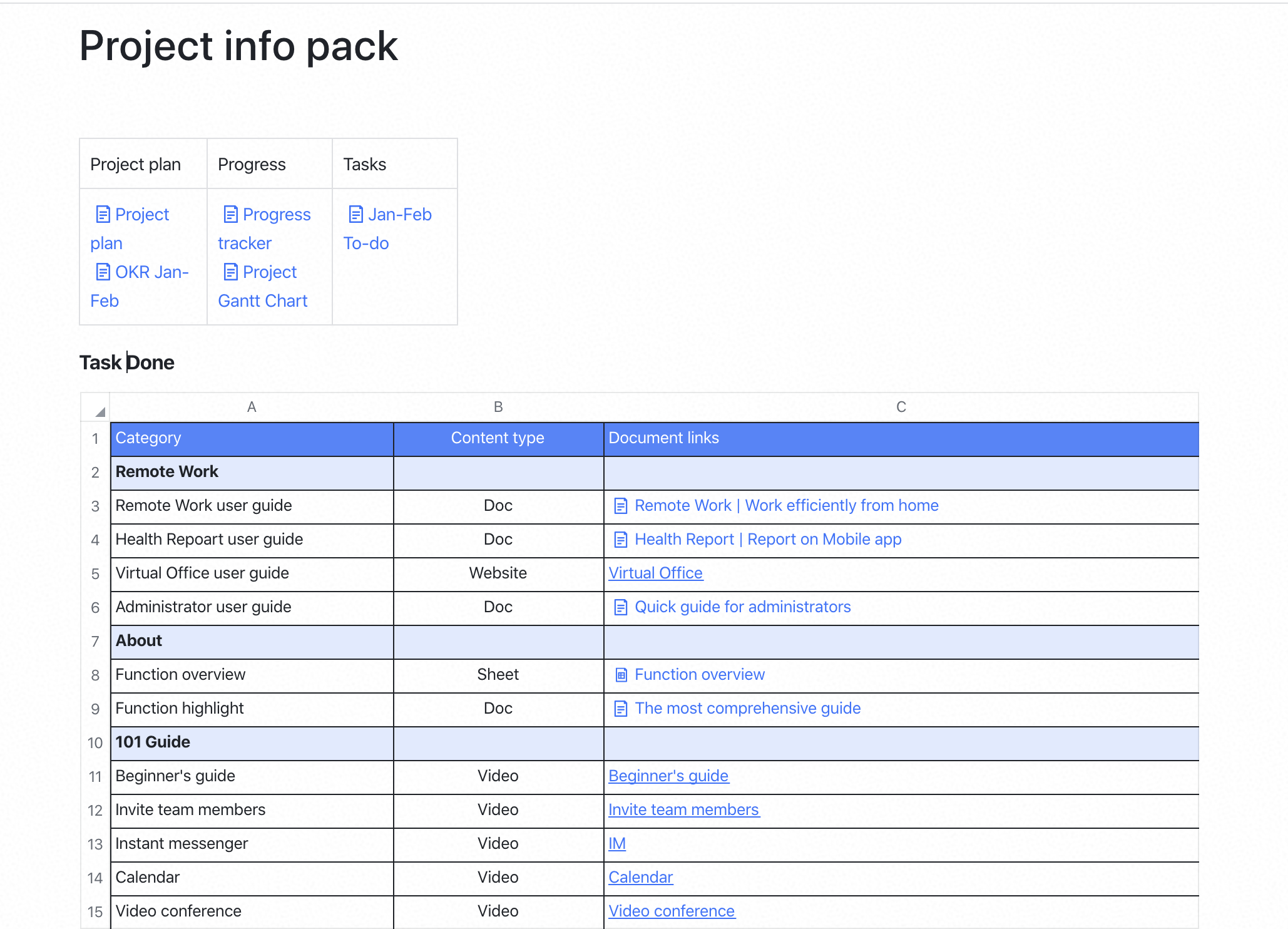 In the document, you can not only insert hyperlinked documents, but also information in many other formats such as images, tables, videos, website links, chat groups and so on, making it easier for members to collect various types of information in one document. 
 2. 
Use Shared Folder to build team knowledge base 
Encourage systematic self-learning and form team consensus.
A document may be sufficient to contain all relevant information of a project; however, to maintain the information for the whole team will require a more complex system - you need a knowledge base. 
Here's what you can do with Feishu:
In Docs, create a Shared Folder and many sub-folders according to the team structure. Upload important and frequently-used documents onto the Shared Folder and give access permissions to team members. By doing so, you create a knowledge base for your team that supplies all relevant information and can be used for references, self-learning or simply better understand the team situation and background.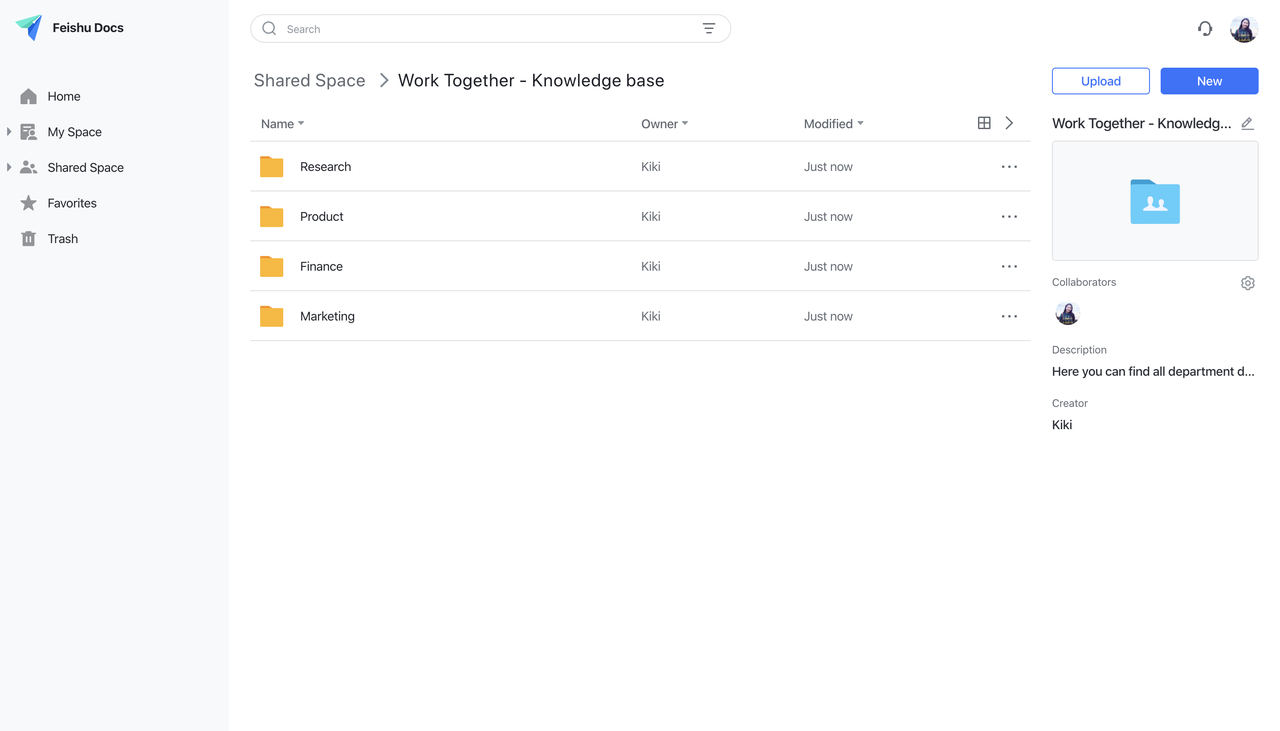 3. Collect important notices in group announcement
Provide context for specific tasks.
Group chat is a place where members carry out daily conversations and exchange information; it is also a place where the most irrelevant, repeated or extra information lies. Improving on information screening and management is a crucial factor in enhancing communication and work efficiency. 
By utilizing the group announcement to summarize important information, you can provide group members with a clearer context for work. New members can also refer to the announcement to learn the most important information, without having to scroll through the lengthy chat history or asking random questions. You can refer to the following categories to write a group announcement:
General background, e.g., team strategy, plan, OKR, etc.

Project planning and progress, e.g., project plan, progress tracker, etc.

Workflow and guidelines, e.g., workflow explanations, writing guidelines, etc.

Important references, e.g., released articles, meeting minutes, etc.

Resources and tools, e.g., internal resources, common tools, etc.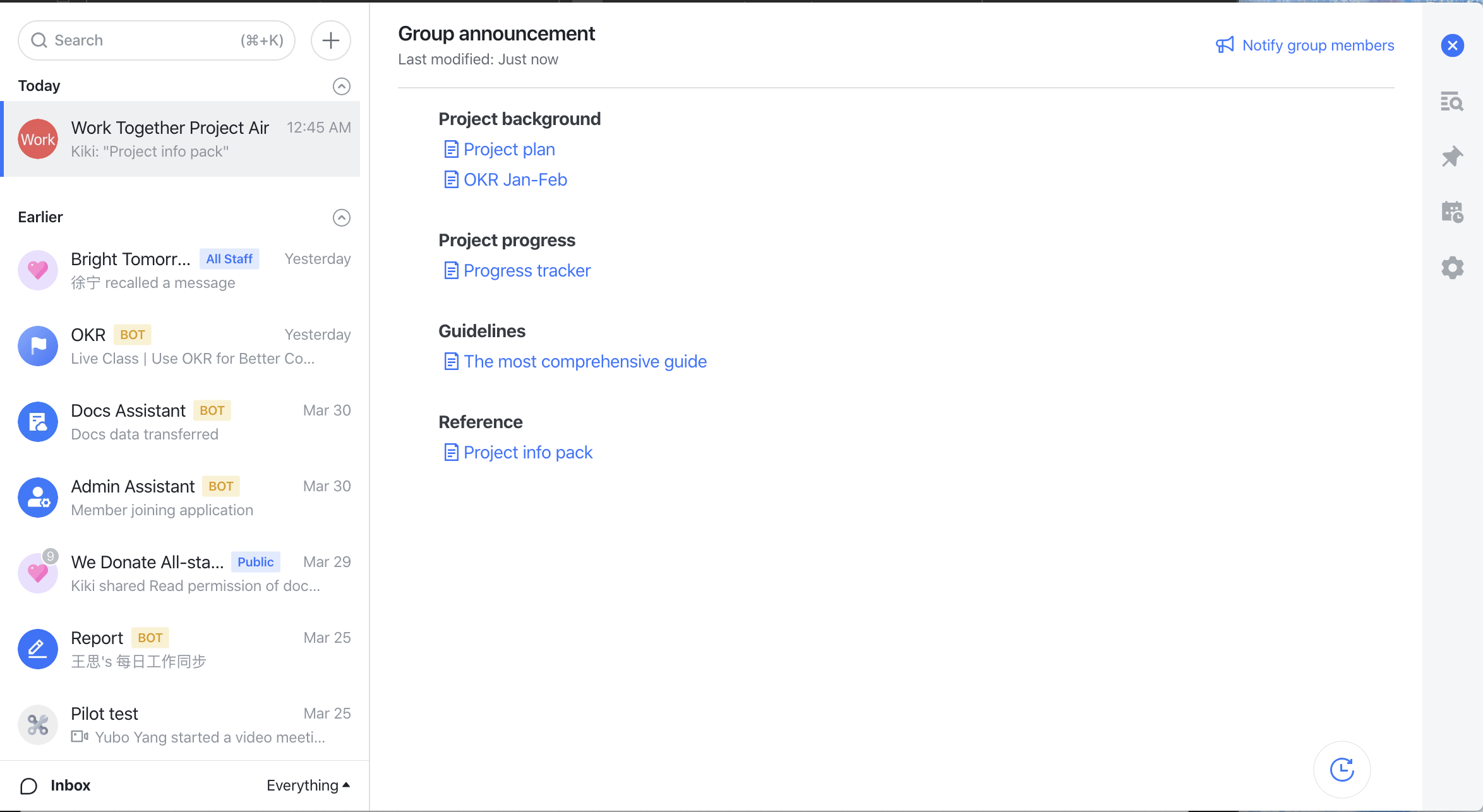 Note: If the group is for a specific task, it is important to keep the group announcement closely related to the current task. More general background information can go to the all-staff group or the team knowledge base. 
4. Pin the important message in group chat
Filter out important information for the team.
In the group chat, members communicate in high frequency and all kinds of information are mixed. It is crucial to Pin important information before it is lost in trivial conversations. All members in the group can Pin messages and all pinned items will be collected for easy reference at any time.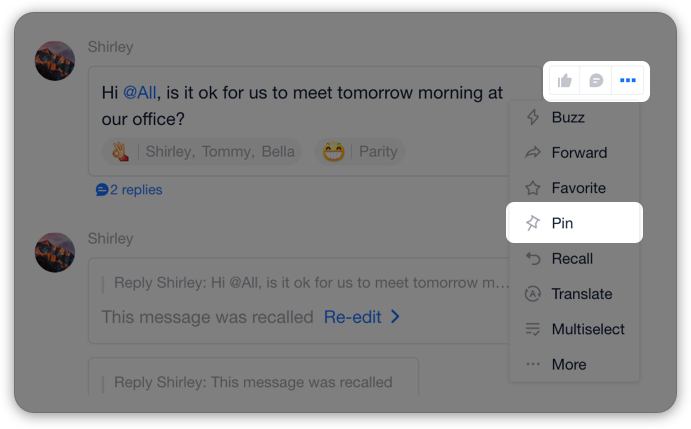 5. Save important information to Favorites
Collect relevant information for self-reference.
Each member in the team may have slightly different tasks and roles, so their needs and interests on information also differ. Apart from filtering out important information for the team, you can also save relevant information to Favorites for self-reference, making it easier for information organization and review.
👏 You have learned the efficient ways to manage team resources. Go and try these tips!
💗 Use Feishu, work efficiently. To know more Feishu tips on improving efficiency, please subscribe to Working Remotely.