Situation: Search internal information on Feishu 
Features:

 

Messenger, Feishu Docs
Nowadays as information easily overloads, it is essential to learn how to find exactly what you need from a vast pool of resources. Here we have several tips on how to quickly find relevant information and solve problems on Feishu.
Try searching names    
Click the search bar in the upper left corner to open the search window. You can easily find your colleagues by searching their alias:

If you can't remember the group name, search by the names of group members to locate it:

In the search window, click Search for messages, Docs or Sheets... to use Advanced Search.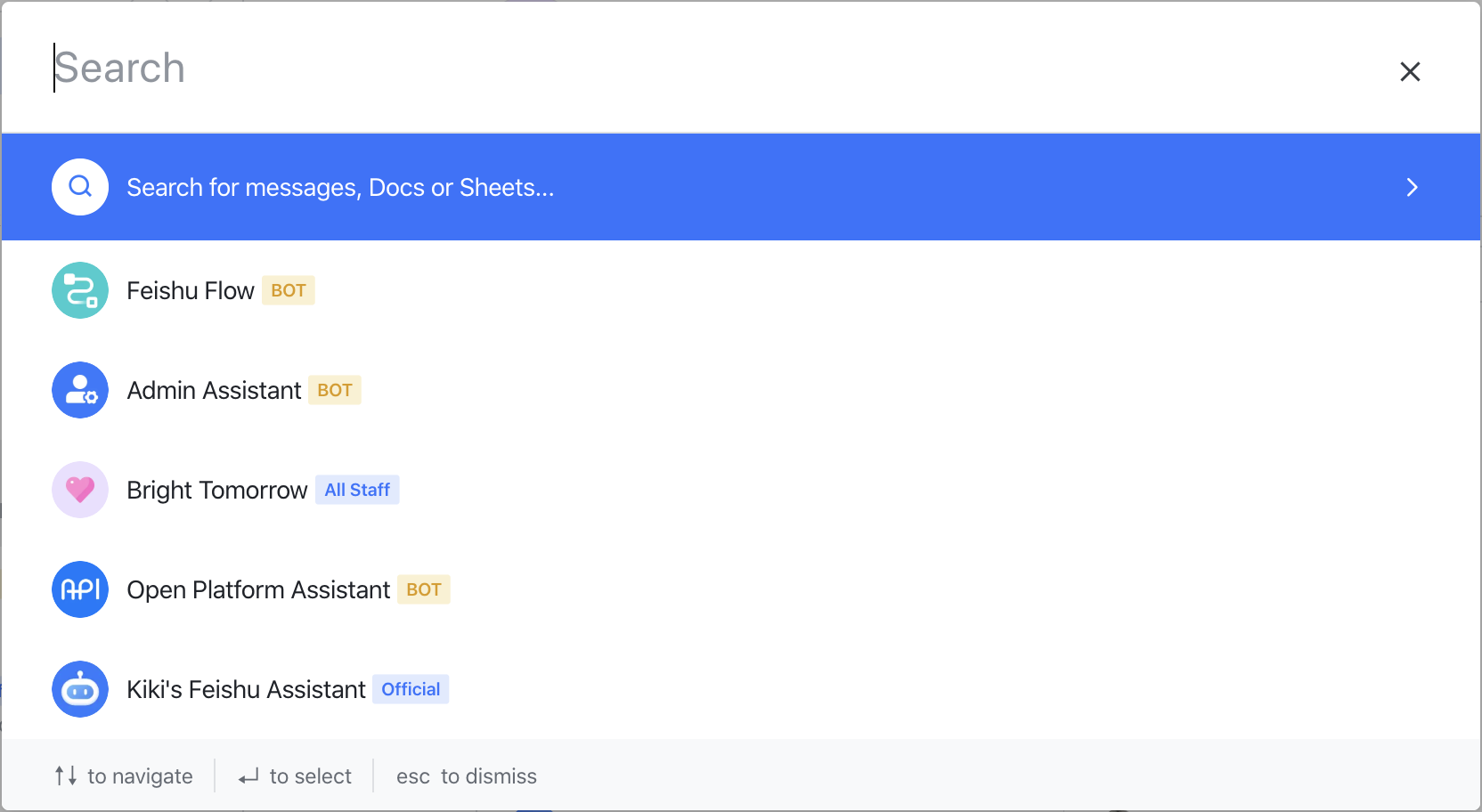 In Advanced Search, you can enter your own name to see chats where you've been mentioned.
It's worth noting that the search function also covers events from Calendar. By choosing the filters in the right column, you can search for dates, event creators, etc. 

Search smart in Docs, use Advanced Search
Use the search bar on Docs homepage to find Docs, Sheets and folders. 

It may not be easy to find the exact Docs you want as their names are often re-edited. In that case, you can use filters in Advanced Search. Here are some examples:
Se

Owner

to search by specific colleagues

Se

Shared

in chat

to search by chats

Se

Location

to search by folders

Se

Recently viewed

to search by time viewed
It's also a smart
!
When you open the search bar, there will be a search list where you can see suggestions in the following order: Unread Buzz messages, chats that @mention you, @all chats, unread subscribed message, marked for later chats, drafted chats, and other chats. In this manner, unattended messages are arranged for you according to importance level, offering you an easier and more efficient experience when dealing with heavy workload. 
👏 Search ability is essential at work. Start now, search smart.
💗 Use Feishu, work efficiently. To know more Feishu tips on improving efficiency, please subscribe to Feishu Tips for Working Remotely.