If you are a developer, these headaches might sound familiar to you: the ever-changing product requirements, messy version releases, and inefficient data monitoring. With Feishu, you can collaborate with each other to create useful information and effective workflow so as to greatly enhance work efficiency.
🔖 Use Feishu Docs to clarify requirements
The powerful Feishu Docs supports a variety of rich content types, making it a perfect tool for teams to describe and consolidate their engineering requirements. As the product manager creates the product requirements document, you can view it in real time and make comments on specific parts of the doc whenever you have questions. This ensures that questions and doubts are clarified at the outset, preventing time loss caused by misunderstandings. For more information, go to
Using Docs
.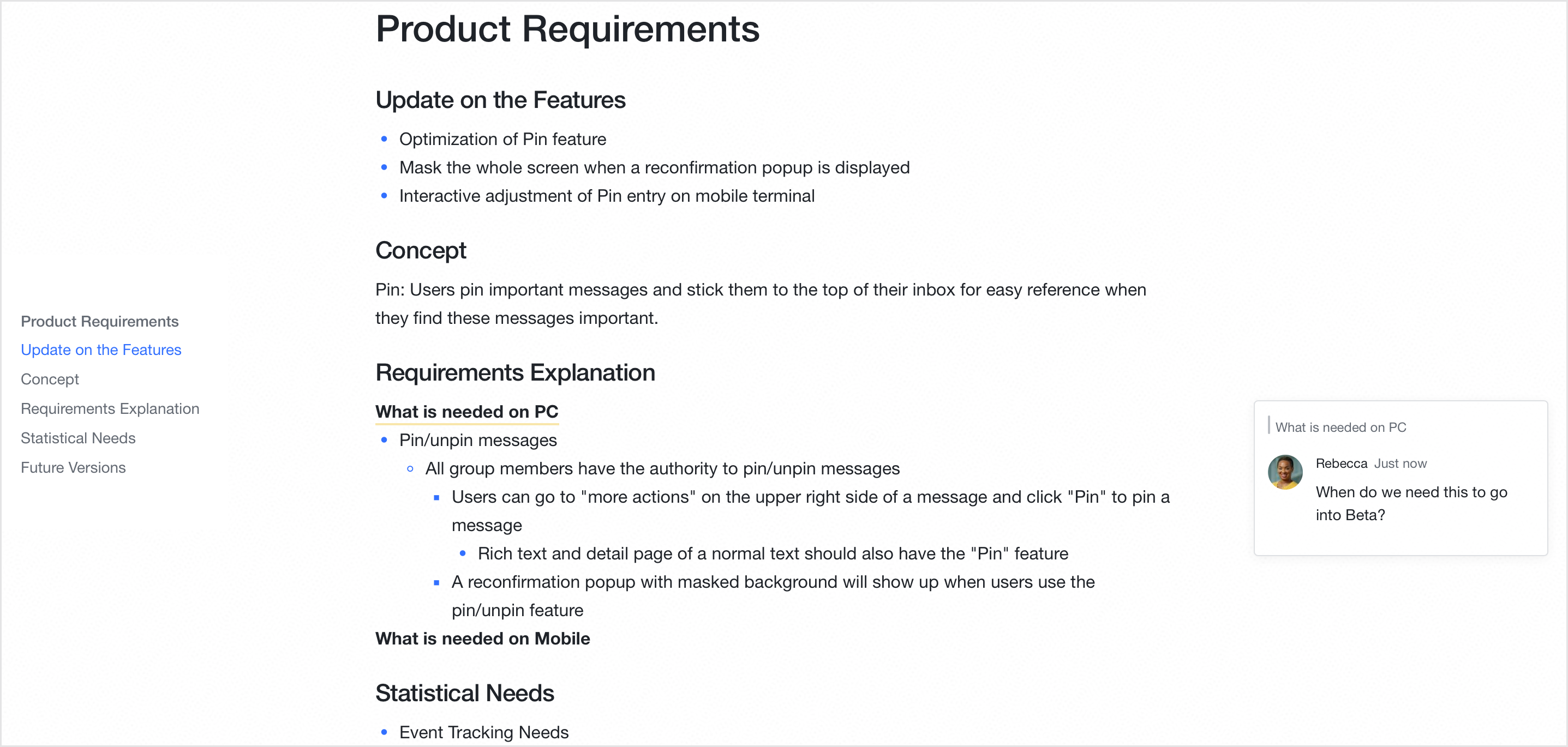 📊 Use Docs Templates to record progress
Upon understanding the requirements, you can choose a Project Plan or Project Timeline template for planning, and use Gantt chart for R&D project management. You can edit the Doc simultaneously and consolidate daily/weekly work reports in one single platform. Relevant files and tables can be inserted directly into the Doc for further details. You can also view or comment on other people's Docs to get updates on the latest progress. For more information, go to
Insert tables and multimedia elements in Docs
.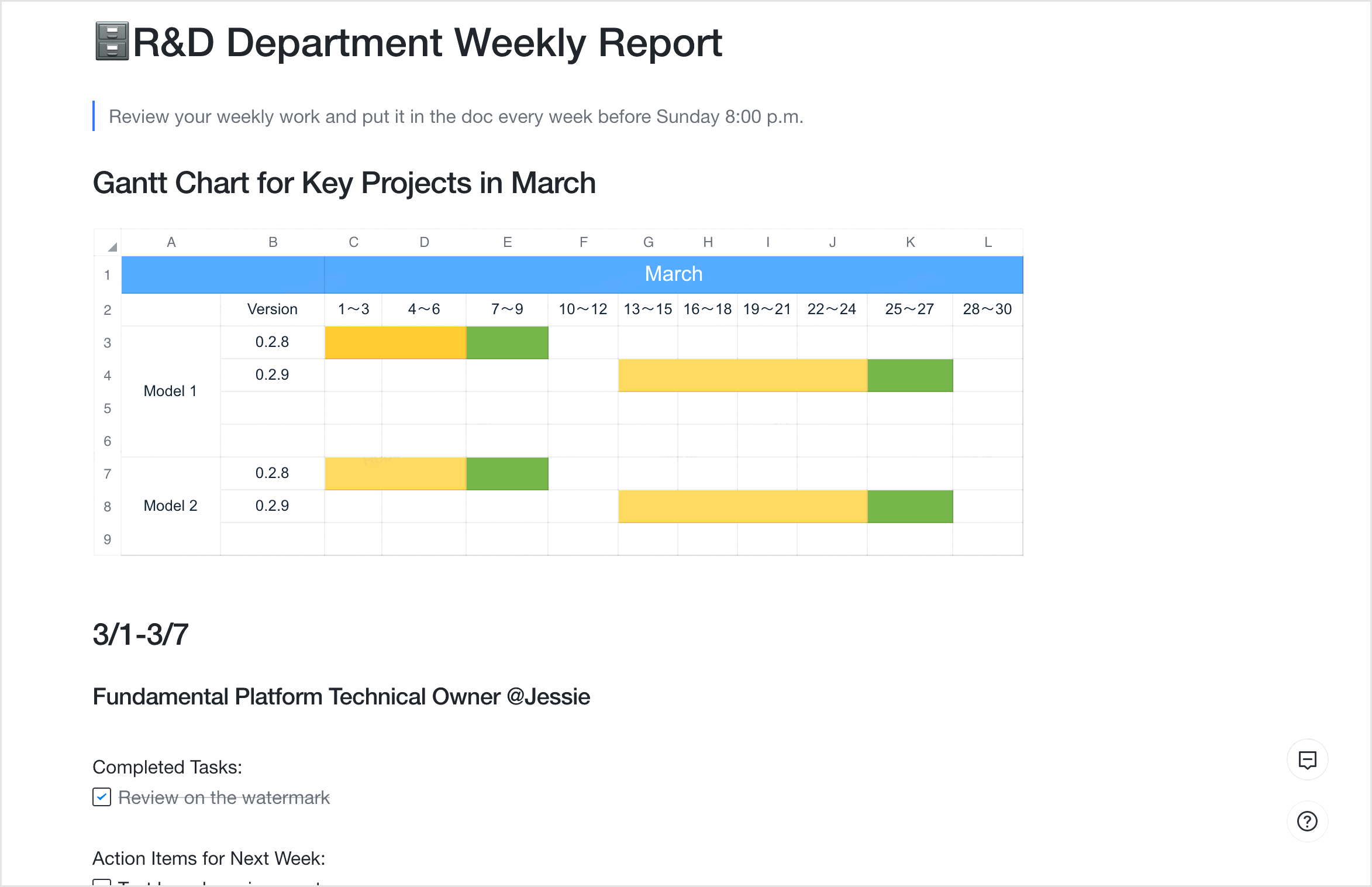 📆 Use Feishu Calendar to standardize version release procedure
You can create a version release calendar in the Feishu Calendar and add developers as sharing members to jointly manage it. You can then add new events to the calendar, and those who have subscribed to it know the latest update on new version release. This is a very good way to standardize the release cycle and update people outside of the project on the latest development. For more information, go to
How to Use Calendar
.
📩 Use group chat and bot for quick debugging
Synced chat history to accelerate debugging
When you report a bug, you just need to add the responsible developers to the group chat and @mention them. New group members have full visibility of all the past chat messages. This allows the developers to quickly understand the context and remove bugs. For more information, go to
How to Use Messenger
.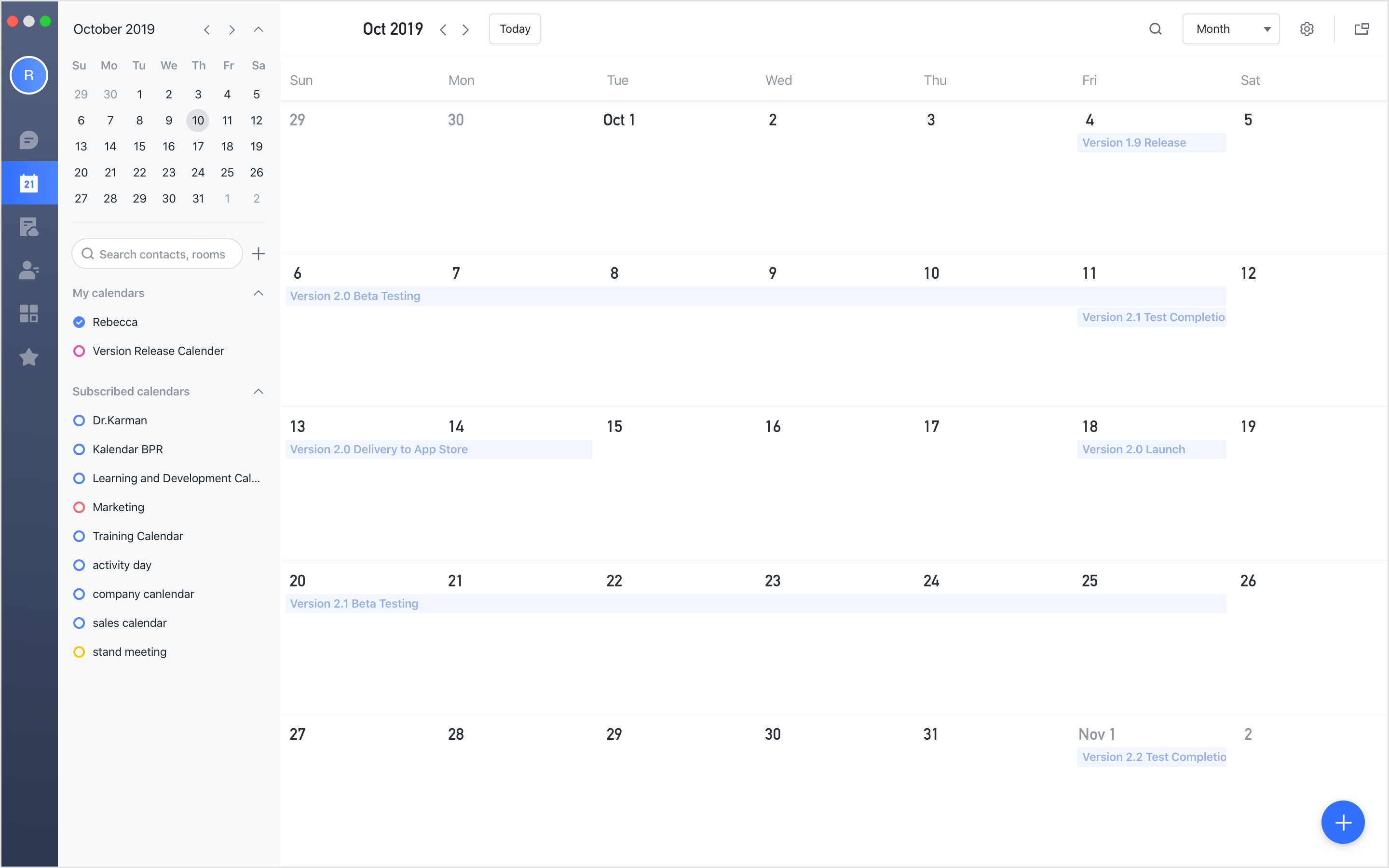 Use a bot to consolidate bugs
You can create a bot and add it to the group to collect bugs. You can @mention a bot in the group chat and give feedback to it. Upon receiving relevant feedback, the bot will add it to Jira bug list. For more information on how to build a bot on top of Feishu, click
here
.
Create a data monitoring bot to optimize data tracking
You can also create a data monitoring bot which will send a message to the corresponding group at a fixed time every day so as to view data in Feishu. This practice not only reduces manual operation time, but also optimizes data tracking. For more information, go to
How to Use Messenger.
👏 Congratulations! By now you have mastered the methods for enhancing work efficiency of the R&D team. Try these features yourself!
💗 If you want to know more tricks about Feishu, go to
Using Feishu
.