Managers serve as a bridge to connect senior management with employees. Their daily work involves communicating company decisions to employees, reporting employees' work to senior management, coordinating events, and conducting performance review, etc. All this work can be done in an easy and efficient way with Feishu. Here are three hacks in Feishu to help managers increase their efficiency.
Hack 1: Create a meeting agenda with just one click
Imagine that your company has made an important decision and you need to set up an all-hands meeting to make this announcement. How can you quickly find a time slot that works for all, notify everyone about the meeting, and book an available meeting room?
Traditional approach
The manager confirms each employee's available time in the group chat, book a meeting room, send the room number and time info in the group announcement, and @mention everyone. The whole process takes about 20 minutes.
Feishu's approach
Feishu Calendar breaks the silo between agenda setup and meeting resource management. You can check everyone's calendar to find a timeslot that works for all. In just one click, you can set up a meeting and book a meeting room directly. The system then sends a notification to all the attendees. This reduces the possibility of meeting conflicts, manual operation, and facilitates the whole meeting organization process. Guess what! This process only takes about 1 minute.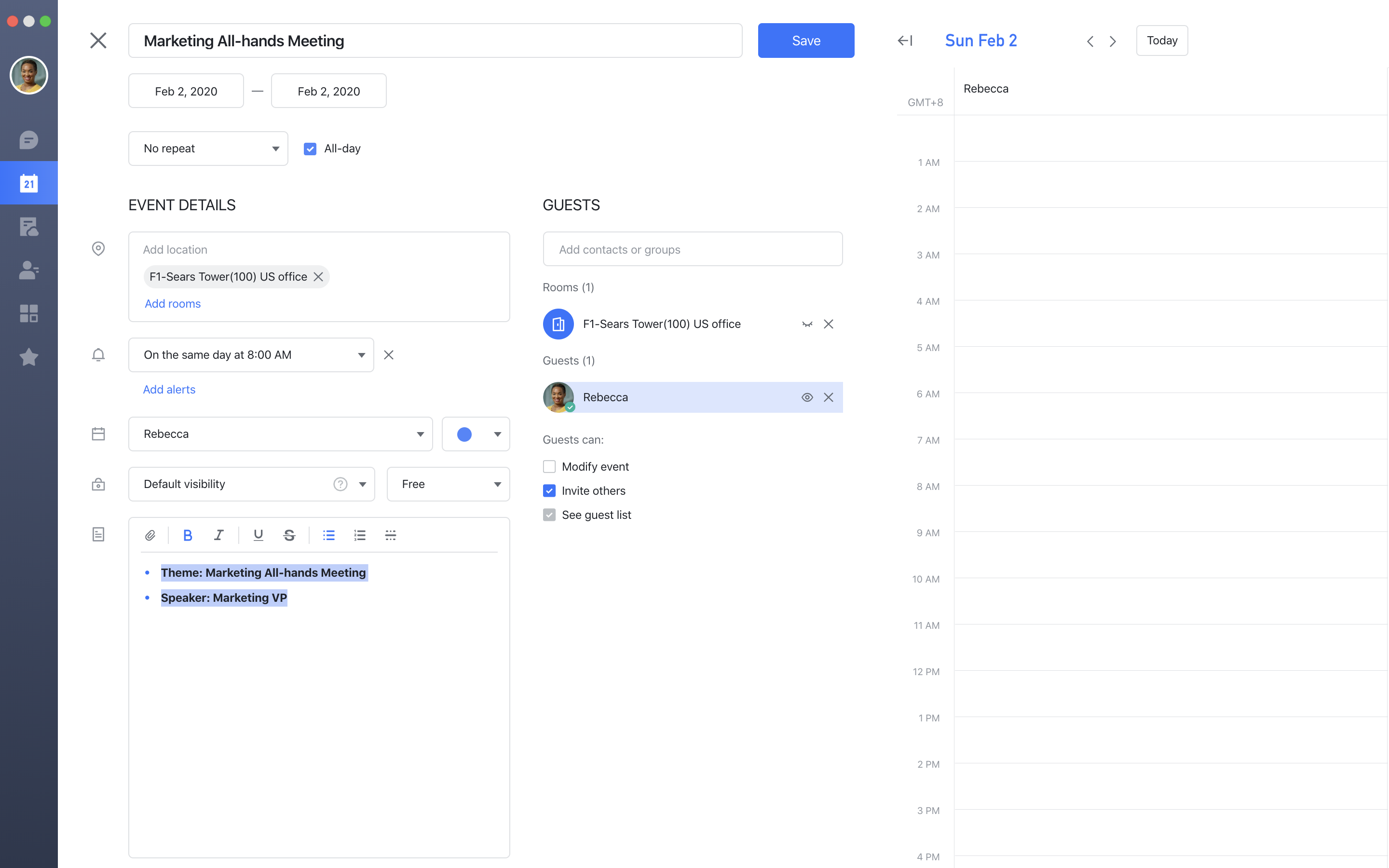 Hack 2: Create a company knowledge repository or wiki
When there is an avalanche of notifications and documents, how can you organize them in such a way that employees can access them easily?
Traditional approach
Package the files and upload them to a public drive, and share the address to all members. They will then download and view each file one by one. Downloading each file takes about 5 seconds on average.
Feishu's approach
Feishu's Drive allows users to create a knowledge repository. Simply create a shared file in the cloud and invite your team members to join it, and upload documents based on different categories. All files can be viewed online with efficiency and security. And it only takes about 0.1 seconds to open a file.

Hack 3: Manage y
our
 team in one place
When a lot of team members work remotely, how can you ensure consistent goals across the whole team? And how to report the team work progress to the upper management in a clear fashion at the end of each month?
Traditional approach
Every employee creates their OKRs at the beginning of a month, work accordingly during the month, and conduct self-evaluation and cross-examination at the end of the month. In this approach, every employee needs to send three files, and it is hard to track the completion of goals.
Feishu's approach
Feishu's OKR makes it easy to search and view other people's OKRs at any time. Whenever your team members have new update on their OKRs, you will get a notification to track their progress in real time and get the latest update. You can discuss with members and grade each other when making a work summary. 
🌺Congratulations! By now you have mastered the methods for enhancing team management efficiency. Try these tricks yourself to increase efficiency!
💗Feishu, an enabler of greater work efficiency.