Help Desk is a platform developed by Feishu for enterprises to integrate internal intelligent service accounts. By combining AI bots and human agents, Help Desk provides smart customer support solution for instant and effective communication. Employees can help themselves through Help Desk.
This article illustrates how to use the Satisfaction Survey.
I. Introduction
When
Satisfaction Survey
function is turned on, the bot will automatically send a satisfaction survey at the interactive interface after the user interacts with Help Desk and ends the service. This function can collect feedback on satisfaction and user experience to Help Desk Admin so that administrators can analyze it.
II. Use Satisfaction Survey
1. Set Satisfaction Survey
When the Help Desk is on, the
Satisfaction Survey
function is enabled by default. In this mode, at the end of each service, the bot will automatically send a satisfaction survey at the chat box.
Administrators can choose to disable this function. If disabled, satisfaction surveys will not be sent at the end of services.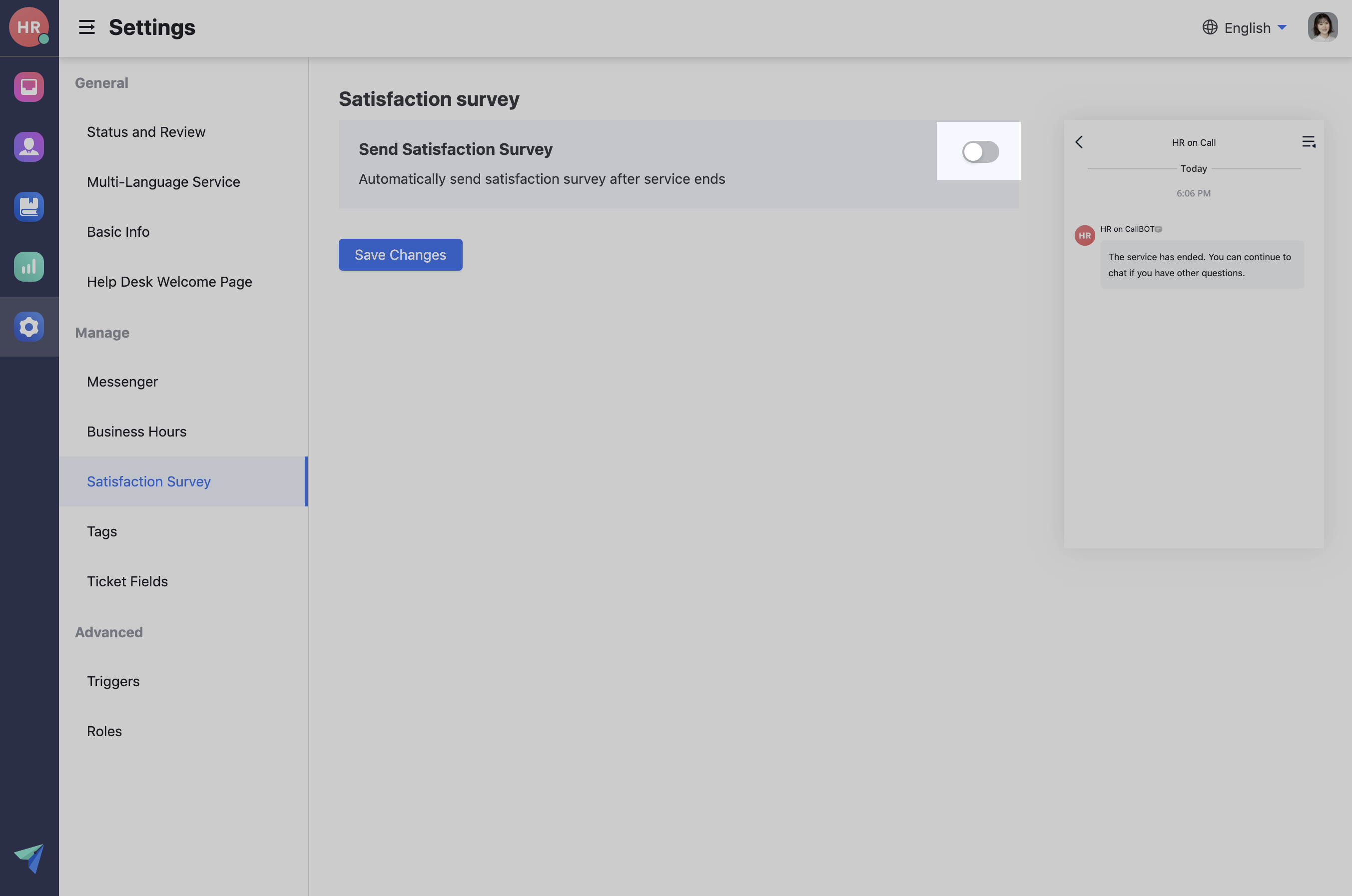 2. Set Reason for Dissatisfaction
Click
Settings
-
Satisfaction Survey
-
Reason for Dissatisfaction
and enable it on the right side.
After enabling it, when a user has rated
Dissatisfied
, he or she is required to further fill in the dissatisfaction reason. When this function is disabled, the user is not required to fill in the reason after rating
Dissatisfied
.
Note
: When Satisfaction Survey function is disabled, Reason for Dissatisfaction function is disabled by default and cannot be enabled. You need to enable Satisfaction Survey before you enable Reason for Dissatisfaction.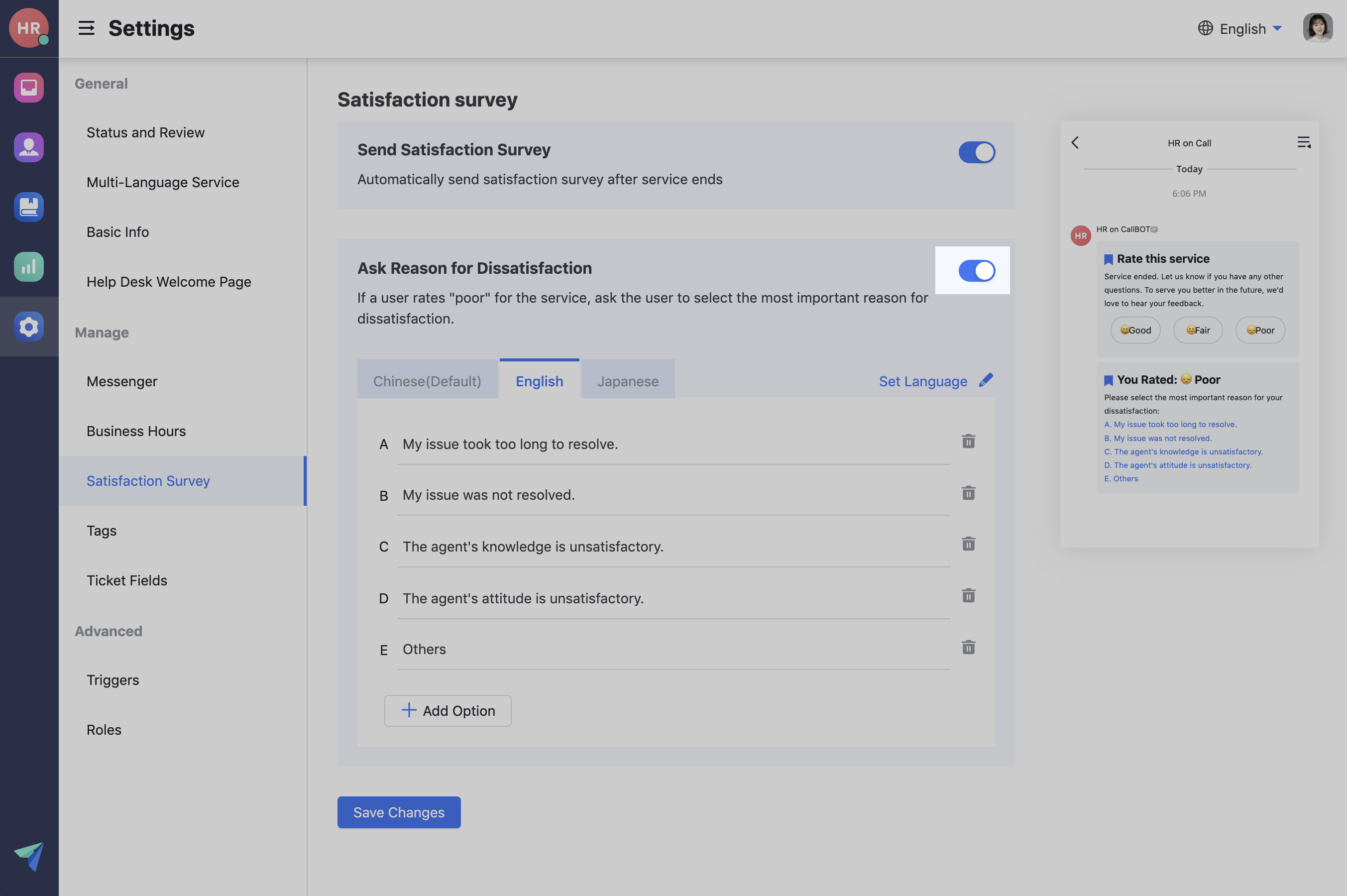 3. Edit Reason for Dissatisfaction
Add reasons
Click
+ Add Option
button below to add reasons. Select any reason and press
Enter
to automatically add another line to add another reason.
The system supports up to 8 reasons. When you've added 8 reasons, the
+ Add Option
button will be automatically disabled. When you press
Enter
, you will be prompted to add only 8 reasons.
Edit reasons
Click the reason you want to edit and edit it.
Note: Reason cannot be empty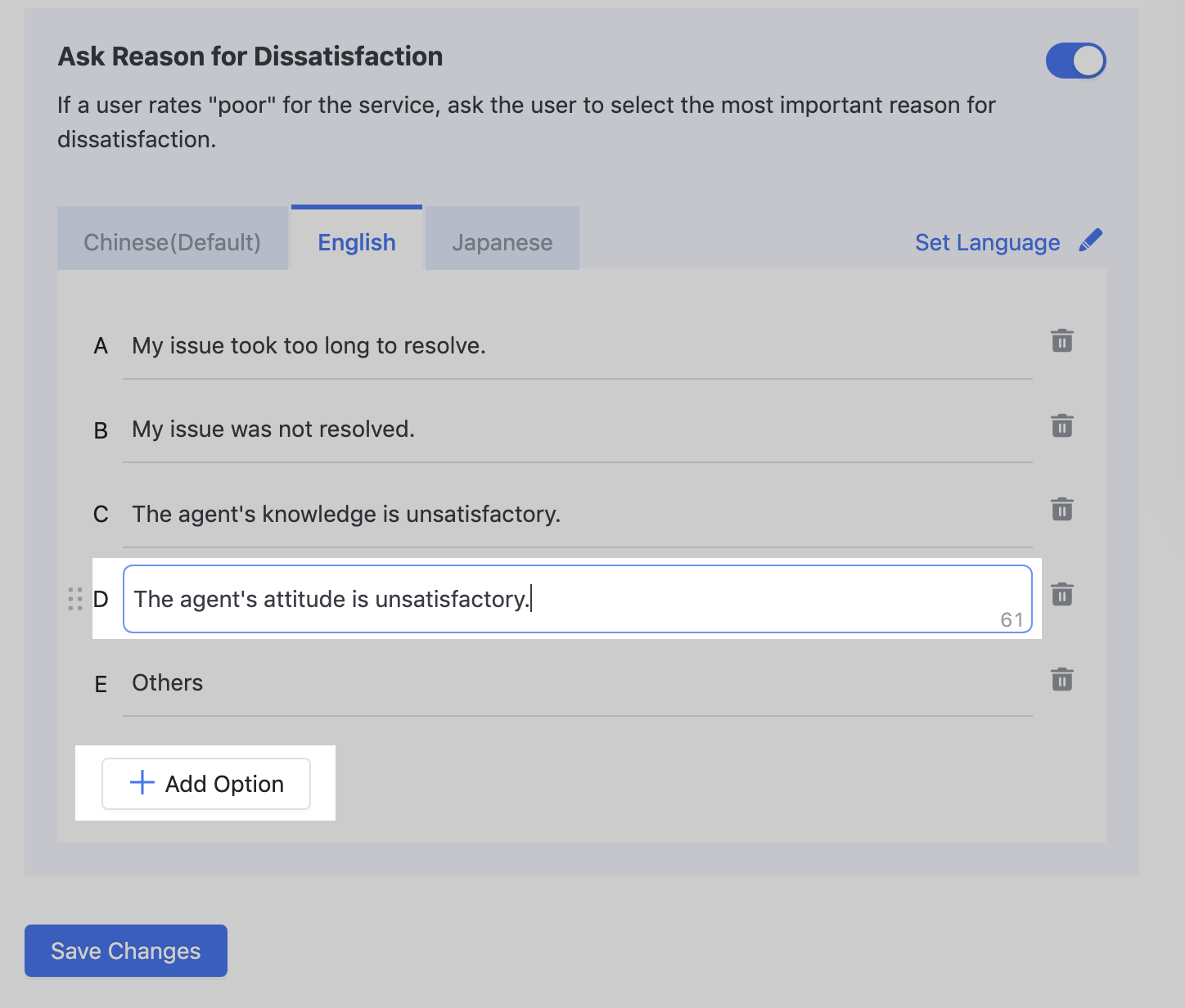 Adjust order
When you mouse over a reason, a "scatter" will appear on the left. Select and drag the scatter to adjust the order of reasons.
Delete reasons
Click the
Remove
button on the right to delete the corresponding reason. When there are only 2 reasons left, the
Remove
button will disappear since you need to provide at least 2 reasons.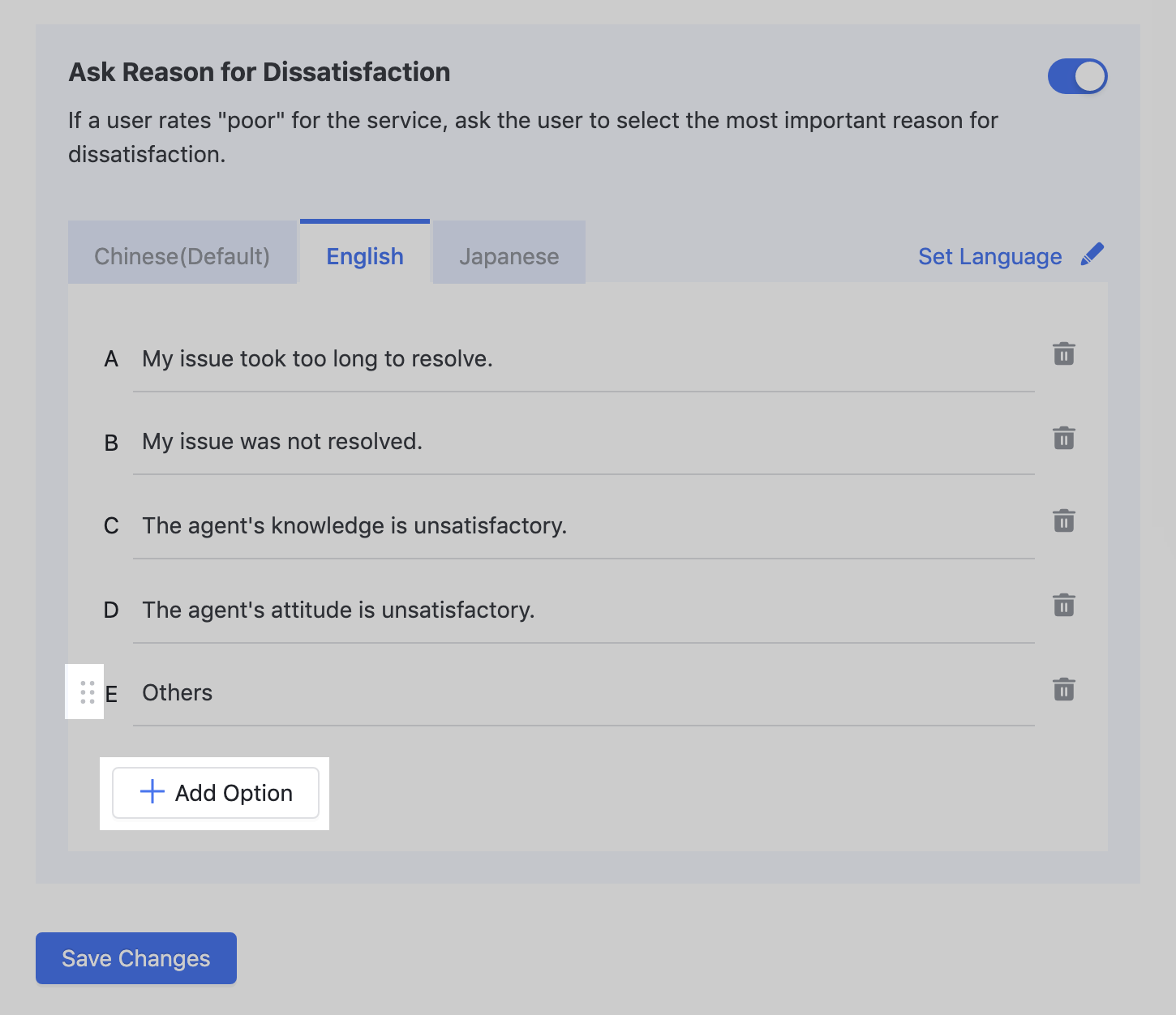 Set multilingual options
Administrators can switch to the language they need. Adding, deleting, and changing the order of options in one language will lead to adjustments in the other languages accordingly.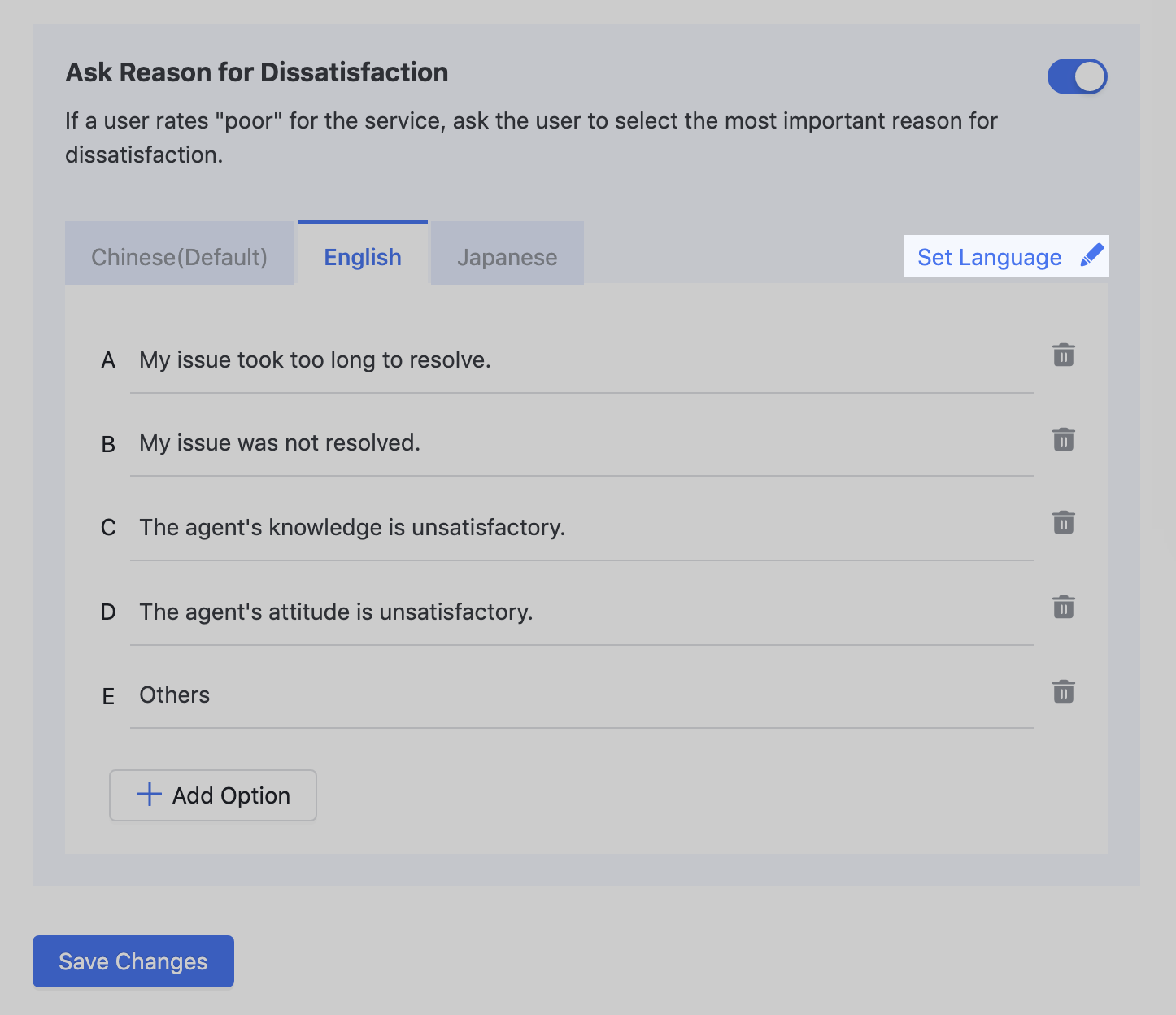 Satisfied and dissatisfied interfaces are as follows.
When a user rate
Dissatisfied
, the card will present reasons for dissatisfaction via choices A / B / C / D / E / F / G for users to choose one.
After the user selects one reason, the card will change to
Thank you for the valuable feedback
.
In the Help Desk Admin, enter the
Ticket Center
to see the satisfaction data reflecting users' feedback directly.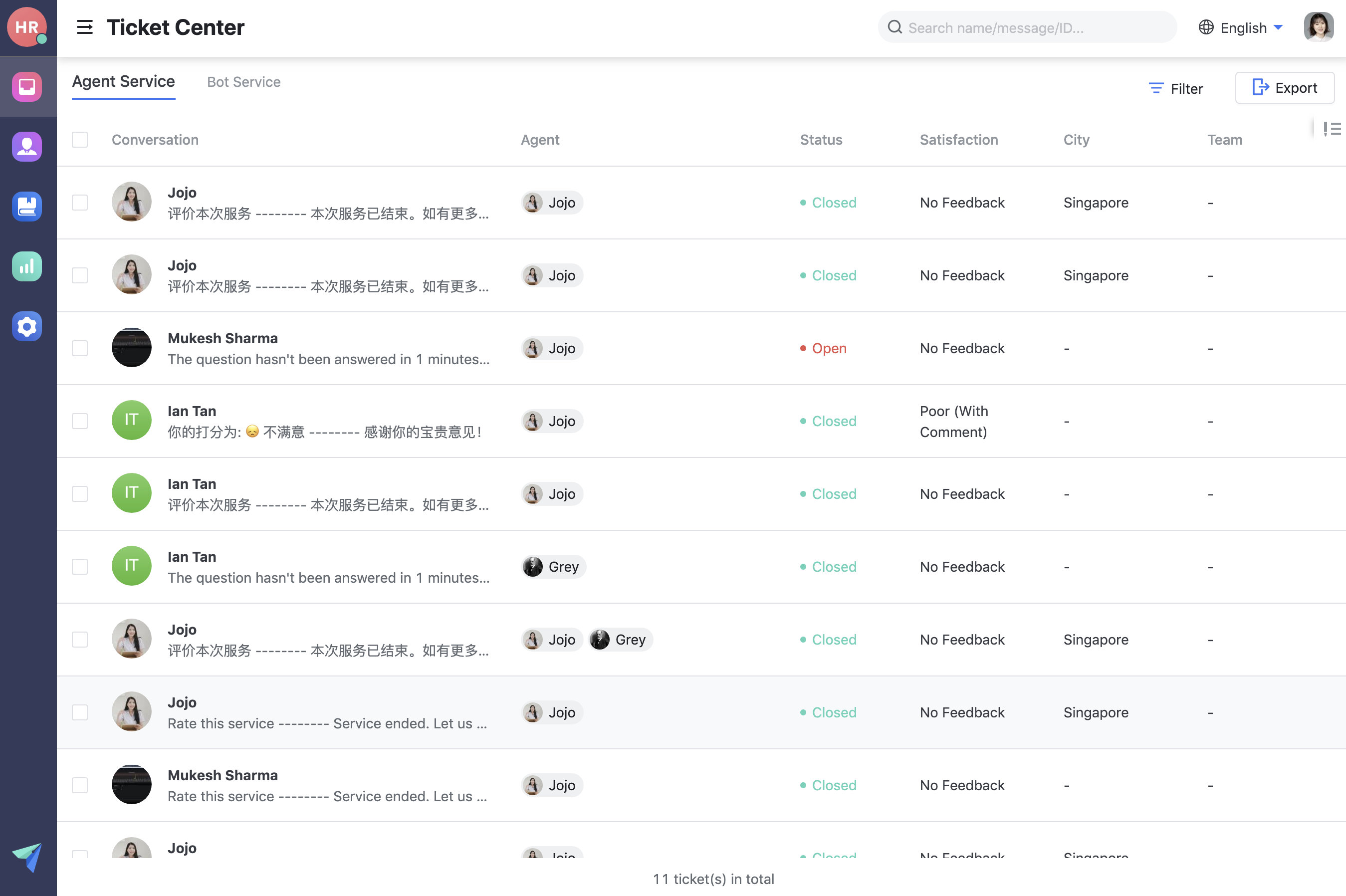 Click
Filter
to select dissatisfied tickets. Click a service ticket to view the reason for dissatisfaction.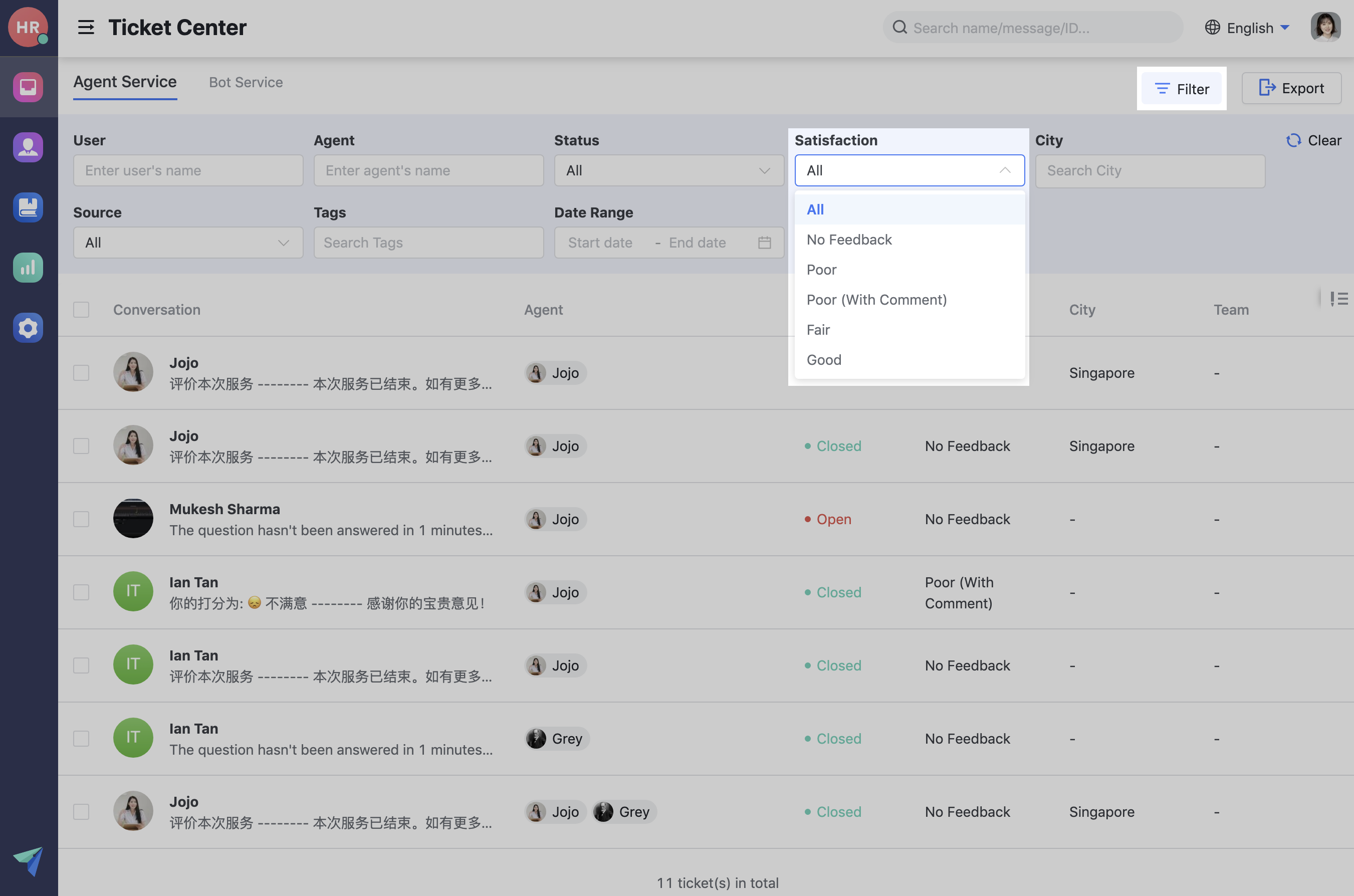 👏Congratulations! Now you know how to set Satisfaction Survey, why not to give it a try!
💕Feishu is here to help you enjoy every workday. To learn more skills of Help Desk, please save and click the page
Help Desk
.