Welcome to Feishu! This operation guide is designed to help new super admins use the Admin back end.
This document will teach you how to configure company settings so you can get work done more efficiently!
After completing the following four setting steps, your company can start using Feishu!
Initialize Admin

: Modify the basic company information,

create

departments

add

employees,

and

set

various admins

to

help

you manage the company.

Company App Management:

Obtain various apps for your company and activate

Help

Desk

and

an All-Staff Calendars

to

enable

advanced

and

convenient office collaboration.

Enterprise Resource Management

: Manage the company's fixed offices and meeting rooms so that meeting room resources can be used flexibly and efficiently.

Enterprise Data Analysis

: Admin provides data visualization features allowing you to monitor employee work at a glance.
👏 Now, let's start by initializing your Admin!
I. Initialize Admin
🔑 On Desktop app, go to Admin or click your profile photo - Admin to initialize Admin.
1. Modify basic info
💡 To differentiate your company, click Settings - Company Info. Here, you can personalize the company logo, name, and more. On this page, click Edit to change the relevant information.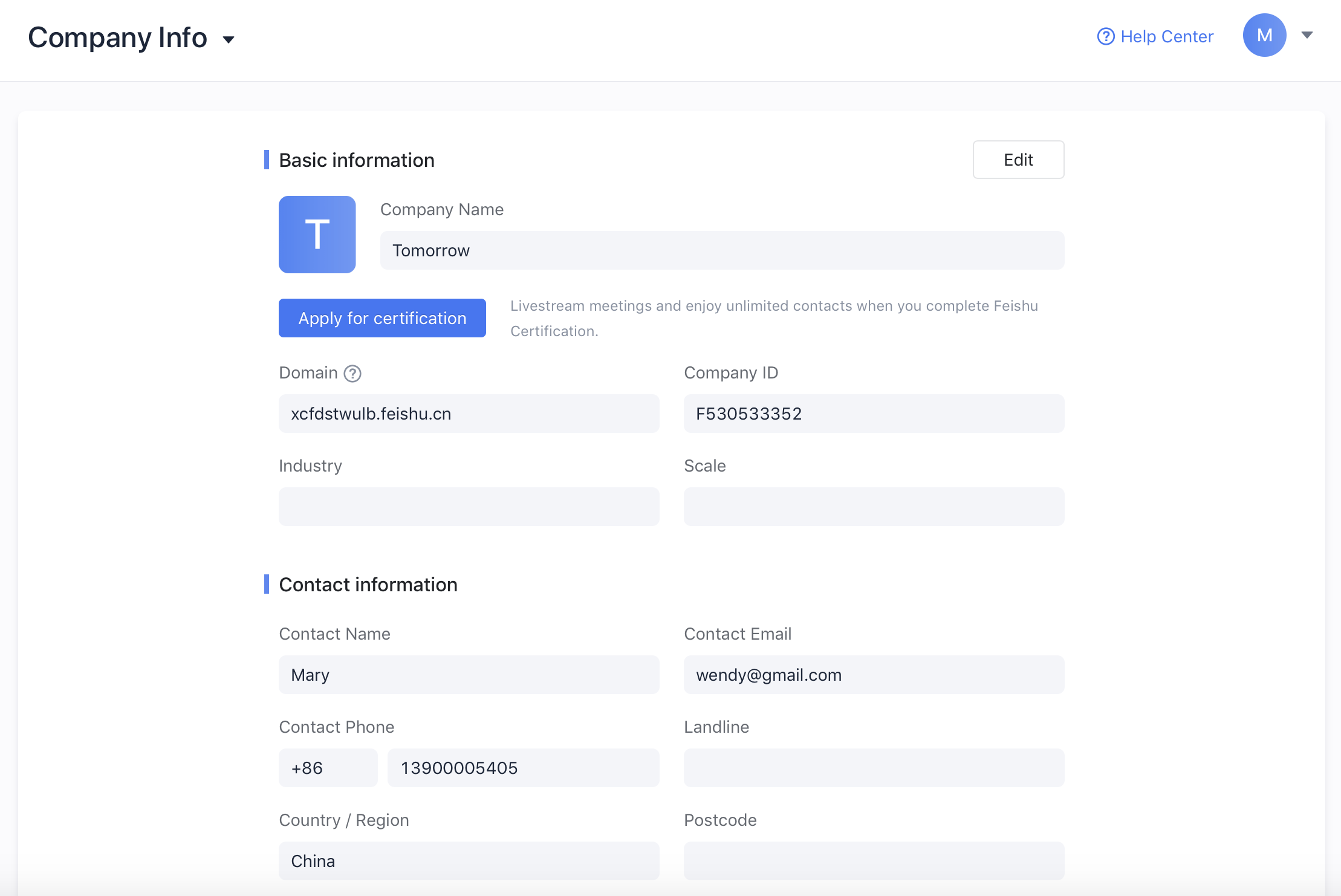 Note: To allow your company to take full advantage of Feishu features, you should Apply for Feishu certification. Companies that have not been certificated are limited to 500 contacts. After completing Feishu certification, you can enjoy unlimited contacts, the ability to share documents with external users, and other special privileges.
Click Settings - Company Info - Apply for certification. This opens the certification information entry page. Here, enter the necessary information and click Submit. We will review your application in 5-7 business days. The certification process is completed once your company pass the review! Click here for a more detailed explanation of the certification procedure.
2. Create departments and add employees
🚀 Congratulations, you have personalized your company info! Next, let's create departments for your company and add employees to create your basic organizational structure.
 2.1 Create departments
For more convenient and hierarchical enterprise management, you can create multiple departments. Go to Admin - User and Department and click the + icon. If your company has few departments, you can select Add Department to create departments one by one. If you have a lot of departments, you can select Import Department to download the import template form. Fill in this form and upload it to create multiple departments at once. Click here for a more detailed explanation of the department creation procedure.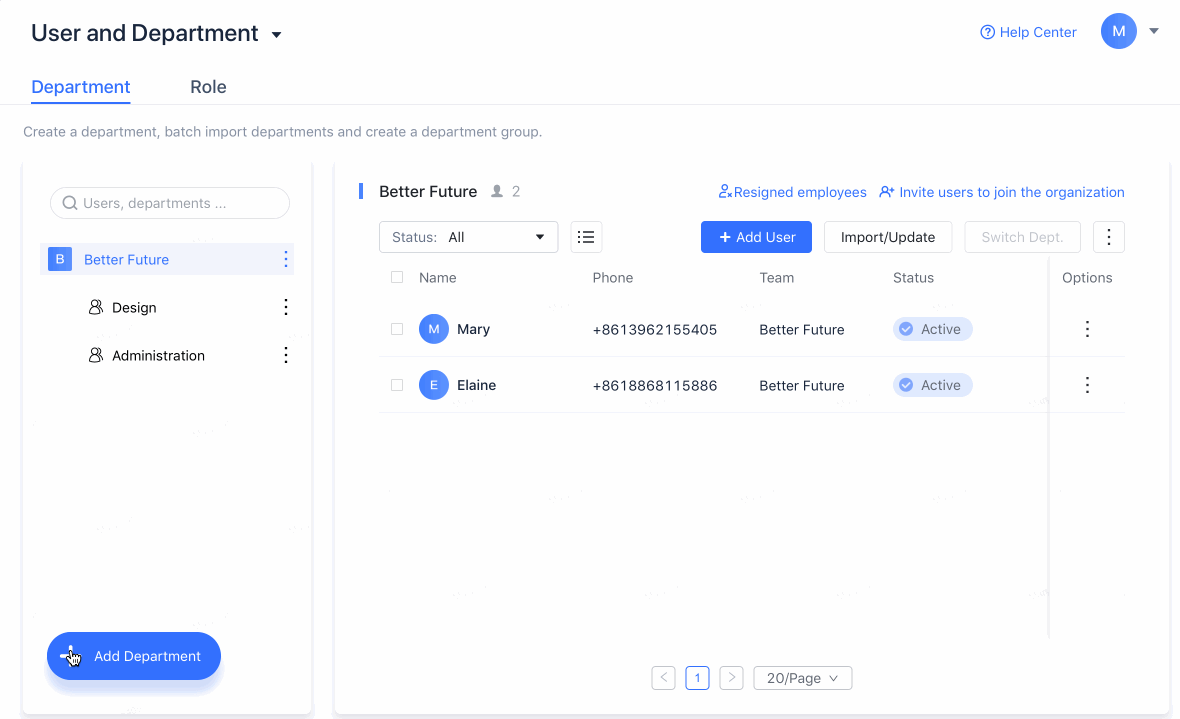 Note: When creating departments, you can also create department groups and set the employee types you wish to include in these groups. For example, you can only permit full-time employees to join, preventing interns, outsourced personnel, and other employee types from joining.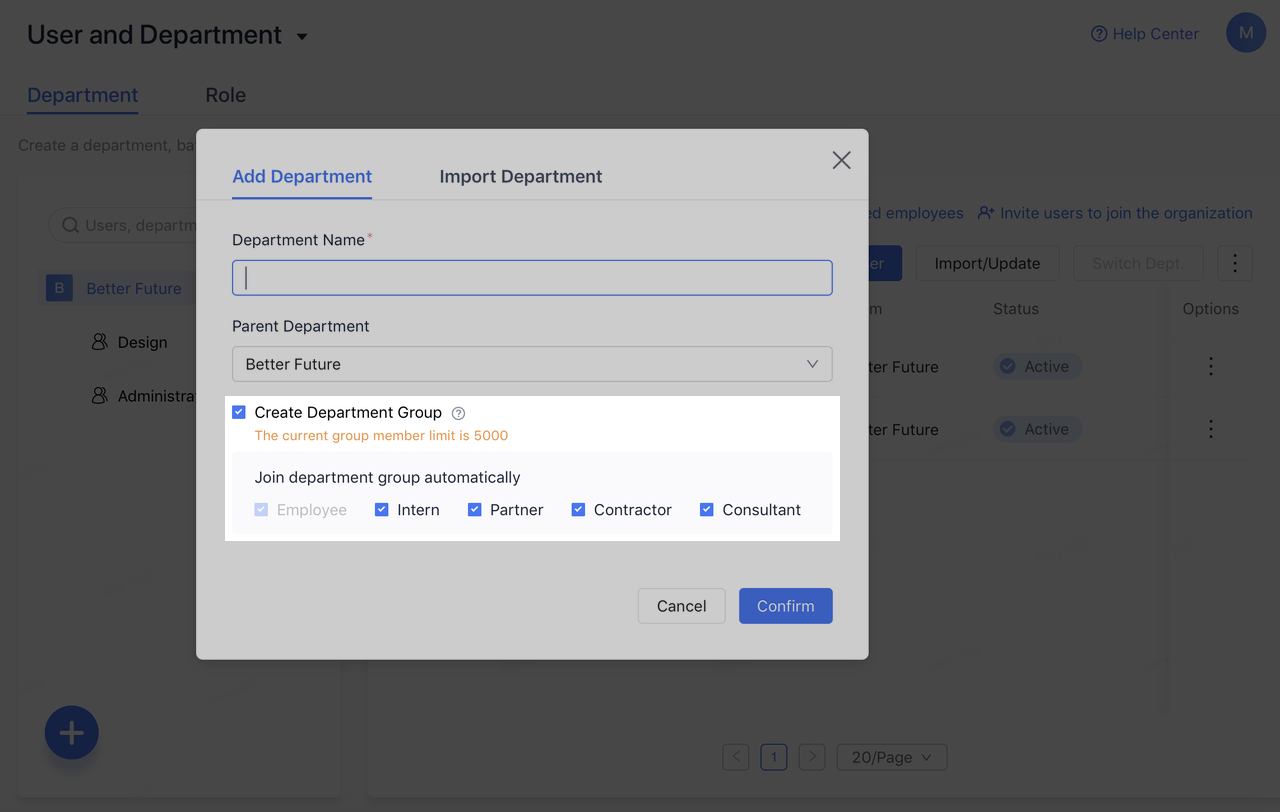 2.2 Add employees
After creating departments, you need to add employees into them. If you do not have many employees, click Add User to add employees one by one. If you have many employees, click Import/Update to download an import template. Fill out this template and then upload it to add multiple employees at once.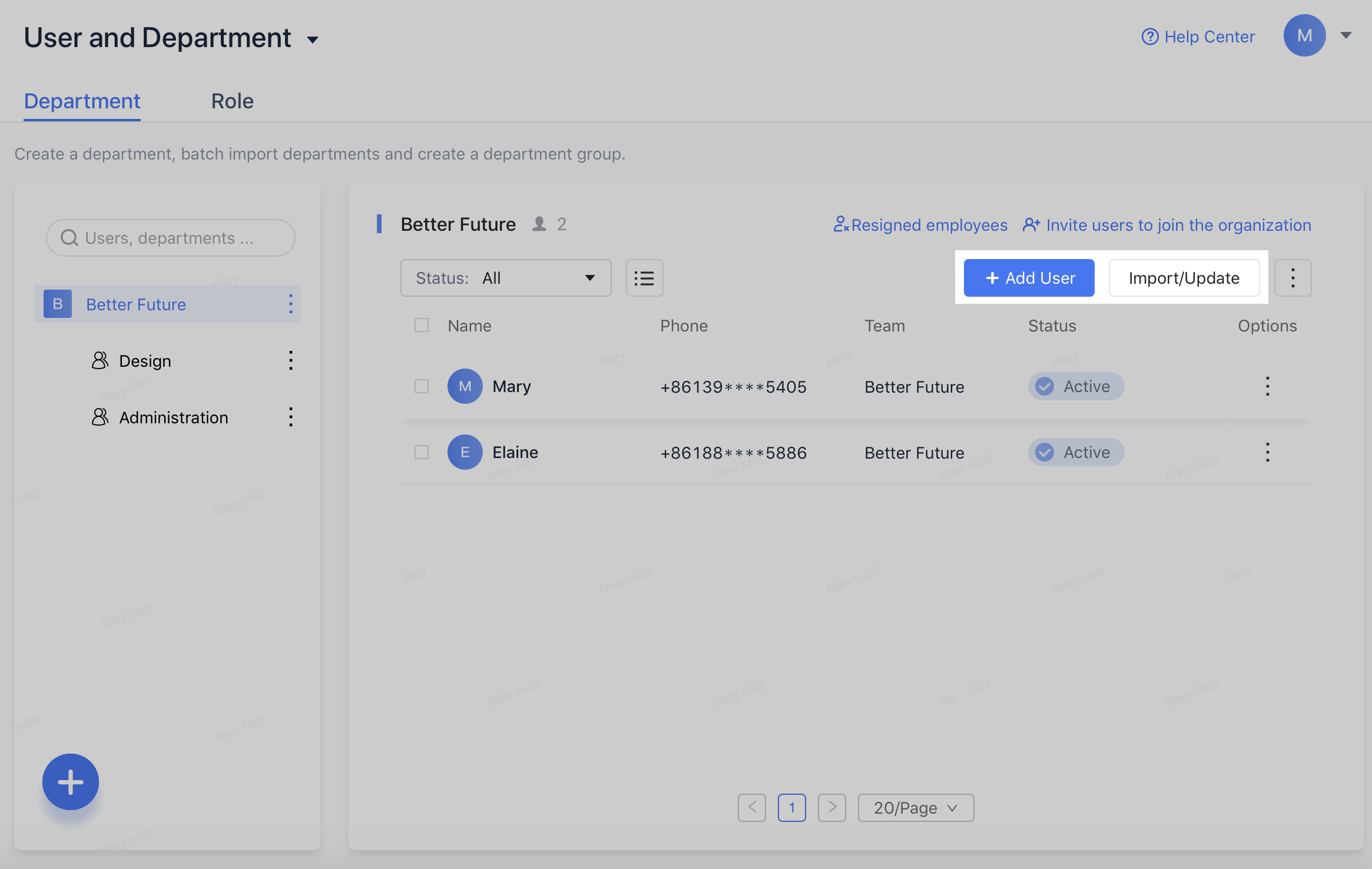 If you do not have the complete information for all your employees, turn on Enable Invitation so you can invite employees to join the department by sharing team codes, QR codes, or links with them. You can also select invite employees to join the organization to add them all into the company and then adjust the departments. Or, you can give invitation permission to normal users. To do this, go to Settings and configure the relevant permission settings. Click here for a more detailed explanation about how to let employees join the company themselves.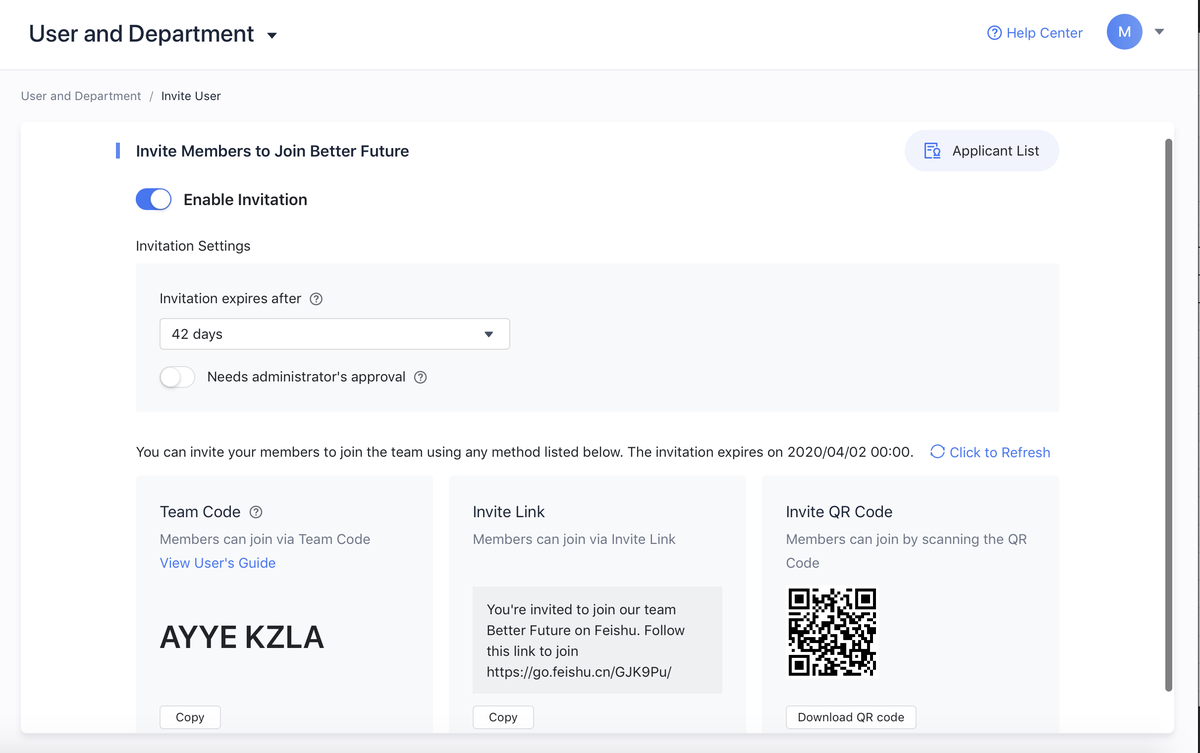 🔥 Notes
1. Employees must activate their accounts: After admins add employees, the employee accounts are not yet activated. Employees must log in to Feishu and join the company to activate their accounts. You must ensure that all employees have logged in to Feishu and activated their accounts. If some employees have not activated their accounts, a reminder is shown on the user and department management interface, as shown below. You can click Invite Now to remind these employees to activate their accounts.  
2. Employee info visibility: After adding employees, you can click Contacts - Contact Settings to set whether employees can view each other's mobile numbers and contact information. Click here for more information about contact settings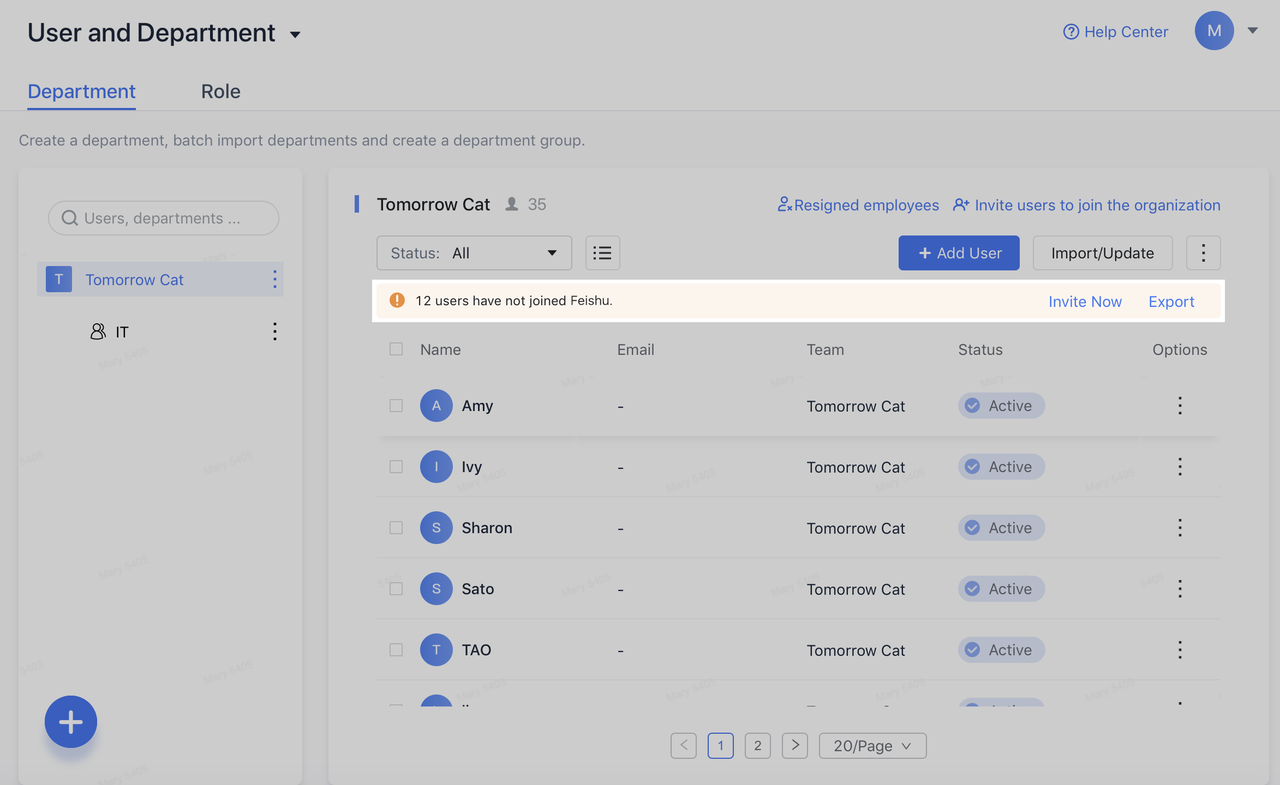 3. Add various admins
👏 Congratulations, you have now created departments and added employees! As you know, one person cannot efficiently manage all the aspects of a company. Therefore, you need to add more super admins and other types of admins to help you manage the company. A single company can have up to 100 super admins. Super admins have all management permissions except the ability to disband the company.
3.1 Add super admins
Click Settings - Administrator Permissions - Add Super Administrator. Then, enter the name, email, or mobile number of the user to create a super admin and click Confirm.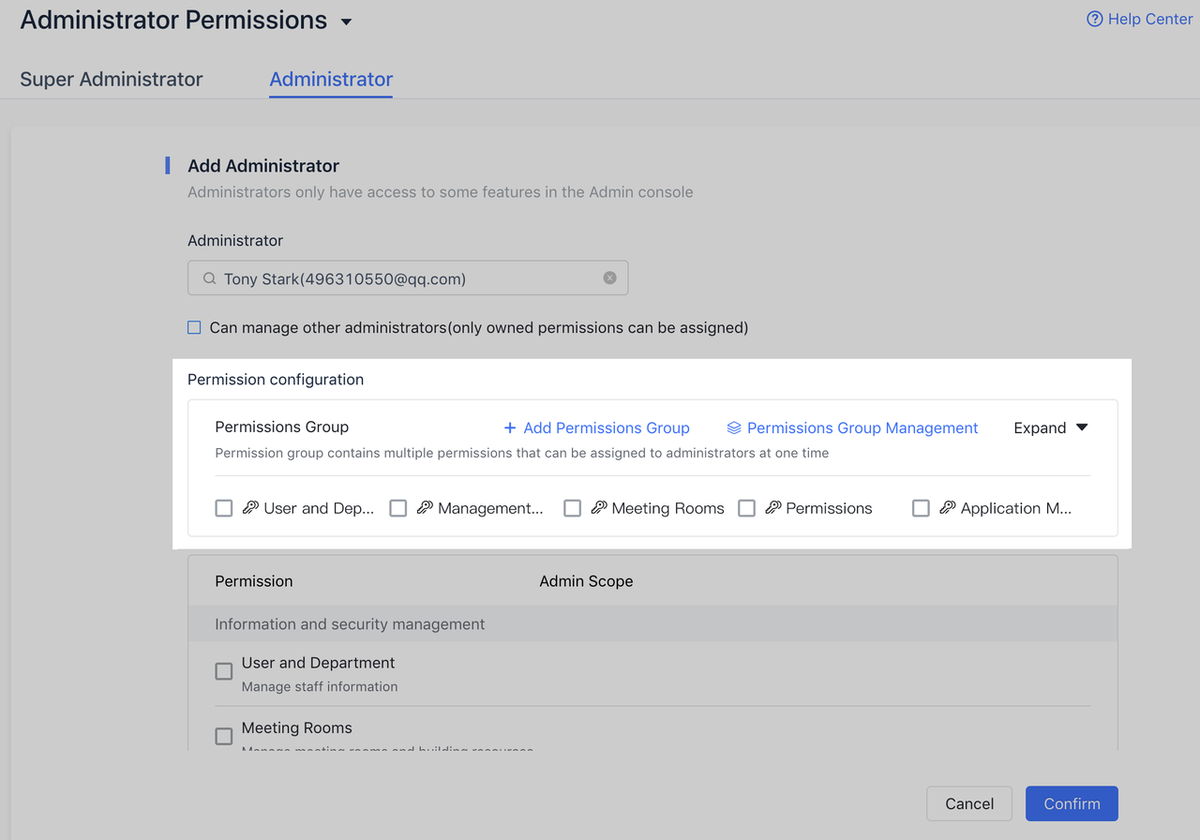 3.2 Add admins 
In addition to super admins, you can also add normal admins and grant them a permission group. This way, they can help the super admins better manage company resources. For example, you can set admins who have the permission to modify the company name or change meeting room resources and offices. 
Click Settings - Administrator Permissions to go to the administrator page. There, click Add Administrator.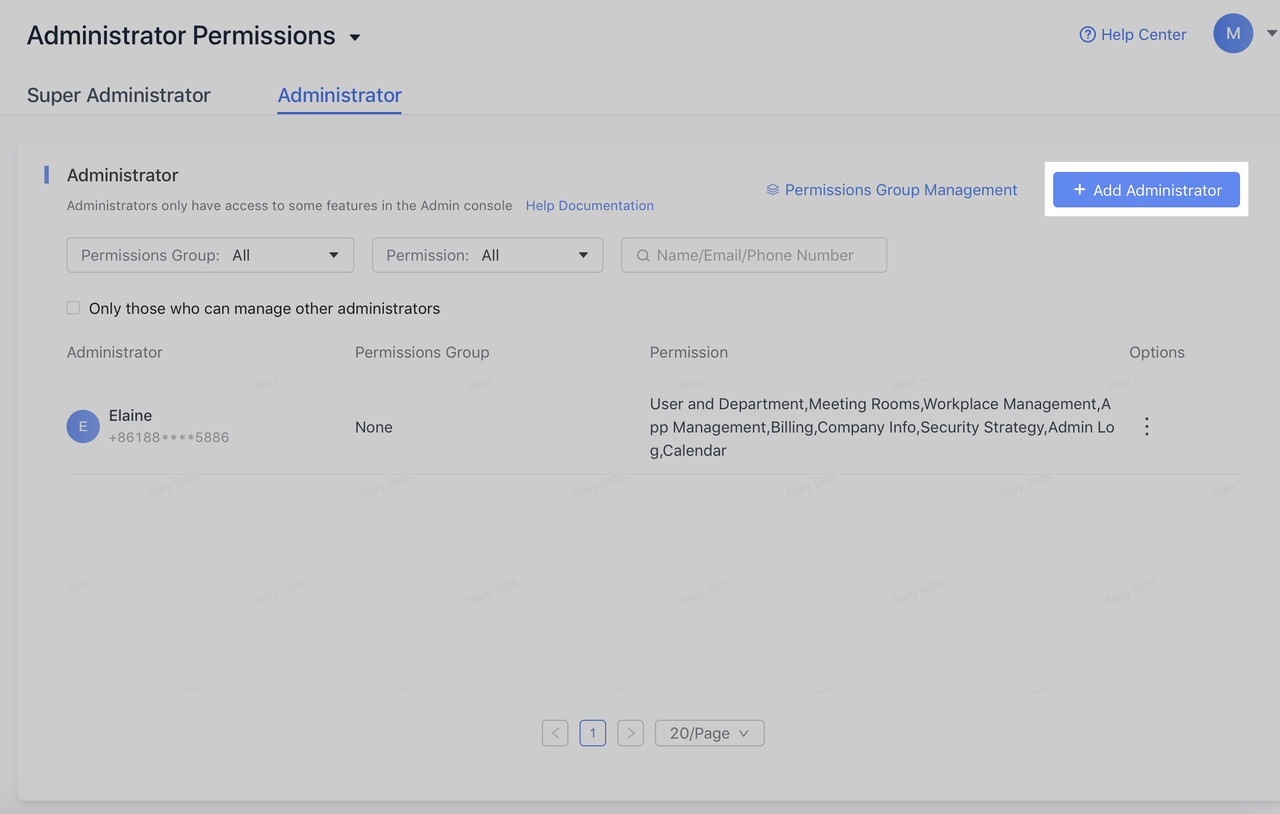 On the add administrator interface, select the permissions to be granted to the administrator. During permission configuration, you can select an appropriate permissions group for the new admin. If there is no appropriate permissions group, click Add Permissions Group to create one. You can also grant the admin permissions in addition to those in the permissions group. To more precisely set the administrator's permissions, you can go to User and Department to manage the department scope of the admin. Click here for more information about permissions group settings.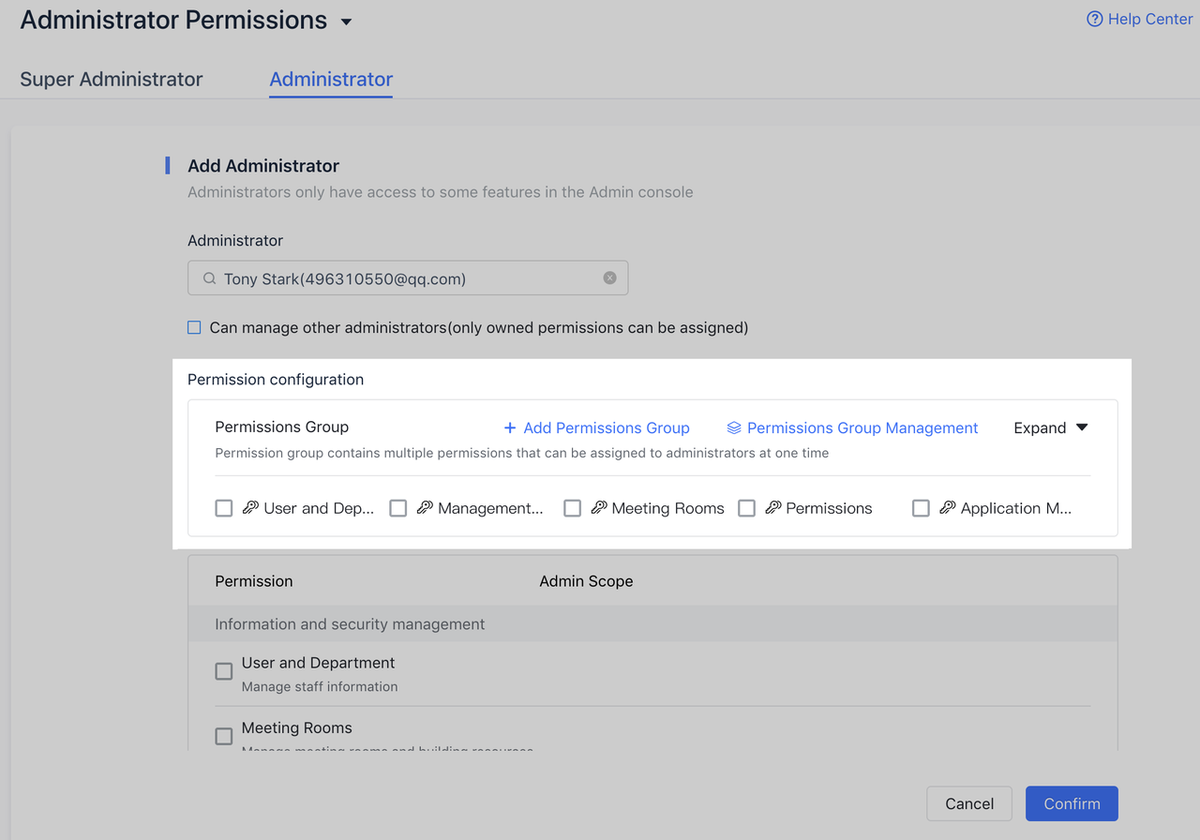 ✌ Congratulations, you have completed Admin initialization! You and your coworkers can now use Feishu's basic collaboration features! 
🚀 To empower your office with greater intelligence and convenience, Feishu provides a wide range of features that you can activate. You just need to complete the following three setting steps to allow employees to use a variety of smart apps to increase office efficiency. This way, you can use the Calendar feature to view meeting room availability and schedule meetings with just one click. You can also analyze data reports generated by Feishu to monitor employee's work at a glance.
II. Company app management
1. Install various apps
You can find a wide range of apps on App Directory. For example, the Health Report app can help your company ensure the health of employees during the current epidemic and the Announcement app can promptly synchronize company policies. You can go to Admin - Workplace to install and configure apps to help with company management.
To allow your team to better experience the capabilities of Feishu Open Platform, we install several apps by default, including Approval, Feishu Reminders, and Feishu Translator. You can go to Workbench - App List and click on any app in the installed app section to configure and enable apps for your company.
You can also choose to install other apps for your company. In the Marketplace App section, we recommend some available apps for you. You can click Get to obtain an app for your company. You can also click View more to go to the Feishu app marketplace. There, you can find apps that interest you and then click Get. This takes you to the app details page in the App Directory. On the details page, click Get to install the app. After installing the app, you must enable and configure the app to make it available to employees. The configuration process varies for different apps. If you have any questions during the configuration process, go to the Help Center and search for the app name to find a tutorial.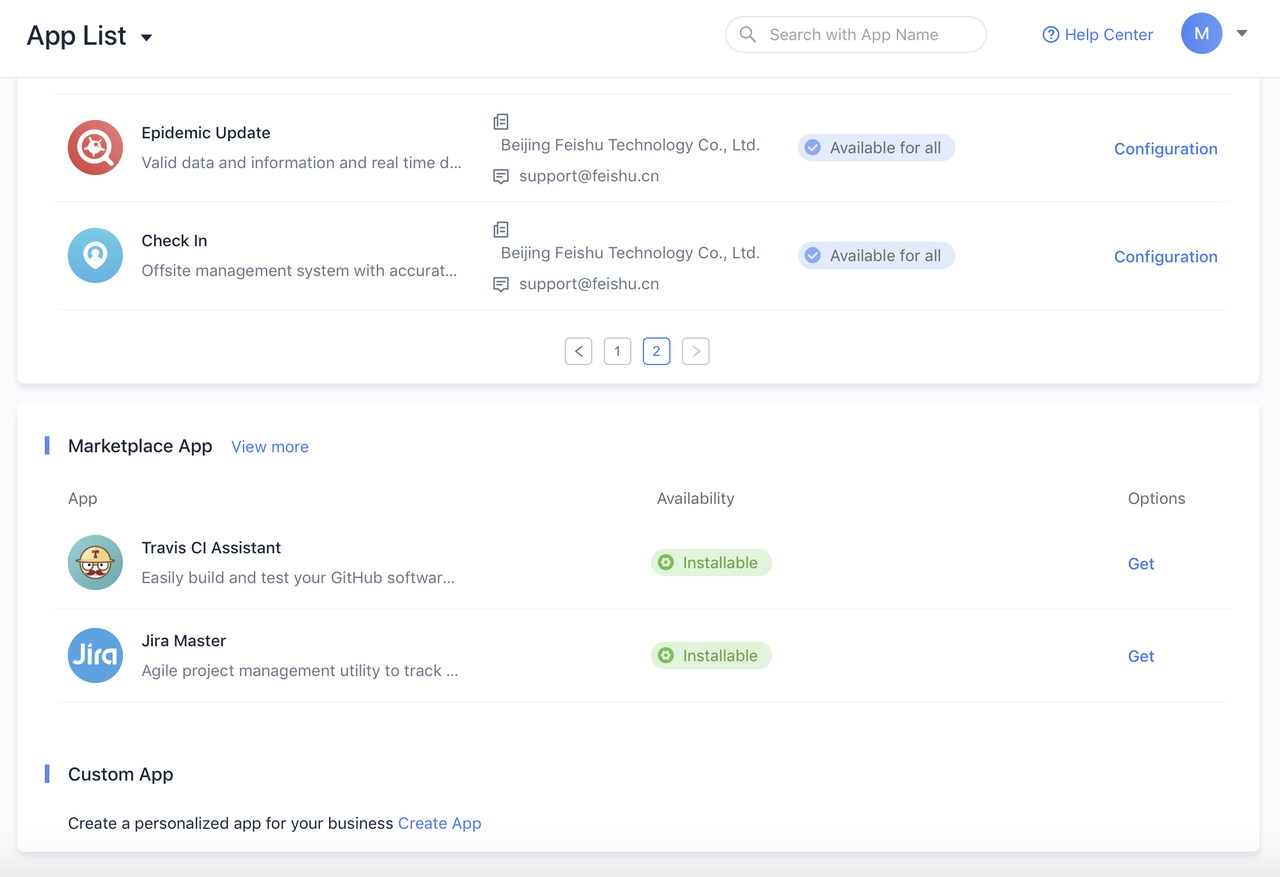 Note: After installing multiple apps for your company, you can use Admin to adjust their display order on the Feishu client and rules. Click here for a more detailed explanation of the procedure. 
2. Create an All-Staff Calendar
Not only can you manage various apps on Admin, but you can also create an All-Staff Calendar. As its name suggests, this is a calendar that all company employees are subscribed to by default. This way, all employees can view the schedule details on this calendar. You can include workshop discussions, team meeting minutes, and other schedules relevant to all employees on the All-Staff Calendar to reduce notification and communication costs.
On the Calendars - All-Staff Calendar interface, click Add All-Staff Calendar and select Create an All-Staff Calendar. Then, enter the calendar name, description, add calendar owners and editors, and click Confirm to create.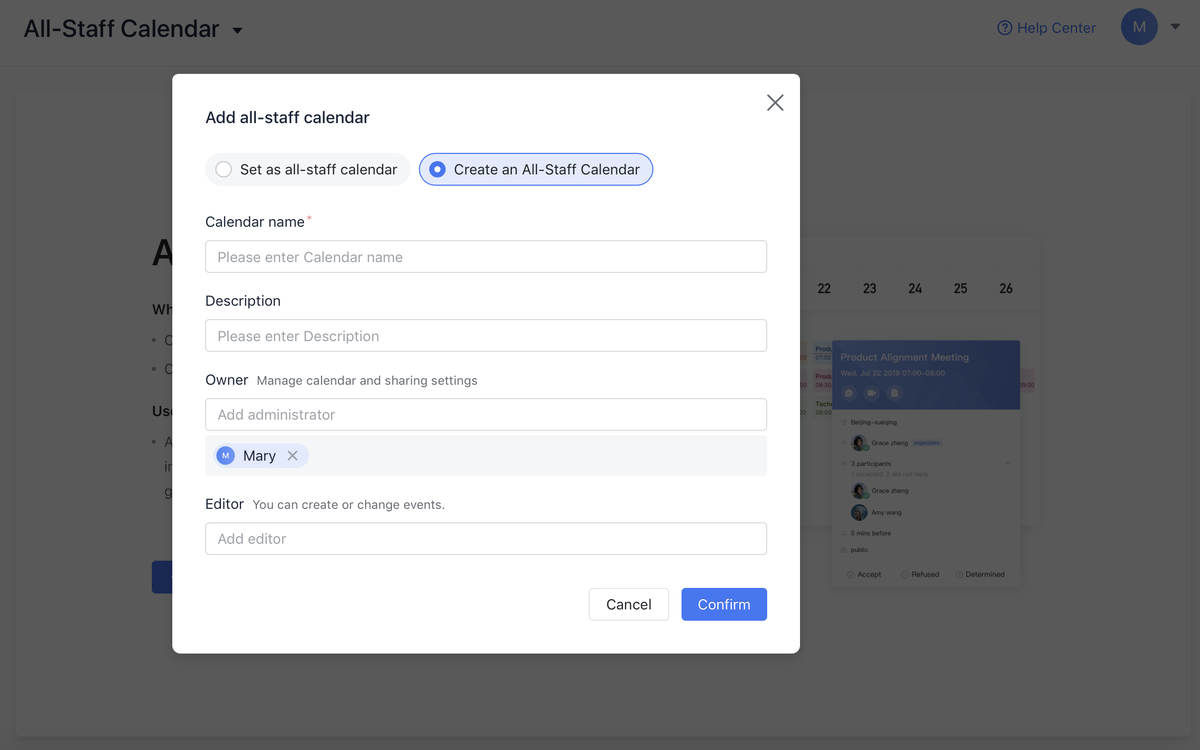 Note: After creating the calendar, don't forget to add schedules to it. Go to Client - Calendars and click the + icon to create a schedule and set the schedule activation time. You must make sure the Calendar associated with this schedule is the All-Staff Calendar. Then, click Save to make this schedule visible to all employees.
3. Activate Help Desk
In the company collaboration environment, employees often do not know who to go to when they have problems. It can take hours to find the right person to ask for help and then you might not receive a prompt reply. To avoid this situation, we have designed Help Desk. Any department or individual in the company can create and use a Help Desk. Go to Help Desk on Admin. Here, you can create a Help Desk for your company and view the basic information of all existing Help Desks. You can also review, enable, disable, or pin Help Desks to the top of the list. Click here for a more detailed explanation of the Help Desk activation procedure.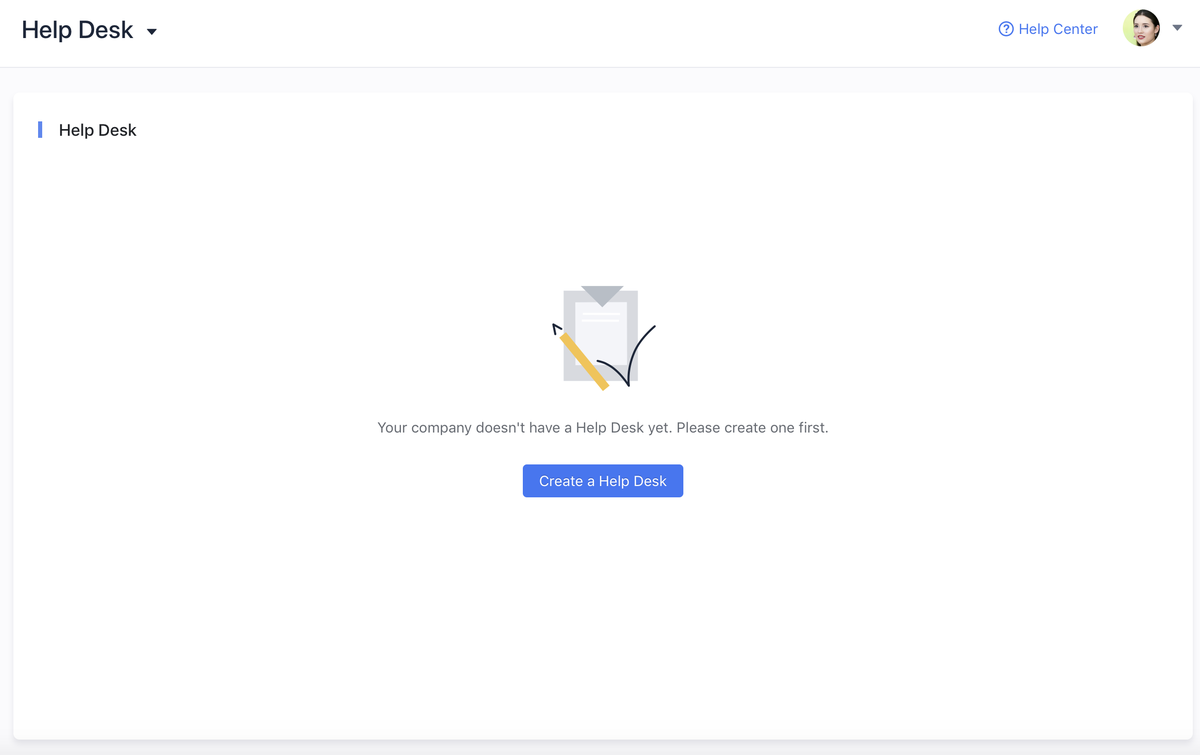 👏 Congratulations, you have completed the initial configuration of Admin. Now, you can use Admin to manage fixed assets, such as meeting room resources. This allows employees to conveniently reserve meeting rooms.
III. Manage enterprise resources
1. Add company buildings
Add all company buildings: You can add meeting rooms in your company's buildings in different cities and countries.
Go to Admin and select Meeting Rooms. Then, click the ⋮ icon on the right of the tenant name to 
Add country/region where the meeting room is located. Click the button to the right of an existing country/region to add the City where the meeting room is located. Next, click the button next to the relevant city to add the Building of the meeting room. Finally, add the appropriate Floor under the building.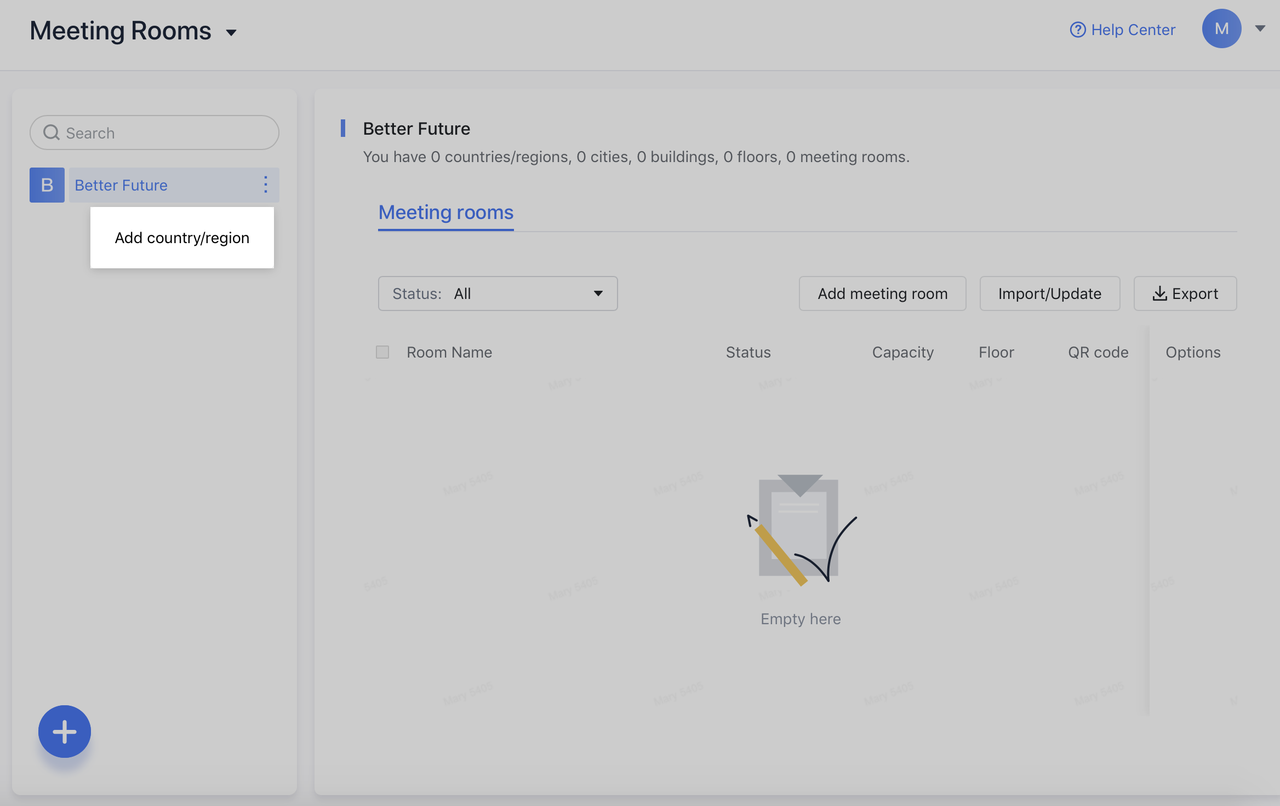 2. Add meeting rooms
Add Meeting Room: After adding all the company office buildings, you can select the appropriate building and floor to add a meeting room. If you have many meeting rooms, click Import/Update to import meeting rooms in a batch using a template. If you have few meeting rooms, click Add meeting room to enter the information and status for a single meeting room. For the meeting room status, select Normal to allow all employees to reserve this meeting room using the Calendar Feature.
To learn more about meeting room management, click here.
🍃 After completing the preceding steps, employees can click Add meeting room when creating a schedule to reserve a meeting room.
IV. Company data analysis
You've made it to the final step! Admin provides data capabilities to help you visualize employees' use of Feishu.
1. Data overview
You can go to Reports - Data Overview to view information about employees' use of Feishu. You can see the company's total employees, total departments, new users, and deleted users. To the right of the data details, click Export to send the data to your local device for further analysis.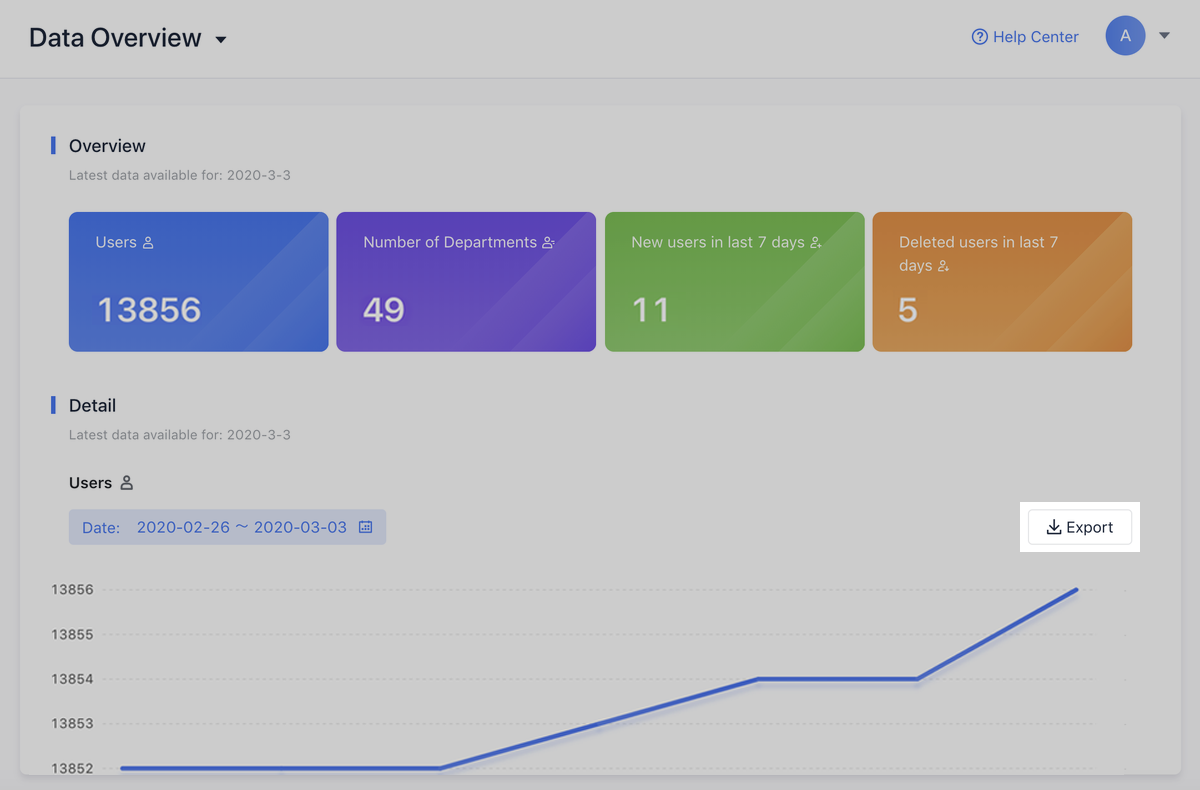 2. User activity data
Go to Reports - User Activity Data to see the number of people who have or have not used Feishu in a given period. You can also query data by department or query data by user name to see more detailed user activity data. You can Export this detailed information. Up to 1 million lines of data can be exported at a time. Click here for more information about data analysis operations.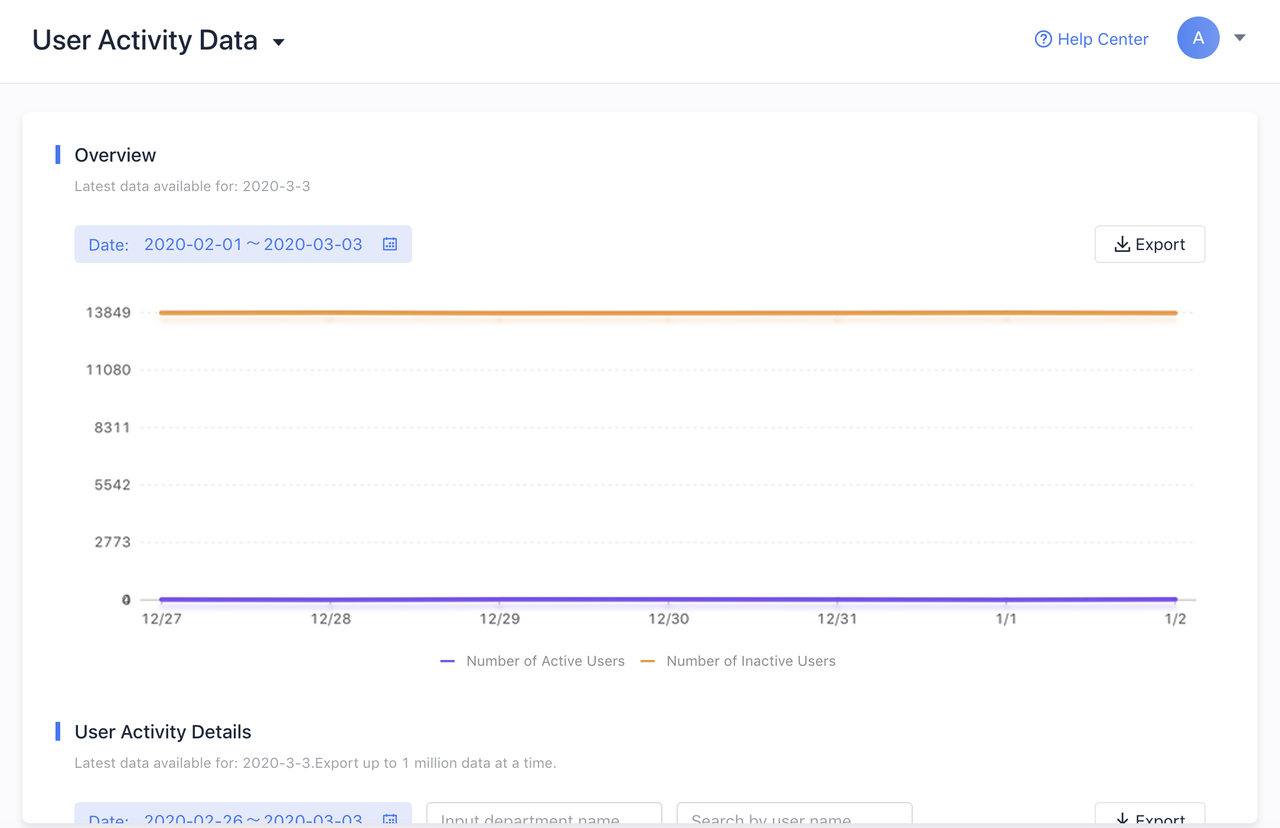 🎉 You have now completed all four setting steps and know how to use the features of Admin.
🎉 Now, you and your team are on the right track of work efficiency! You can do wonders with Feishu!
🎉 If you encounter any problems using Feishu, go to Feishu Help Center on the client to find the answers you need. Feishu is always on your side.