Applicable scenario: Workplace communication
Functions: Messenger, Approval and Report
Communication is everywhere in the workplace, and adequate communication skills are essential in any working environment. Traditional workplace communication involves phone calls, emails, and face-to-face conversations. As mobile technology heralds in a new era of IM, the most common workplace communication style is the exchange of messages. It could be said that IM allows people to have discussions in any virtual meeting room.
However, in Feishu, the idea of communication embraces a whole lot more possibilities. As a powerful office suite, Feishu offers a diverse range of communication methods, including, but not limited to, private and group chats as well as call and video meetings.
Without further ado, let's see how to master the art of communication with Feishu. 
Create a poll to gather opinions
No more lengthy explanations, all you need is a quick choice
For simple and direct questions, such as meeting time or team building activity awards, you can create a poll in group chat. Group members can show their opinions with one simple click. Everyone can see the poll details, as well as those who haven't participated.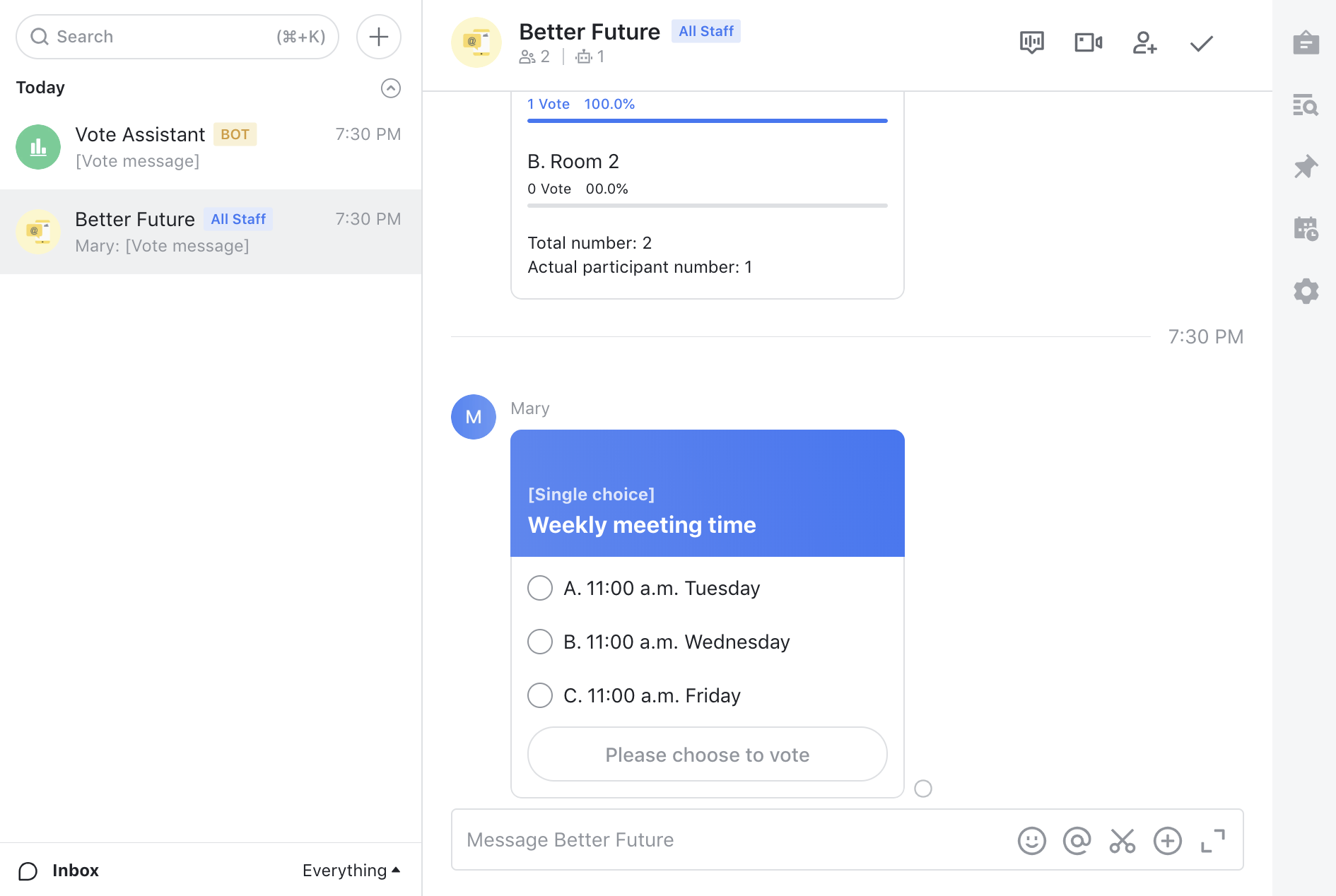 Keep up with the approval process
No more signatures or stamps, all you need is one click
People will be notified of pending approvals and can go to the approval admin via the notification card.
Daily, 
eekly
report
No more misinformation, everything is listed on your report.
Feishu Workplace offers applications for daily, weekly and monthly reports, so you can record your work progress on a regular basis, improving team efficiency. Apart from setting up reporting rules, you can also send bot notifications. The system will push bot notifications to reporters according to the specified time.
Fewer words and more efficiency - With Feishu, communications between team members can take various forms.
Apart from the above communication methods, Feishu also provides a diverse range of interesting applications on Workplace. Have a look at the Help Center for more details. Feishu offers more than just communications. Try it out yourself!