This article summarizes the frequently asked questions about OKR usage with solutions.
FAQs about Feishu OKR Usage
Q: How can I modify the OKR cycle?
A: Go to "
OKR Admin
" and click "
Settings
" to edit "
Cycle Settings
". You can only modify the OKR cycle twice per year.
Note: Modifications won't affect previous cycles. Hiding or deleting cycles is not supported at this time.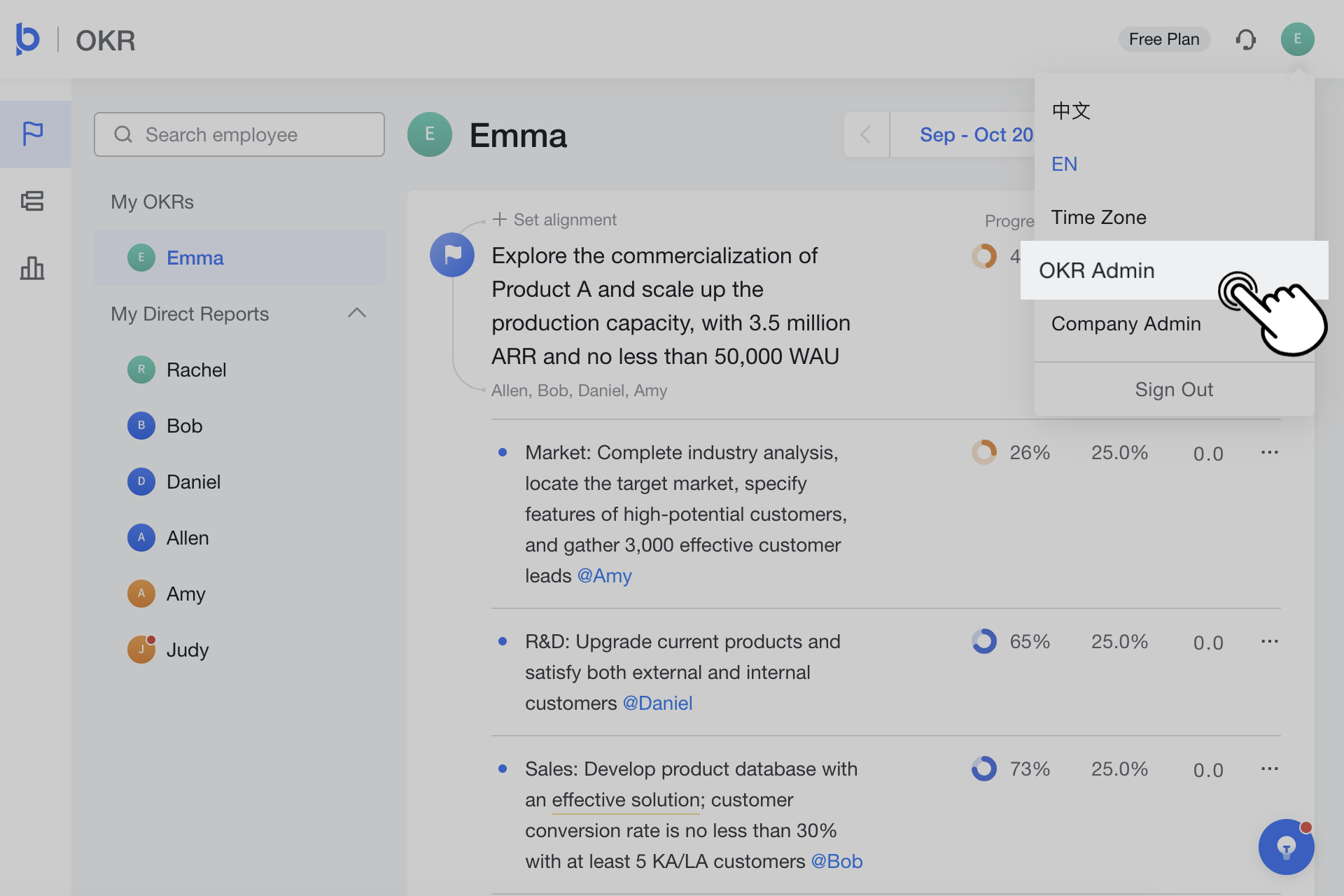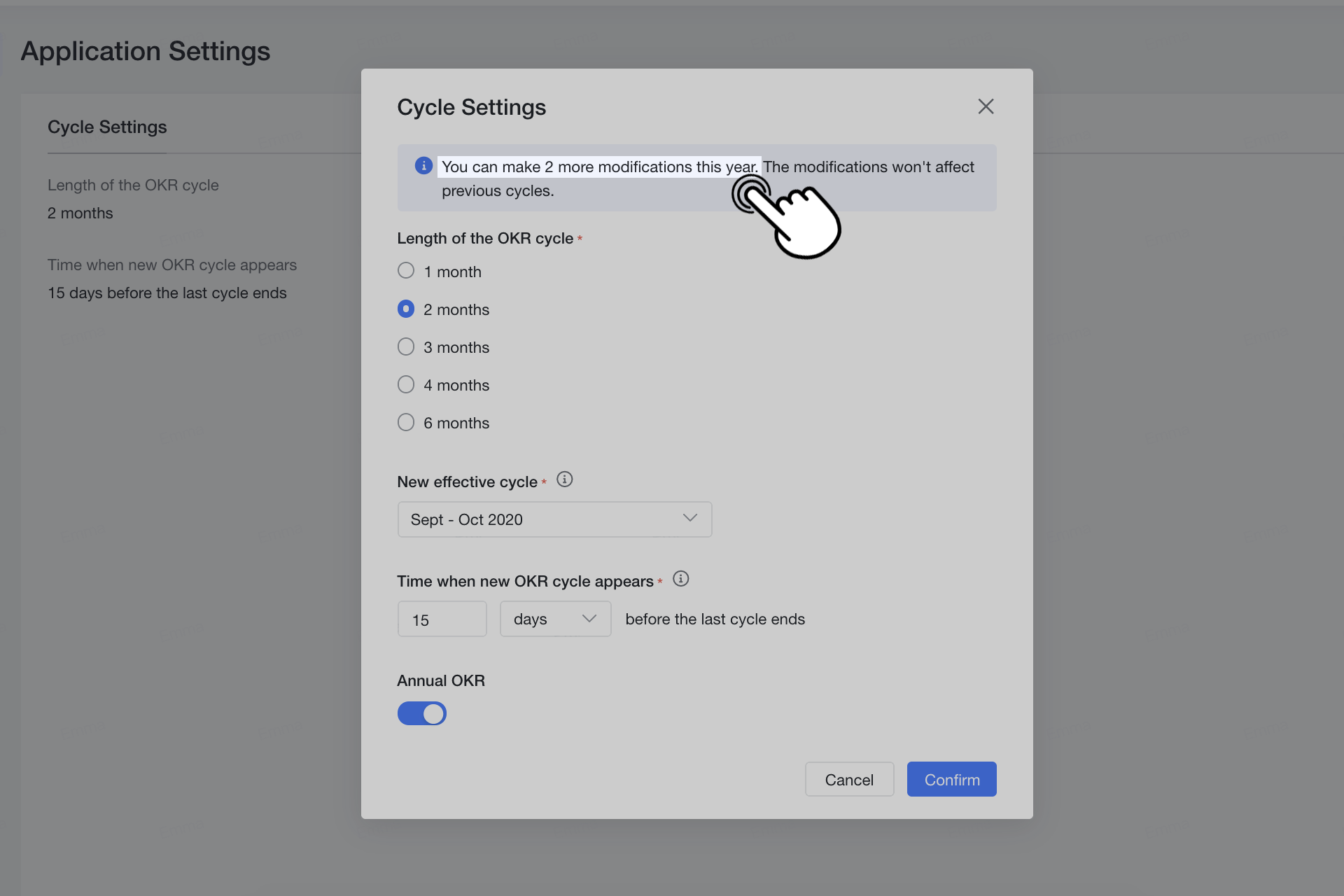 Q: What is an annual OKR?
A: Annual OKRs are OKRs that run on an annual cycle. You can plan your overall work for the year around these objectives. You can write your annual OKRs the same way as you write OKRs for customized cycles.
Why
are only "My OKRs" and "Alignment" displayed on my OKR page?
This is because your current "team structure" hasn't been fully configured. Please contact your company's Feishu administrator to complete the configuration in Feishu Admin. Make sure that the information in the "Direct manager" field is complete when batch importing employee information.
Why does my alignment view only show my own objectives?
The alignment view only supports downward expansion. That's to say, you can only see others' alignment with your objectives, but not those that you are aligned with. Therefore, if no one has aligned with your objectives, you will only see your own objectives in the alignment view.
Q: Why can't I see my manager's objective in the alignment view?
A: The alignment view currently supports downward expansion only. You can only see objectives that are aligned with you, but not objectives that you are aligned with.
Q: How is Feishu OKR charged?
A: You can use Feishu OKR for free if you have less than 30 users in your team. If you have more than 30 users, please call 400-0682-666 for more information.
Q: What's the difference between the Business Plan and the Free Plan?
A: The Business Plan allows you to customize the number of users and comes with a professional customer success plan, as well as personalized consultation throughout the customer lifecycle, which helps with quick implementation of OKR and more efficient collaboration within your company.
Q: Why can't I align objectives?
•

​

Please confirm whether the user to align with has filled in their bimonthly OKR. If not, you won't be able to align with them.
•

​

Only objectives can be aligned with, key results can't be aligned with at this time. Once aligned, you can hover the cursor over the objective to undo the alignment.
Q: Can key results be aligned with each other?
A: Alignment of key results is not supported at this time. Only objectives can be aligned.
Q: Can I score objectives?
A: Scoring of objectives is not supported at this time. Key results can be scored and the objective's score is the weighted mean of the key results.
Q: If my current direct manager in Feishu OKR isn't the correct one, how can I make it right?
A: Please ask Feishu super administrator to go to "Feishu Admin" and find "Members and Departments" in "Organizational Structure", search for the employee and change the "Direct manager".
Q: I have adjusted the organizational structure in Feishu Admin. Why can't I see the updates in the OKR app?
A: Updates to the organizational structure take some time to be synced to the app. Usually it takes 10 to 15 minutes after the admin made the changes. Please wait patiently.
Find more
You can view the OKR user guide and learn more about its features here:
Contact Us
👏You have gone through the FAQs for using OKR. Now give it a try!
💕If you need more help, search for "
Feishu Assistant
" on the client end or click
Avatar
-
My Customer Service
to search for answers.
🎉Customer Service Line: 400-0682-666