Feature Overview
In Calendar Settings, you can adjust settings of calendar and event notification, event display colors, time zones and other default status to make Calendar more consistent with your daily habits and to improve your efficiency of schedule management.
Procedures
Click on your profile photo - Settings - Calendar Settings. On this page, you can modify settings of calendars and events.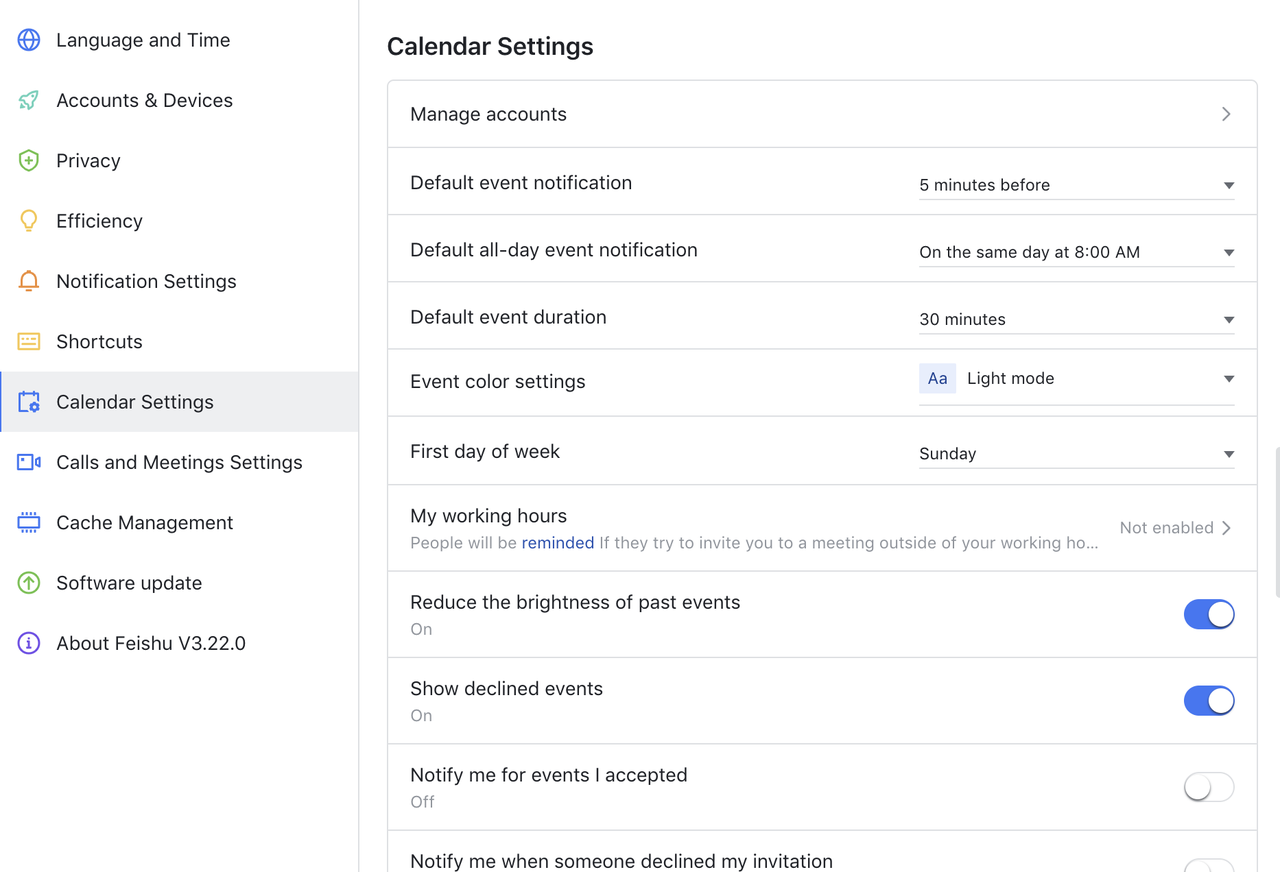 1. Manage accounts
Click Manage accounts, and you can import third-party calendars and synchronize your schedule to Feishu. 
Note: Only Google Calendar can currently be imported. 
2. Set default event notification
You can set default event notifications here.
Default event notification: you can set default notification time at the time when events start, or 5 minutes before, 15 minutes before, 30 minutes before, 1 hour before, 2 hours before, 1 day before, 2 days before or 1 week before.

Default all-day event notification: you can choose to set notifications at 8:00 AM, 9:00 AM and 10:00 AM on the same day or the day before. Once setting it successfully, you will receive a notification of all-day events at the time you set.
3. Set default event duration
When you create an event in Calendar, the default event duration time is 30 minutes. In Calendar Settings, you can adjust default event duration to 15 minutes, 45 minutes, 60 minutes, 90 minutes and 120 minutes.
4. Select event color modes
You can select light mode and dark mode.

5. Set first day of week
If you view calendars under the week display mode, the first day of week will be displayed on the far left side. By default, the first day of a week is set as Sunday, but you can reset it as Saturday or Monday to meet your need.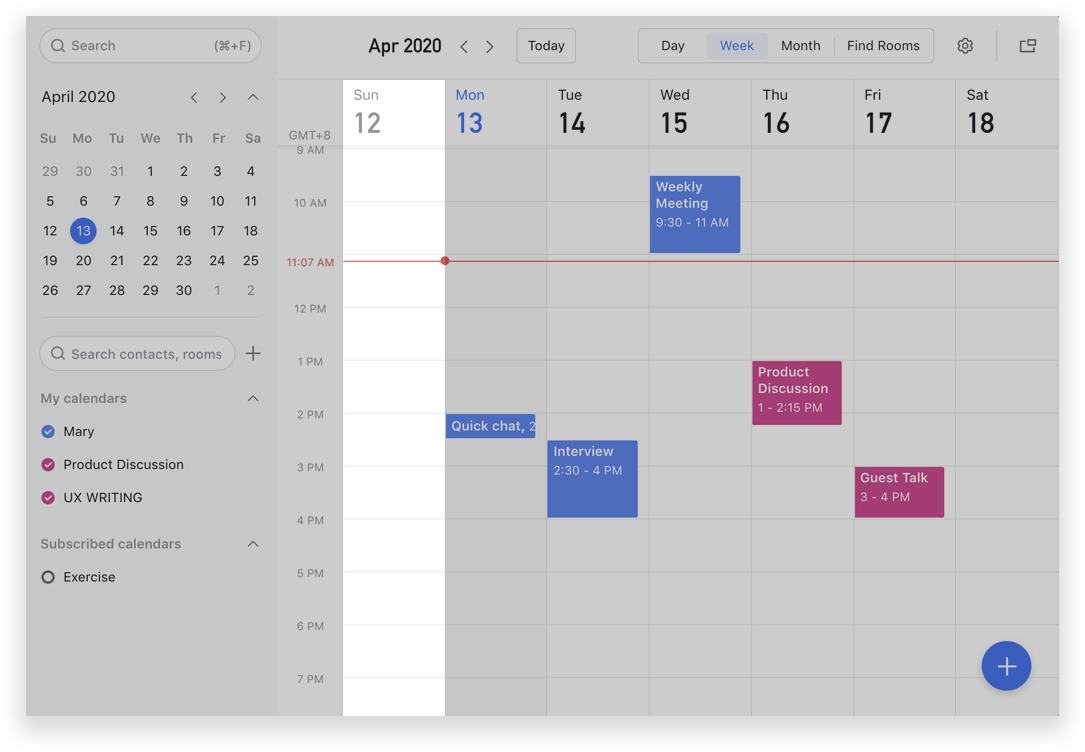 6. Set working hours
After enabling working hours, you can set your working date and time. If your colleagues invite you to a meeting outside your working hours, they will be reminded.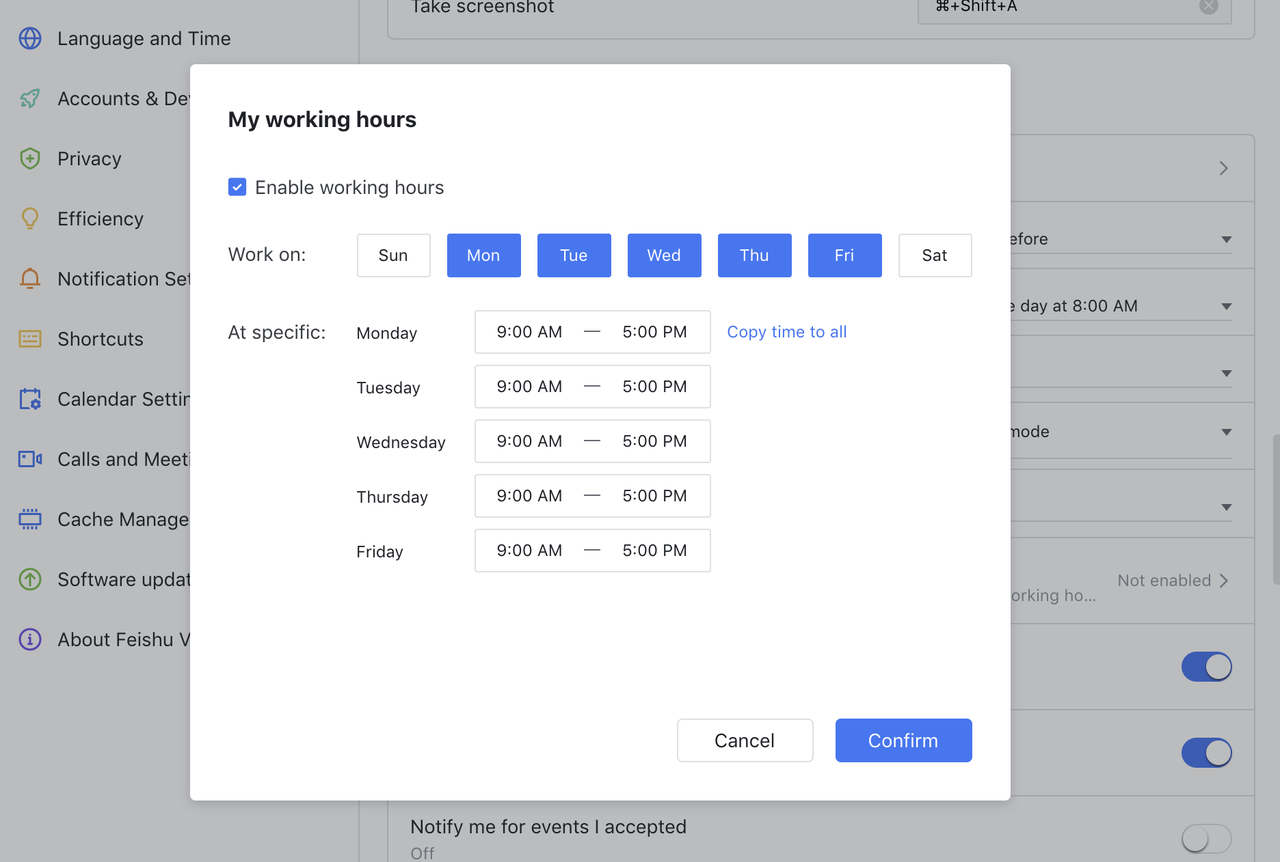 7. Reduce the brightness of past events
After enabling this option, past events in your calendar will be made dim so that your coming events will be more evident.
8. Show declined events
After enabling this option, events you have declined will still show on your calendar, and you can click it to view details.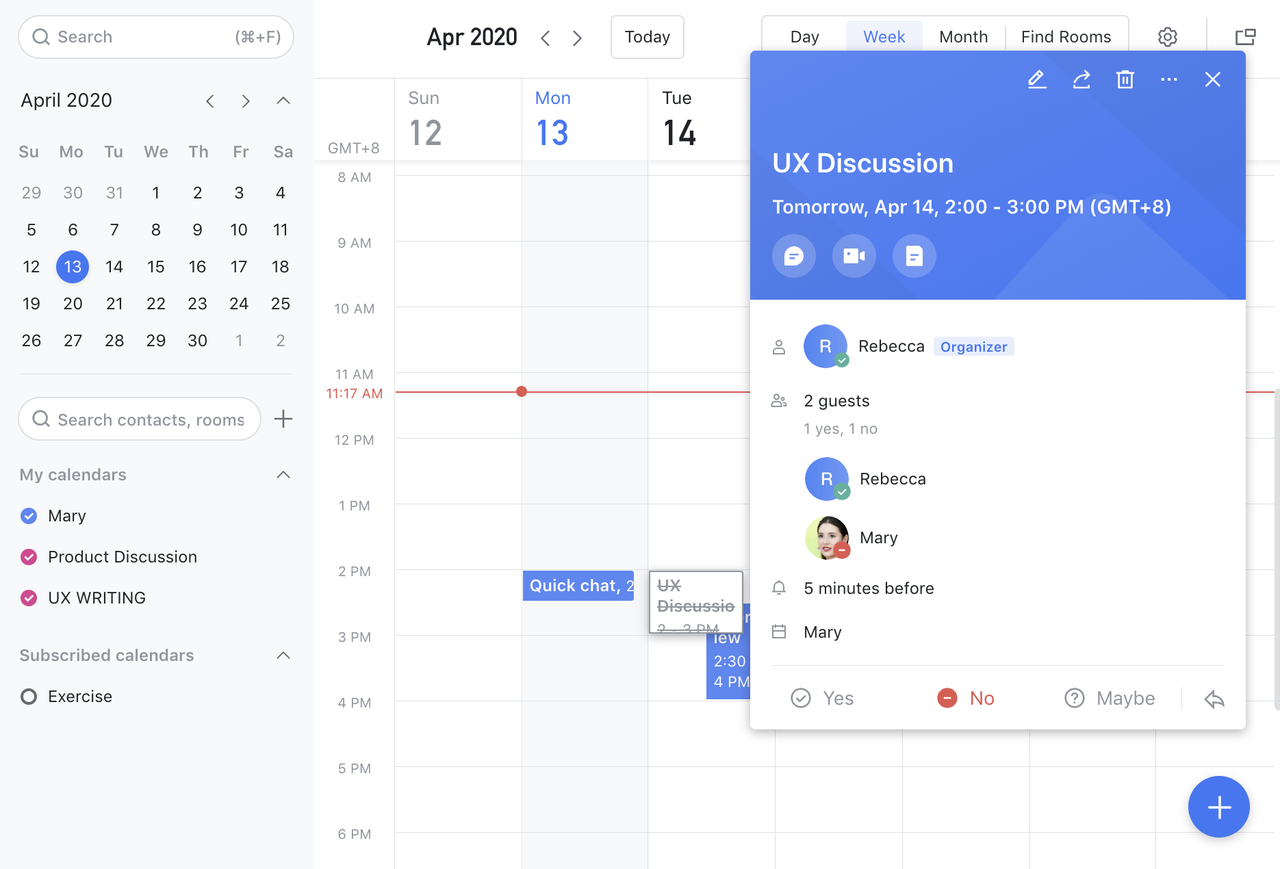 9. Set event notifications
After enabling

Notify me for events I accepted

, you won't receive notifications of the events you decline.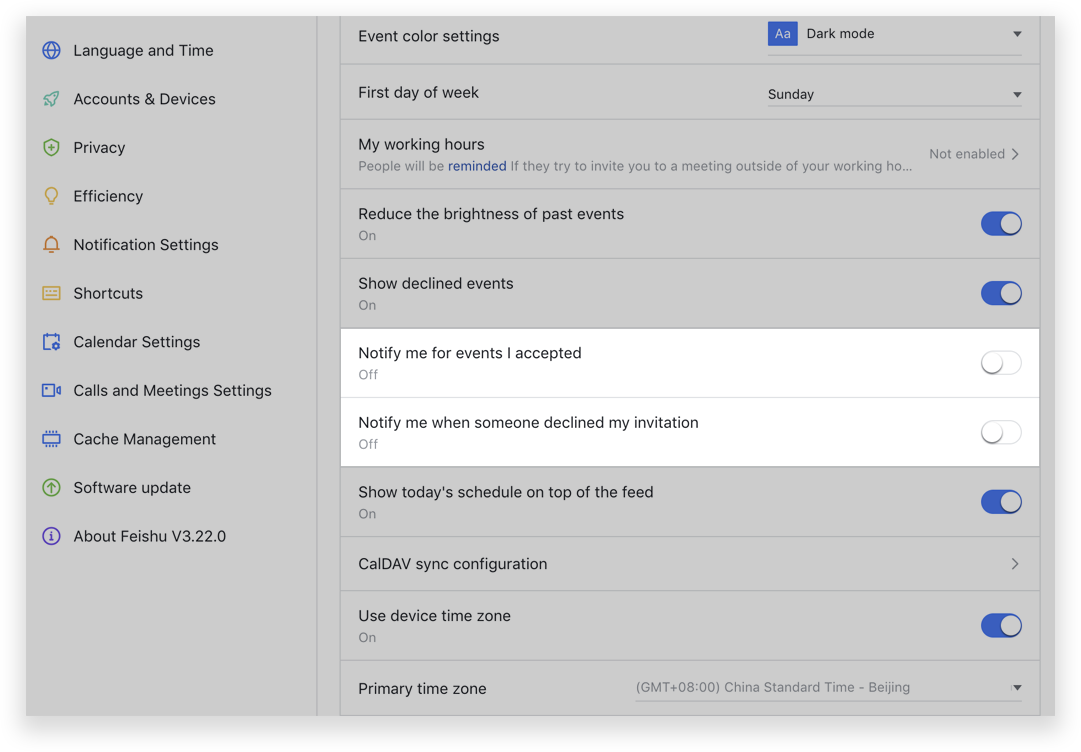 After enabling Notify me when someone declined my invitation, you will receive a notification from Calendar Assistant if someone has declined your invitation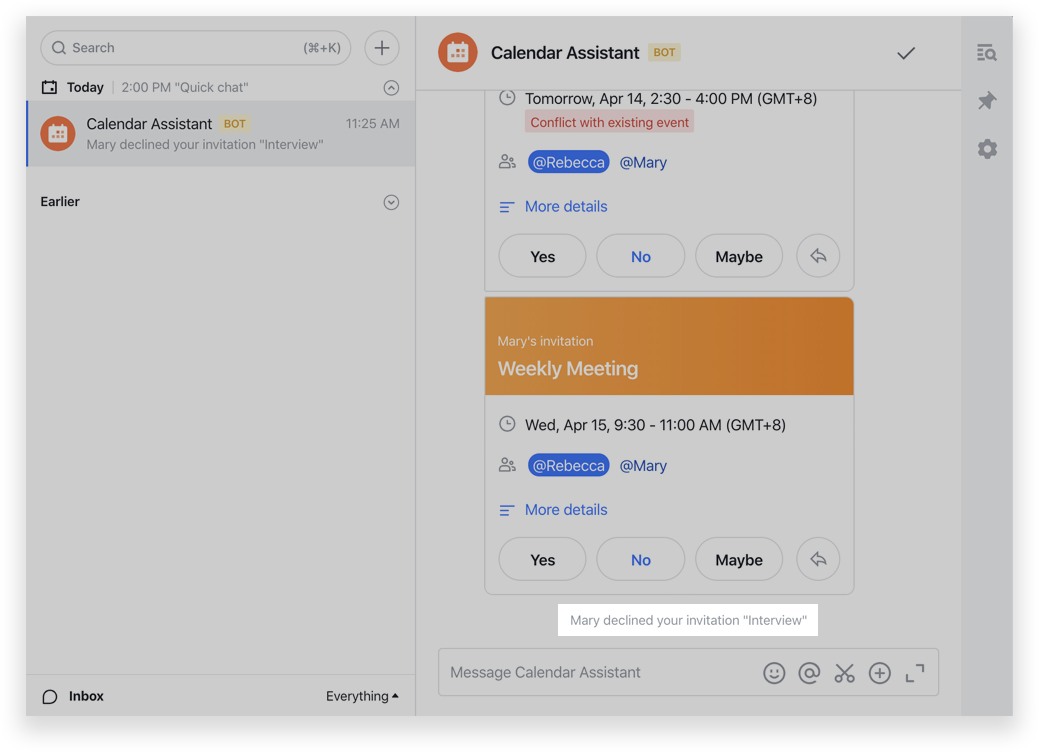 10. Show today's schedule on top of the feed
After enabling this option, you'll see your coming event on top of the feed.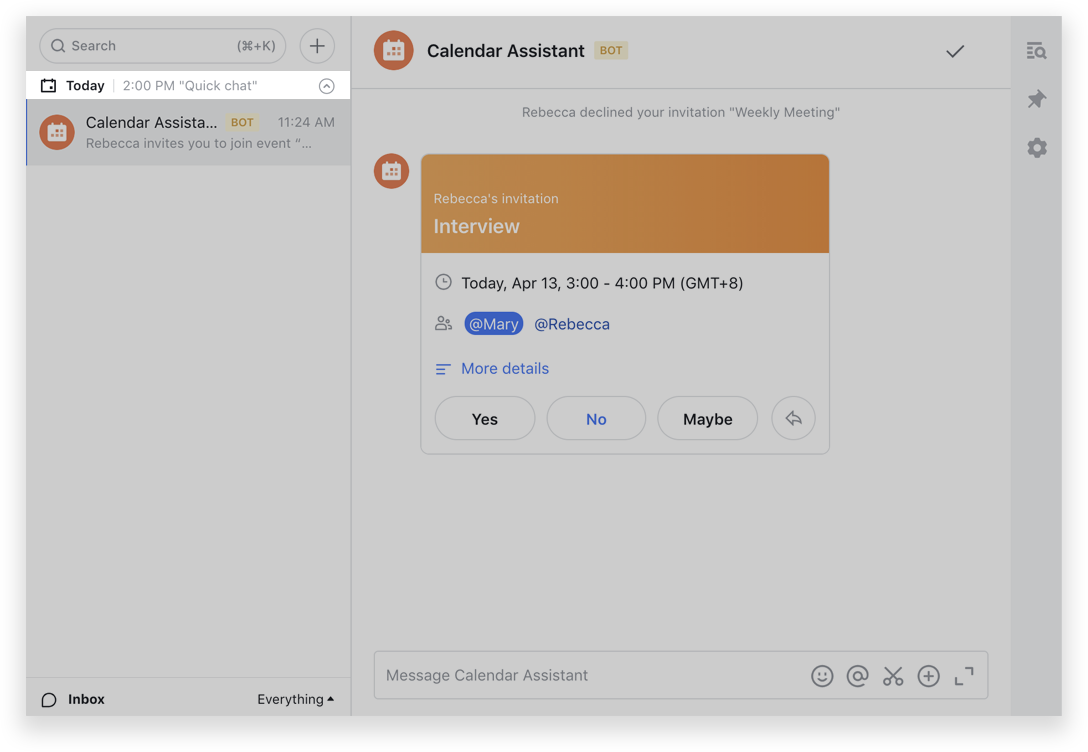 11. CalDAV sync configuration
Click CalDAV sync configuration, and you can view your device CalDAV information and generate CalDAV password which helps synchronize Feishu Calendar to local calendar.
12. Time zone
If you enable Use device time zone, your calendar time will be synchronized to the time zone used by your device; if you disable this option, you can choose the primary time zone you want to use.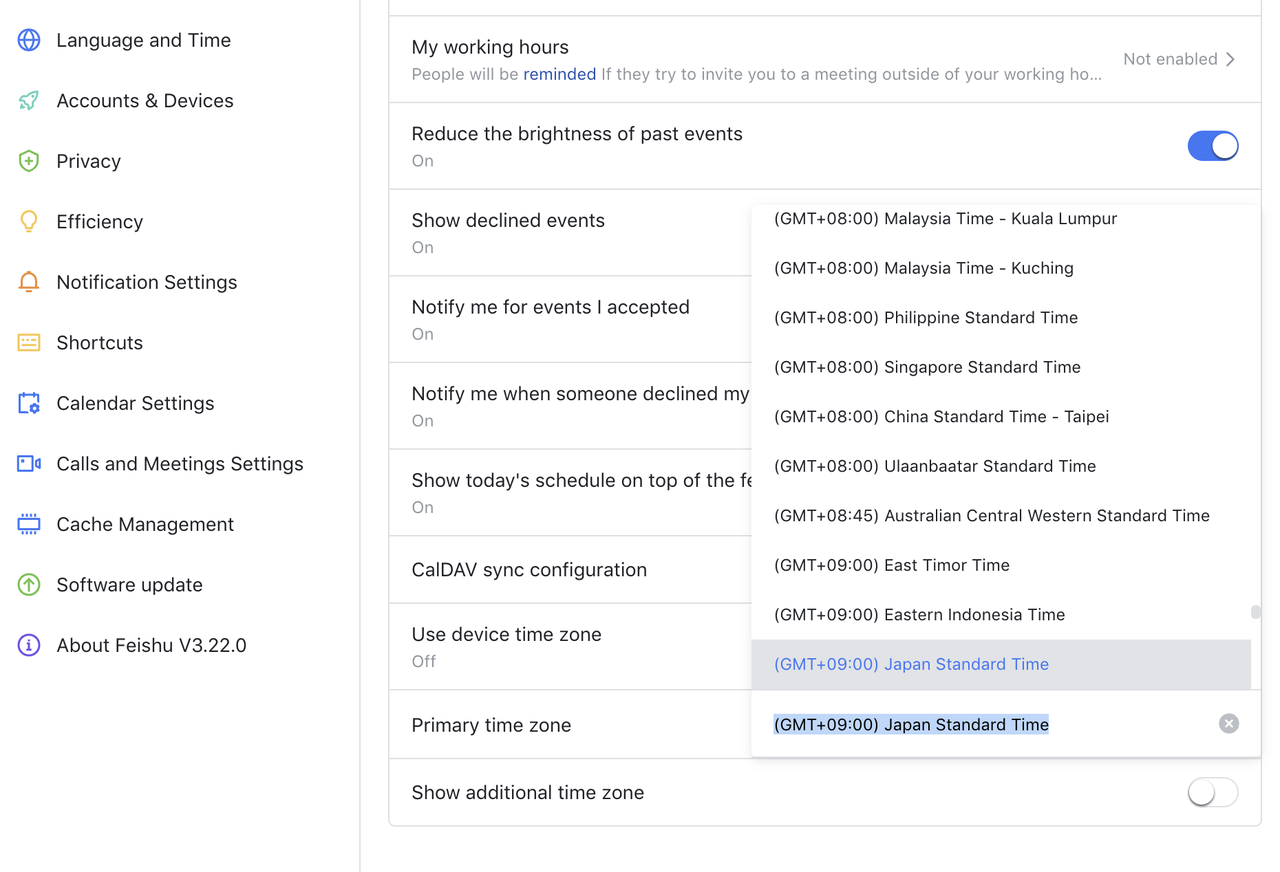 If you enable Additional time zone, you can view your primary time zone and additional time zone(s) you set in Calendar.
👏 Congratulations! You now know how to use Calendar Settings.
💗 If you want to know more about Calendar, click here.
💗 If this article doesn't answer your questions, you can go to Profile photo - Contact Support and talk to our human agents.