Unable to verify actual attendance of employees?
The business department of Company T needs to send field staff members to visit customers for potential new business opportunities and provides reimbursements and subsidies for the taxi fare or fuel cost during such visits. Previously, the company required field staff members to report their locations at the destinations and provide the photos of the oil gauge before and after the trip. As time went by, problems arose: it was hard to verify the attendance of employees at the customers', some employees used fake photos to gain more money, and there is no way to know the actual visit duration, and many more. These problems added much inconvenience to company management and resulted in less efficient business development.
Less organized visit records?
The sales department of Company D needs to send employees to promote their products in different 4S stores and collect customer information after the visits, with the conversion performance updated. Previously, the company used daily reports to fulfill this purpose. However, this traditional approach was not only time-consuming, but also led to a huge workload for team leaders to organize and keep statistics of the disorderly customer data. Over time the efficiency was low, and the customer data updates behind time also brought about loss.
"Check In" addresses the above problems, ensuring the validity and effectiveness of business trips and customer visits. "Check In" is your best field staff management helper with the following features:
On-site photos with watermarks
Administrators can configure to only allow using the photos taken on site and embedded with time and location watermarks as check-in images to prevent cheating.
Mobile client > Workplace > Check In
: Go to
Team > Groups that I'm managing > Department > Configure Check-in Template
interface, click "
+
" to add a check-in template. Click
Images
, and check "
Camera
" in
Image source
. (If you select this option only, Check In will only support uploading photos taken on site as the check-in images.) You can also select whether to "
Add watermark
". With this option selected, the default watermark will be shown on the check-in images.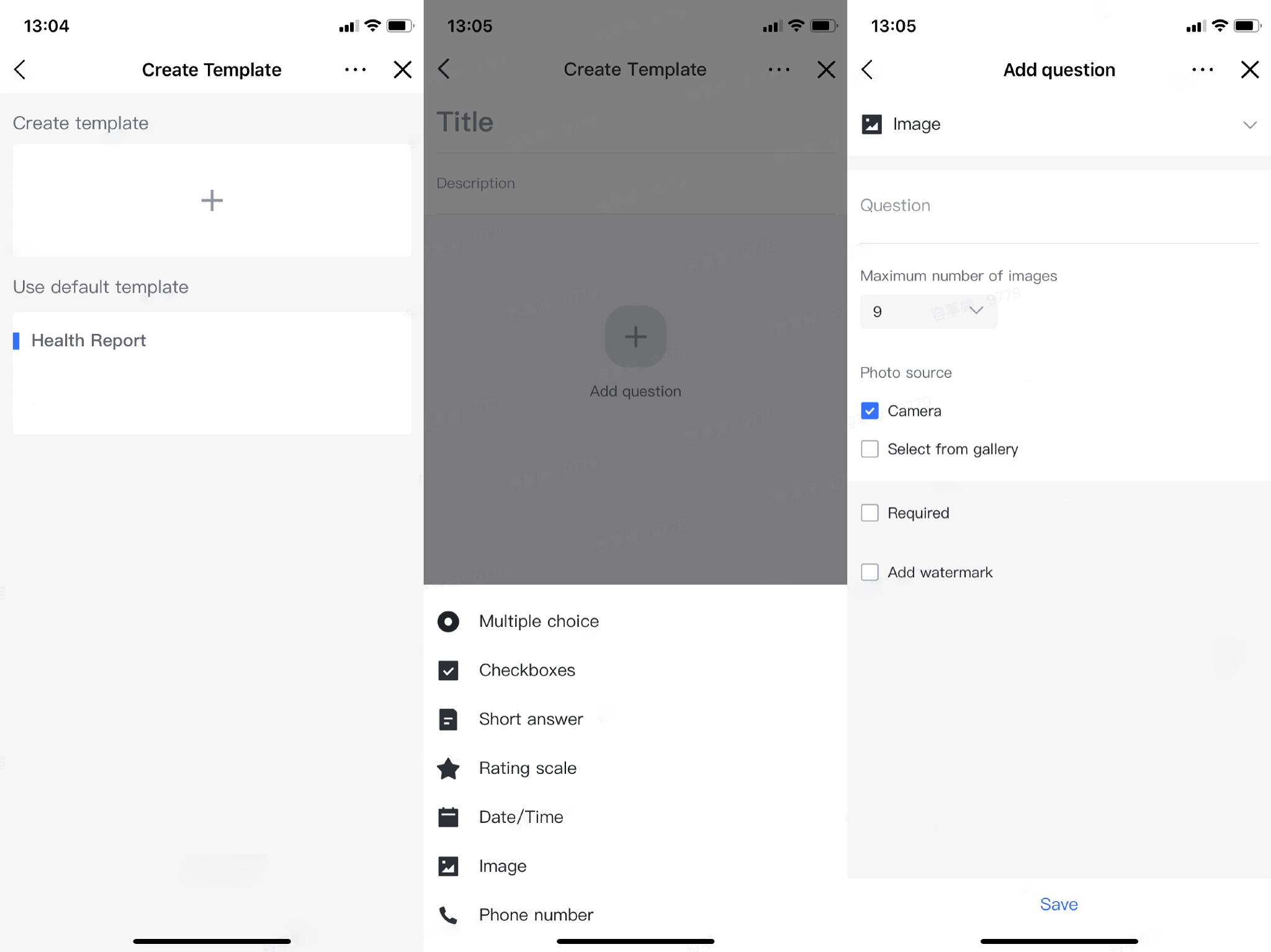 Check-in templates on demand
Administrators can customize the check-in templates, with seven types of questions supported. They can also configure the required fields to standardize the submitted format for more convenient data collation.
Mobile client > Workplace > Check In
: Go to
Team > Groups that I'm managing > Department > Configure Check-in Template
interface, click "
+
" to add a check-in template. In the
Create check-in template
interface, you can click "
+
" to create a new template or select
Create from default template
. Check-in templates support six types of questions, namely
multiple-option question, checkboxes, rating scale, short answer, date/time, and image
, to standardize the check-in inputs of department members. After completing a template, you can preview the template.
Clear and intuitive distribution of check-in locations
In Check In Admin, administrators can view the check-in location distribution of members in the department or check-in group on a specific day, and the intervals between adjacent check-ins. This helps administrators gain a clear and intuitive picture of employees' daily check-in status and prevent goofing-off or cheating.
PC client >
Check In Admin
:
Select
Check-in statistics > Check-in locations
. Select the desired department or check-in group, select the desired date, and then select the desired member in the employee list. The check-in locations and time intervals of the member will be shown.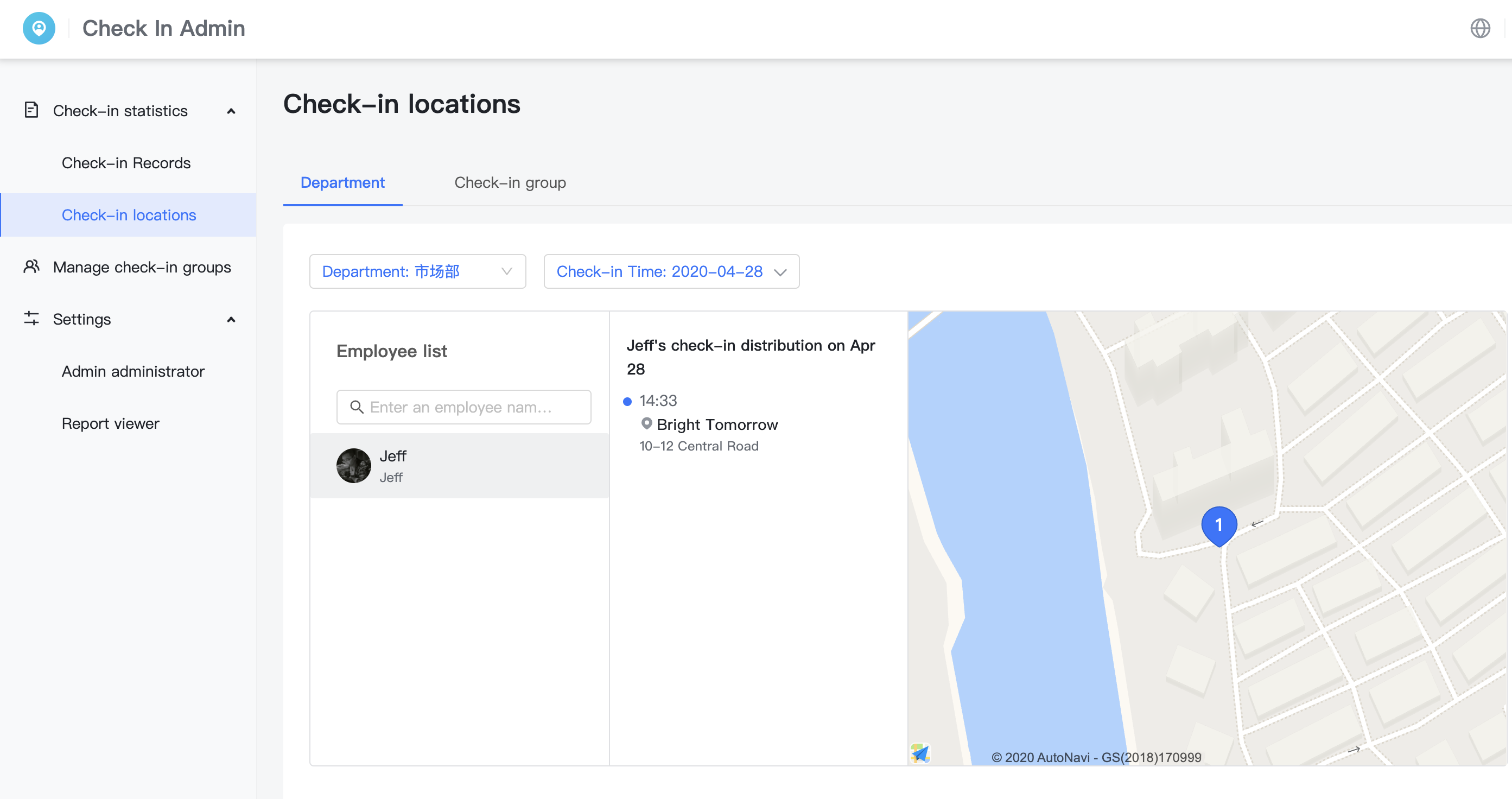 📱 Data views on mobile client
- Have real-time access to check-in status to learn about team performance
- Create check-in groups across departments to meet more diversified check-in scenarios
- Manage group members and view group check-in records whenever needed
- Configure viewers to allow multiple users to view form data
🗂 Check-in history export from the admin
- Check In Admin supports exporting check-in data within the authorized scope as a form
🖼 More scenarios include:
- Check-ins at meetings, customer visits, attendance statistics...
No time to lose. Give it a try!