In the Admin Console, administrators can set up approval processes for meeting rooms dedicated for special purposes. Team members will need to submit an approval request if they want to use those meeting rooms. They can only book and use the meeting room as long as the request is approved
1.

​

Administrators set meeting rooms that require approval
•

​

Go to

Admin

Meeting Rooms

, and select a meeting room to view its details. There you can see the

Reservation approval

option.

•

​

Once turned on, you need to add an approver for this meeting room. You can select multiple approvers, so when one of the approvers approves the request, the meeting room booking will be successful.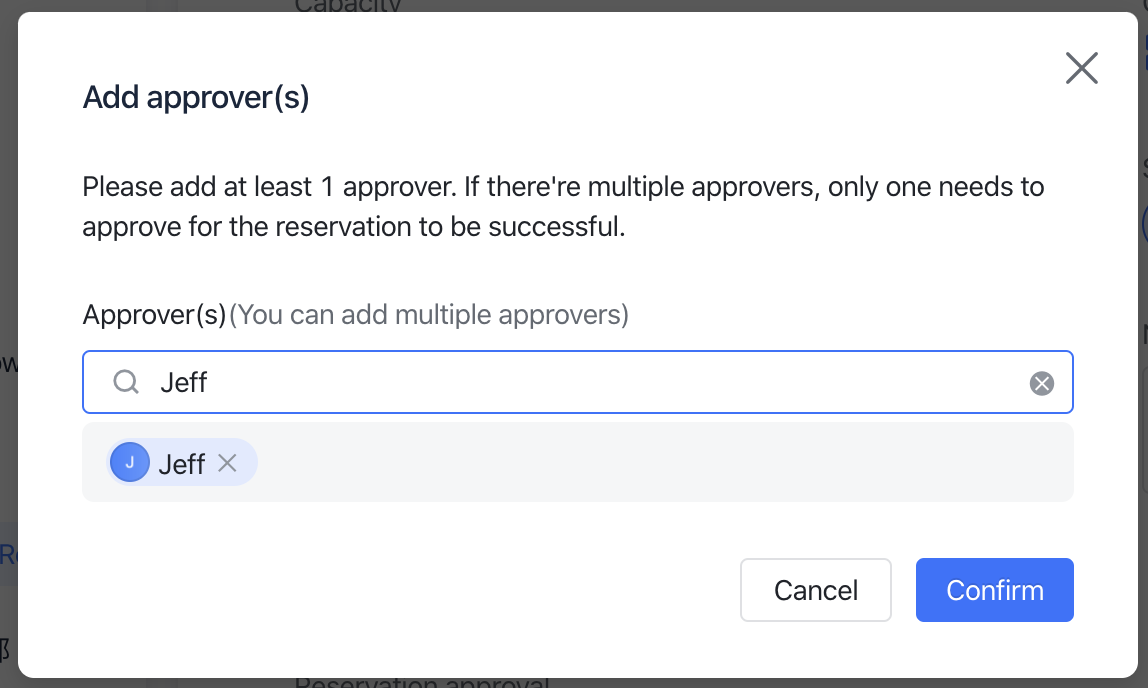 2.

​

Members submit meeting room request in Calendar
•

​

When searching for meeting rooms in Calendar, if there are meeting rooms that require approval, you will see an "

Approval

" label beside it.
•

​

If you select a meeting room that requires approval, you will receive a notice of

meeting room request

when you save the event. You can view the approver by hovering over the

i icon

. You need to explain the purpose of using the meeting room, and click

Save

to save the event and automatically submit the room request.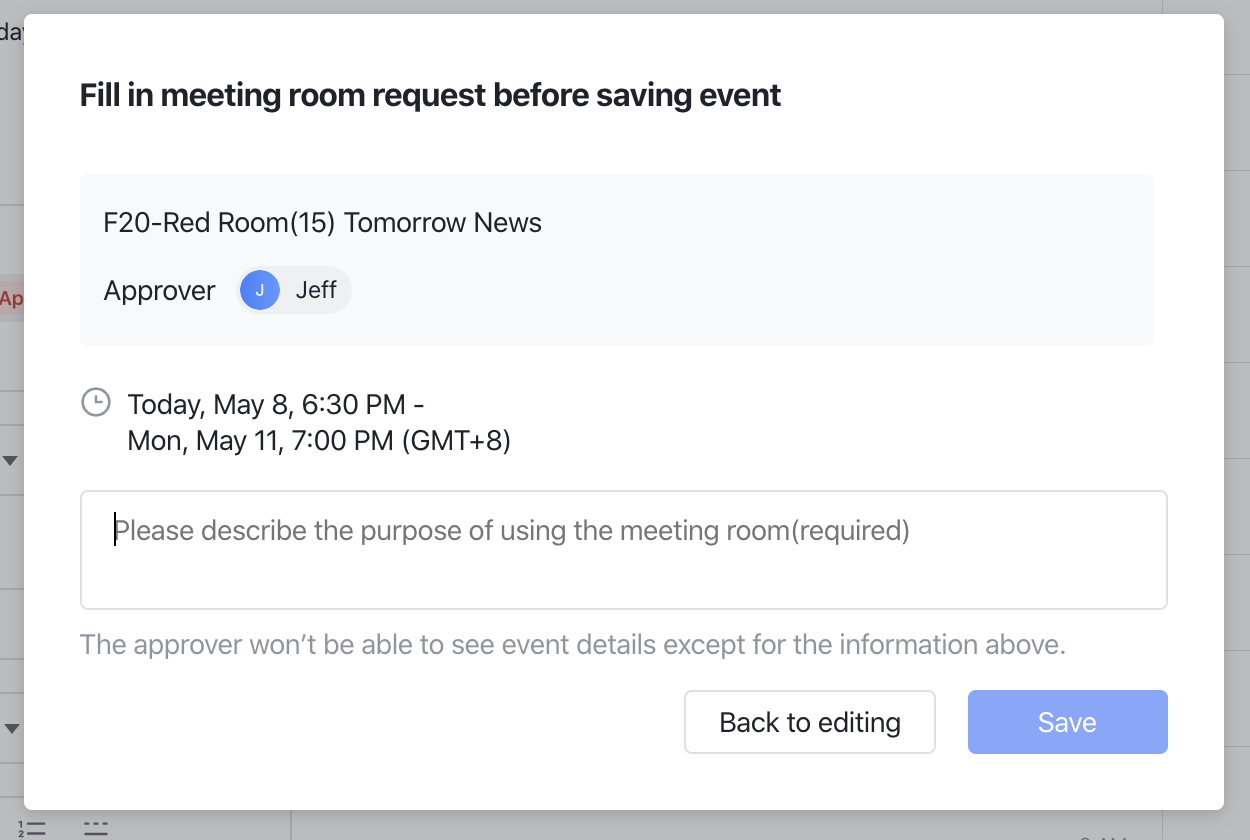 1.

​

You cannot select a meeting room that requires approval for recurring events.
2.

​

If you change the event time after submitting the approval request, the pending or approved request will be automatically canceled. When you save the new event details, approval request will need to be submitted again.
3.

​

Meeting room approval process
•

​

After a member submitted a meeting room approval request, the corresponding approver will receive an

Approval notification

. The approver can view request details by clicking on the notification card.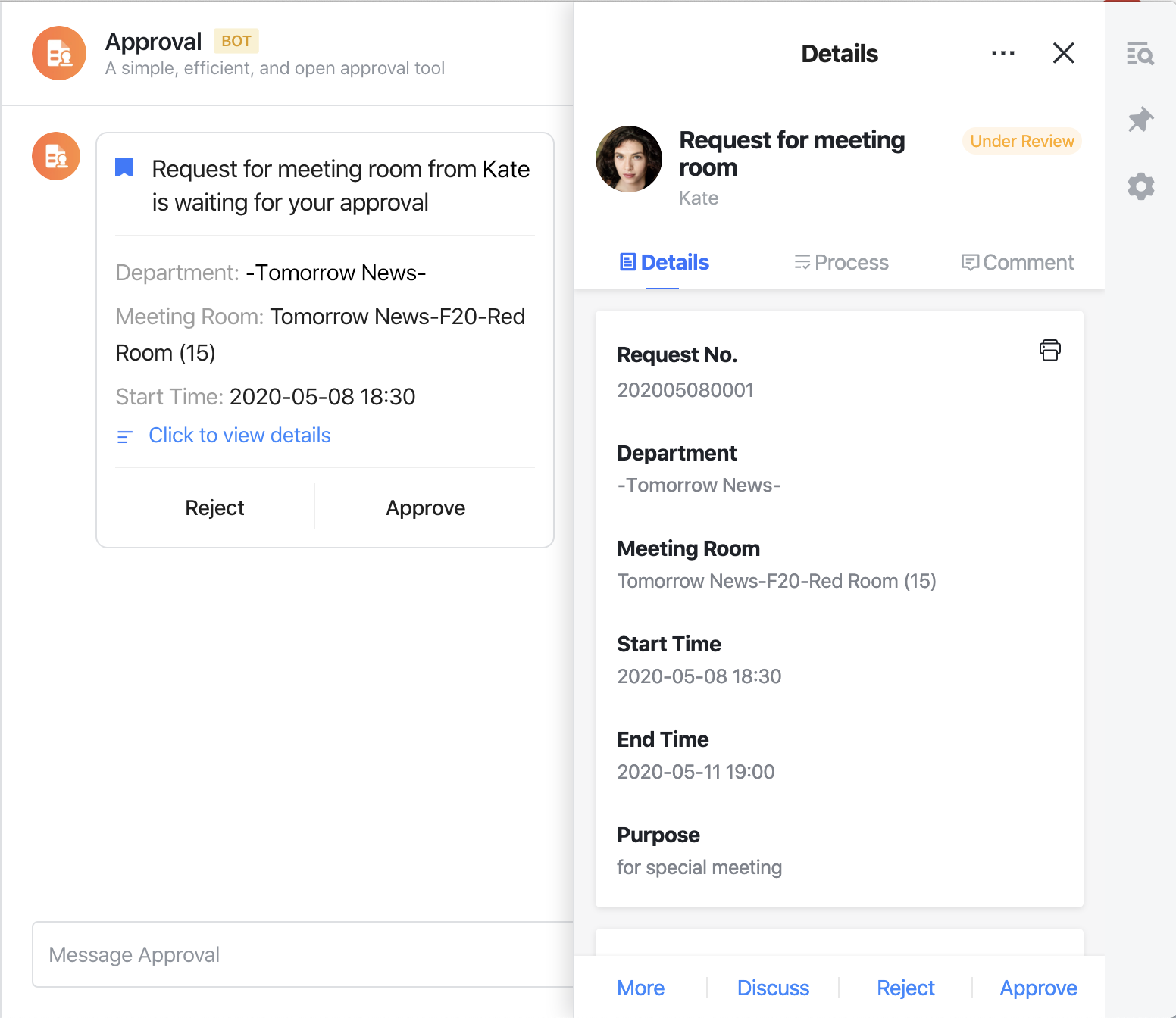 •

​

After the approver approves or rejects the meeting room request, the requester will receive the approval result through

Approval notification

. If approved, the meeting room booking is successful; if rejected, the meeting room will remain available for booking.