Feishu Survey provides mobile solutions for common scenarios at workplace like checking in at events, checking out items, and conducting surveys. It is built into the Feishu collaborative suite.
•

​

Speed up and simplify your business: Say no to paper sign-up sheets and webpage customization. Feishu Survey help you create projects and QR codes with just one click.
•

​

Used everywhere: Feishu Survey can be used in different occasions, such as registration, event check-in, surveys, clients satisfaction, and much more.
•

​

What you see is what you get: Everything displayed in your survey is extensively customizable. You can include various types of questions in a form.
•

​

Remote collaborations and streamlined operation: Create sections for various sites with no hassle. The advanced settings can be tailored to your operations.
II.
Installing Feishu Survey
•

​

Enterprise Administrator
1.

​

Find and get "Feishu Survey"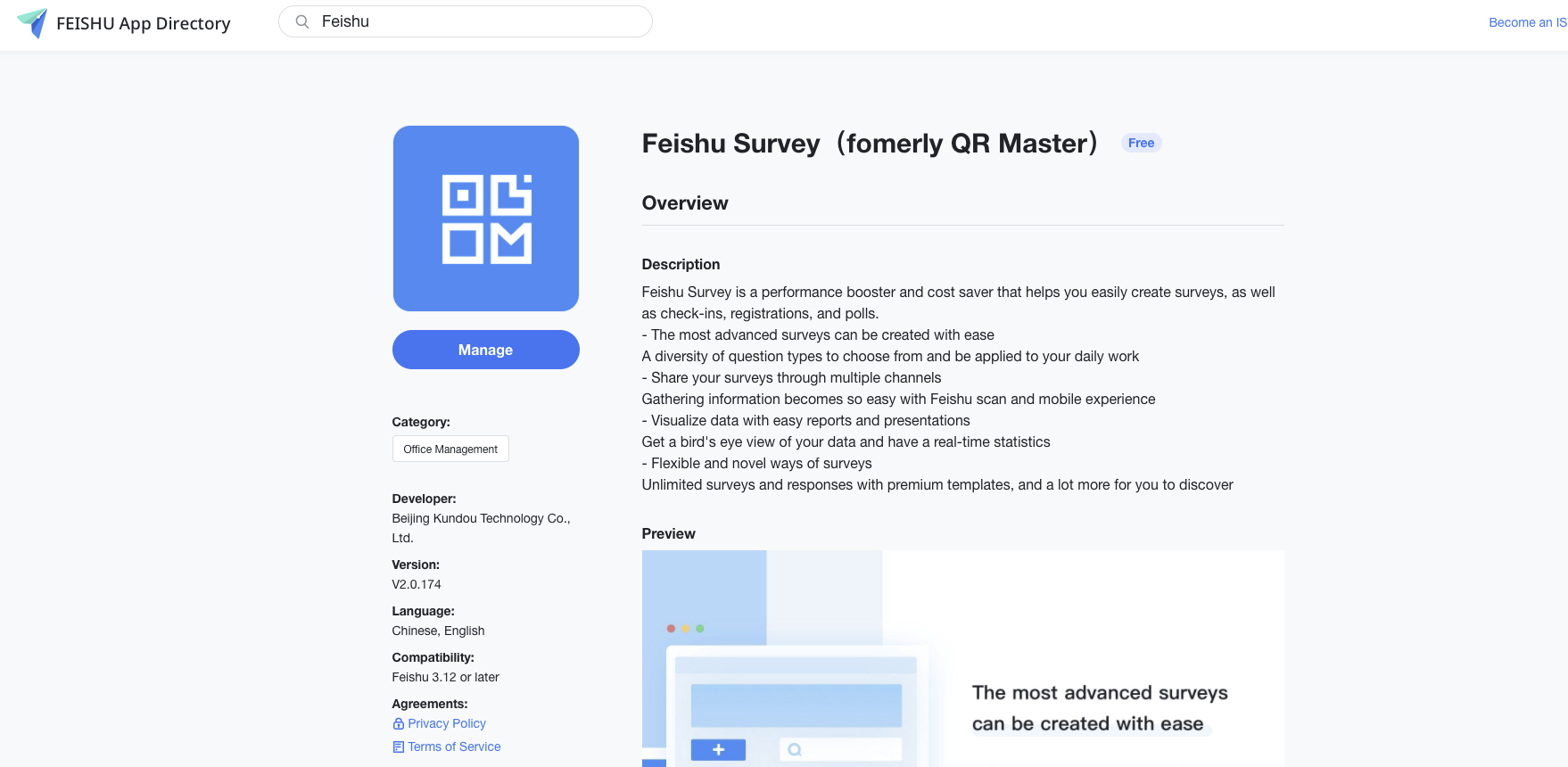 2.

​

Turn on permission for all users. In the Feishu Admin, select

Workplace - App List

, select

Feishu Survey

, switch on the

Activate

button, and select

All members

in

Availability

.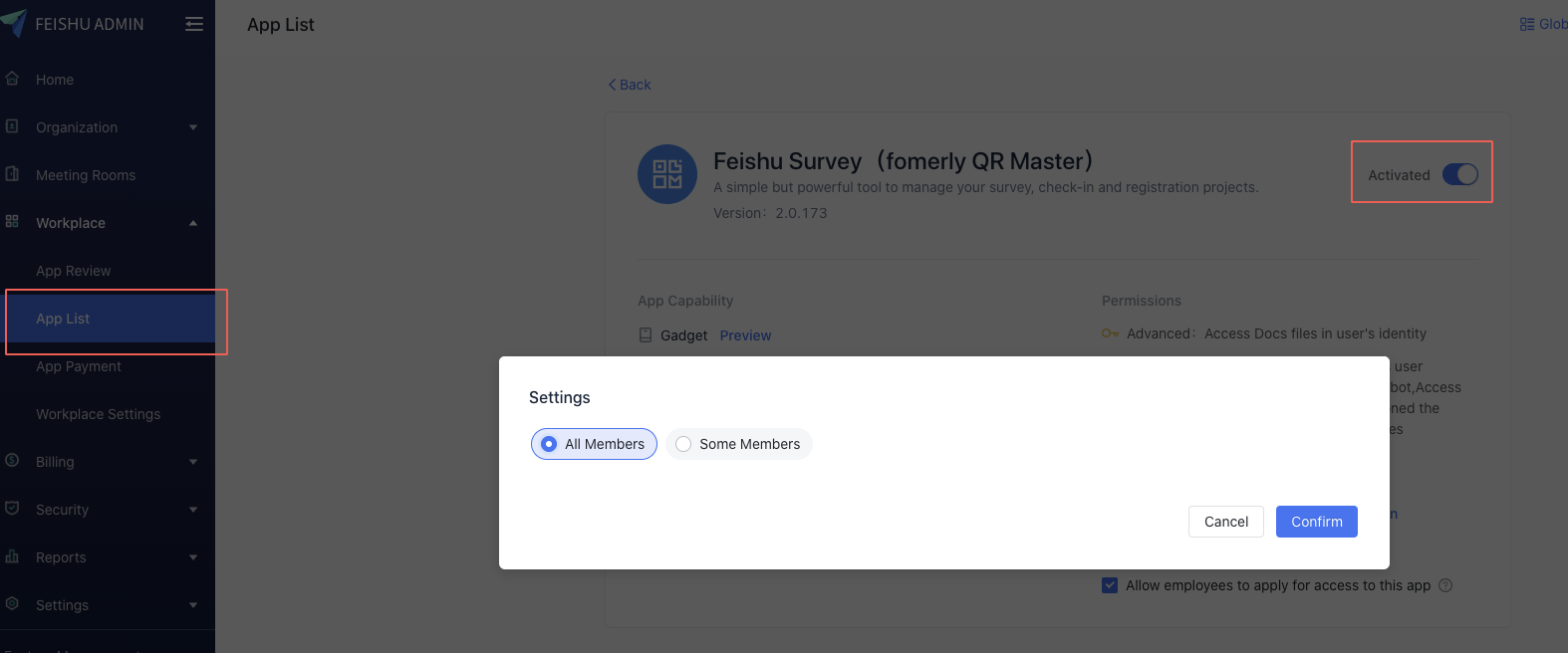 •

​

Non-Administrative Users
1.

​

You can also click

Get

in

the App Directory

and apply to use the app. After your administrator has installed the app and approved your request, you can start using Feishu Survey.
2.

​

If you are not an enterprise administrator and find that you cannot open

the app Admin

, contact your enterprise administrator to get this app.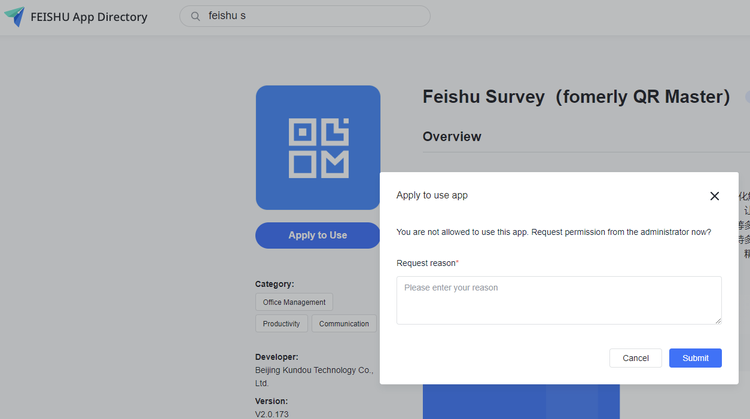 III.
Creating a New Project
All employees of companies that have installed the app can log in. No access permissions are required.
•

​

Open backstage through Feishu workplace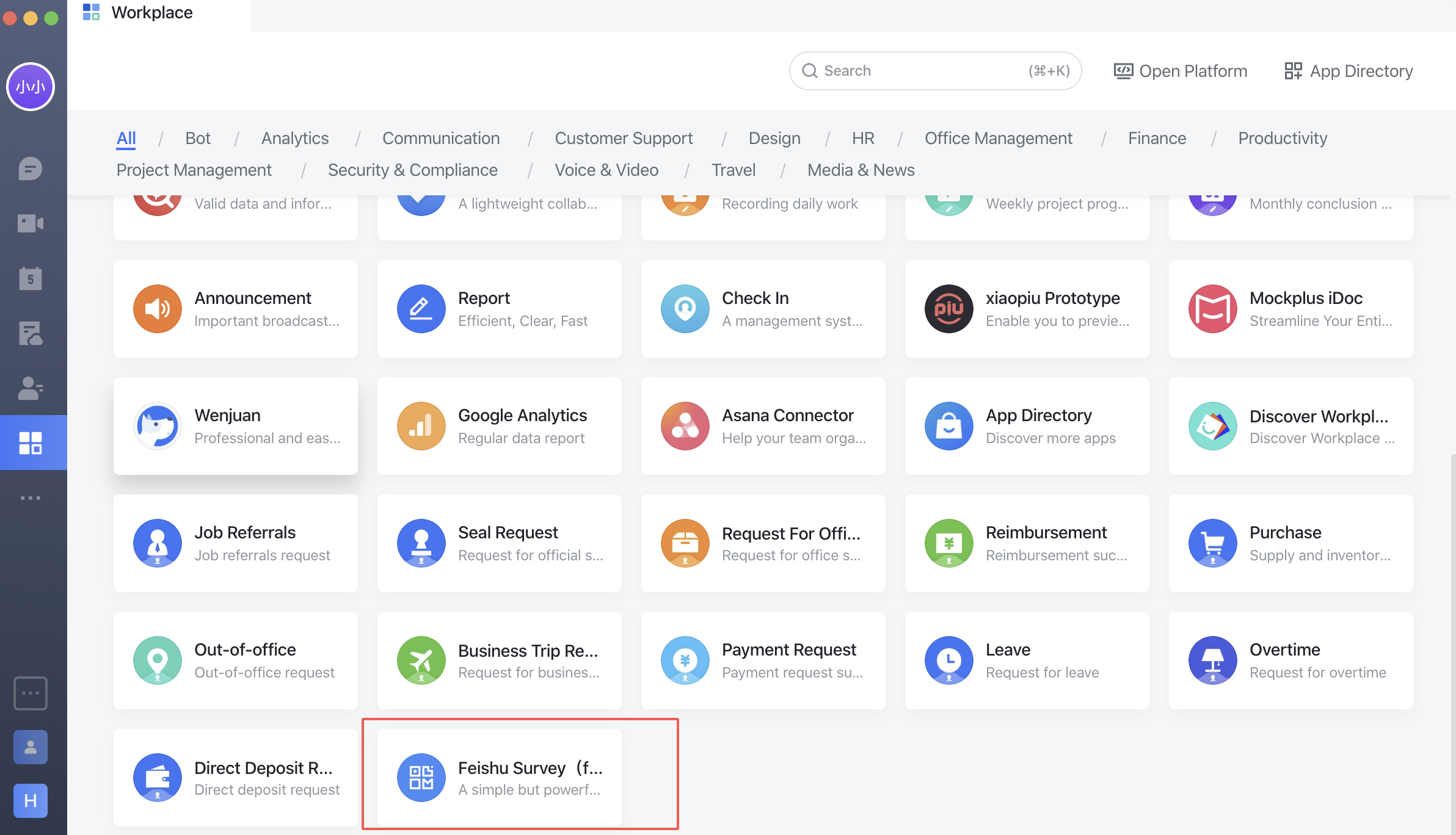 Project Creation Process
You can create a project in just three simple steps:
1.

​

Click

New project

from the Manager Homepage.
2.

​

Select applicable scenarios and the relevant template to create a project (or add and customize a blank project).
3.

​

Set the

Basic information

and

Page design

before releasing the project.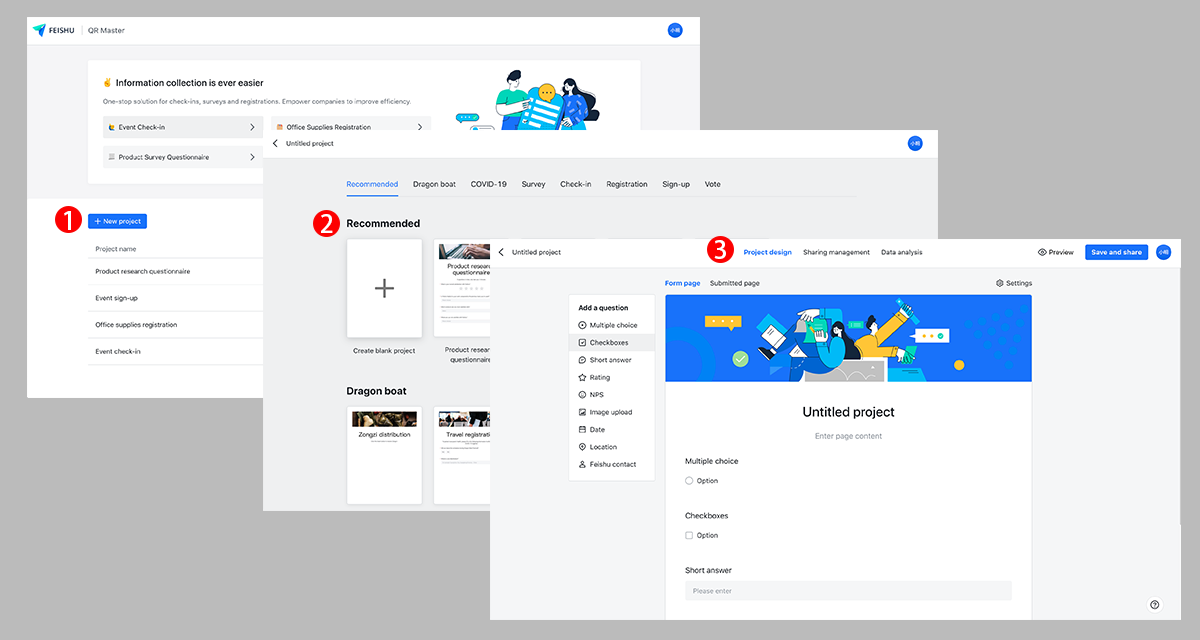 Feishu Survey provides many convenient functions that can be tailored to your needs.
Limit Number of Submissions
On the
Basic information
page, you can set a limit on user submissions based on your needs. You can also set
limit by cycle
. For example, you can limit a user to one submission per day.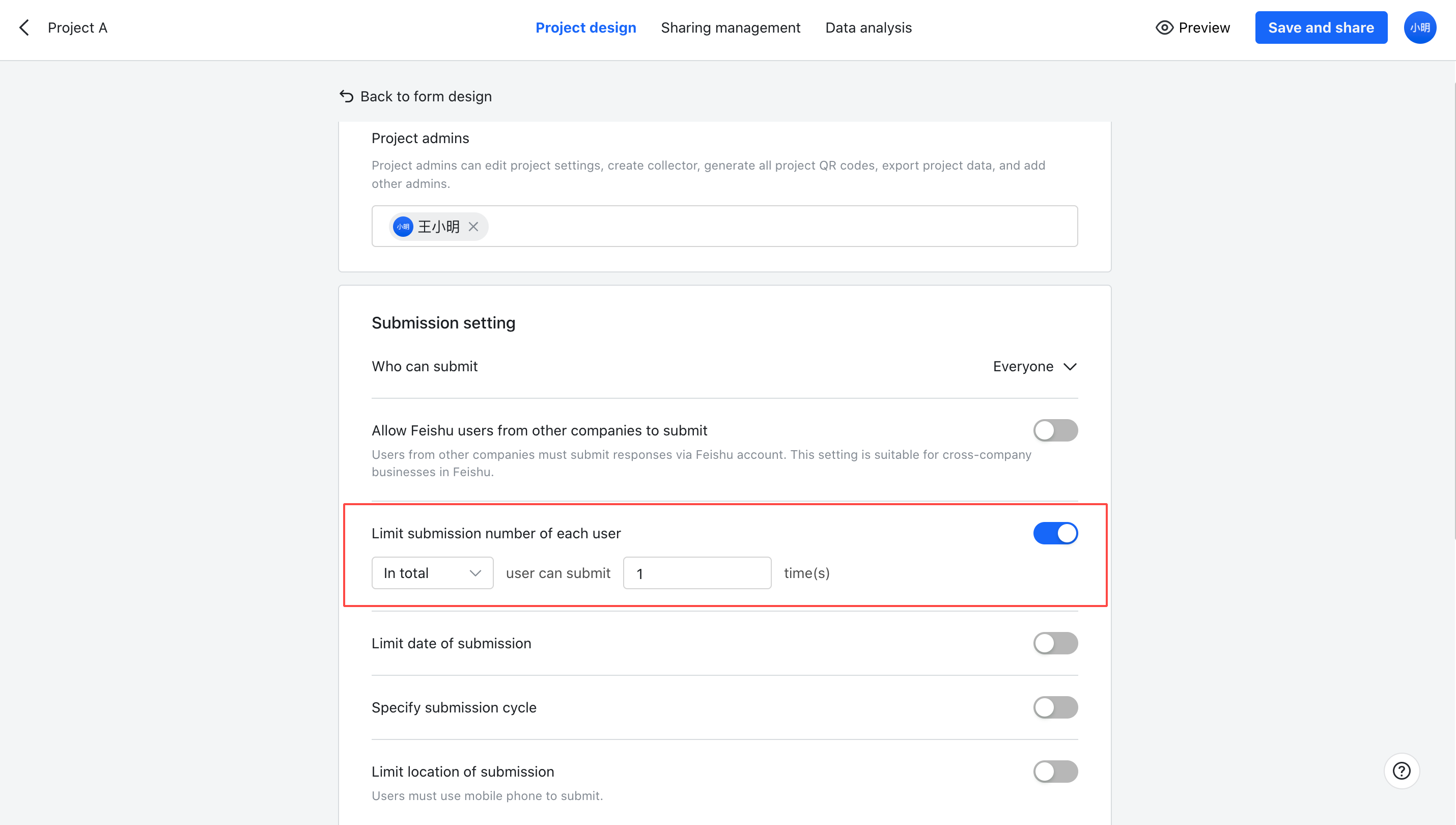 Set Effective Period
On the
Basic information
page, you can click Expiry date to set an expiration period.
Users can only
submit their answers during the appropriate time span
.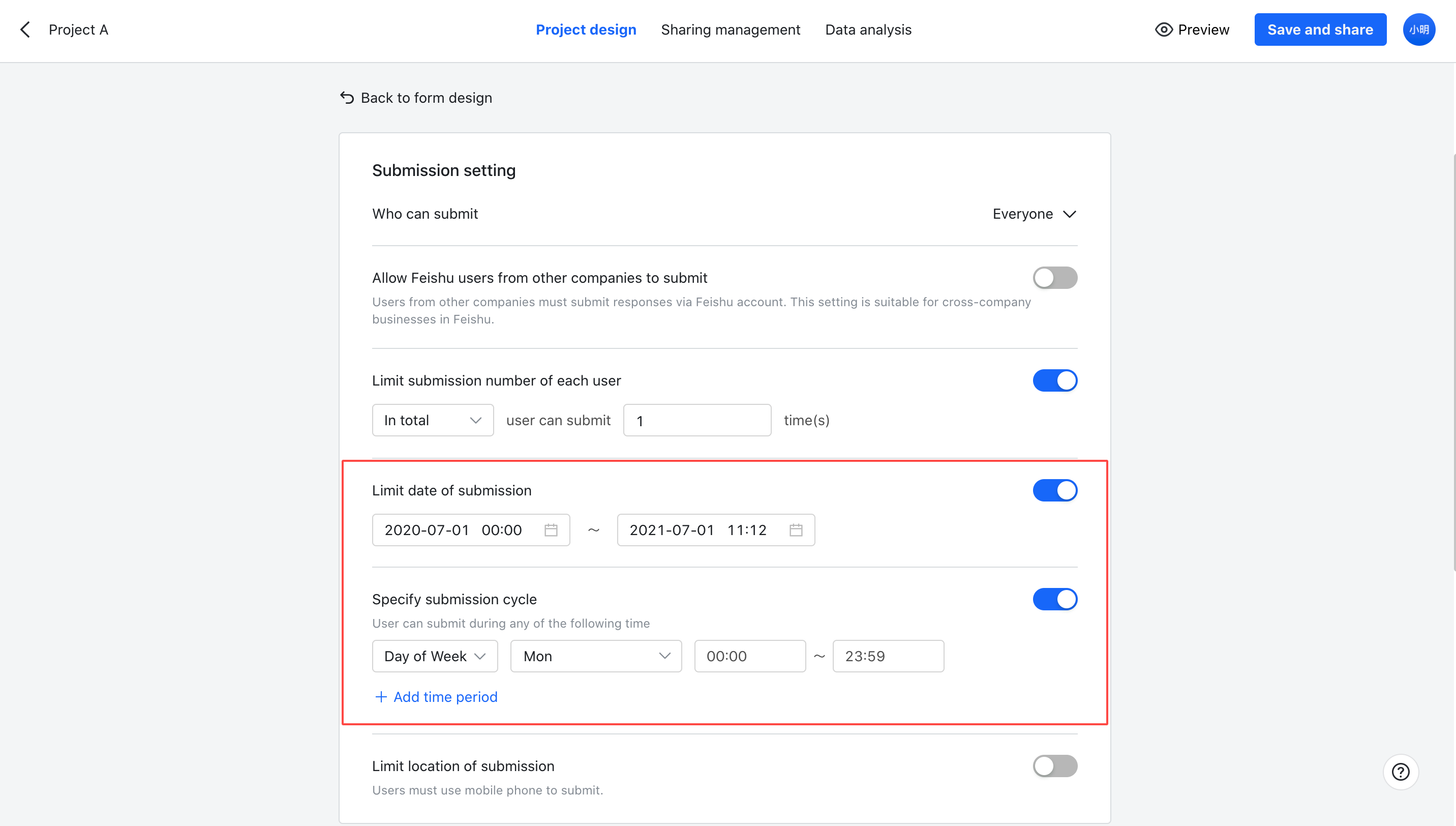 Set limit on submission locations
On the
Basic information
page, you can
limit the scope of location submissions.
Amap
and
Google Maps
are available to support both domestic and overseas scenarios.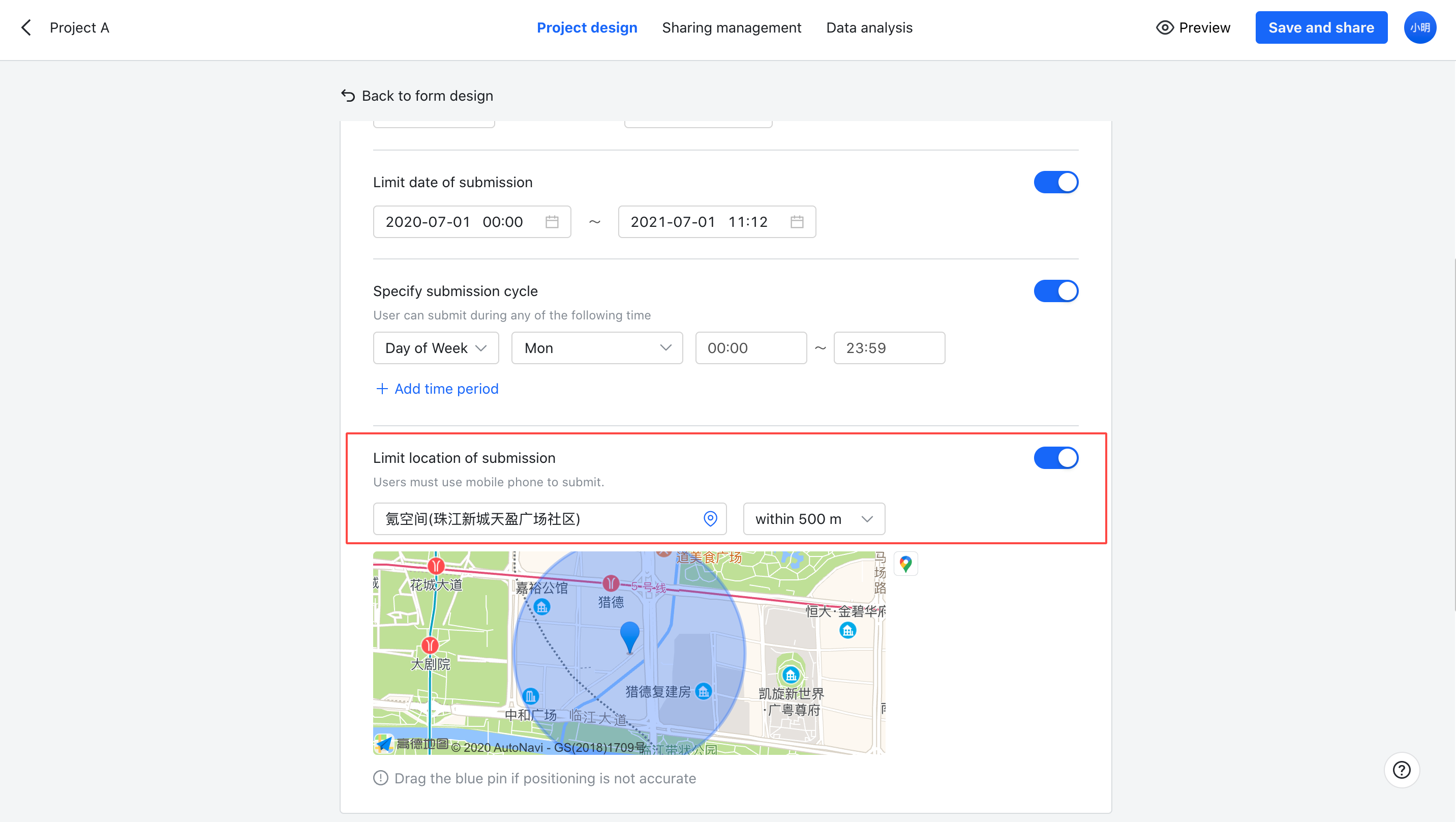 Set User Submission Permissions
On the
Basic information
page, you can limit the users who are permitted to scan and submit codes
.
You can set the range of users to everyone, "My departments", "Specific groups", or
"Specific persons".
Only the specified users can submit
.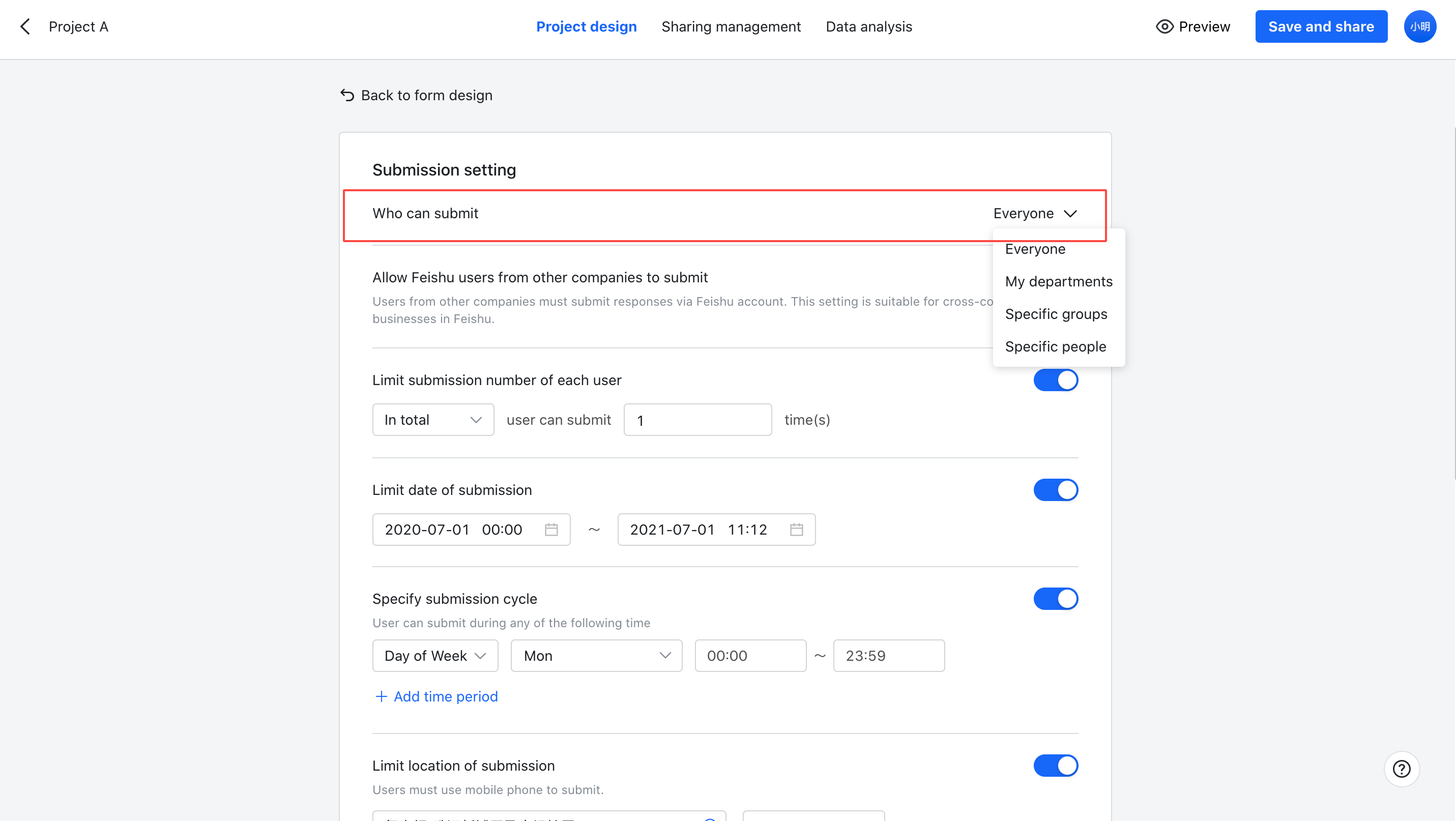 Real-Name/Anonymous Submission
When creating a new project, you can set the user's submission method according to your needs. You can submit using your real name or anonymously, which determines whether the submitted record shows the user's name and department. It should be noted that the real-name/anonymous submission can only be selected when creating a project. The setting cannot be changed.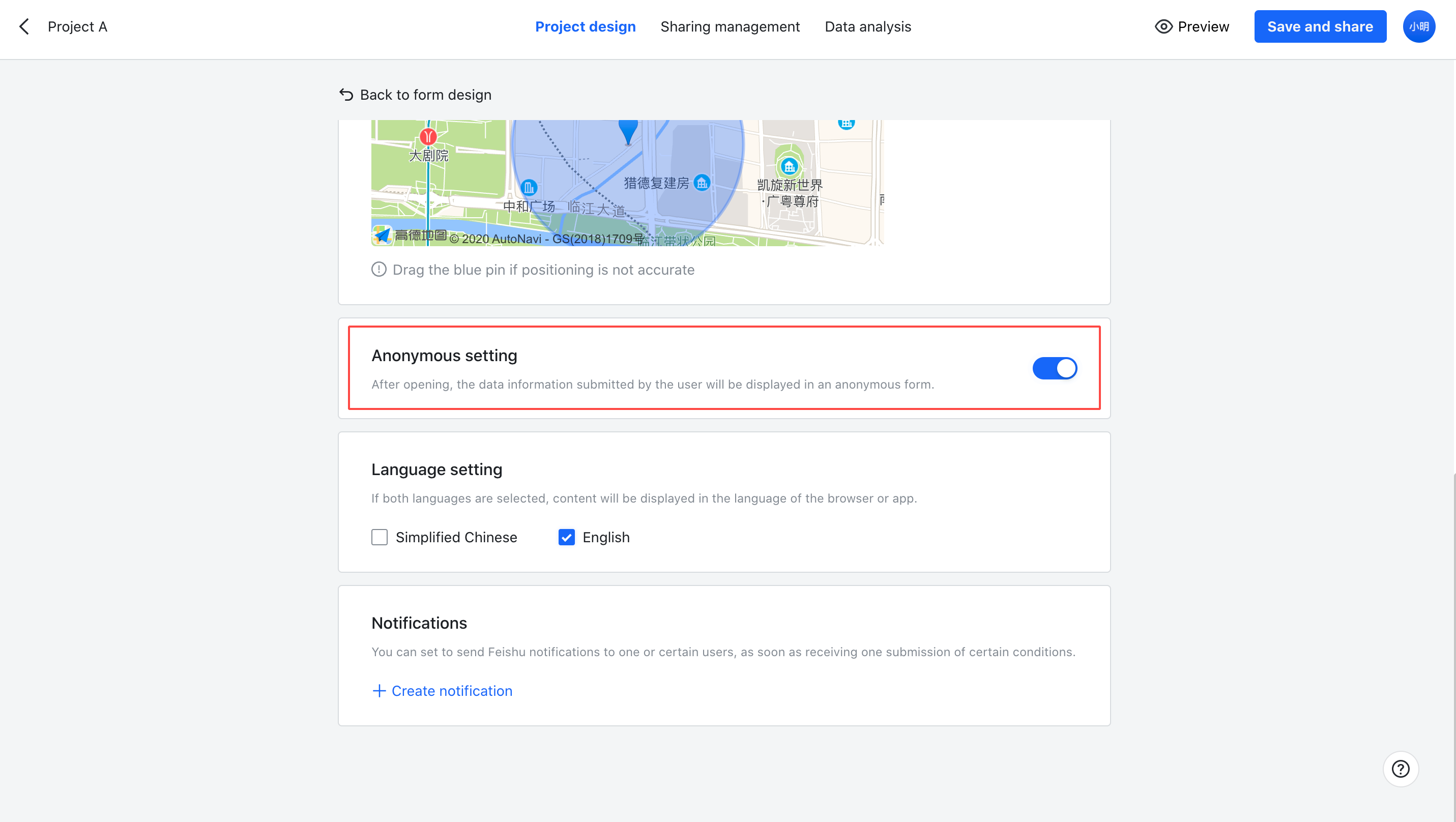 Notification Settings
After you set a new notification,
the Feishu Survey Bot sends a custom card message to the specified user when one of the following conditions is met
:
•

​

A user scans a QR code of the corresponding section and submits.
•

​

The rating given by the user is a specified score.
•

​

Total project submissions reach the specified quantity.
•

​

The total submissions of any section reach the specified quantity.
Set the
Notification Objects
and
Trigger Conditions
, edit the notification subject and content, and click
OK
to save the notification.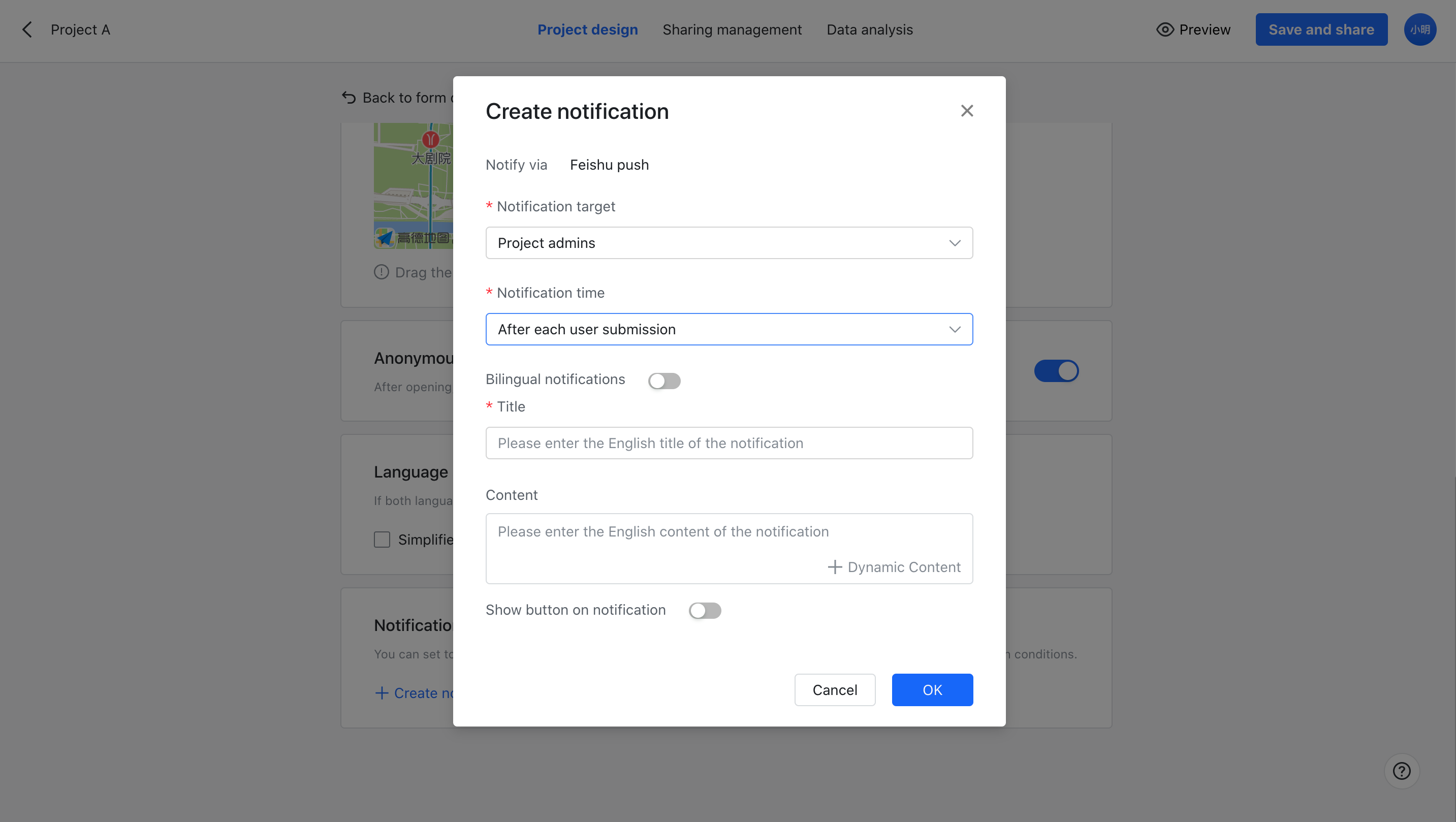 Copy project
Project managers can copy a project with one click. The content will be copied, including page design, basic settings, QR code sections, notification settings, and real-name anonymous submission. Section managers can only copy page design.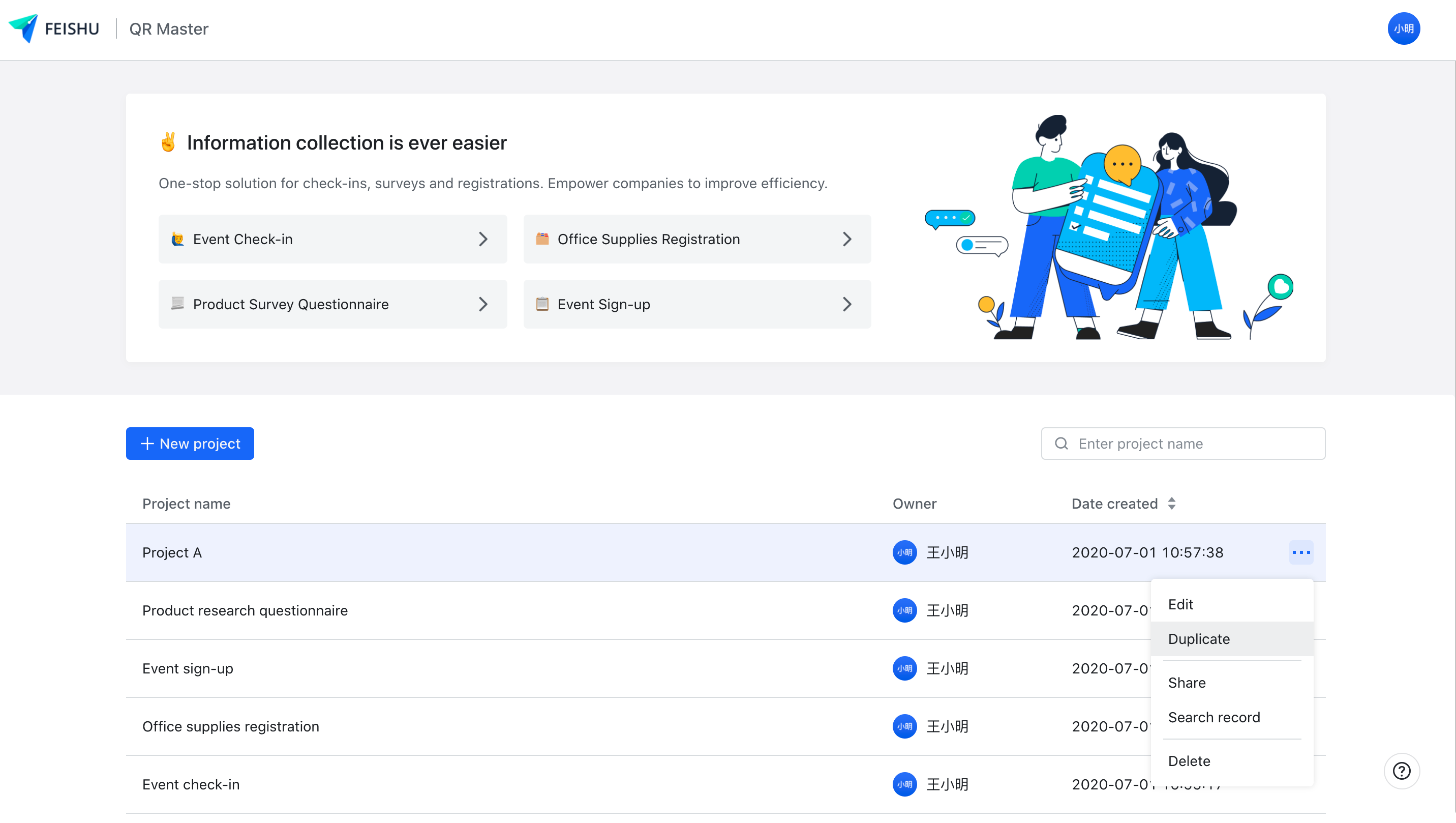 Page Information
Here, users can customize the content displayed on Mini Program pages
.
On "Confirm page",
you can customize the "Cover" and, on "Submitted page", you can set whether to display the "user information" and "time submitted".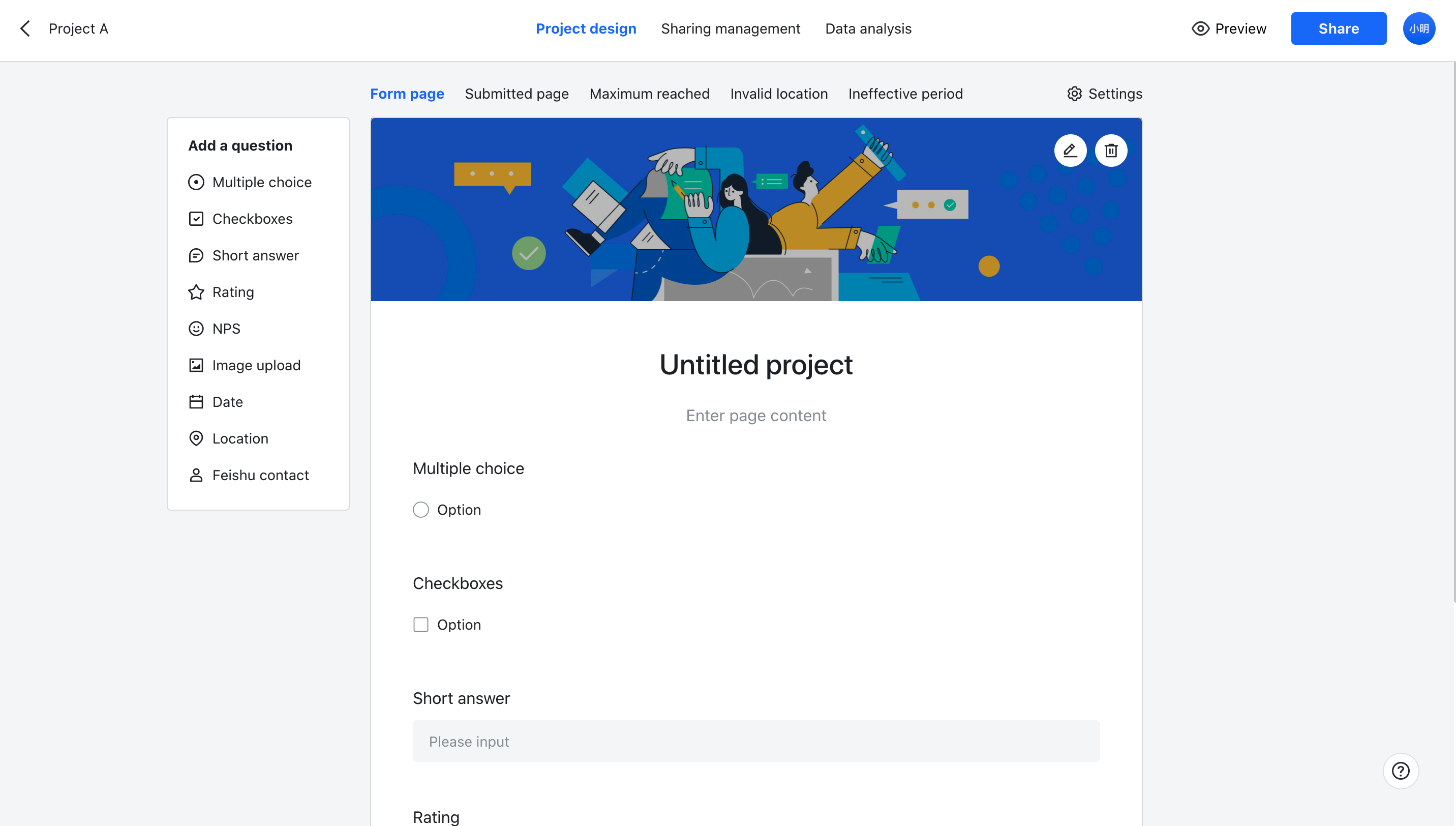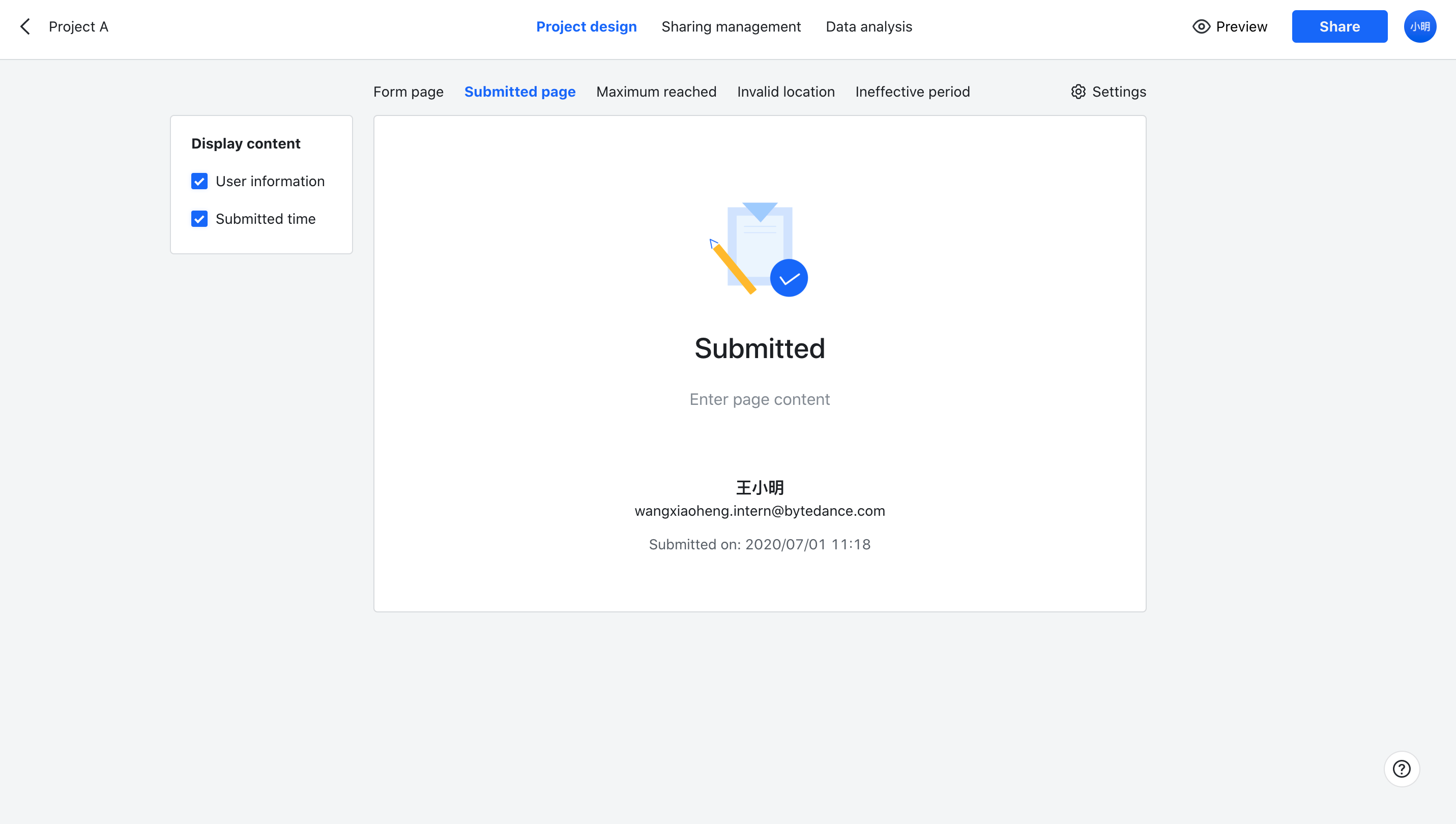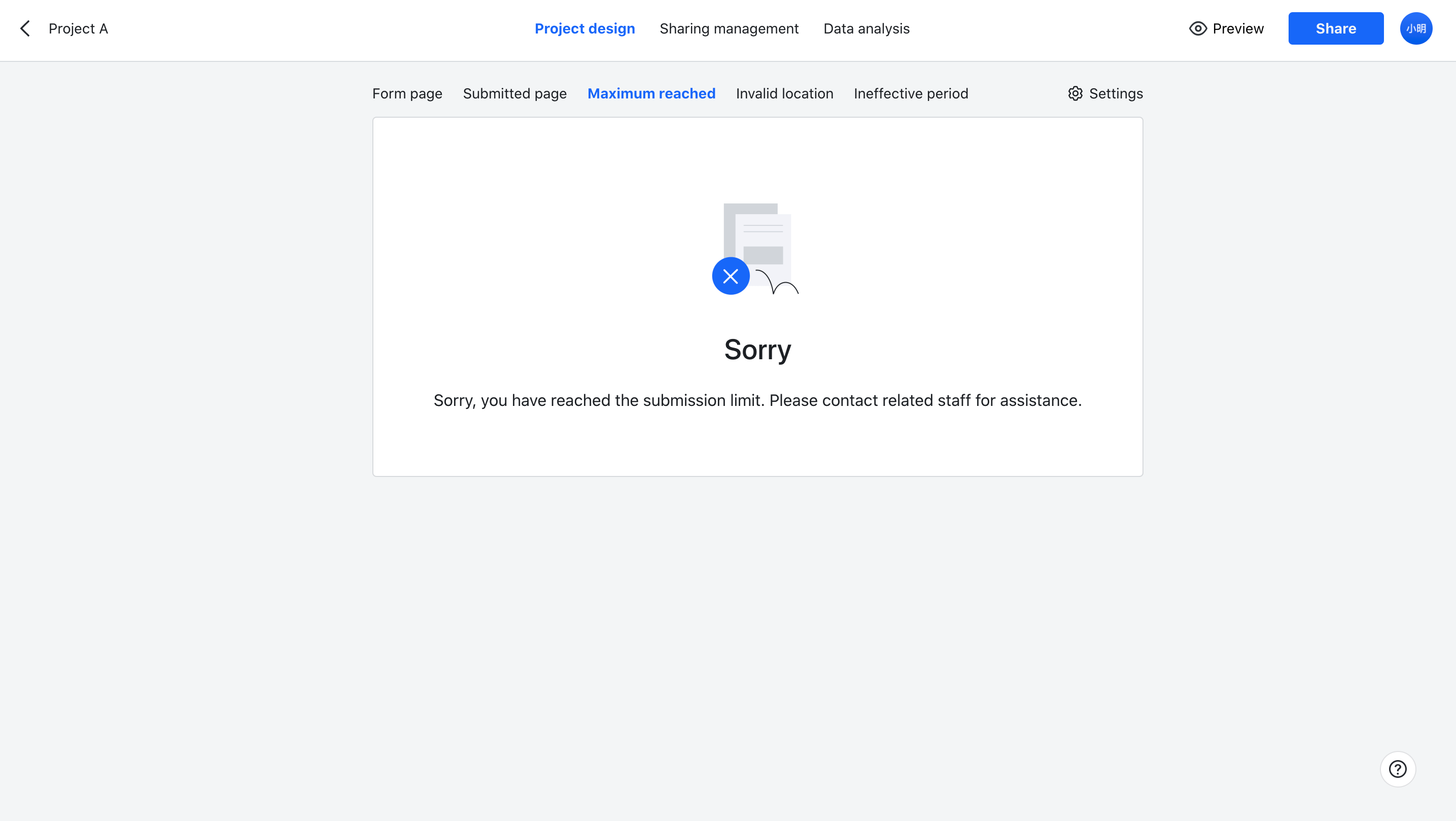 Dynamic Content
In the "page content" area for the
confirm page, submitted page, failed to submit page,
and other pages, you can configure dynamic content to
dynamically display user information, submission times, and form-related information.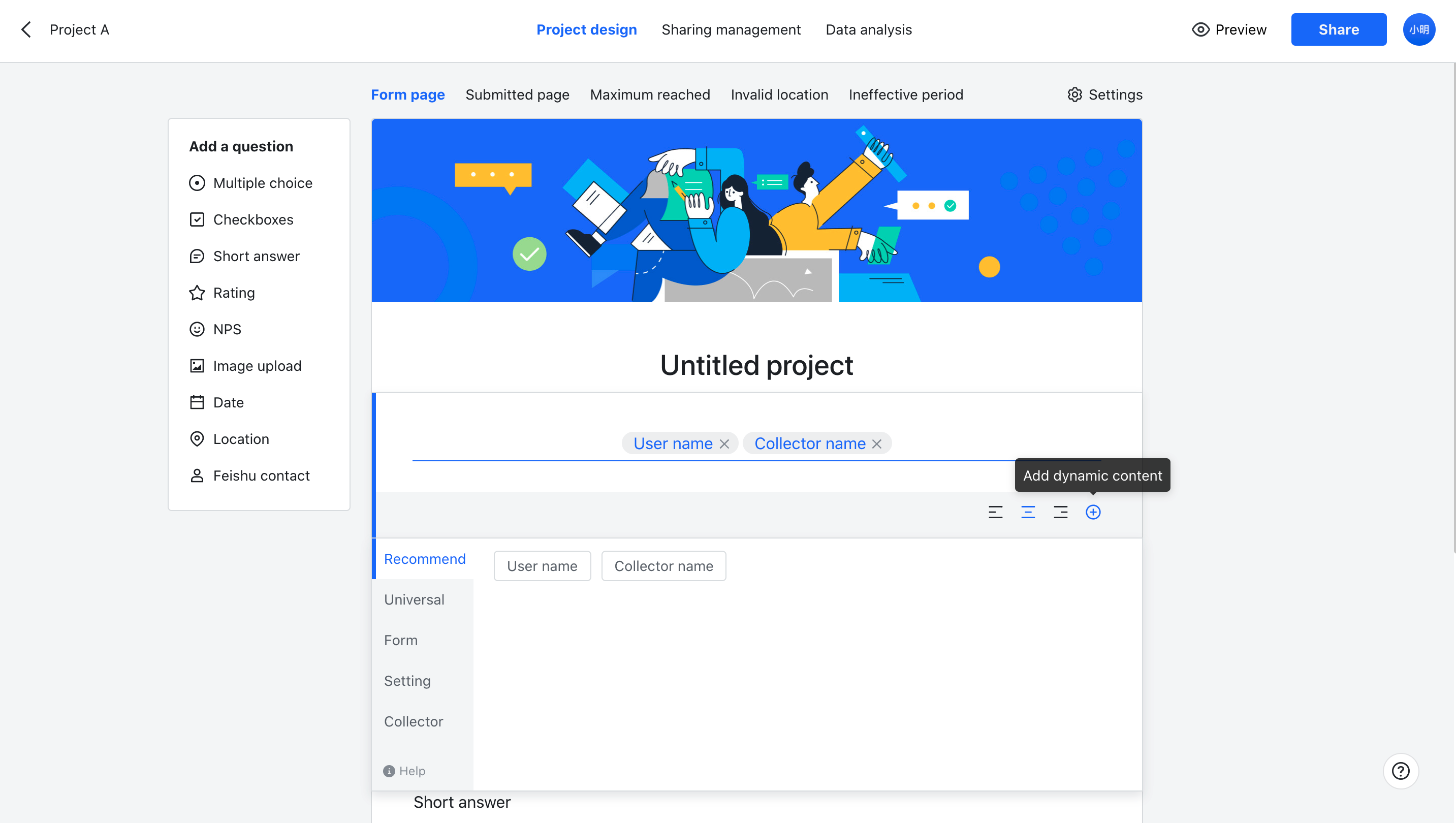 Form Design
Feishu Survey provides multiple question types to choose from, including
single box, checkbox, short answer, rating, contact, date, and image
. You can select and configure question types based on your requirements.
1.

​

On the

confirm page

, click any question type to add a question.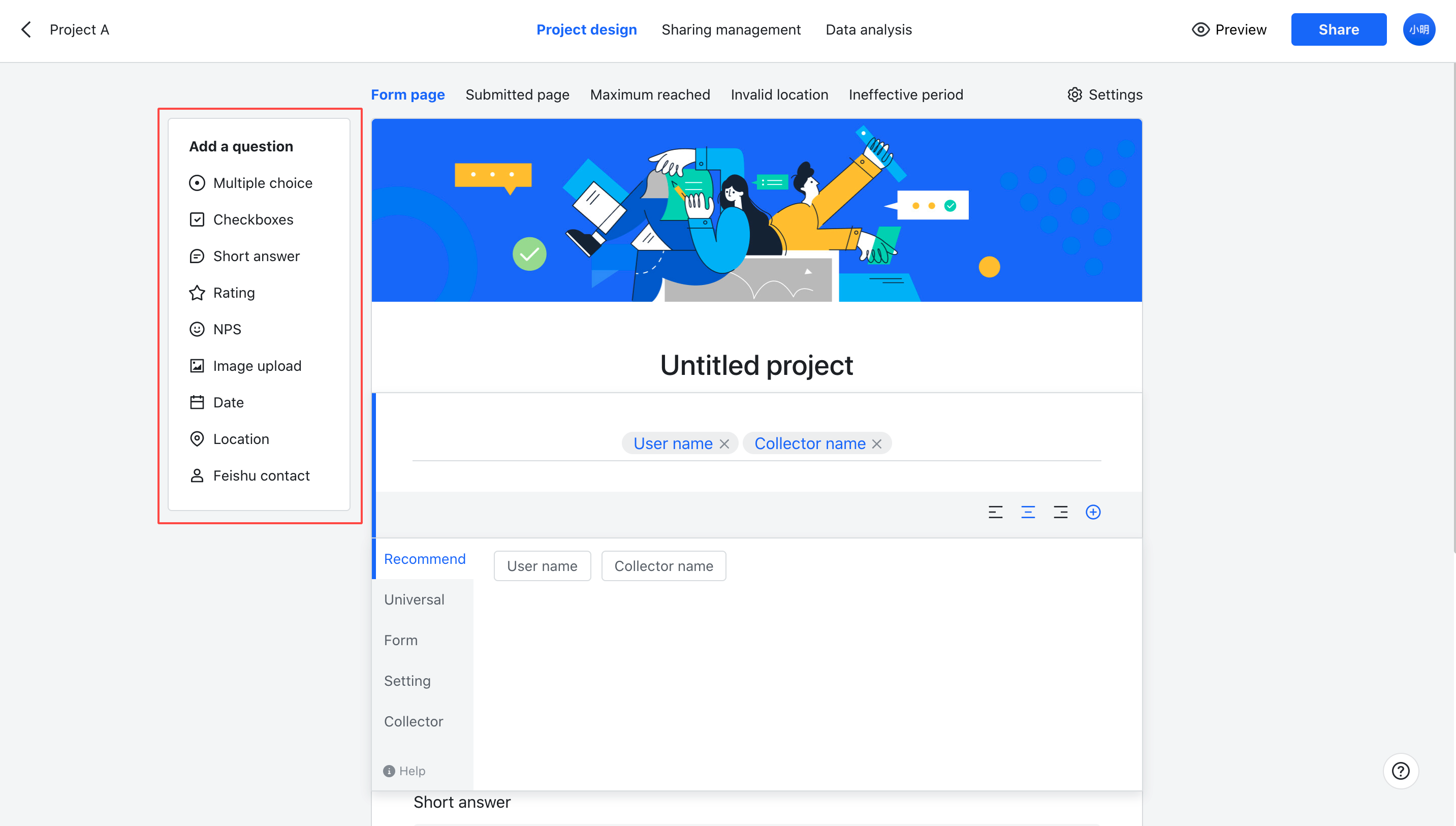 2.

​

You must enter a name for each question. If you select single box or checkbox, you must enter at least one option.
◦

​

Each question can be marked as required or optional. Required items must be completed before the user can submit the form.
◦

​

Enable Advanced Options to

set the conditions for showing the question

. This allows you to determine whether the question is displayed based on the user's answers to other questions.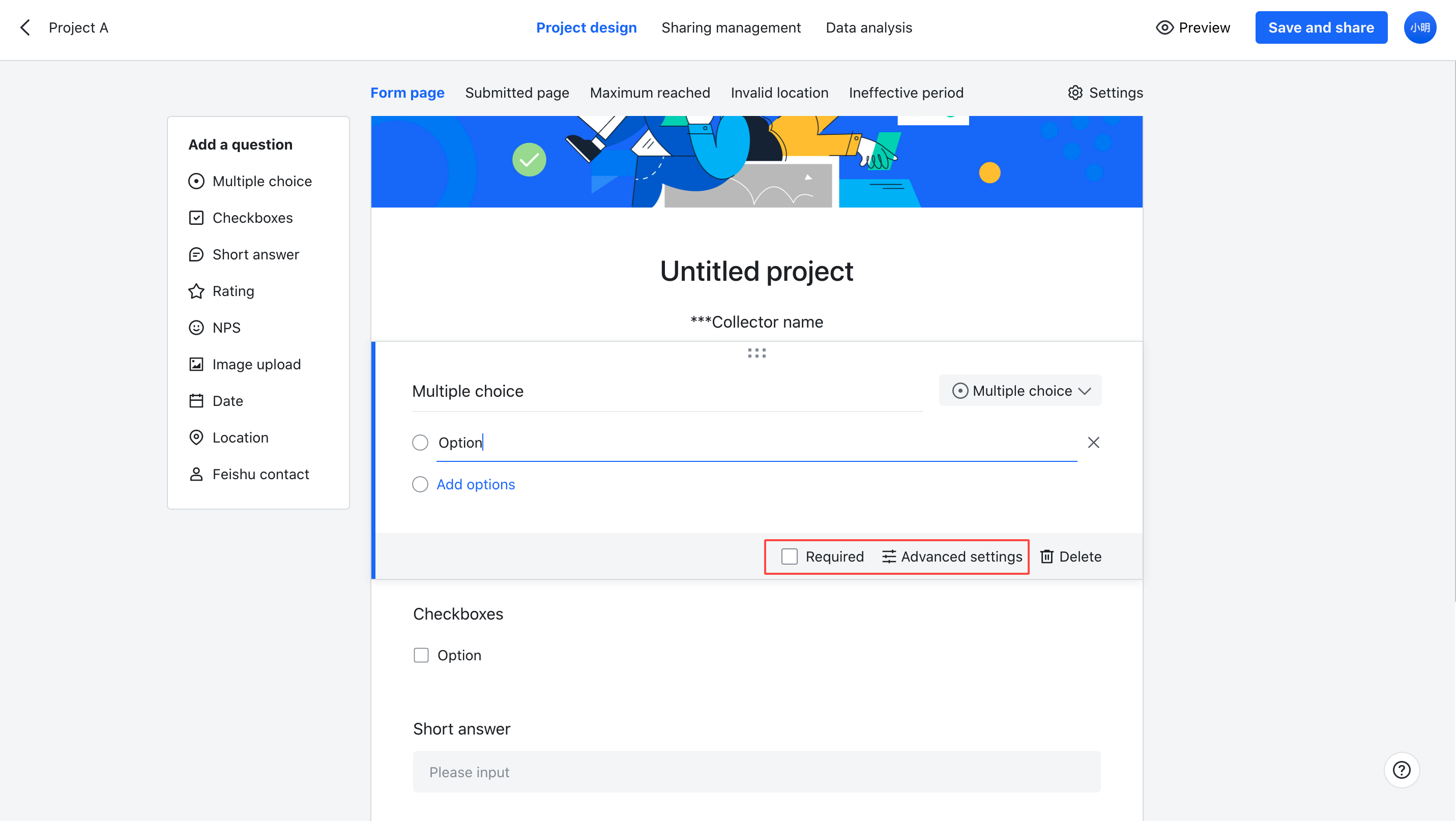 Sharing Management
Adding a Section
Sections are subordinate to projects and used to address business needs that require the
project content to be the same for different locations or dates
. A separate QR code is generated for each section. Section settings use the project settings. Project admins can view and manage all sections.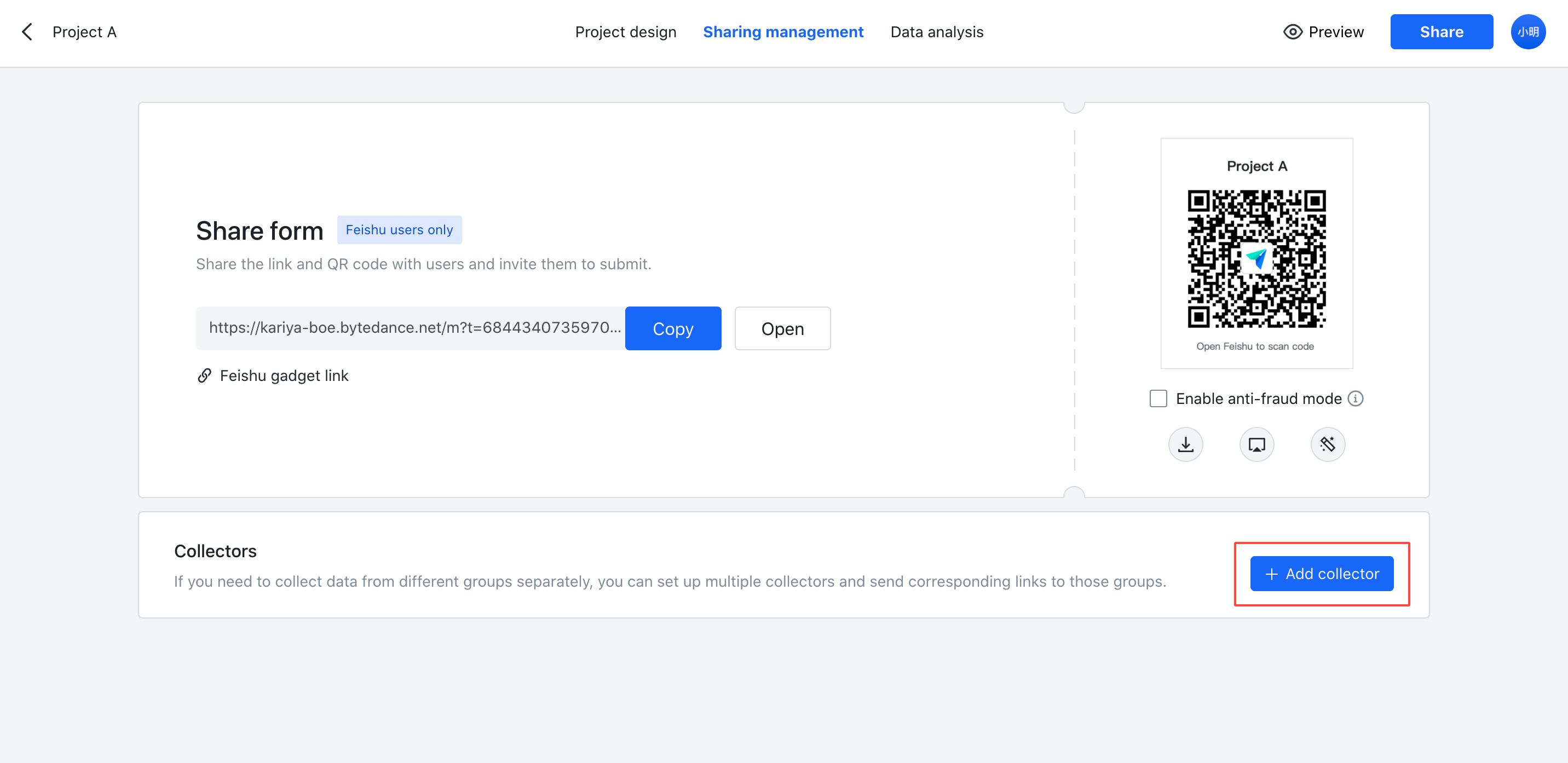 2.

​

Set the

Collector name

and add

Collector admin

(click

Click to add collector

to create more than one section).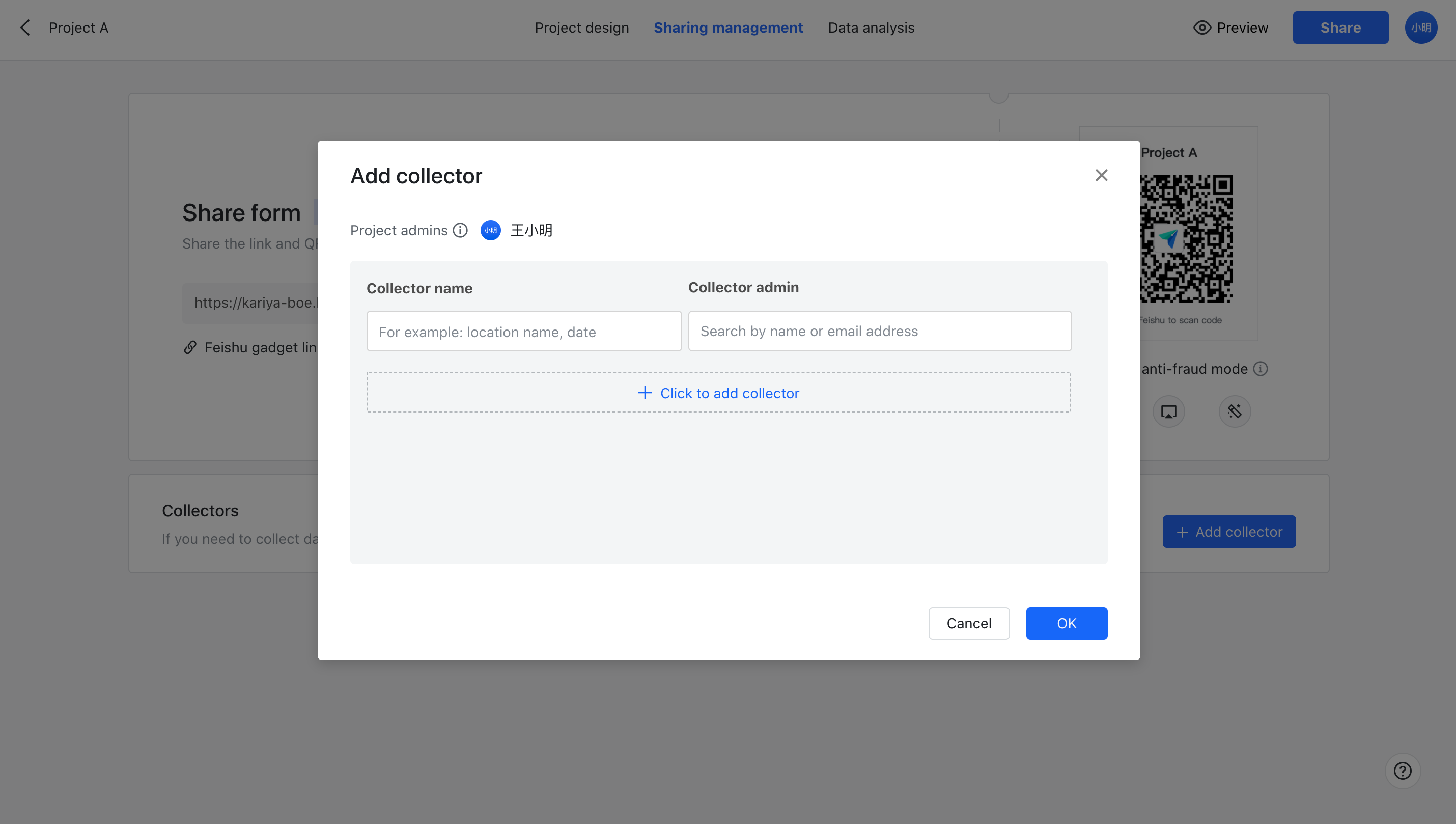 Share Links
Feishu Survey allows you to generate links and share them to Feishu. Using the link share function, users can open them and complete submissions on Feishu.
In the list to the left, click
Copy
and you can copy the link.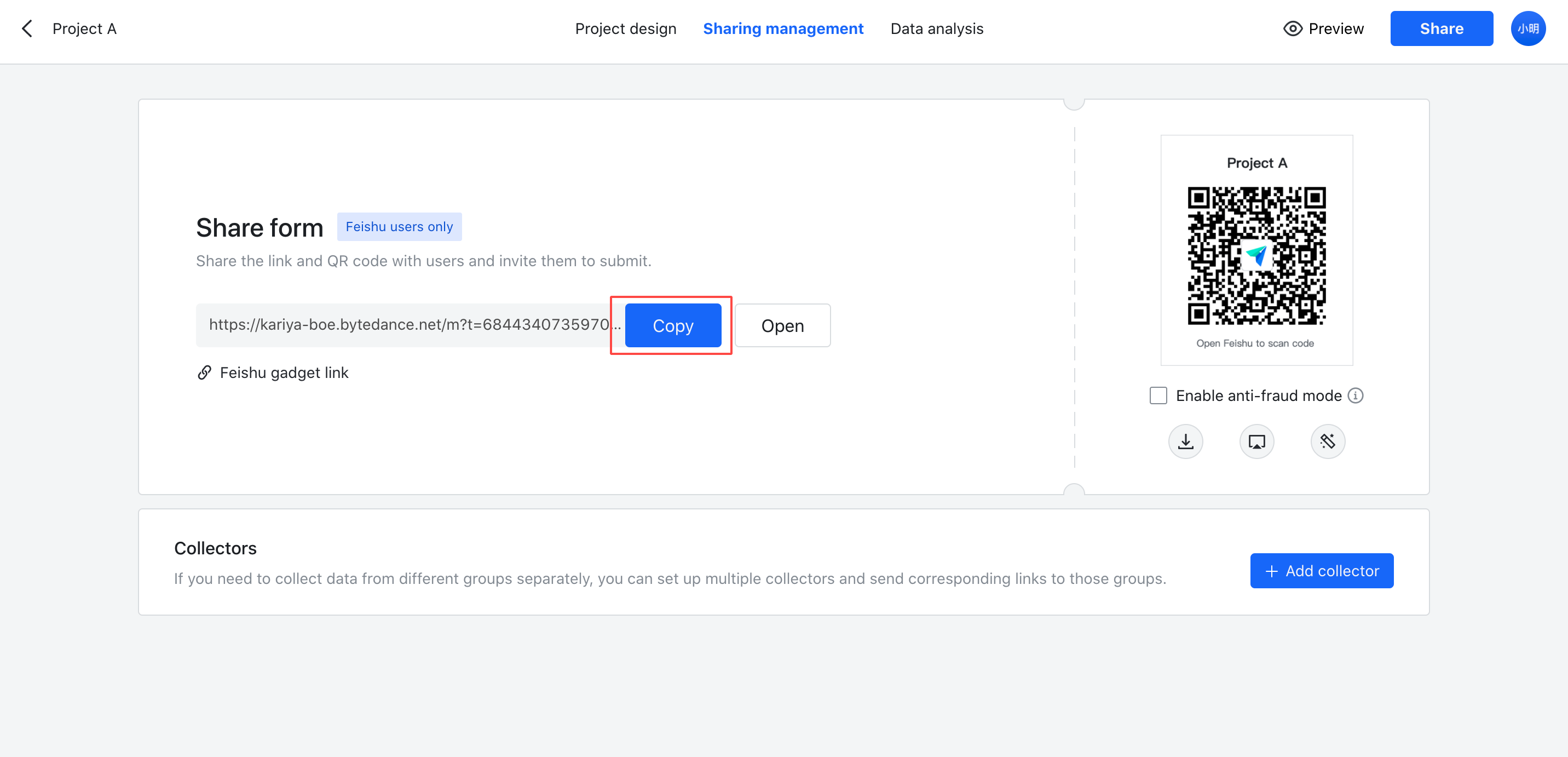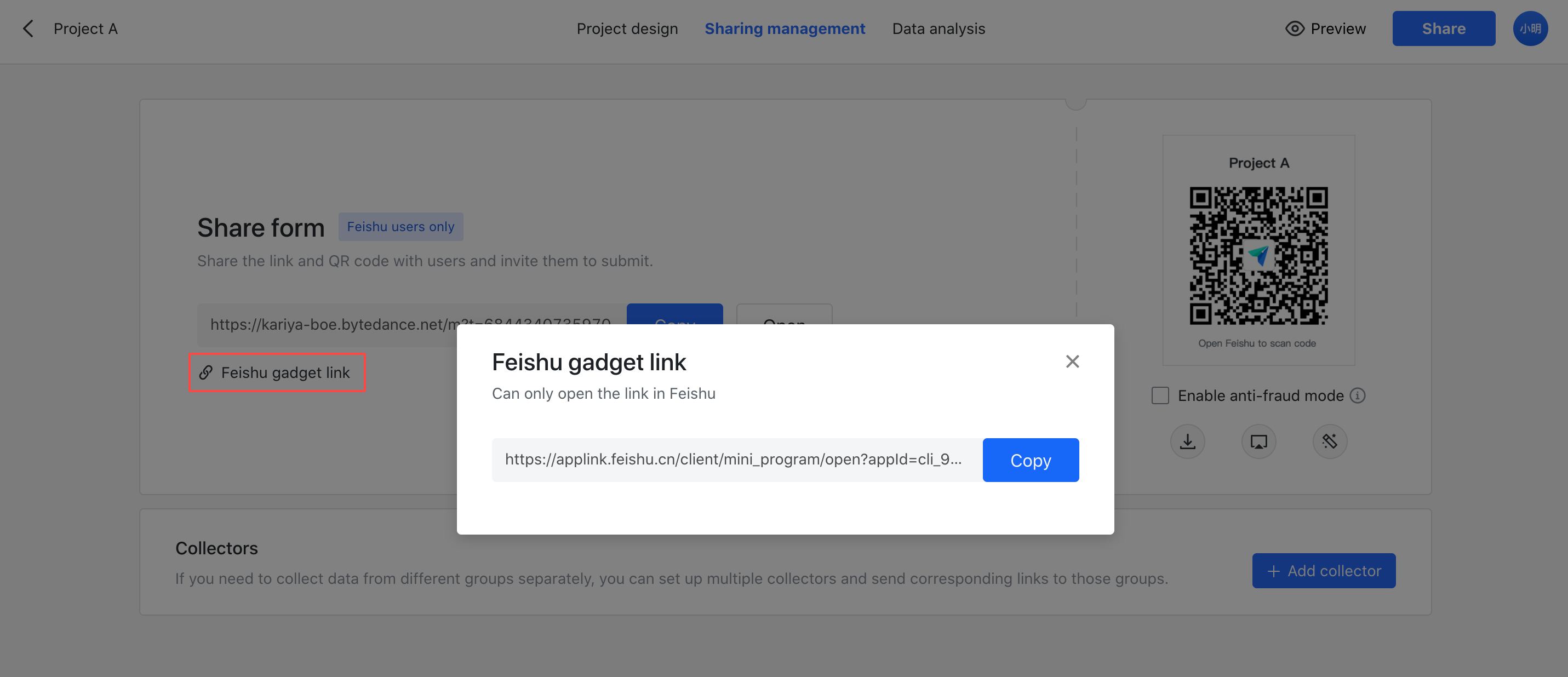 Exporting QR Codes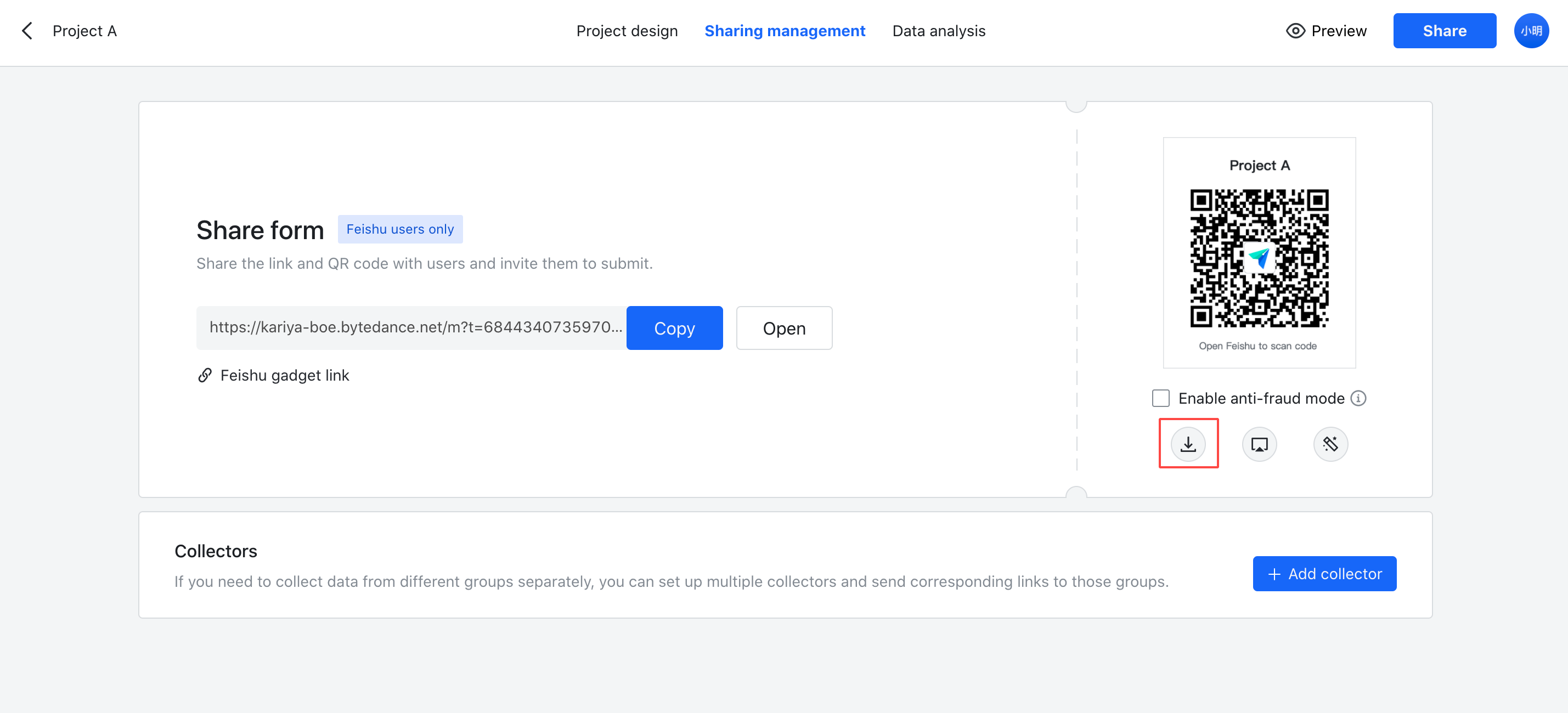 Anti-Fraud QR Code
Feishu Survey supports an "Anti-Fraud Mode". After this feature is enabled, the QR code will be constantly refreshed and can be projected from a PC or mobile client.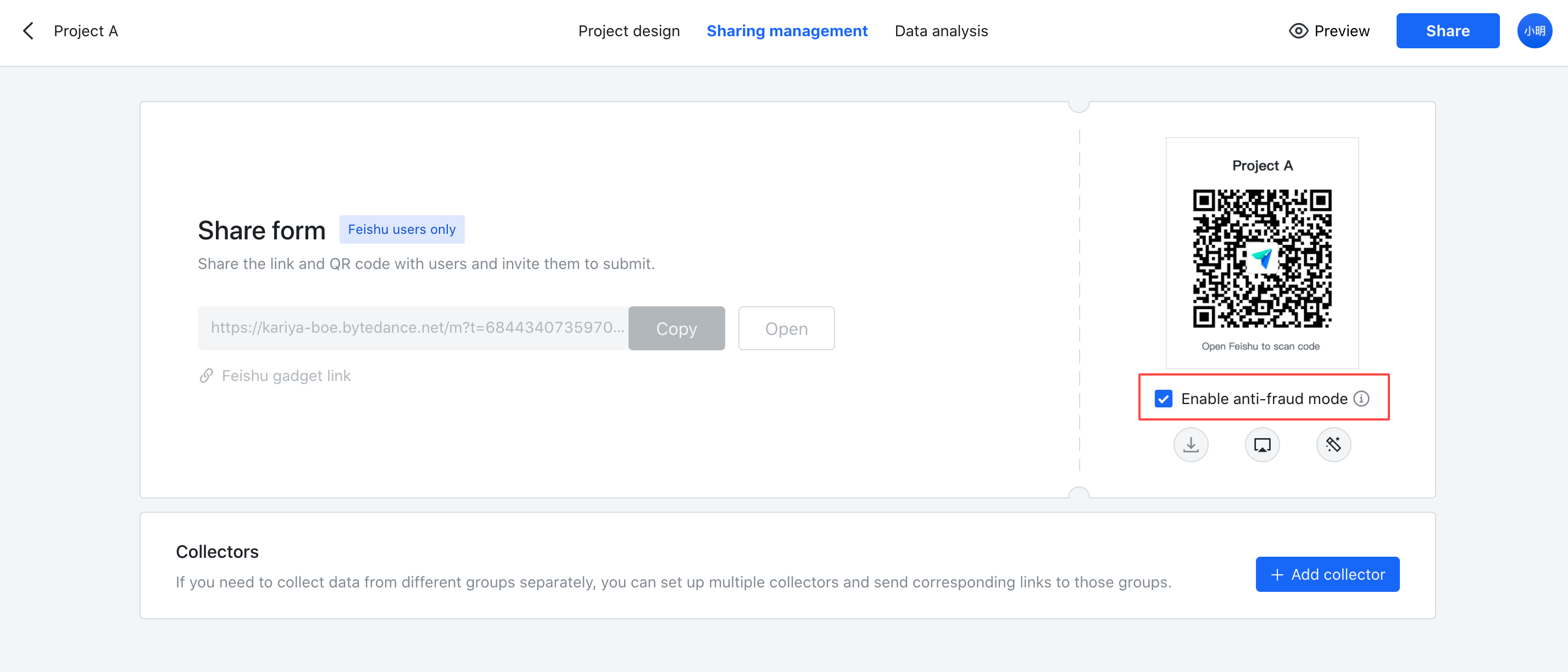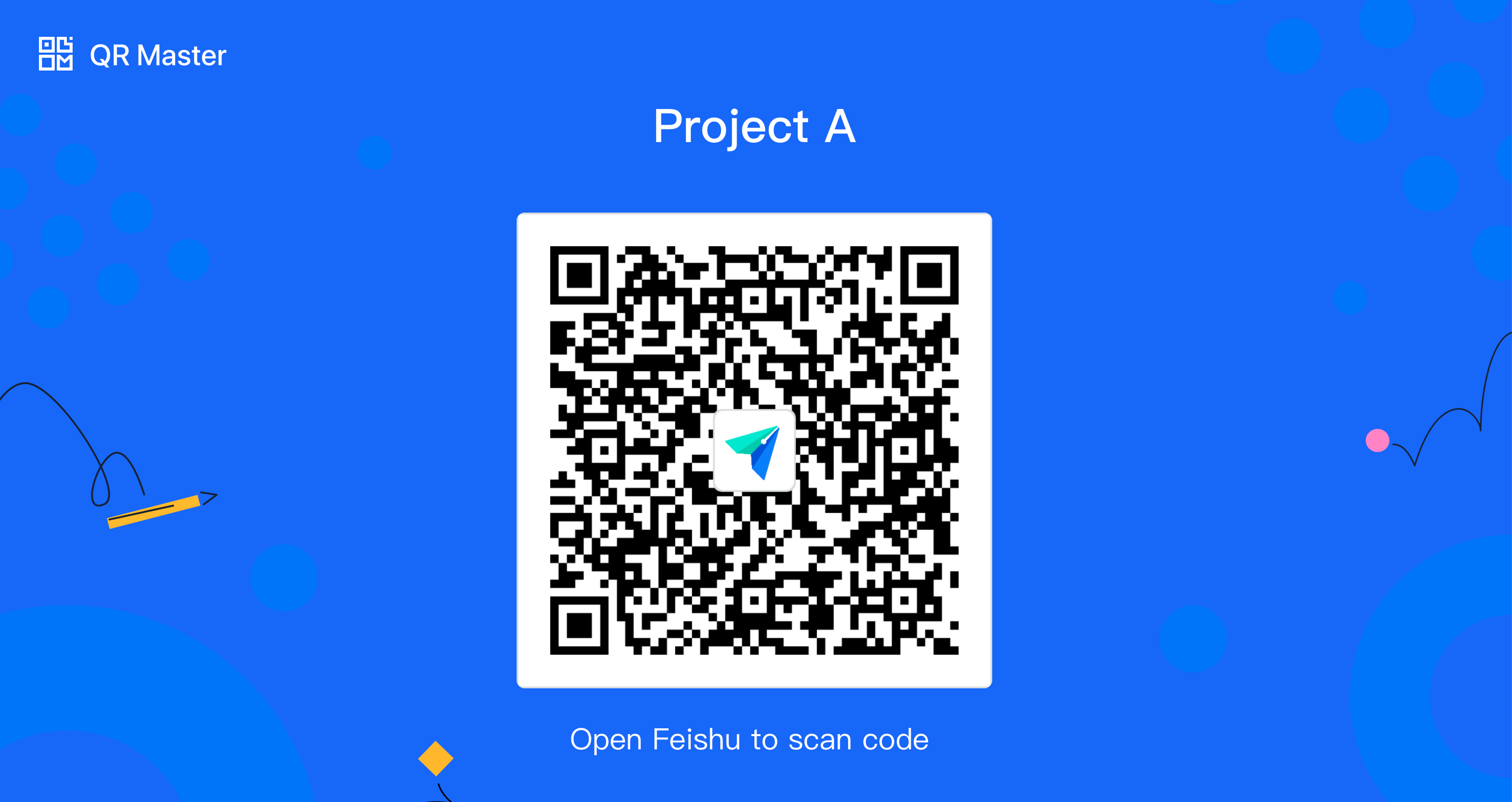 QR Code Style Design
Feishu Survey allows you to customize QR code logos, styles, and text.
Click
Design QR Code
and design the QR code as desired.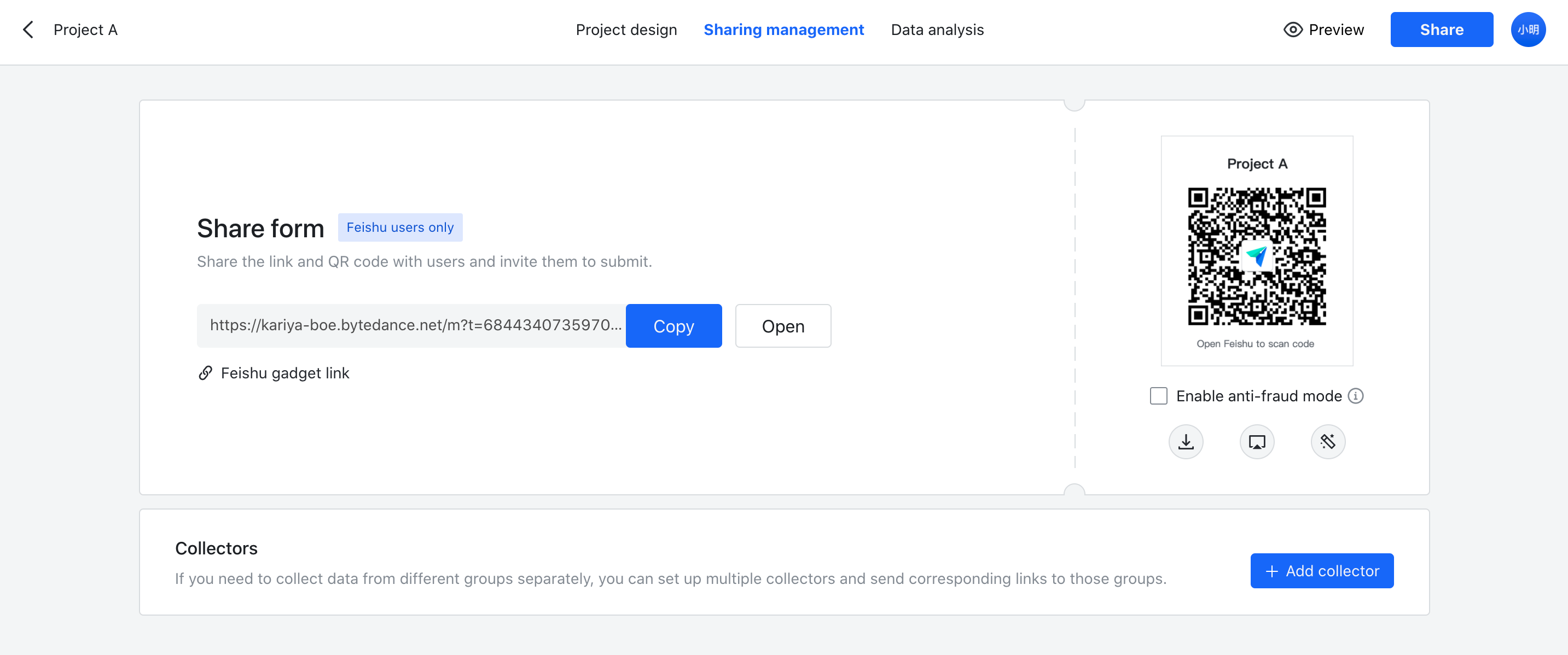 Form Analysis
Feishu Survey supports data form analysis. You can configure the filter criteria and displayed graphs as needed.
Click View more details
to view the specific records of each question.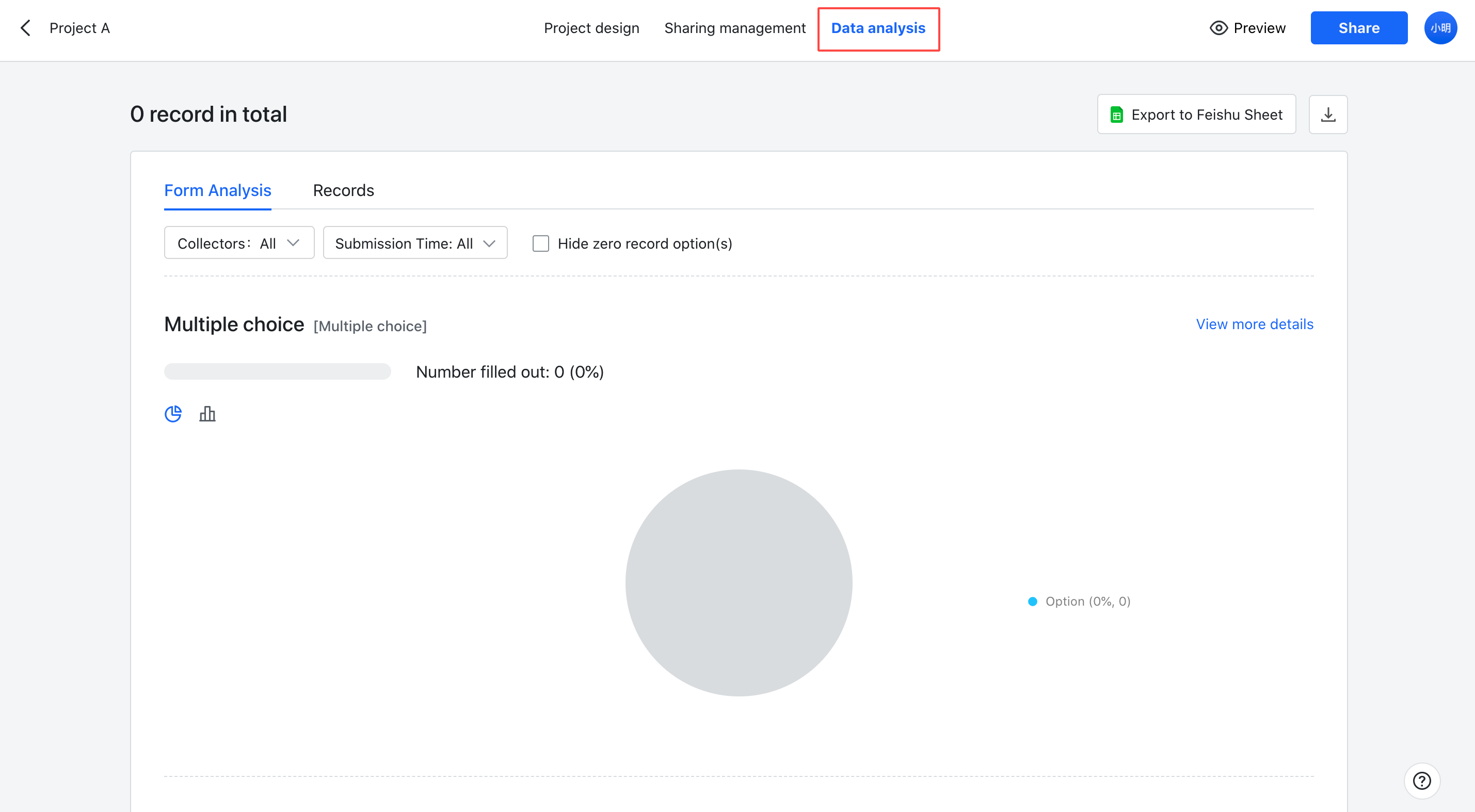 Record & Export
Feishu Survey supports online query and export of project submission data. Click a record to view detailed information.
1.

​

Click

Records to Feishu Sheet

and query the required data. You can also export data to Excel tables.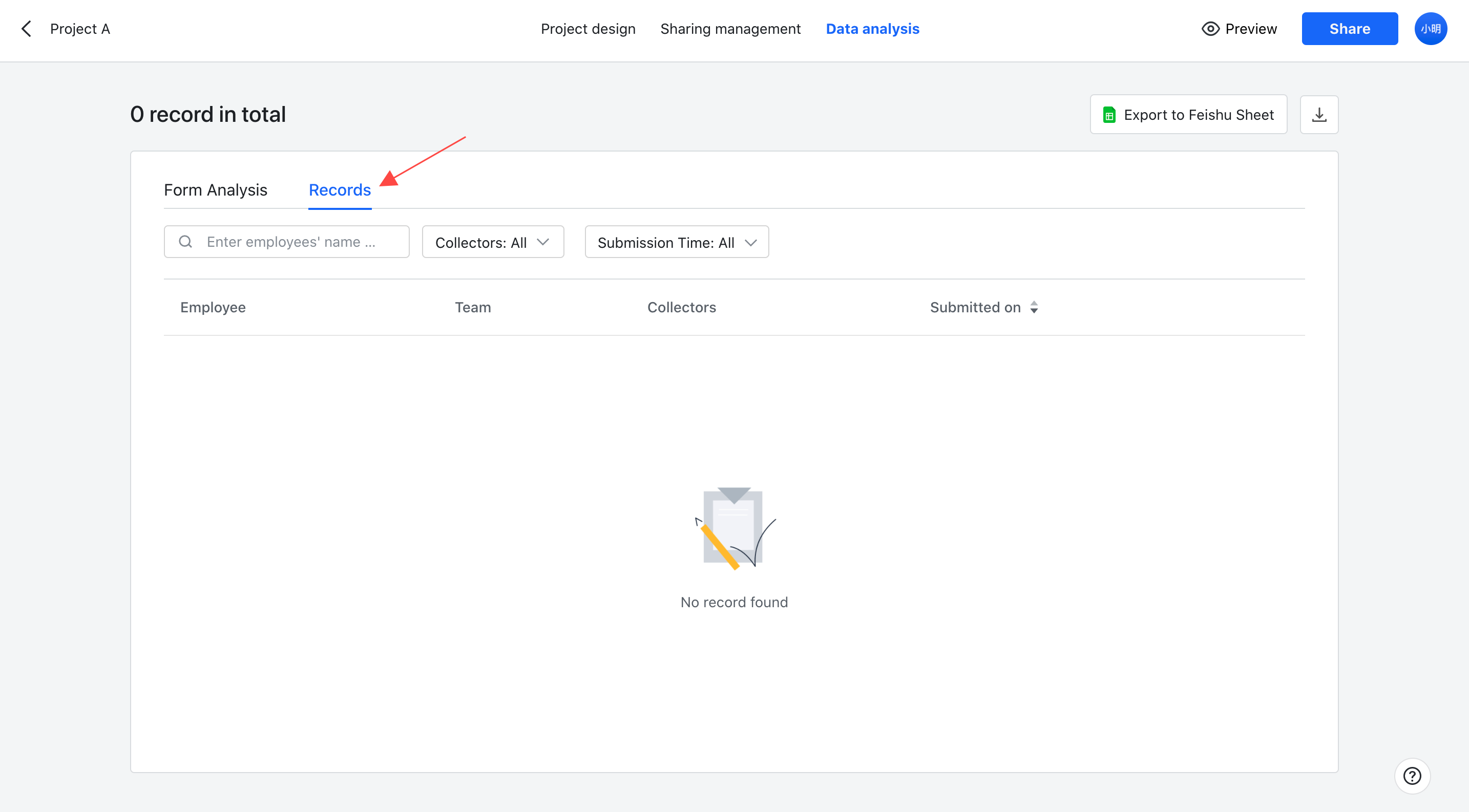 2.

​

The above data query method is only used on one specific project. To query data across projects, you can click on the

Record & Export

tab at the top of the page and then enter filter conditions to query data.