We know how frustrating repetitive work can be, so we designed the following HR and Administration templates to save your time, so you can easily manage various tasks and create more efficient and convenient workflows.
How to organize candidate profiles and portfolios efficiently? How to set up recruitment plans and track recruitment progress in real-time? Try out our Recruitment templates to make things easier.
•

​

Recruitment Plan

records vacancies, cities, hiring numbers, and position details. You can view or update info at anytime. Don't forget to

@mention

related team members to follow up on a task.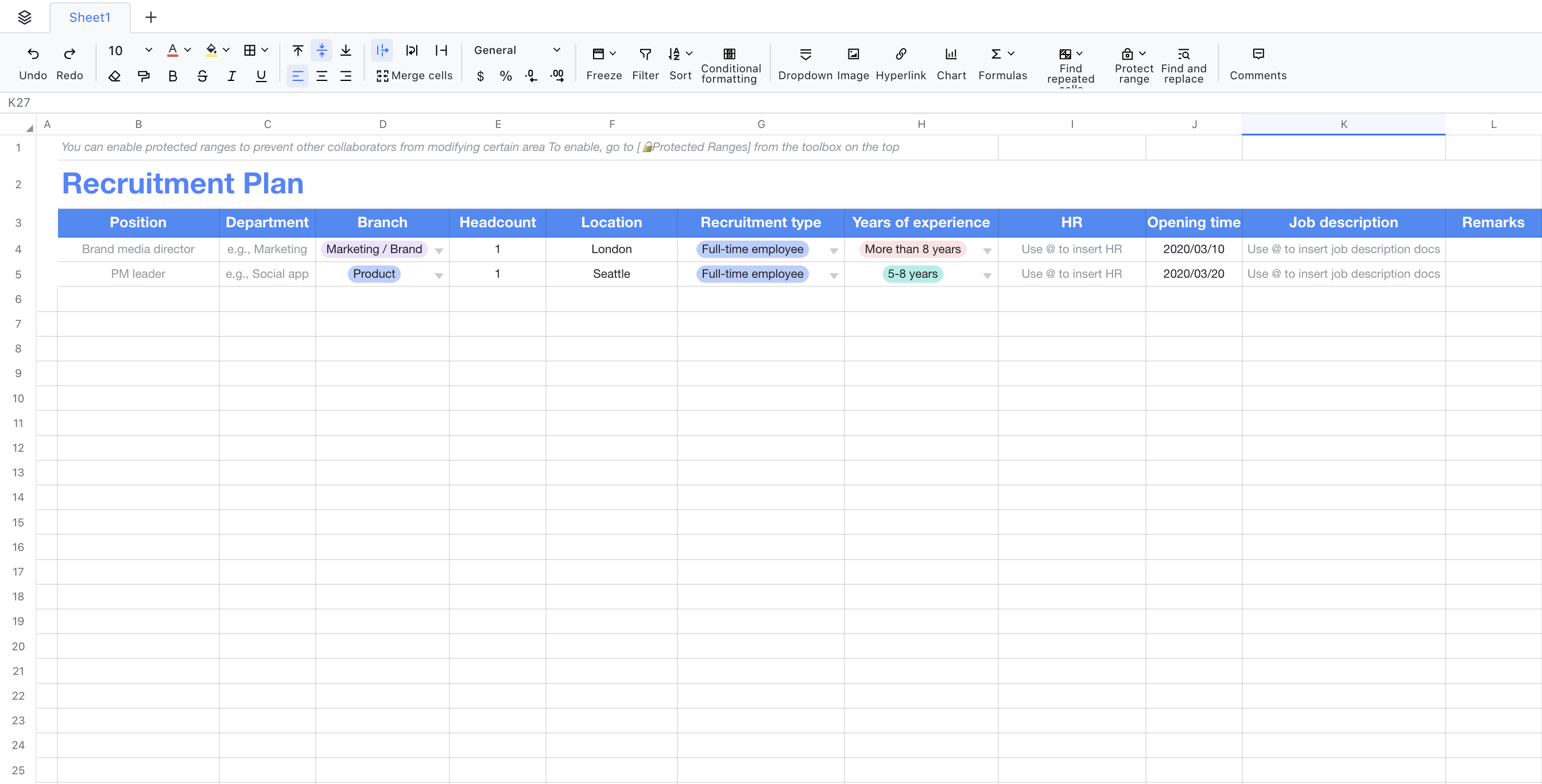 •

​

Job Application Form

collects personal information, education background, and work experiences of candidates before the interview. This way, you can save time making phone calls or manually typing in all info.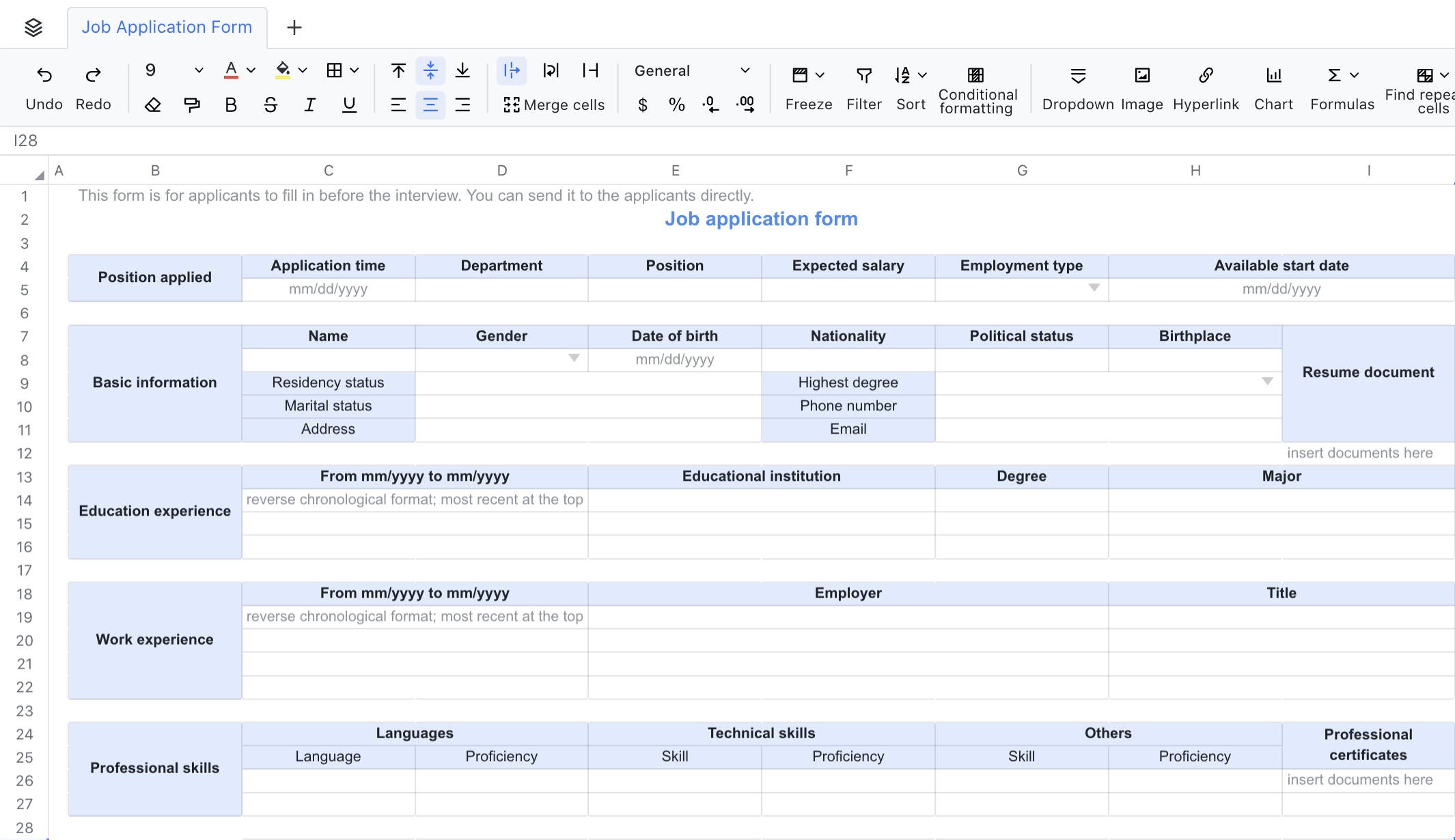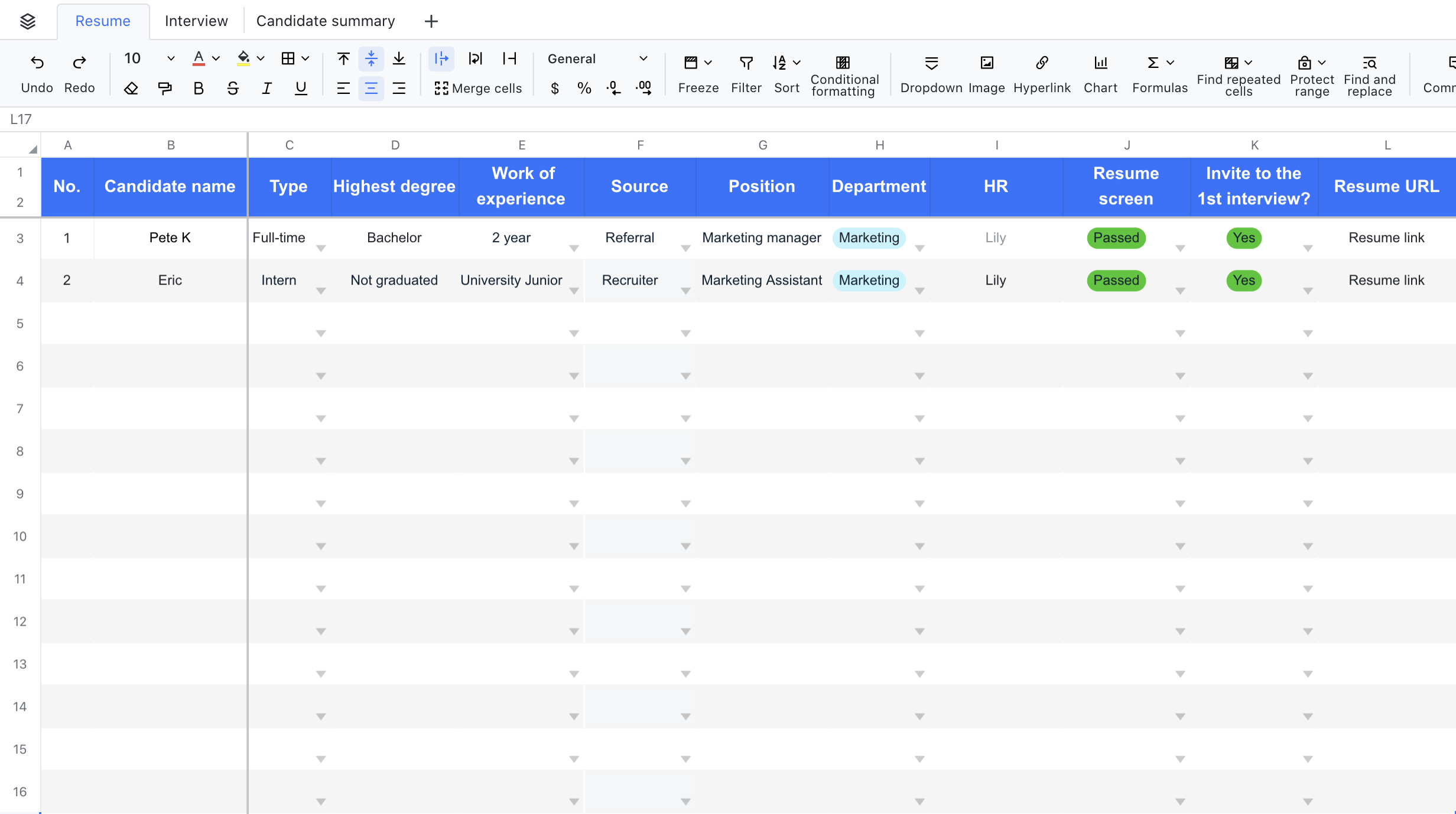 •

​

Interview Record

helps you take brief notes during interviews, including but not limited to questions you asked, candidate performance, and other comments.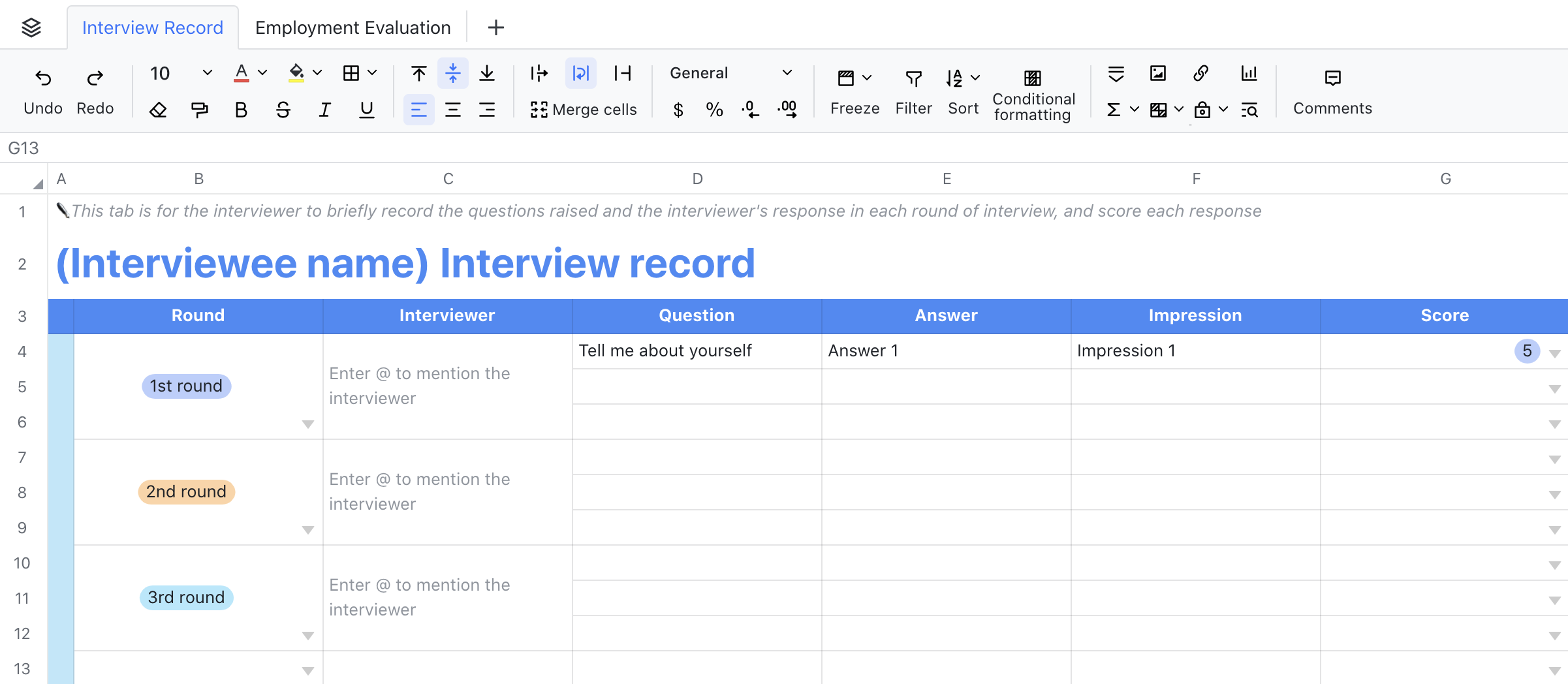 Onboarding: Help new employees join smoothly
Onboarding templates help you write onboarding guides and other materials to help newcomers get quickly onboard.
•

​

New Employee Onboarding

collects employee basic info, education background and more. You can add more info at anytime to keep records up-to-date.
•

​

Onboarding Guide

introduces team background, team structure, must-read materials, etc. You can also use the

@

function

to insert group name cards in a Doc for new employees to join work, life, and study groups with one click.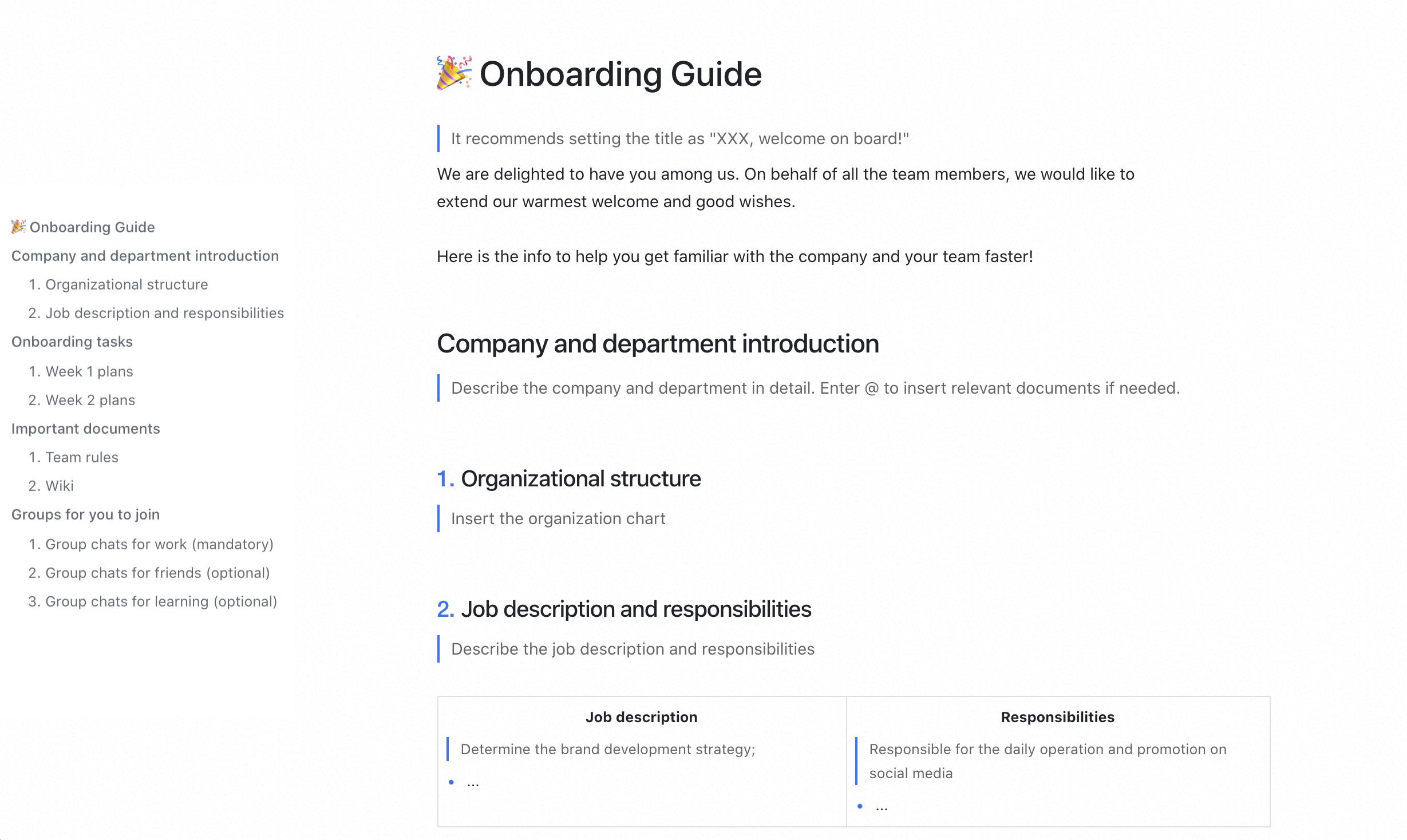 Attendance and duty: Keep data clearly organized
Still calculating employees' leave dates manually? Try out the following templates so you can send duty notifications to all related members with one click.
•

​

Attendance

keeps track of employees' leave records and automatically generate statistics for you to easily analyze. Let the templates do the math and graphics for you.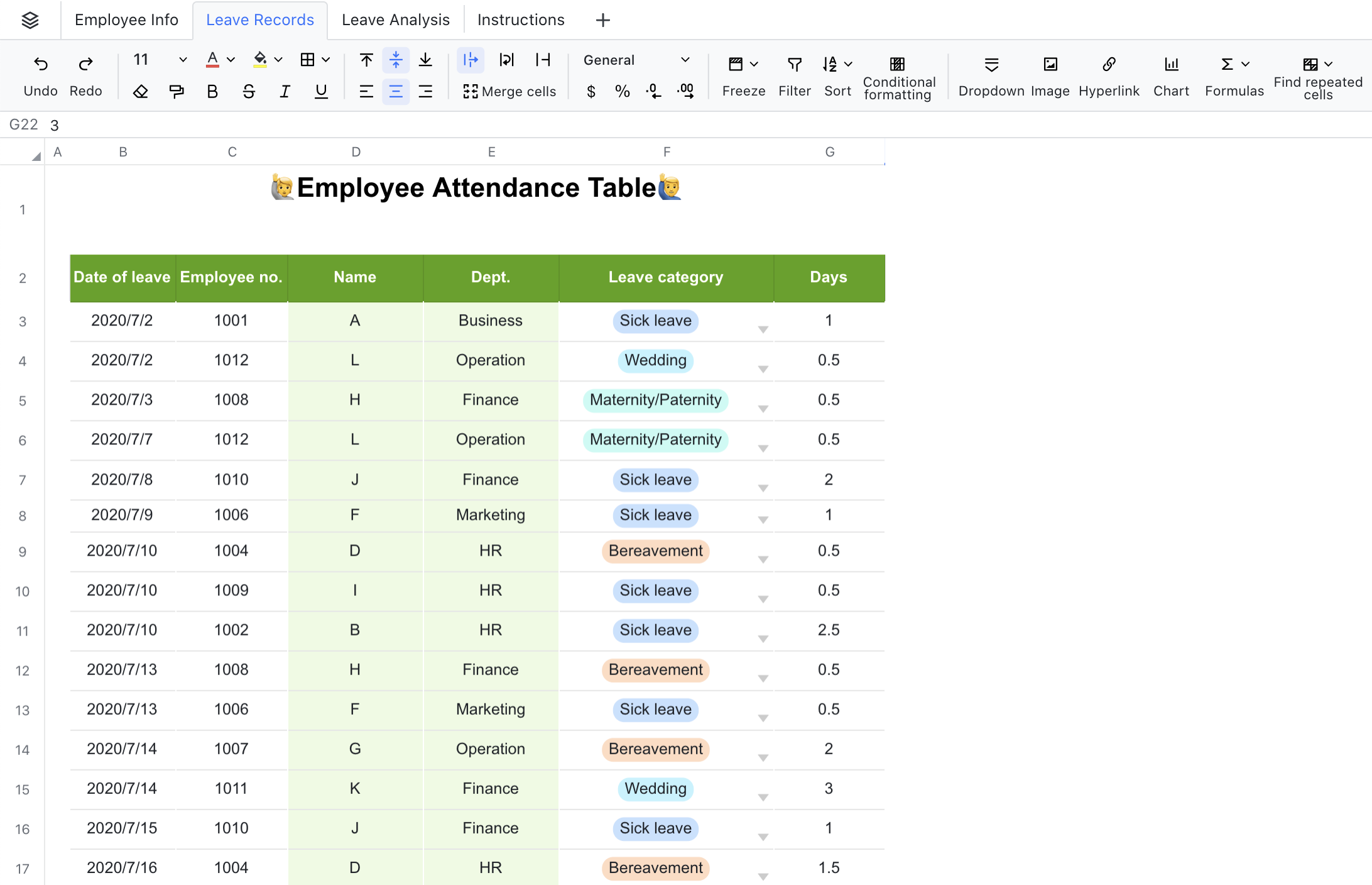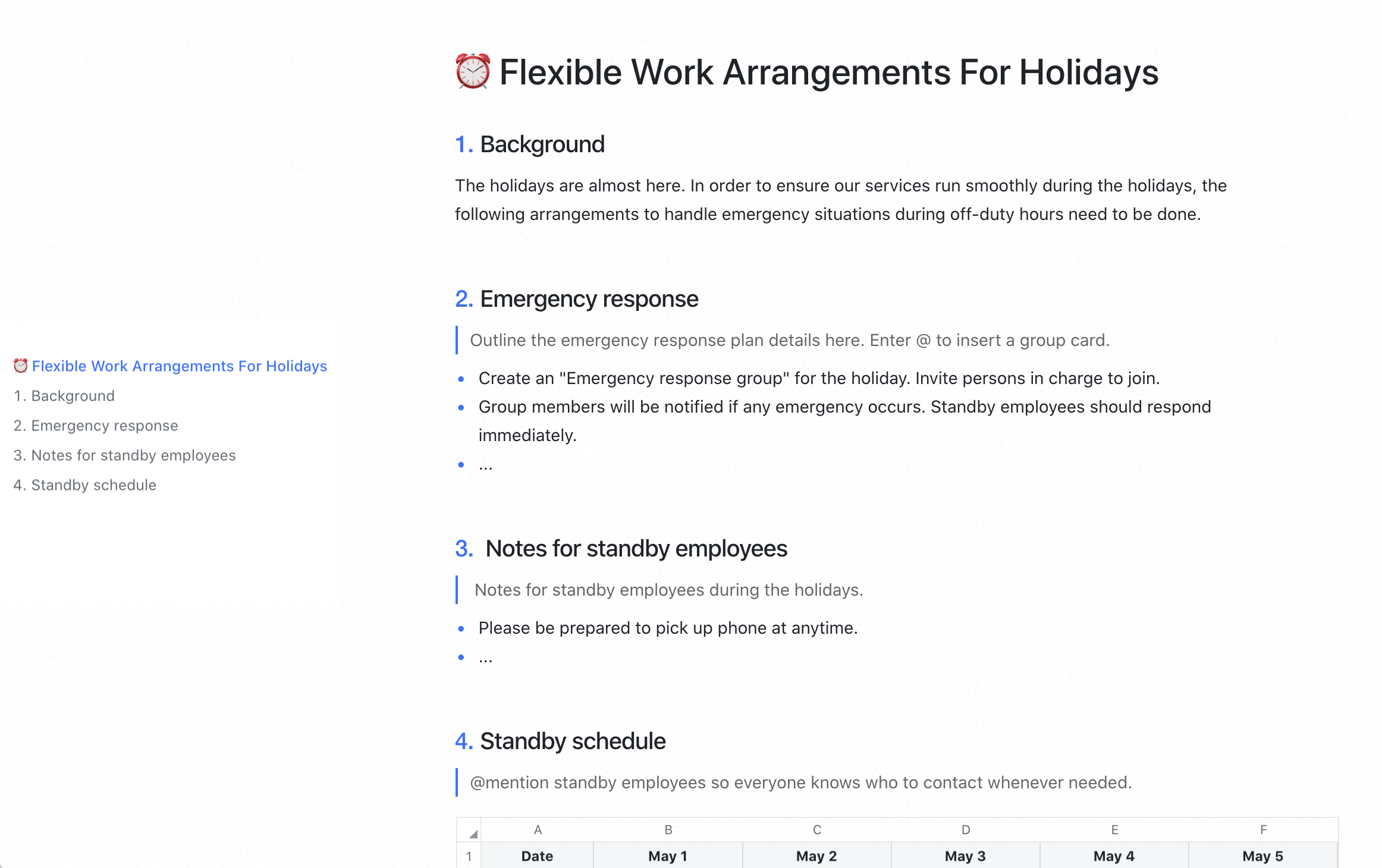 Team collaboration: Connect team members
Are you seeking more efficient and smoother team collaboration? Check out how the following templates meet your needs when managing team tasks.
•

​

Team List

collects data of all team members, such as their personal information and photos. You can click a cell, and then click the drop-down list feature in the toolbar to add, delete, or edit drop-down options.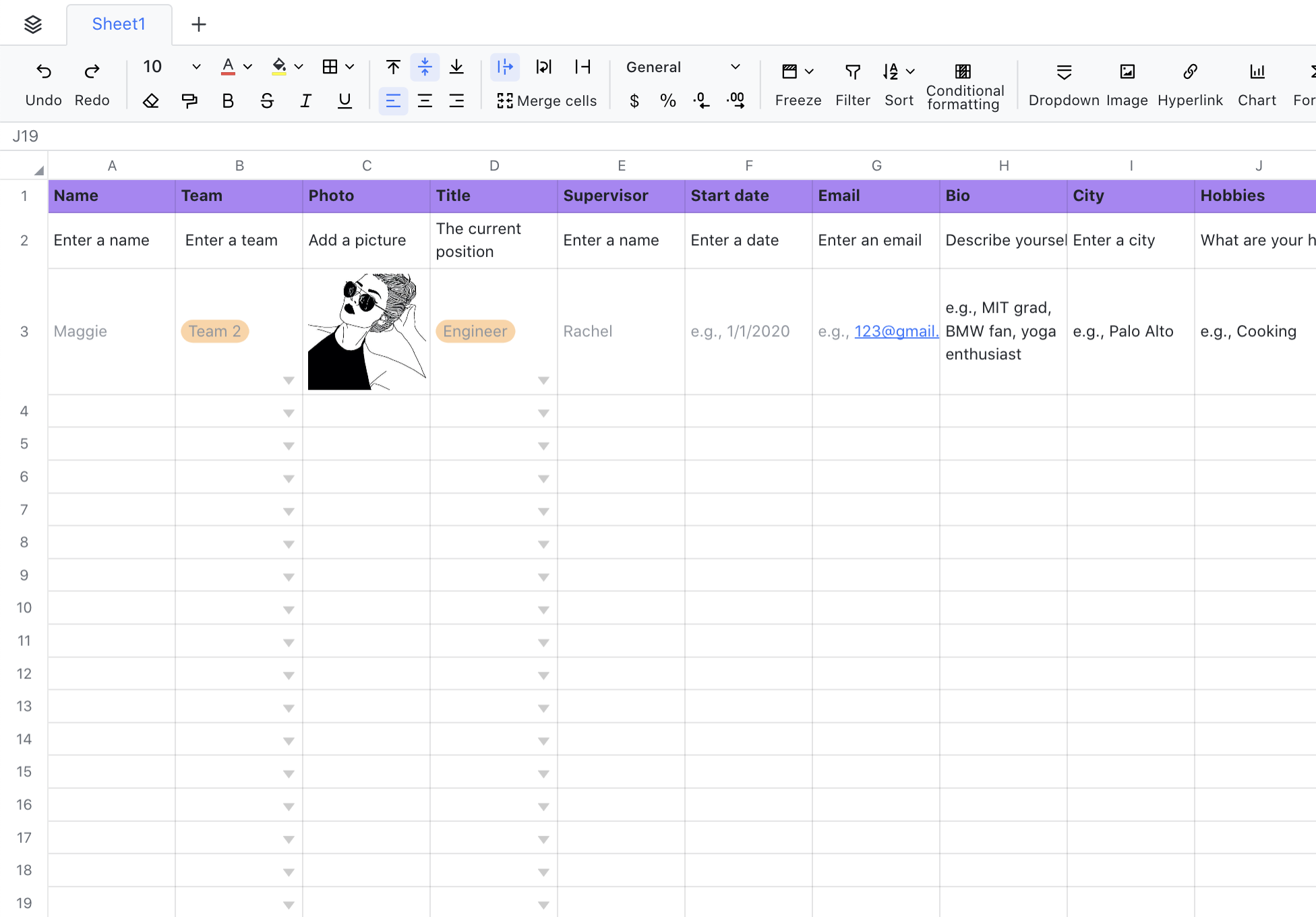 •

​

Event Planning

explains project background, goals, details, roles and responsibilities of members, so you can manage projects clearly and control event budgets easily.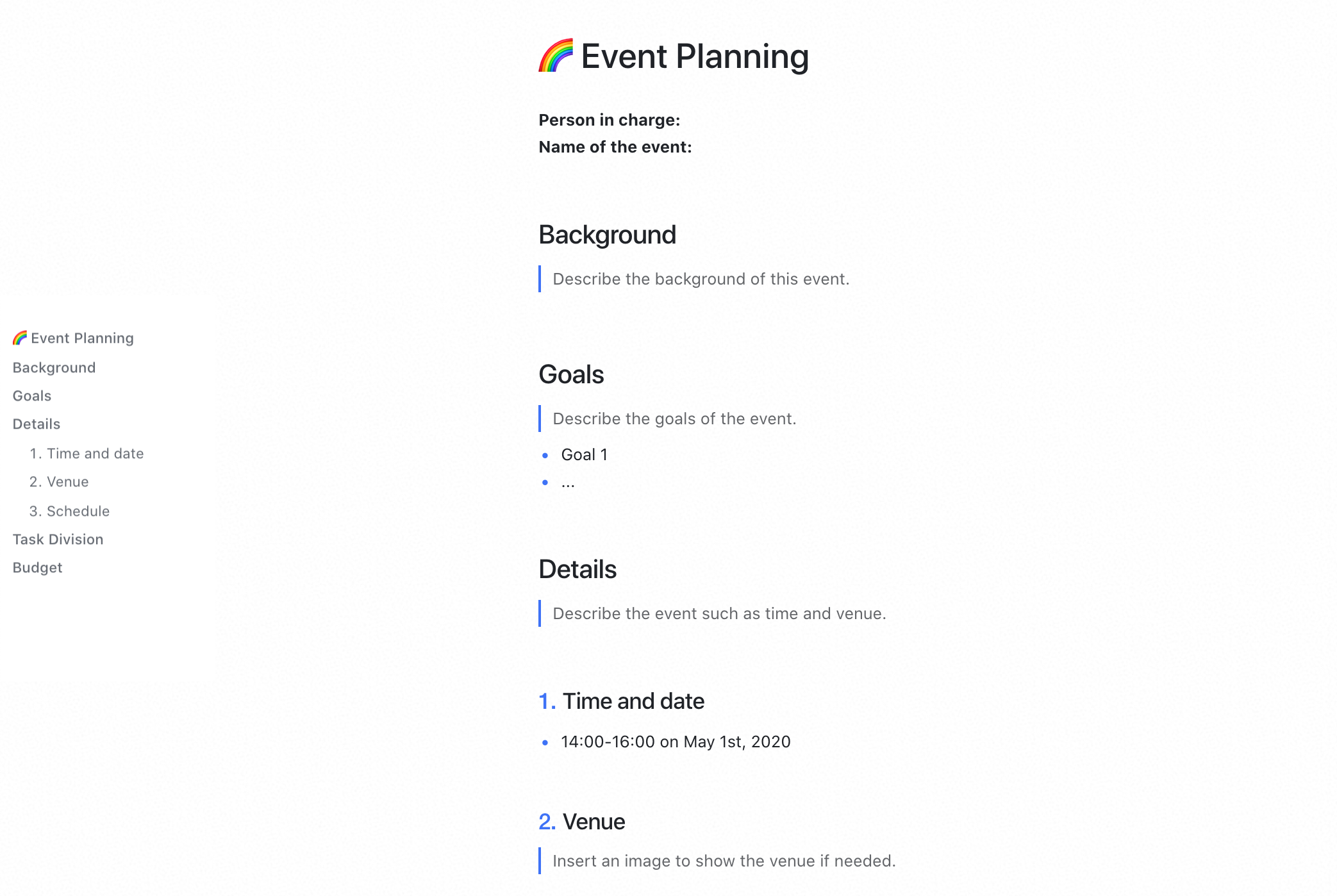 •

​

Team Building Activities

collects ideas and plans for team building. You can invite all members to vote and finalize plans.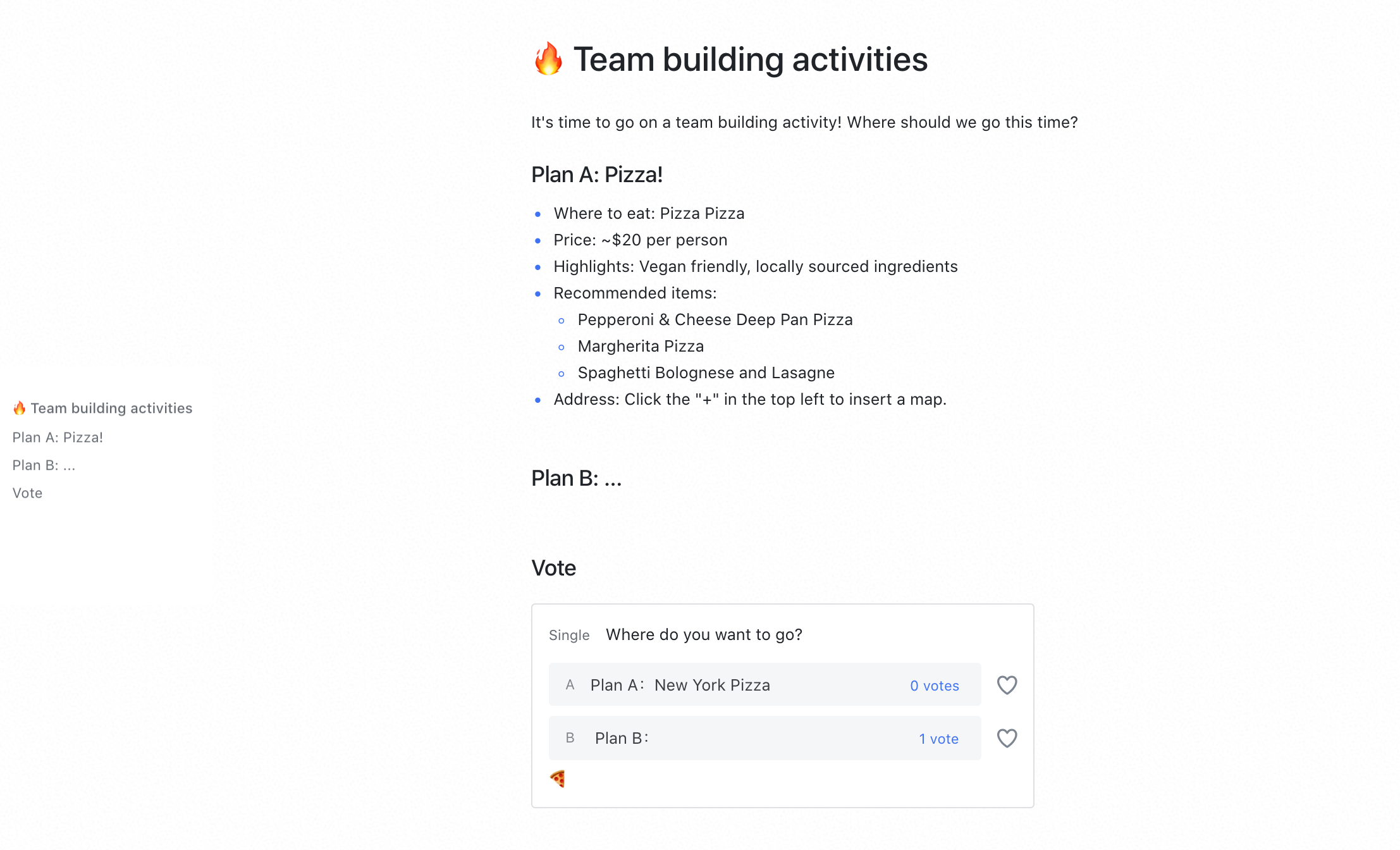 •

​

Work Handover Form

helps you hand over your tasks to other team members smoothly. You can insert all related documents or items into the template.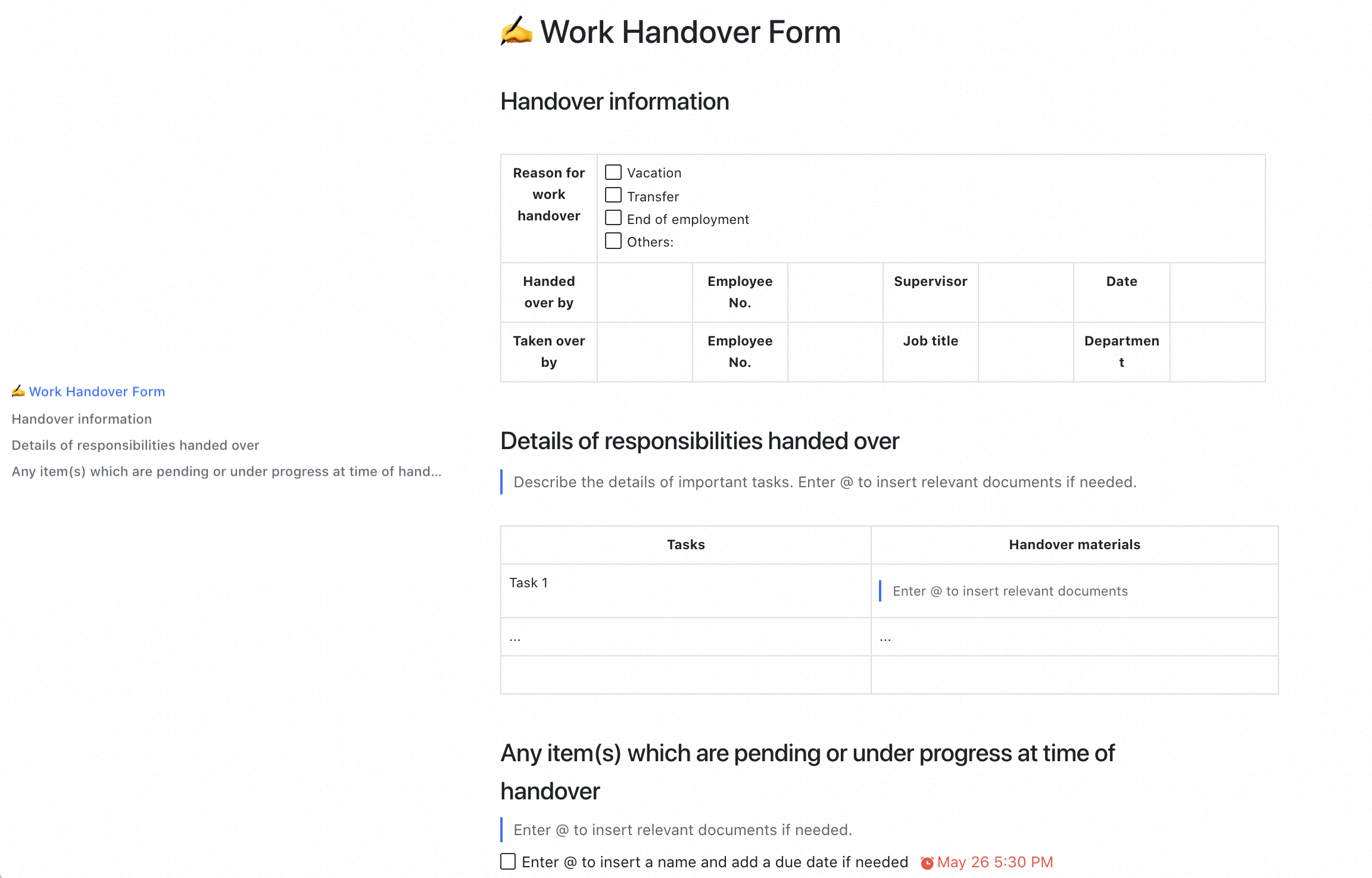 Click
here
to explore more templates!
👍 If this article has been helpful, please give us a thumbs-up.