This article guides you through the process of using Feishu OKR.
What is Feishu OKR?
OKR (Objectives & Key Results)
is a popular goal management framework that consists of two parts:
•

​

Objectives

are the incentivized values and goals that a company aspires to achieve in the near future, which embody the company's long-term mission and vision.
•

​

Key results

are a critical path to achieving these objectives. Quantifying key results helps to determine whether they are being achieved.
Developed by
ByteDance,
Feishu OKR
is an app that makes it easy for you to focus on goals and execute them more efficiently. It combines ByteDance's best practices and OKR theory into a simple and efficient implementation tool that helps teams head in the same direction.
Note: If this is your first time using Feishu OKR, please contact your Feishu administrator to initialize the OKR app and configure an OKR cycle in advance.
How to Use Feishu OKR
A full OKR cycle is divided into three stages: developing OKRs, following up on OKRs, and reviewing and scoring OKRs. Here's how to use Feishu OKR:
Finding the App
On PC: Click the "Workplace" icon on the left bar in Feishu - OKR
On mobile devices: Click the "Workplace" icon at the bottom in Feishu - OKR
Fill in your objectives and key results
Fill in your objectives and key results on the OKR page. One of the core values of OKR is to help you stay focused on top priorities. We recommend setting 3 to 5 objectives and key results respectively. You can drag and drop objectives and key results to sort them by priority.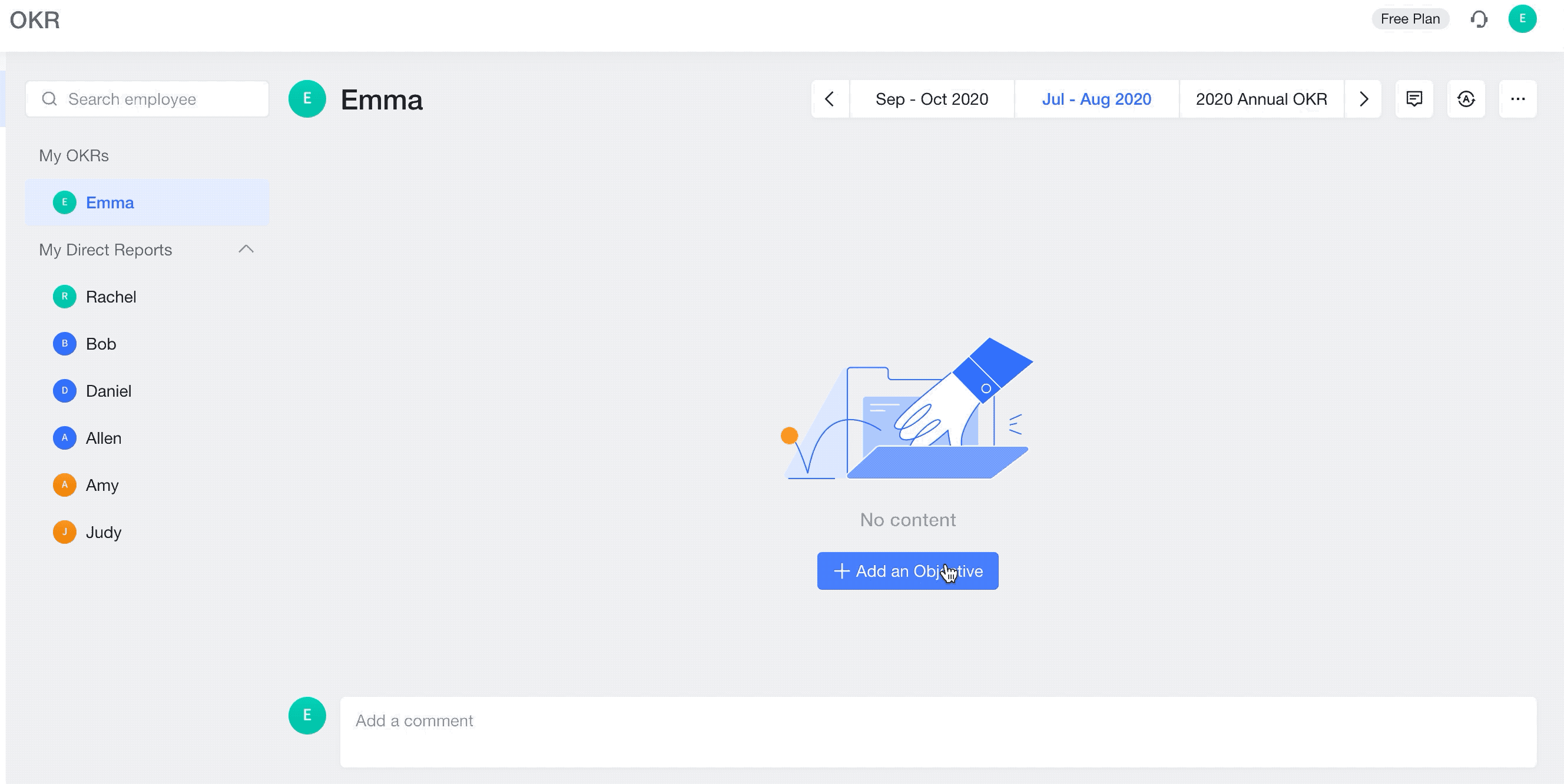 The risk status of objectives can be customized (
🔥
New)
The default status of the objective is the "Status of the most risky KR". You can also customize the status of objectives as needed, and manage your OKRs in a more personalized way.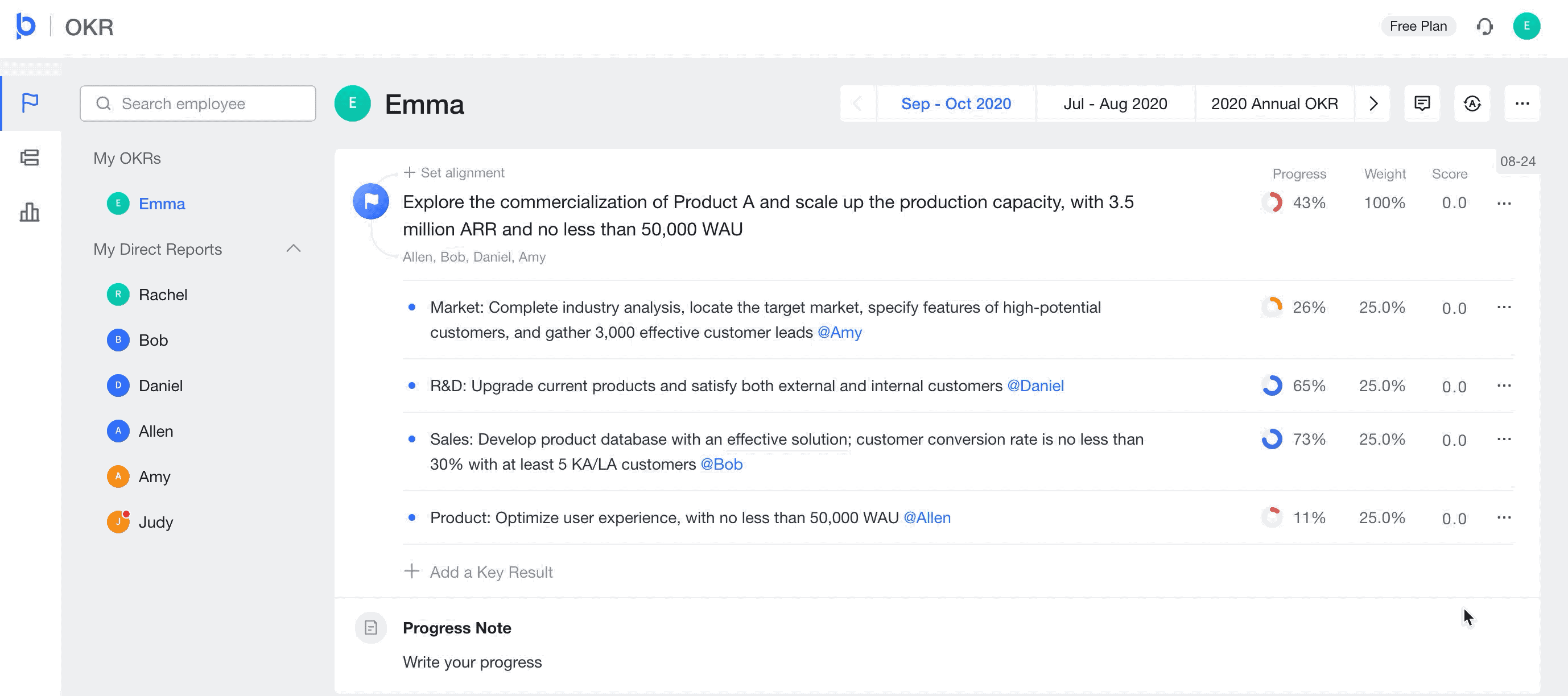 Assign weights to key results
You can assign weights to key results and sort them by priority, in order to stay focused and fully utilize the resources to achieve your objectives. The total score of your objectives will also be calculated based on the weights of your key results.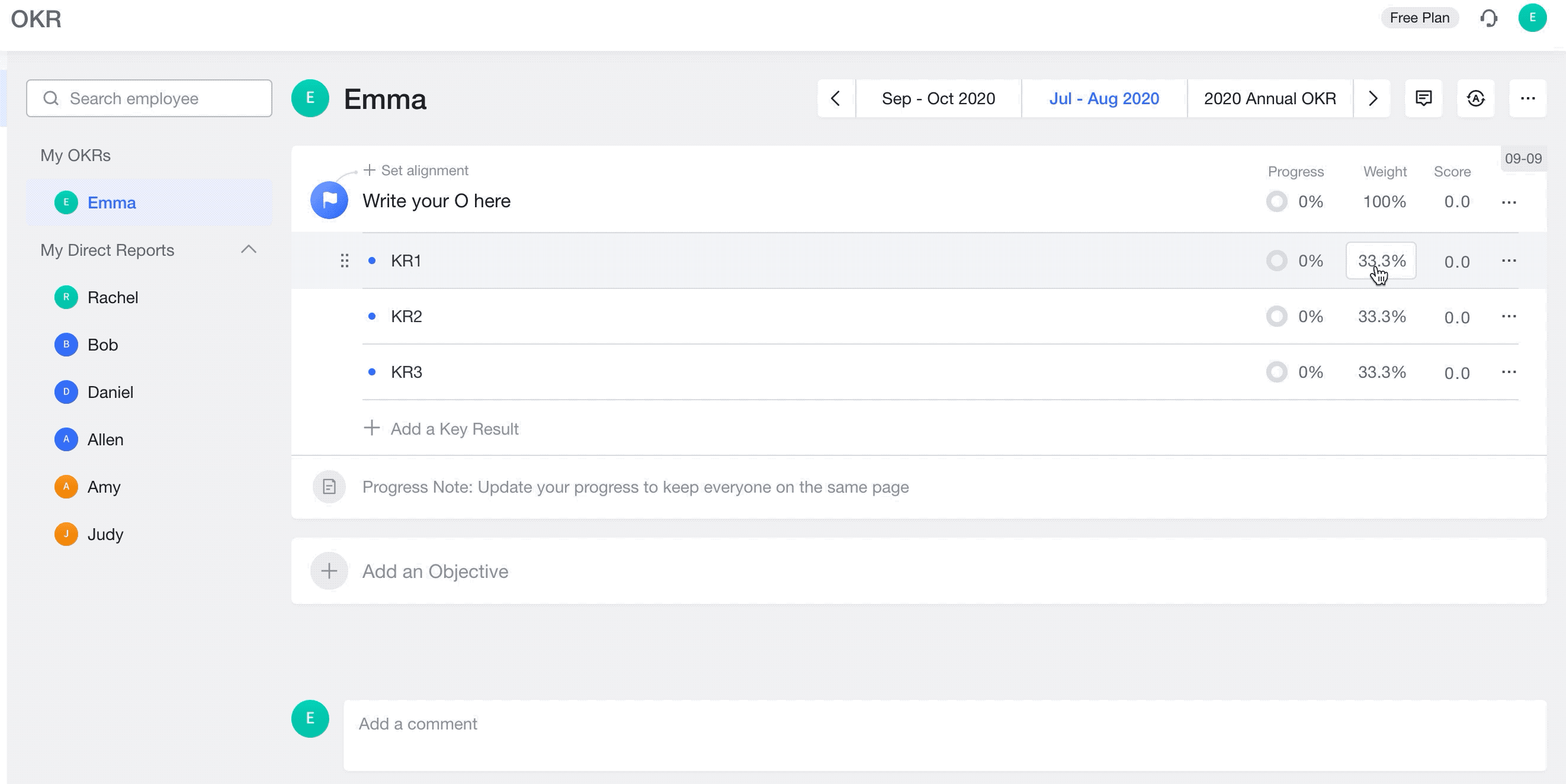 Configure access permissions for confidential objectives or key results
We encourage you to keep your OKRs public and transparent. However, OKR also supports permission configuration for individual objectives or key results when confidentiality is especially necessary.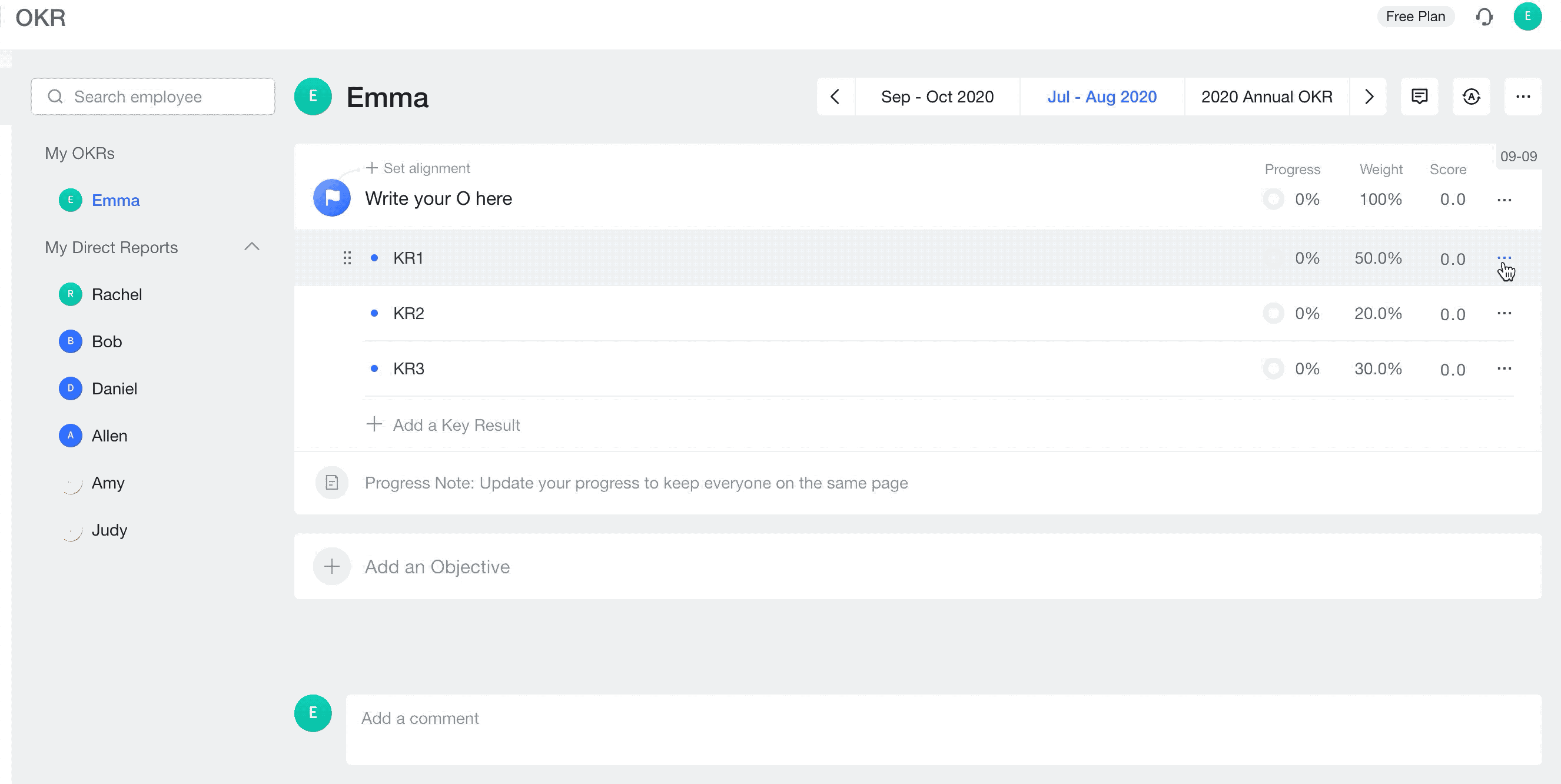 Send reminders to colleagues by @mentioning
If other colleagues are to take charge of, know about, or follow up on your OKRs, you can directly @mention their names, and the @mentioned users will receive Feishu notifications. You can @mention others in your objectives, key results, progress, and comments.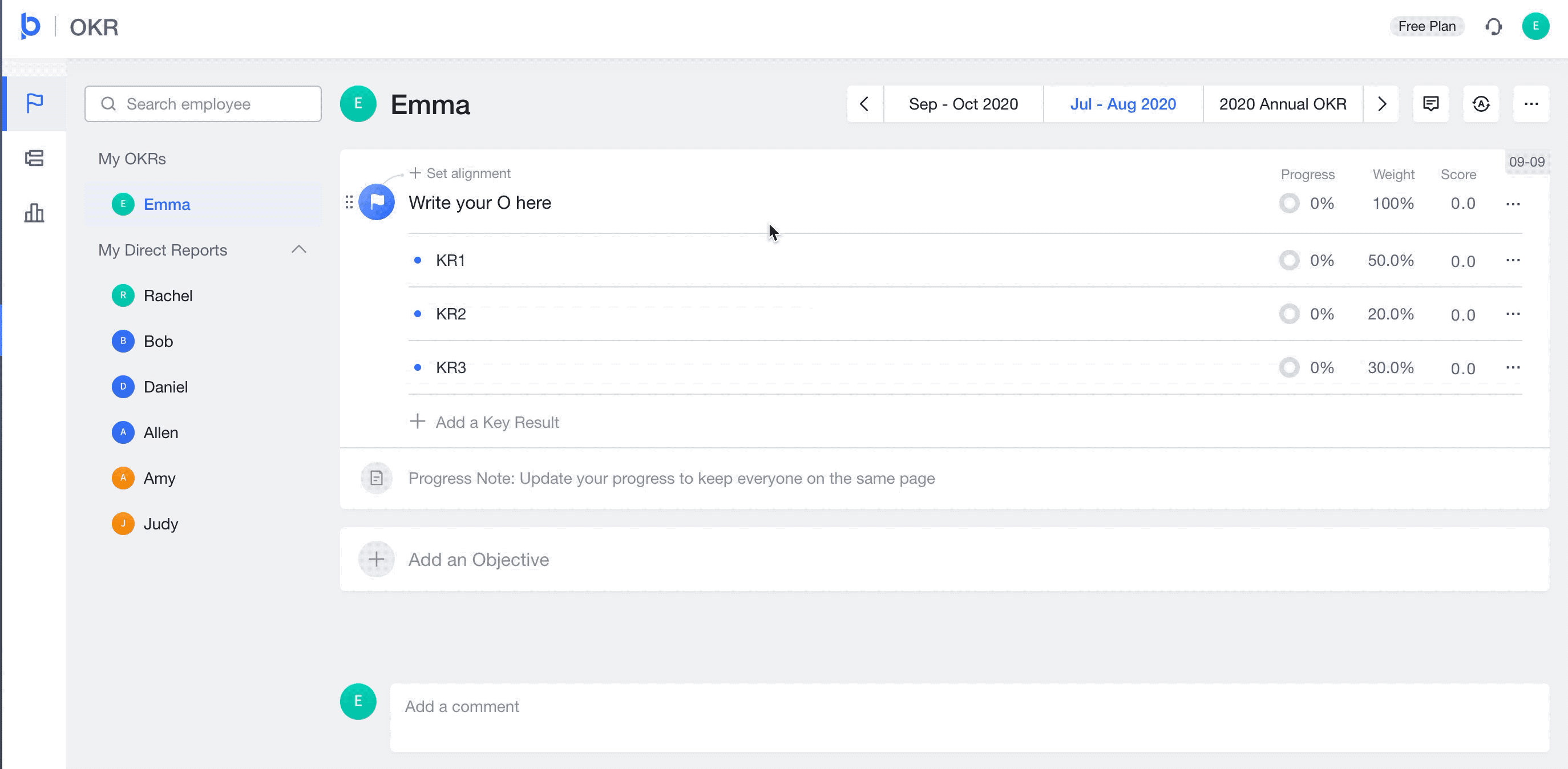 Align with your managers or collaborators
You can align your objectives with those of your managers or other collaborators to ensure that the team goals remain aligned.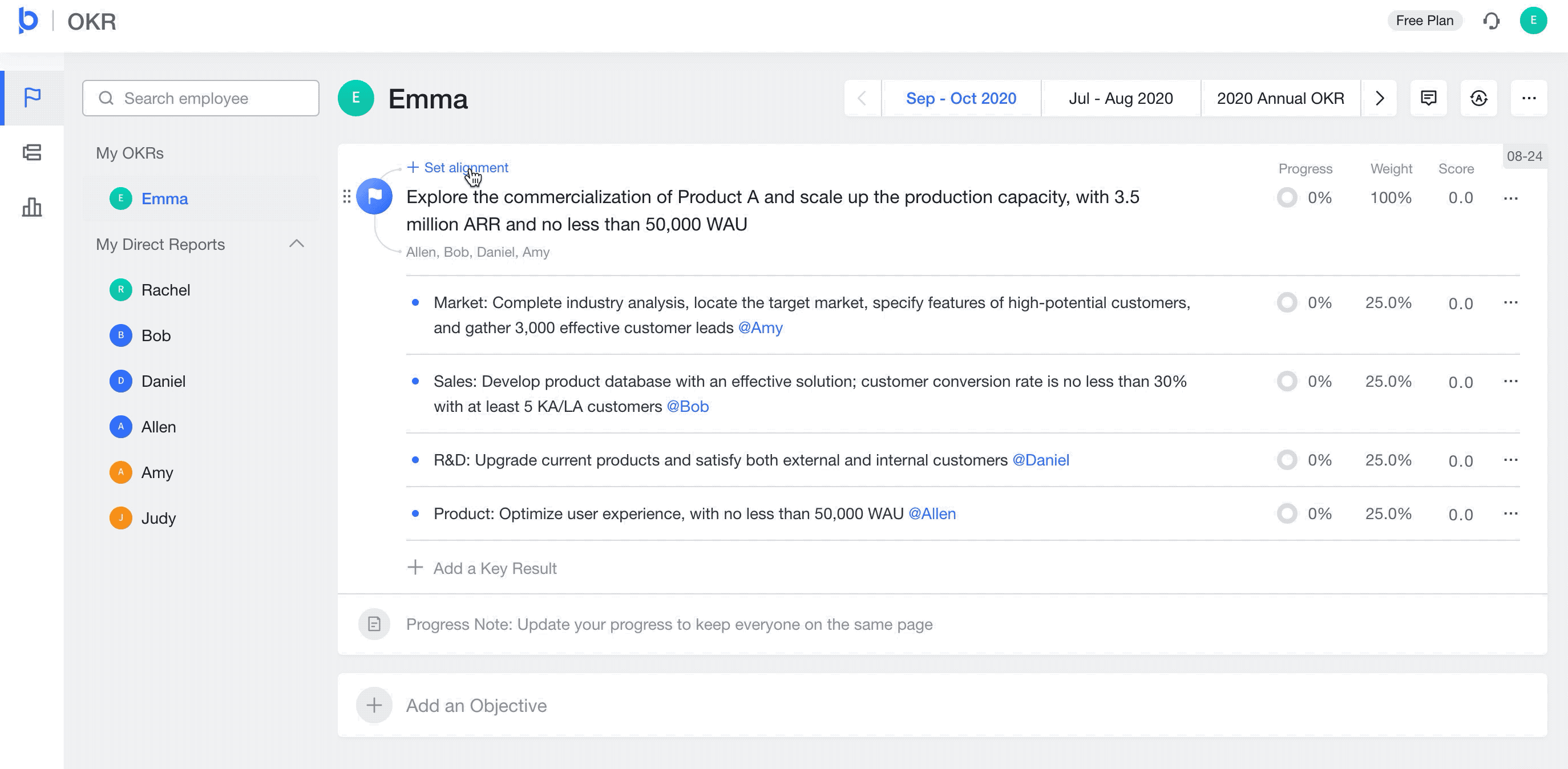 Update your progress
Updating progress regularly allows you to keep track of how you've advanced towards your objectives.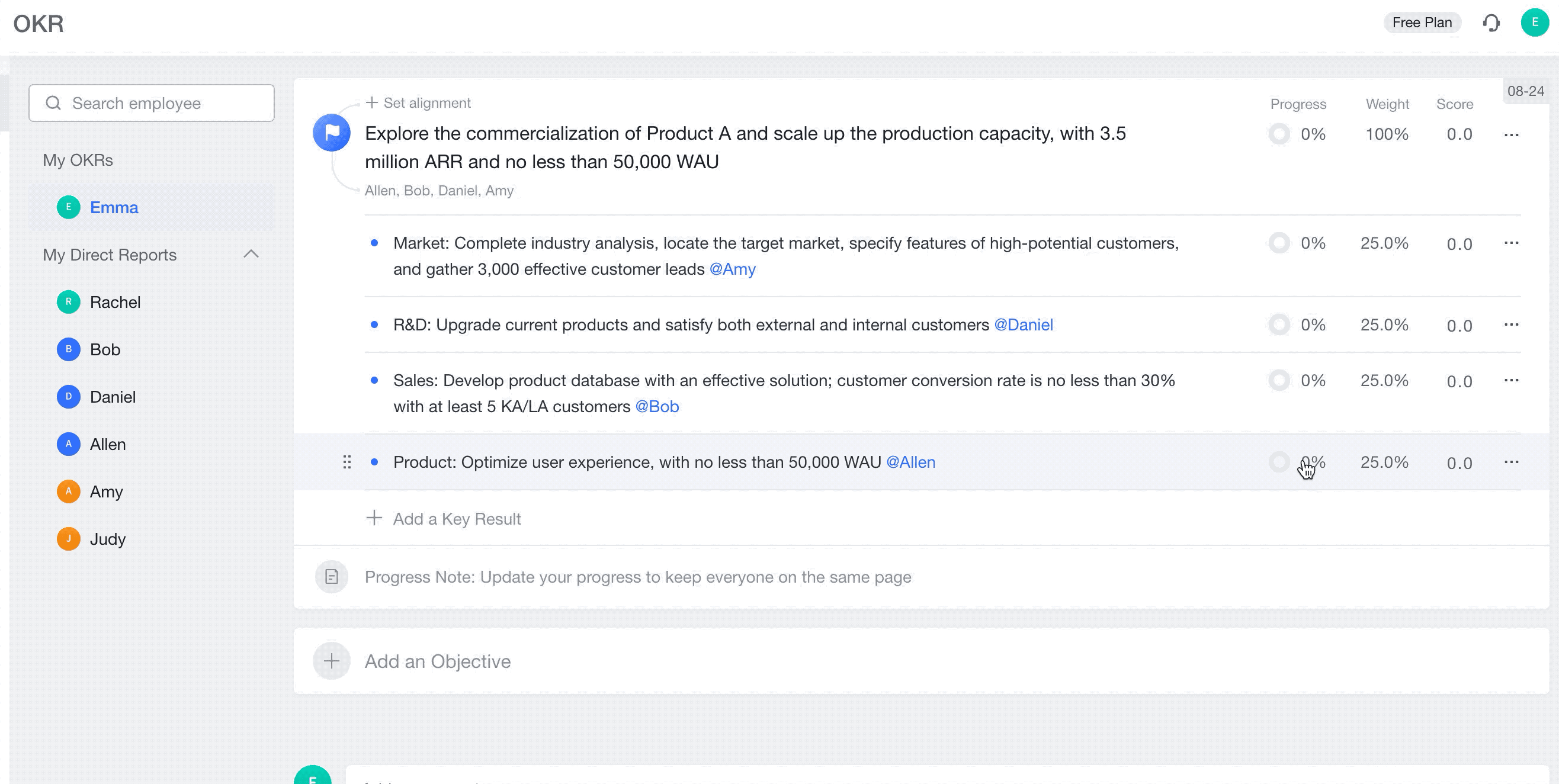 See who has aligned with your objectives
Alignment view shows you how everyone aligns their objectives.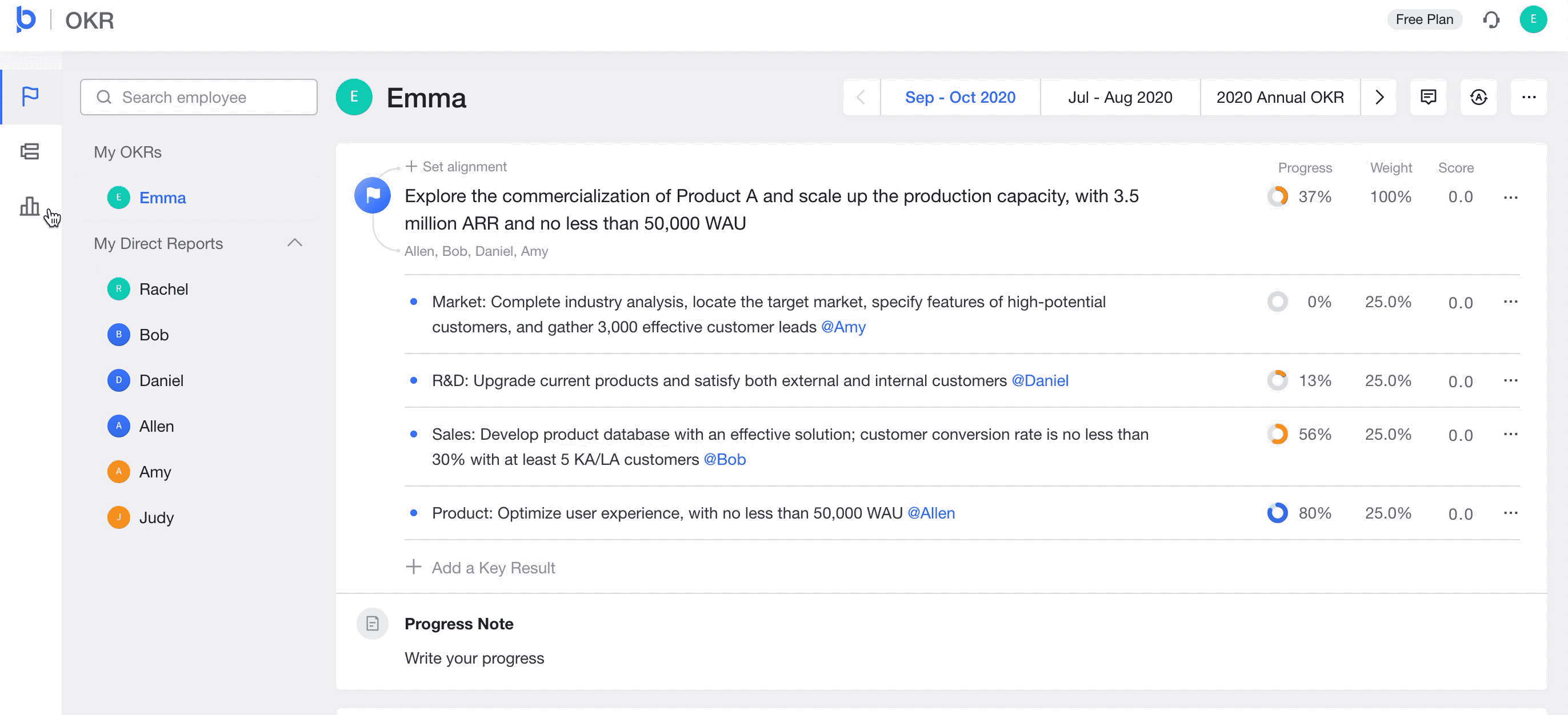 Follow colleagues' OKRs
Search for a colleague in the list on the left, view their OKRs, and follow or unfollow them by clicking the star icon.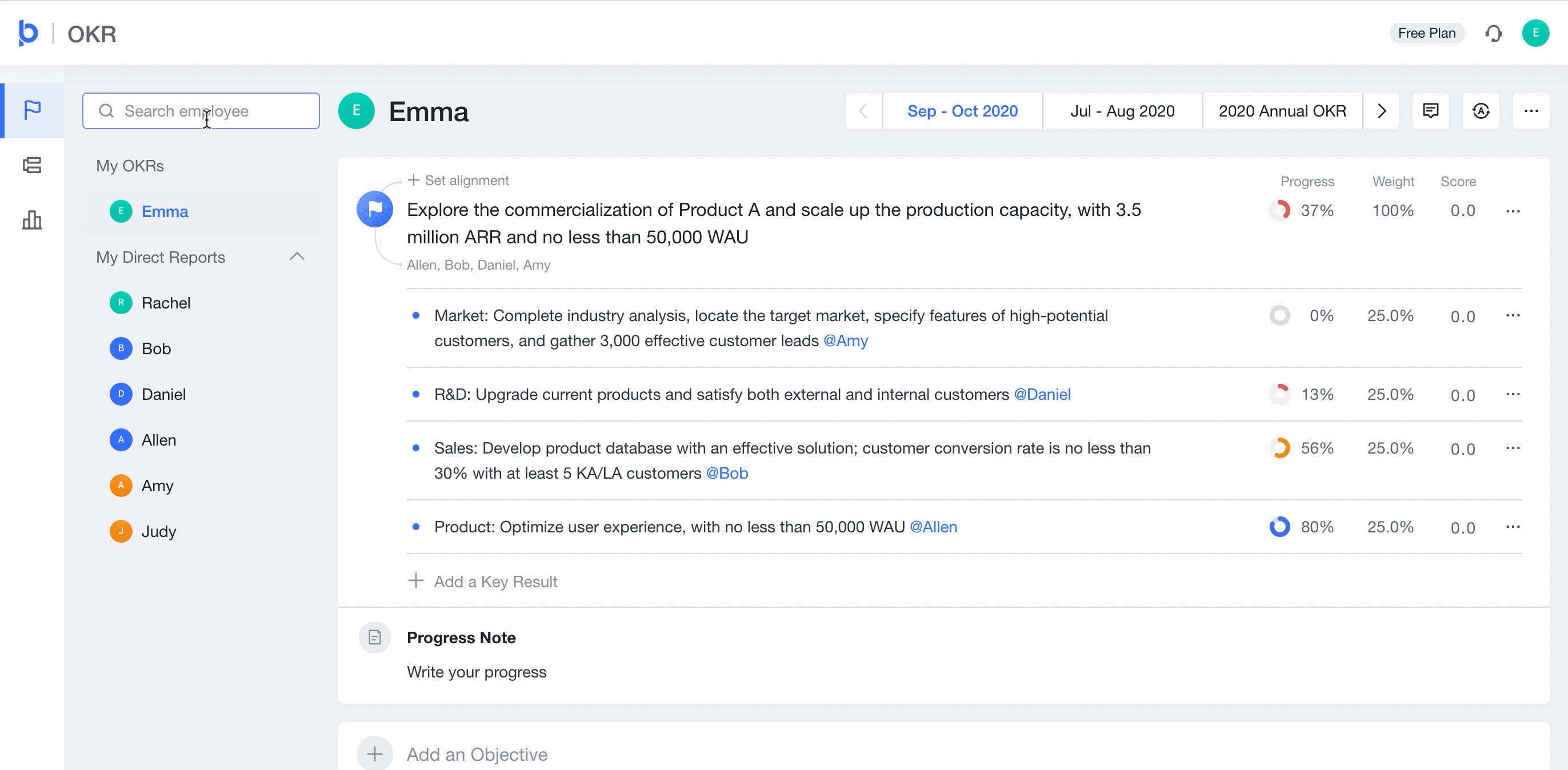 Add comments
You can select specific words in an objective or key result to add a comment, or leave a global comment at the bottom of the OKR page.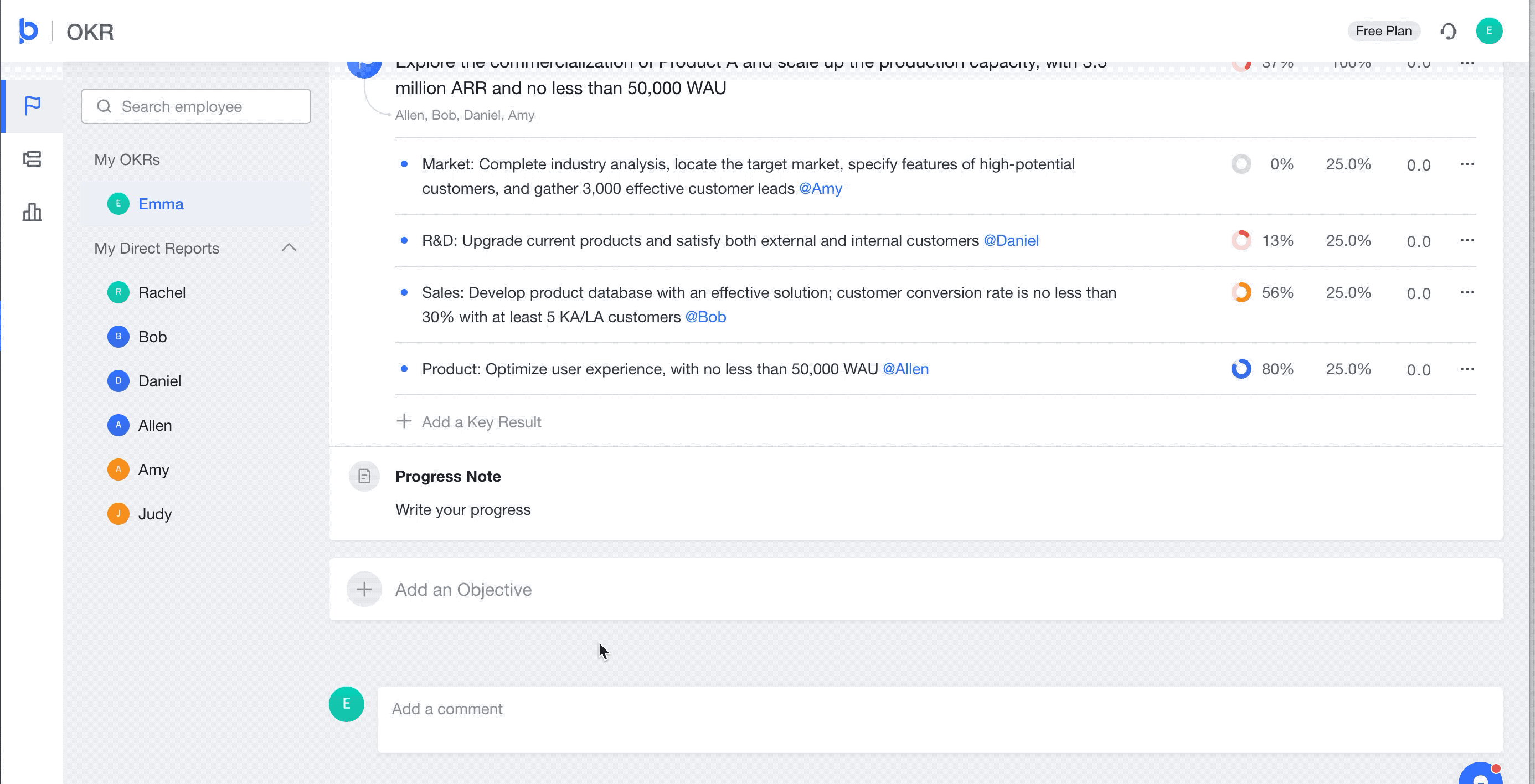 View team's OKR data (managers only)
Managers can view the input, alignment, and scoring of the team's objectives on the dashboard. To view the objectives by different employee types, click the "Filter" button in the upper-right corner of the "Dashboard" page and select the desired employee type.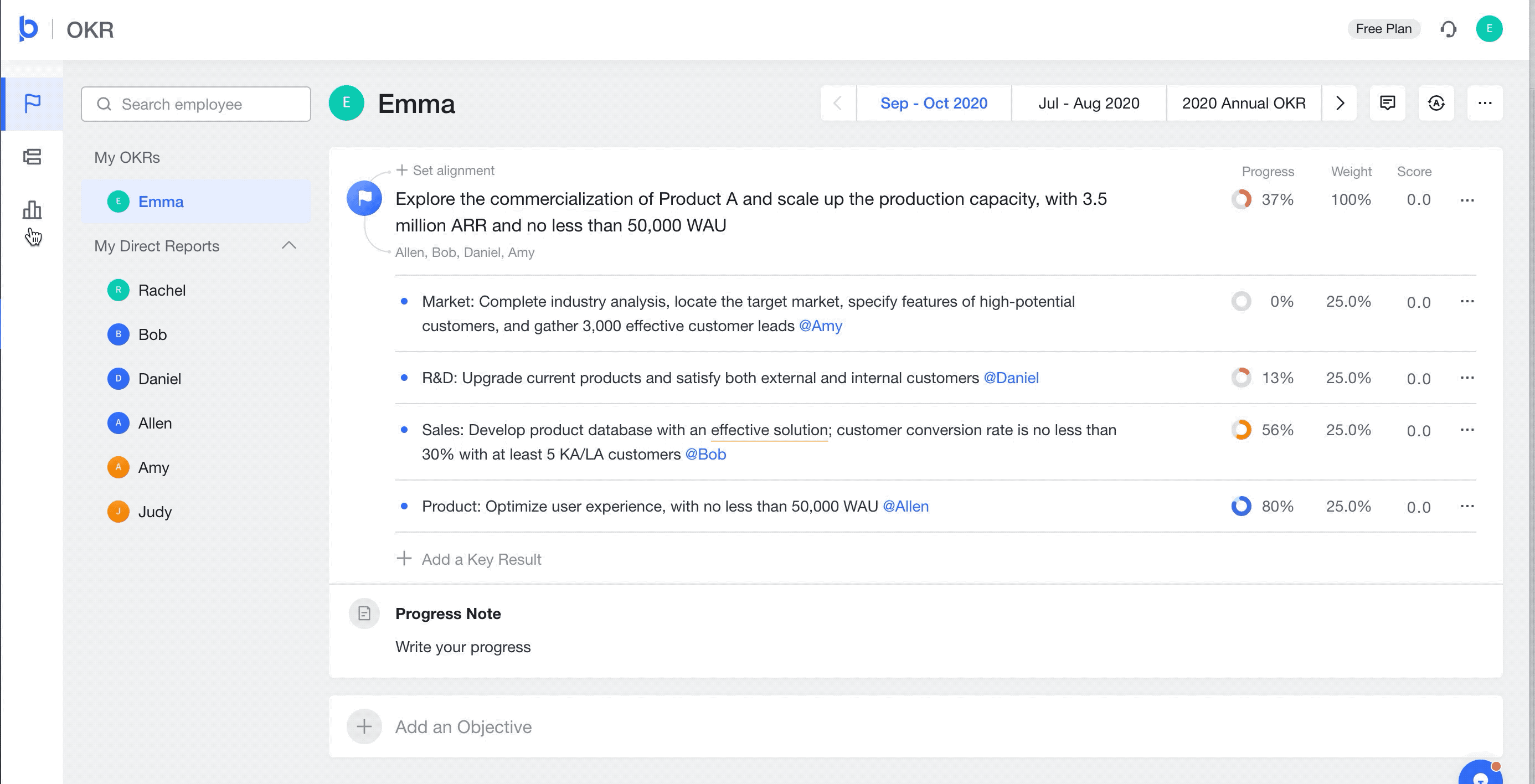 Auto-translation is supported (
🔥
New)
Click the "Translate" button in the upper right corner and select Chinese or English to translate the OKR content with one click. Click the "View original" button to switch back to the source language.
Click the "Settings" button for default translation settings. Once "Auto-translation" is enabled, the OKR content will be automatically translated into the target language you selected.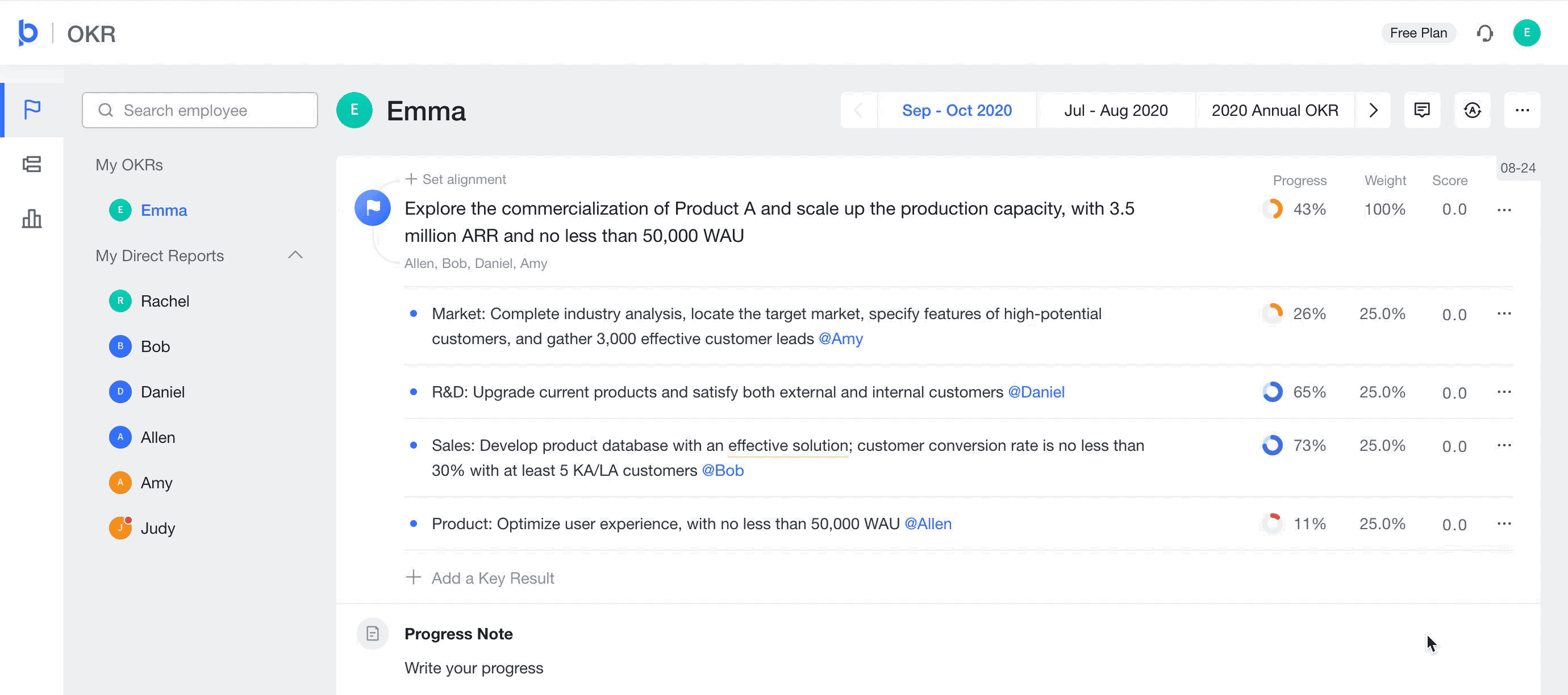 3.

​

Reviewing & Scoring OKRs
Score OKRs
You can enter a score directly in the score box, or drag the progress bar to score key results.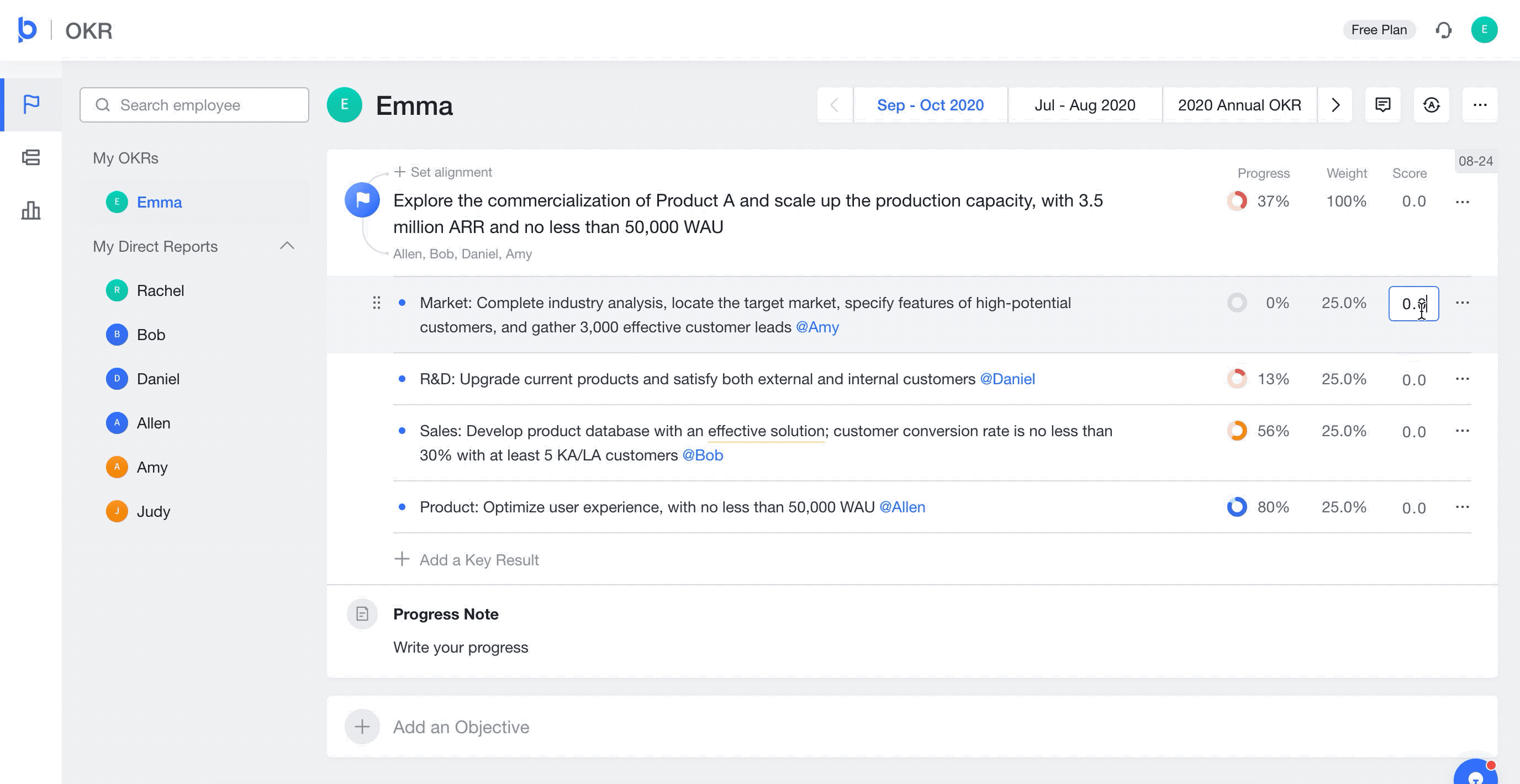 FAQs
1.

​

Why

are only "My OKRs" and "Alignment" displayed on my OKR page?
This is because your current "team structure" hasn't been fully configured. Please contact your company's Feishu administrator to complete the configuration in Feishu Admin console. Make sure that the information in the "Direct manager" field is complete when batch importing employee information.
2.

​

Can I view the OKRs of employees from other departments?
You can search for a colleague in the list on the left of the OKR page and view their OKRs.
3.

​

Why can't I set alignment for my objectives?
Make sure that the employee you want to align objectives with have filled in their bi-monthly OKRs for the current cycle. Otherwise, you won't be able to align with them.
Only objectives can be aligned, and key results alignment hasn't been supported yet. You can move the cursor over an aligned objective and click "Delete" to cancel the alignment.
4.

​

Why does my alignment view only show my own objectives?
The alignment view only supports downward expansion. That's to say, you can only see others' alignment with your objectives, but not those that you are aligned with. Therefore, if no one has aligned with your objectives, you will only see your own objectives in the alignment view.
5.

​

Can I score objectives directly?
You can only score key results at this time. The score of objectives is the weighted average of the key results.
👏 Congratulations! Now you know how to use Feishu OKR. Go ahead and give it a try.
💕 If you need further assistance, search for "
Feishu Assistant
" in Feishu, or click your avatar and go to
Contact Support
. Feishu is always there to help.
🎉 Customer service: 400-0682-666