You can use Date reminder to send notifications to members or yourself at a specific time, so you won't miss any important deadlines. You can also add notes in Date reminder to send to-do tasks and Docs links.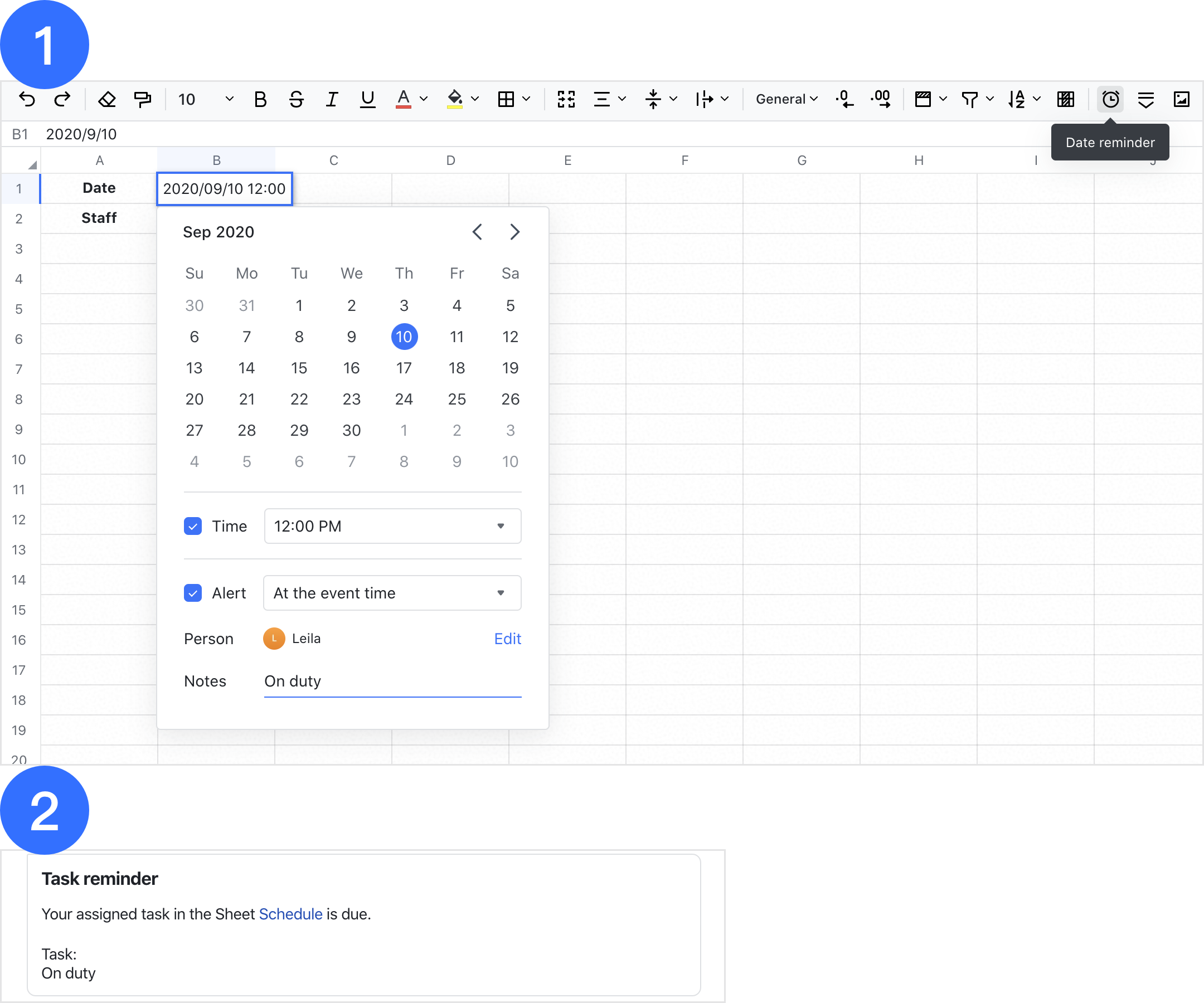 II. How to use Date reminder in Sheets?
•

​

Method 1:

select the cell you would like yo add Date reminder, then click Date reminder button in toolbar.
•

​

Method 2:

to turn content in date format into Date reminder, just double click on the cell to open Date reminder panel and start editing settings.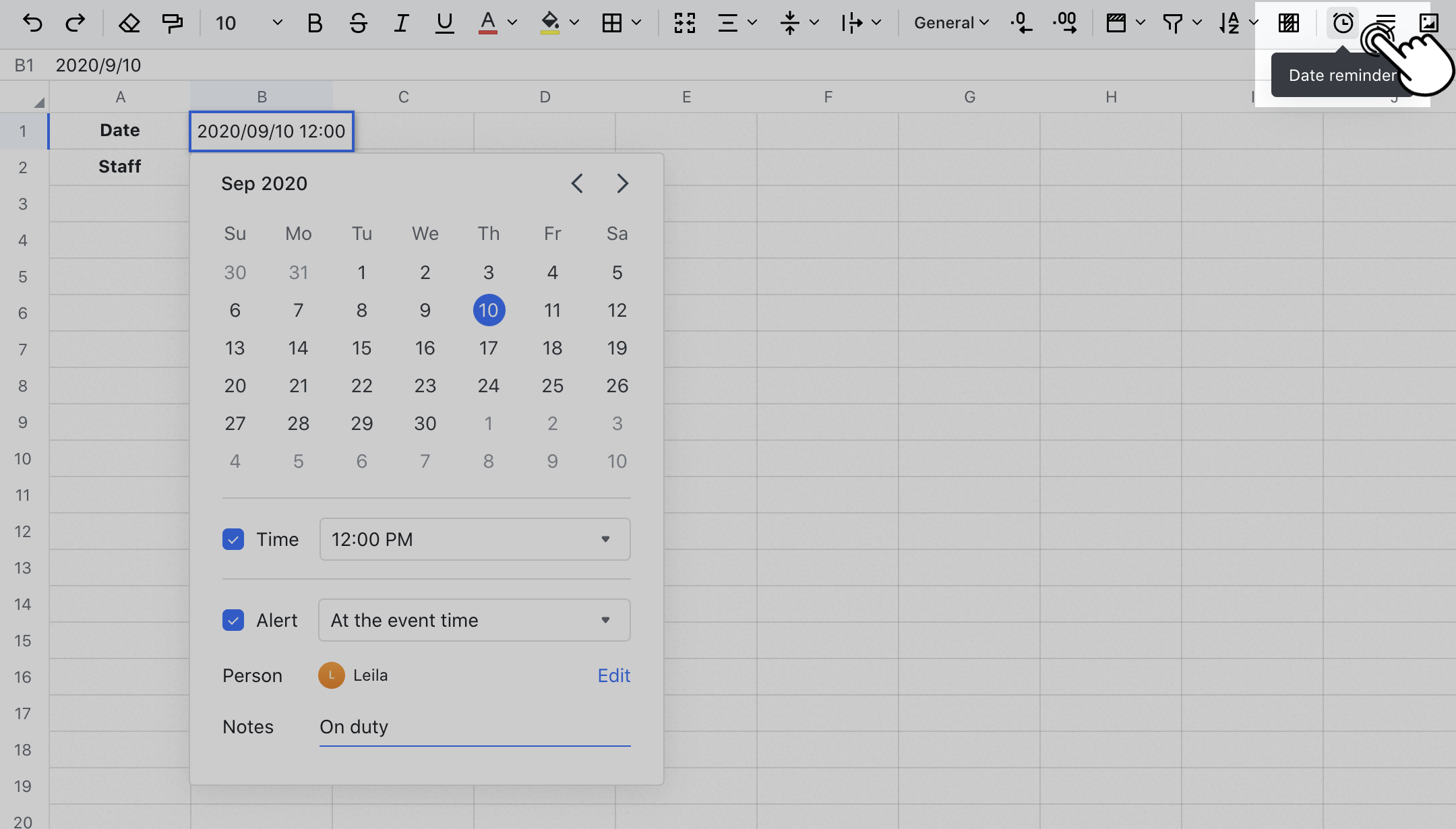 •

​

Add a batch of Date reminders:

Select the cell with Date reminder, then hover over the bottom right corner and drag the

+

cursor to the entire row or column. When stopped, you can choose from the drop-down menu to fill in Date reminder in a certain order.

Note: You can only add one Date reminder into each cell. Once you add a Date reminder, you won't be able to add any other content into the cell.
After adding Date reminder into a cell, you can double click on the cell to open Date reminder panel and start setting up reminder details.
•

​

Set a reminder date:

directly click on the calender to set the reminder date.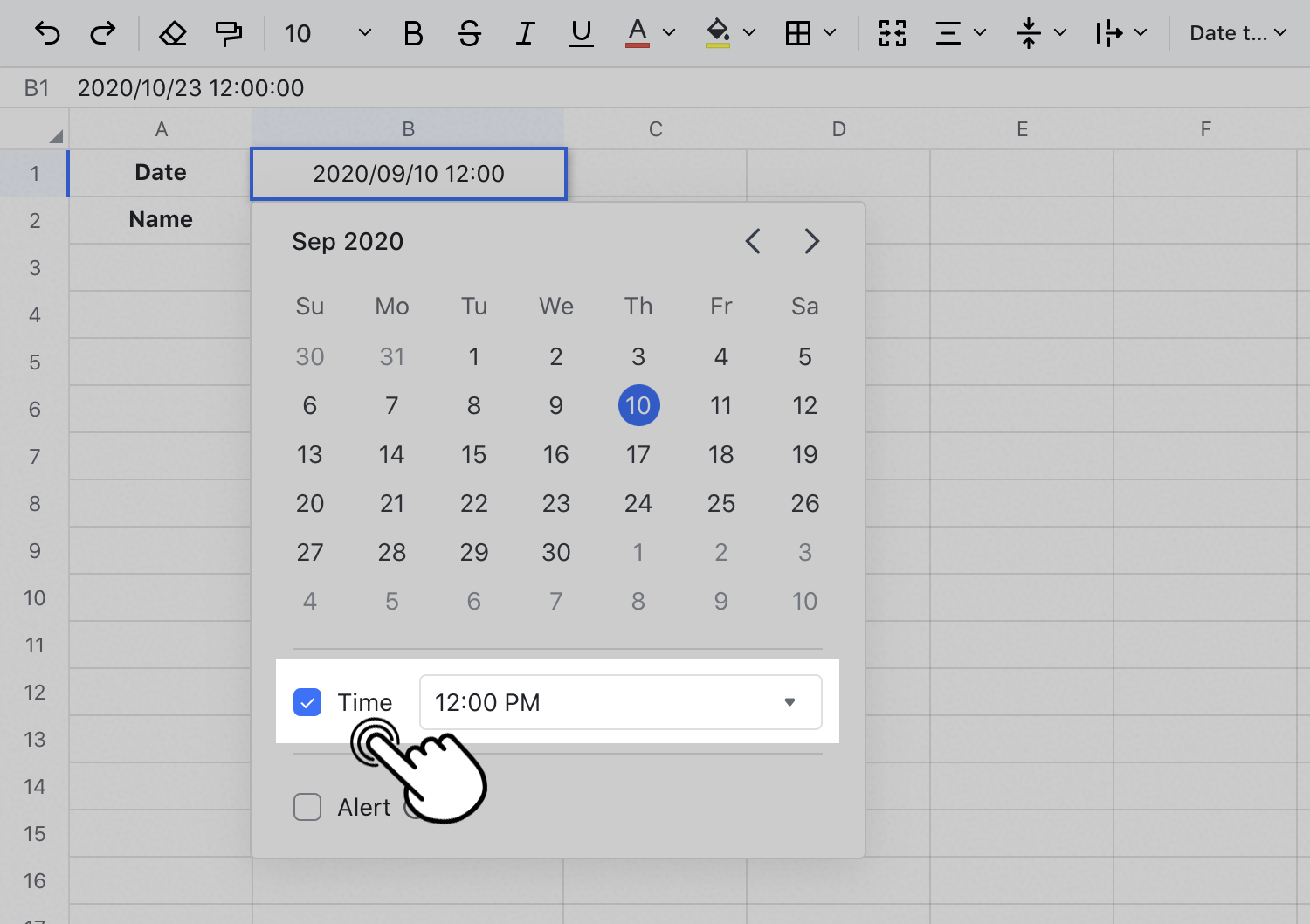 •

​

Set a reminder time:

Check Time, then choose when you'd like to send reminder in the Time input box.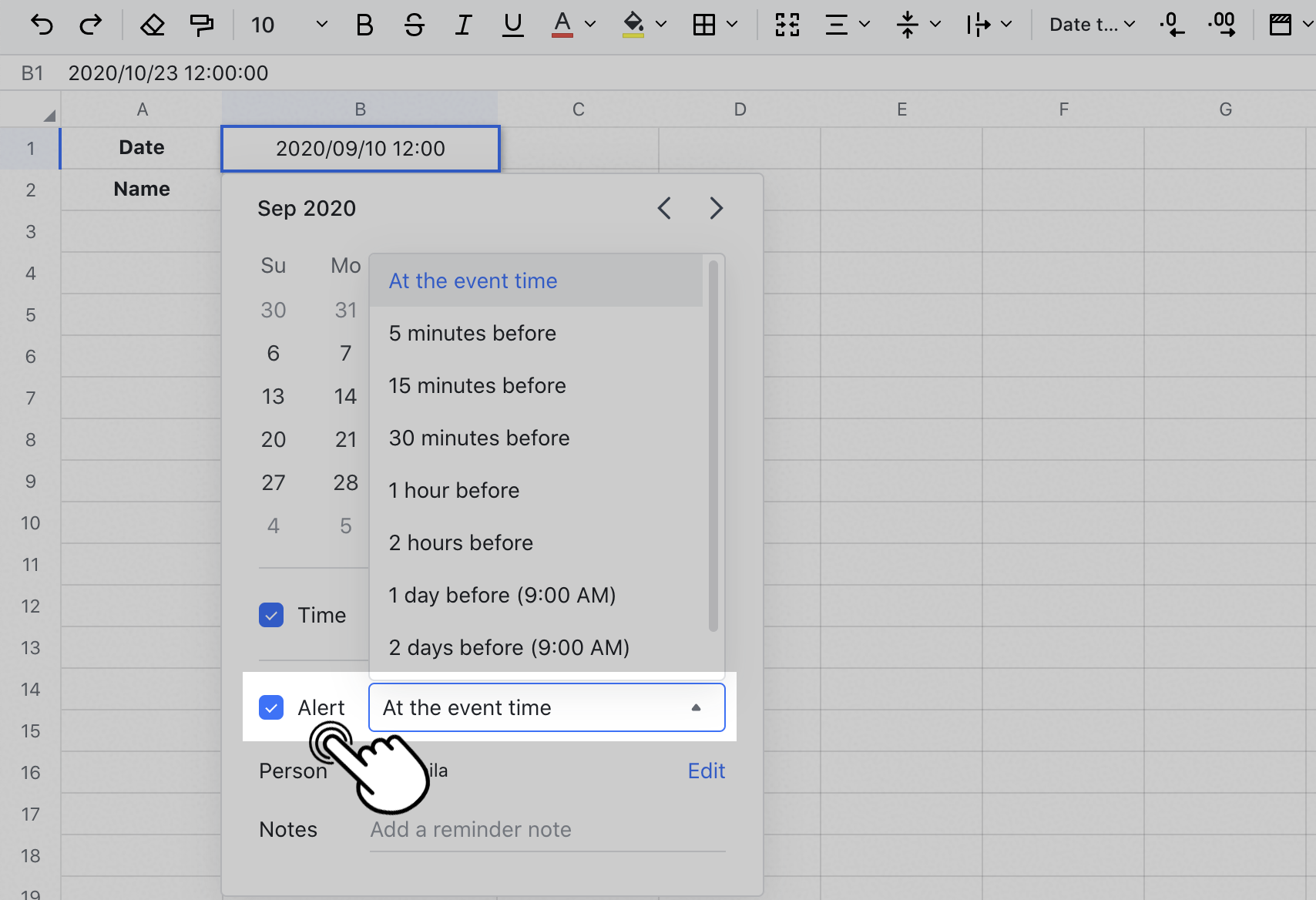 ◦

​

Step 1: check Alert and click on Edit on the right side of Person section.
◦

​

Step 2: search desired person's name and click to add them to the list.
◦

​

Step 3: Click on Confirm to complete adding.
Note: You must choose at least one person to notify. You can add up to 500 notified people.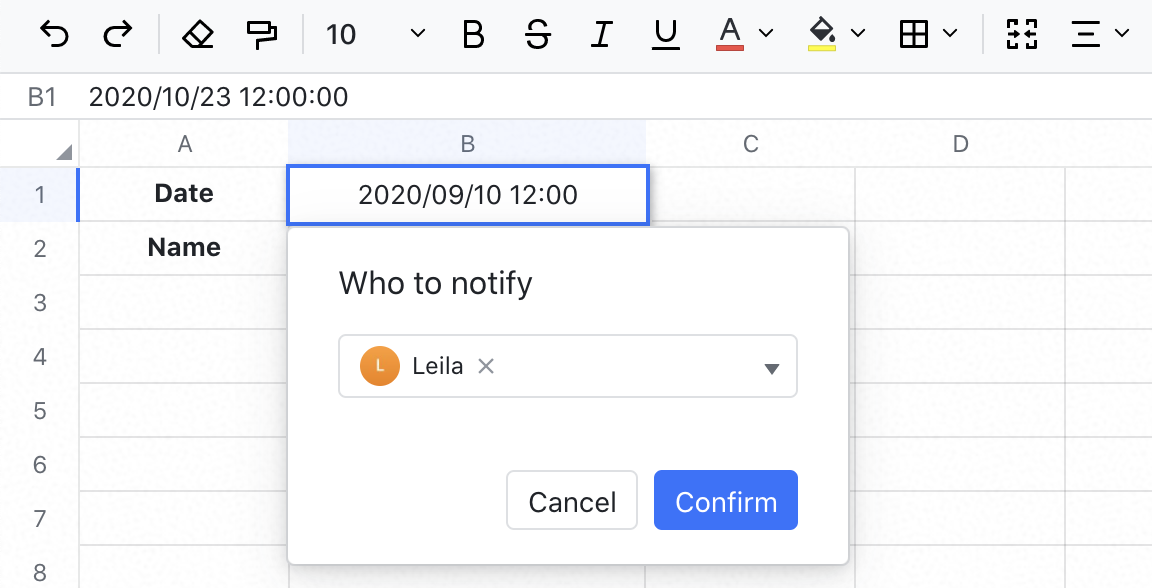 •

​

Add a reminder note:

you can add Notes at the bottom of Date reminder panel. Notes will be sent along with Date reminder notifications.
Note: You can add up to 1000 characters in notes.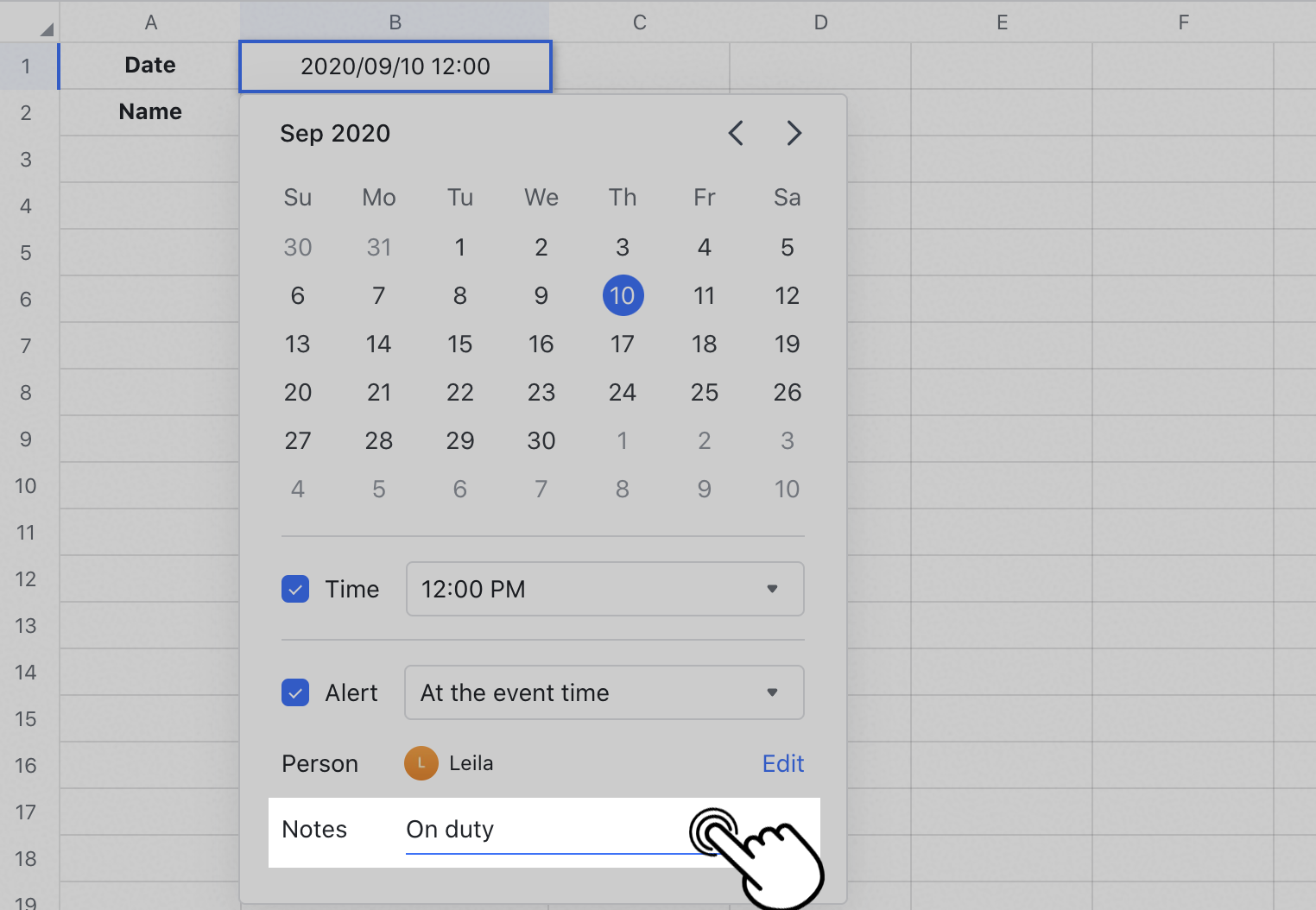 3.

​

Set date reminder style and format
•

​

Date and time format:

select cells you want to edit, then click on Format button in the toolbar to choose desired date and time format at the bottom of the drop-down menu.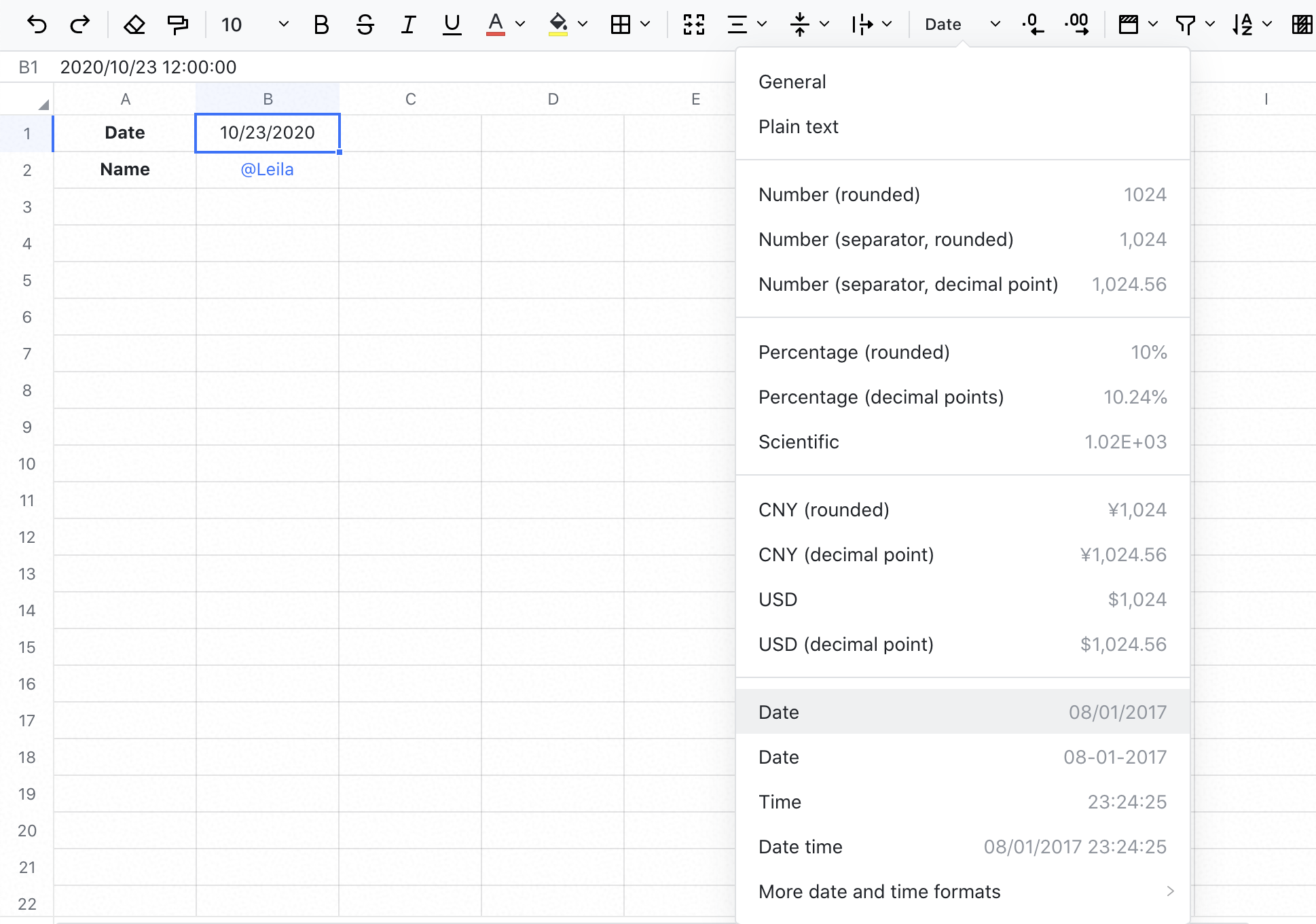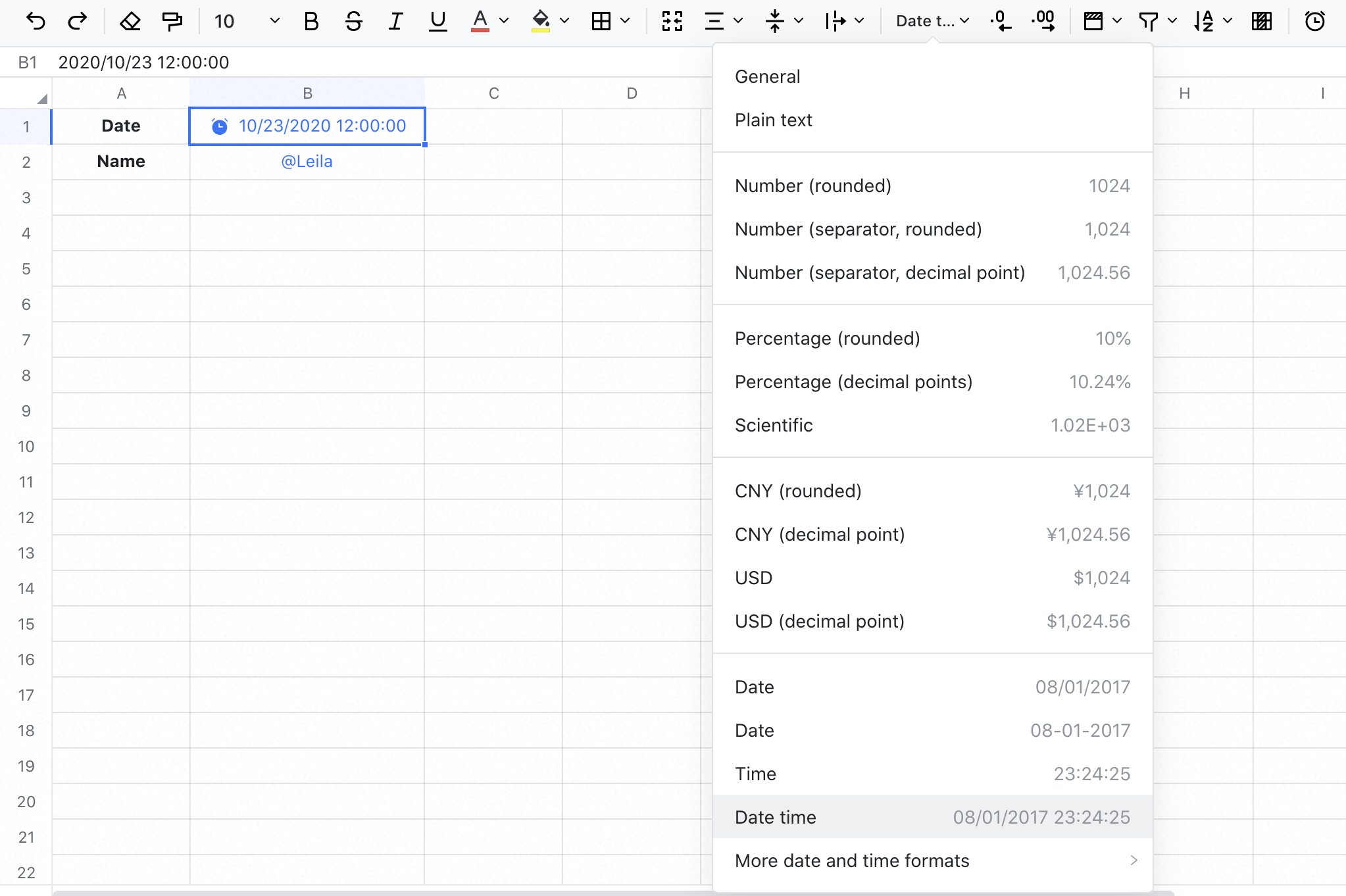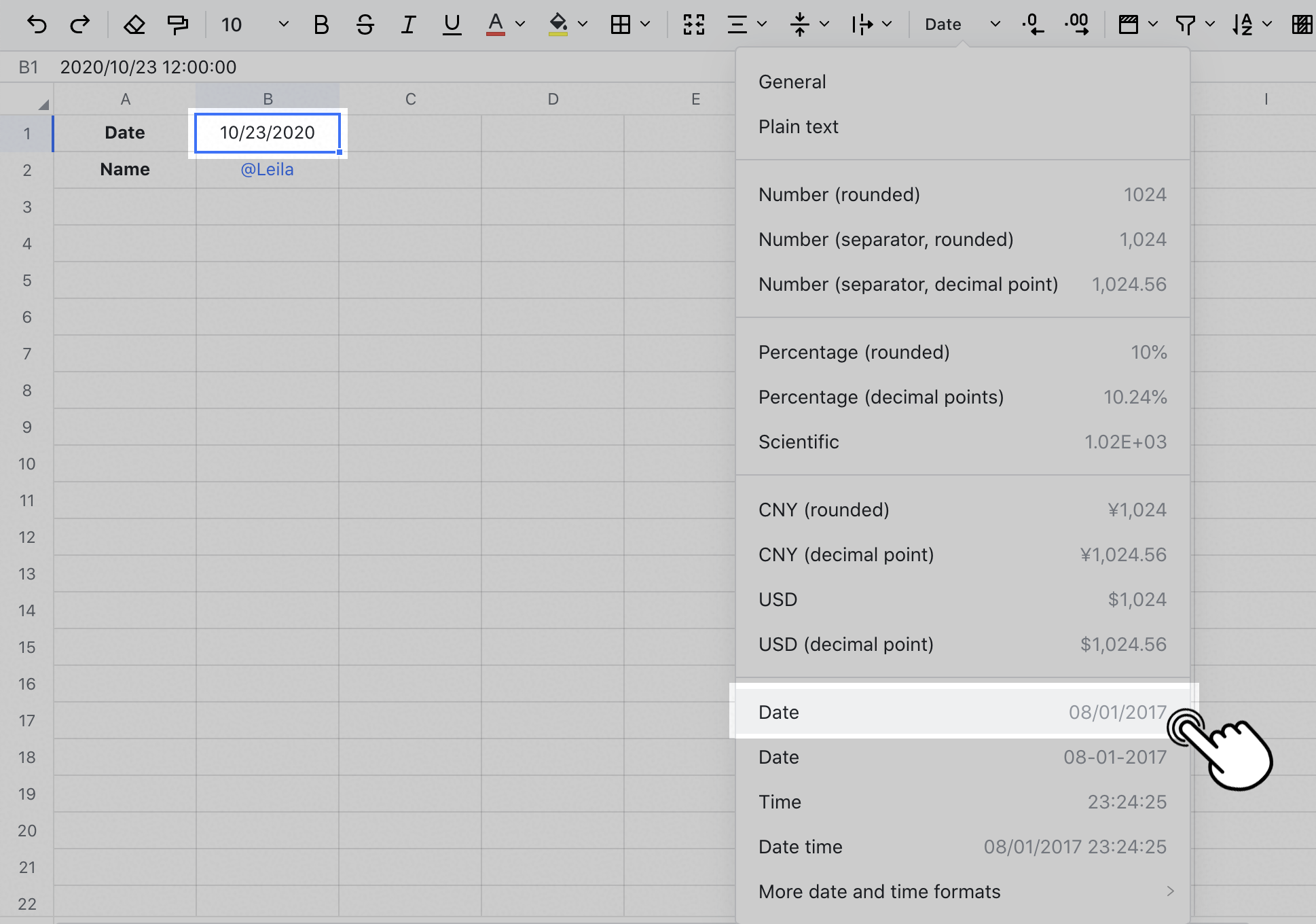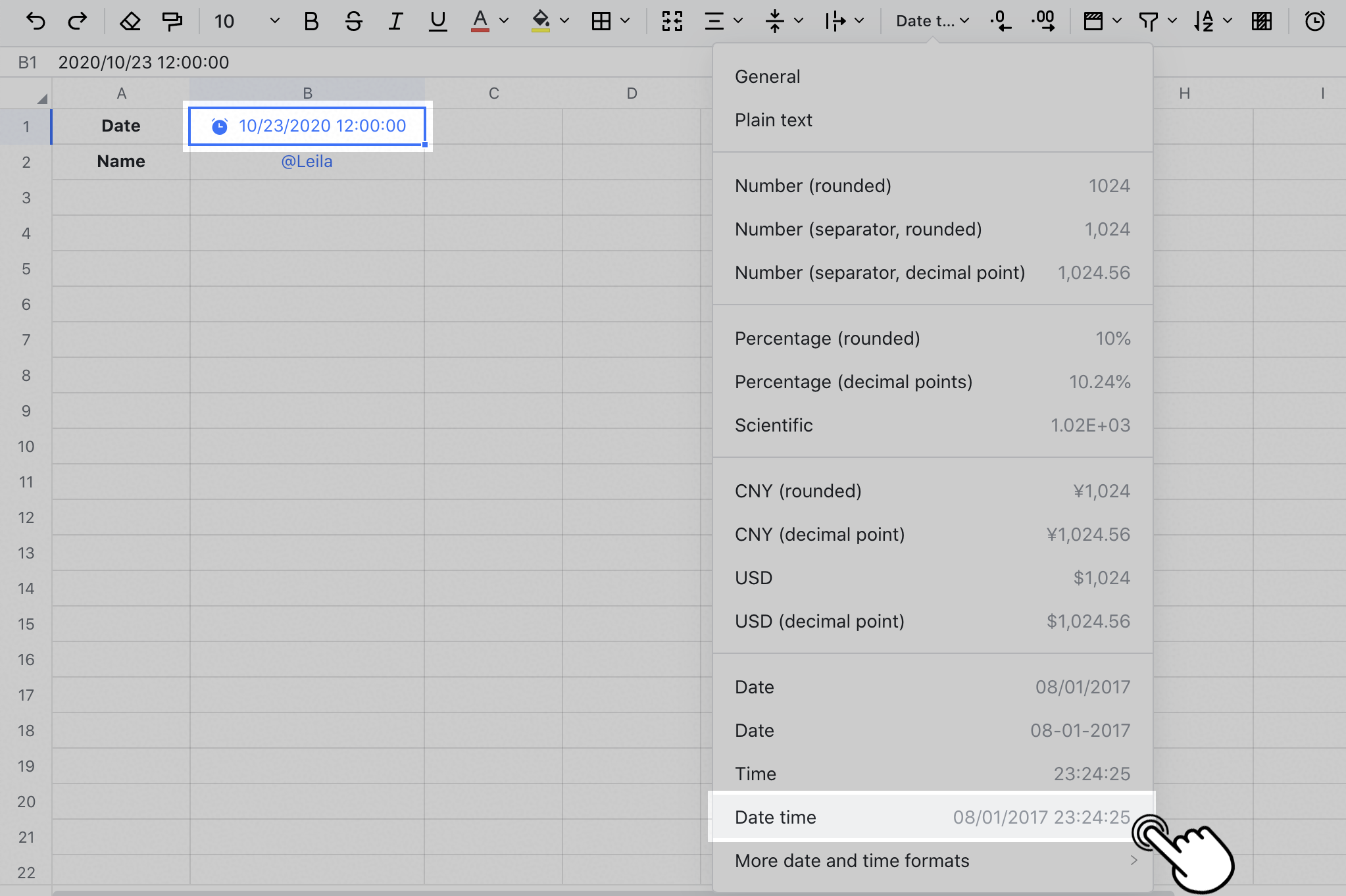 •

​

Date reminder content format:

select the desired cell, and use Font size, text color or Fill color to set date reminder content format.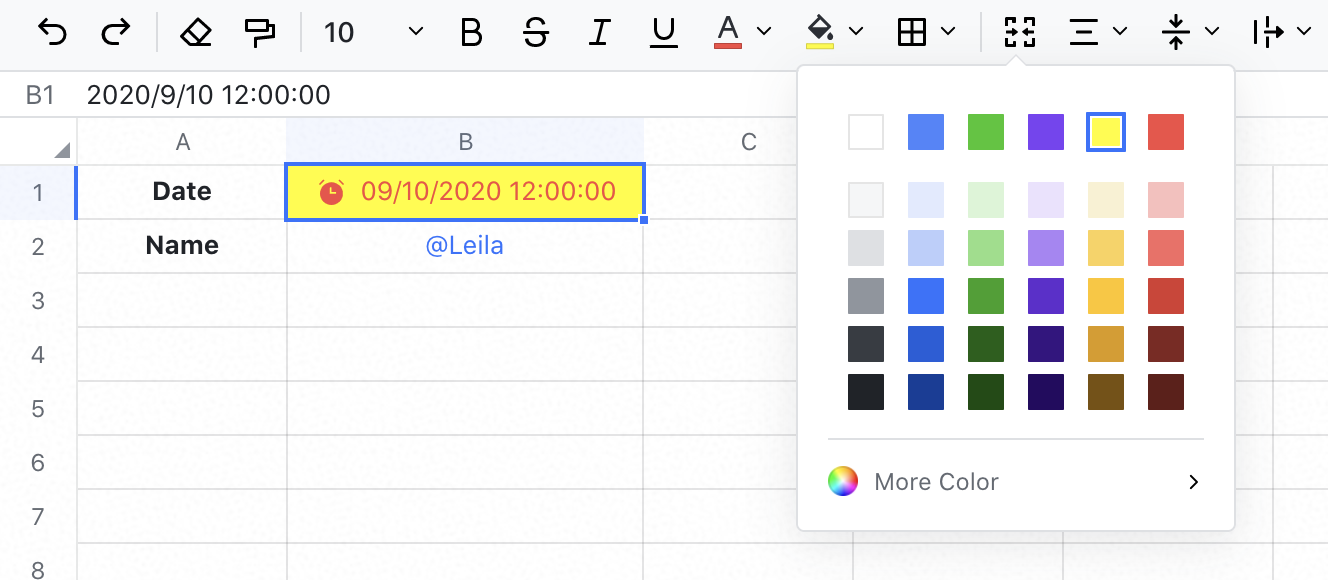 4.

​

Turn off date reminder
Open Date reminder panel, and uncheck
Alert
to turn it off. Once Date reminder is turned off, reminder content will be turned into texts in date and time formats. Notified person and notes will not be saved.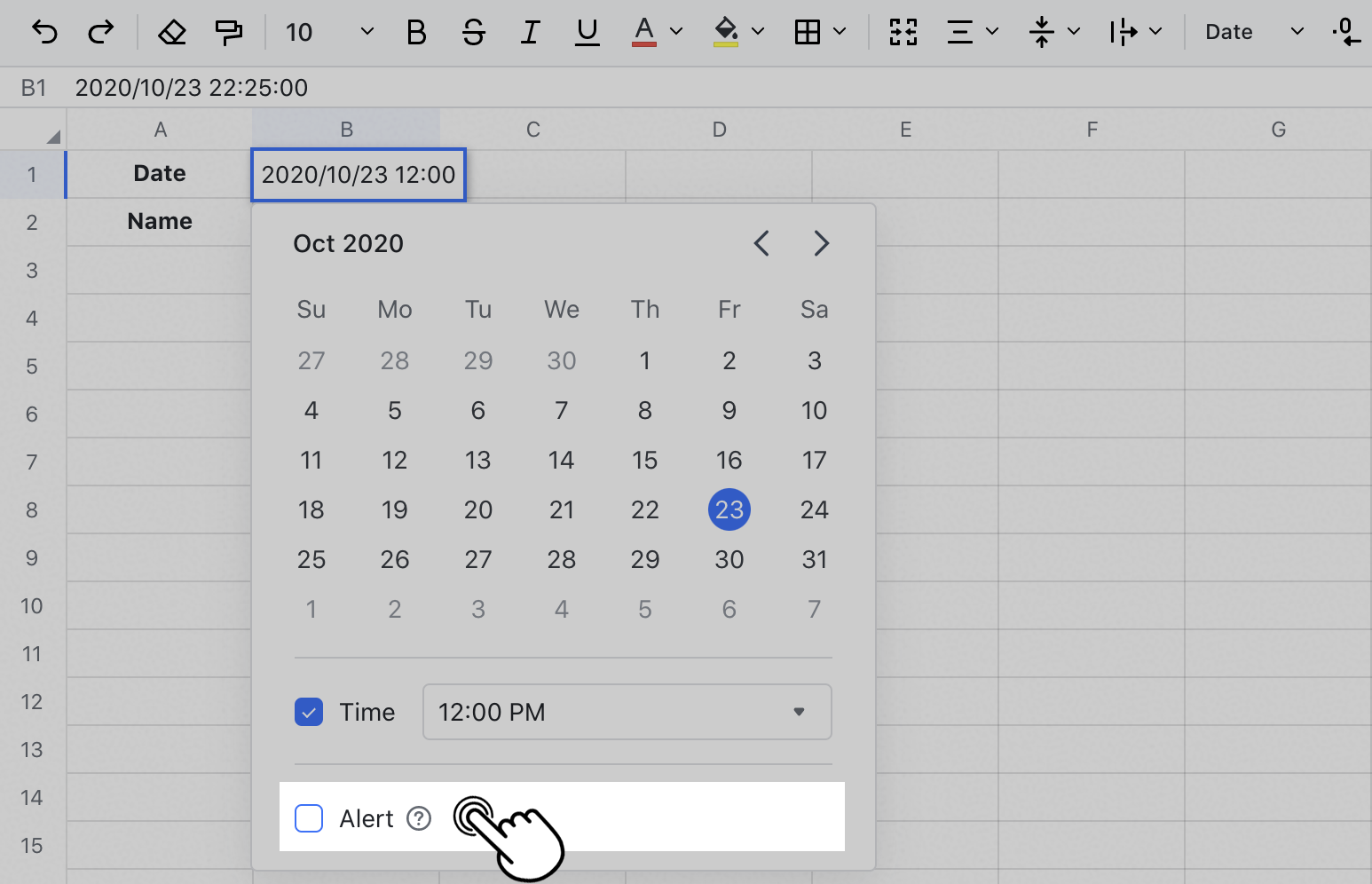 👍 If this article has been helpful, please give us a thumbs up.