HR managers can quickly get started with Feishu Admin to batch import employees, manage onboardings and offboardings, edit employee information and perform other actions in order to effectively and securely manage employee information.
📖 What are the HR feature highlights of Feishu Admin?
•

​

Organizational structure management

: You can manage employee onboardings, offboardings and transfers; approve role settings; add or delete departments and adjust structures; and set department and all-staff groups.
•

​

Employee information management

:

You can set profile display, manage custom fields, and set contacts visibility.
•

​

Workplace settings

: You can configure approval and attendance apps, and add custom or third-party apps for HR management.
💻 As a team HR specialist, what can I do with Feishu Admin?
First, you need to organize the information of your company's employees, adding them to Feishu by inviting them or importing their information. Then you can set up an organizational structure, adjust and transfer related departments and employees as needed. Here's the detailed procedure:
On Feishu mobile app, click the
profile photo
in the upper-left corner -
Administration
to go to
Feishu Admin
. You can also use the
Suite Admin
gadget on Feishu mobile app for more convenience. For other methods to access Feishu Admin,
click here
.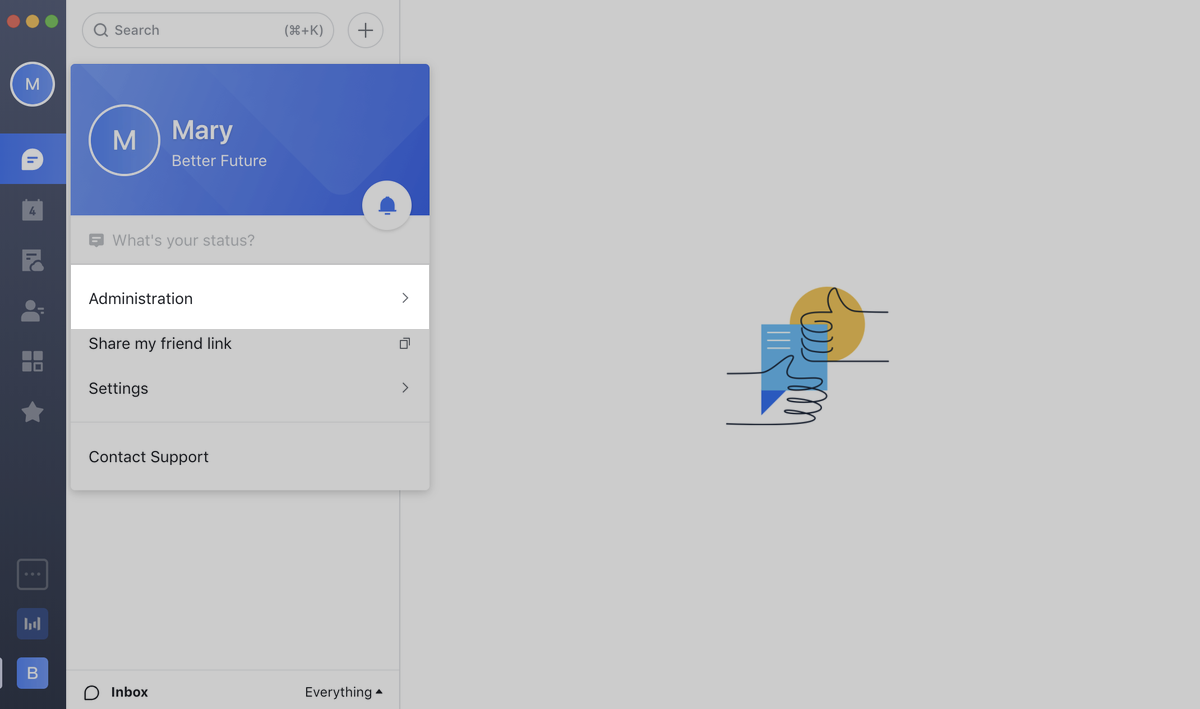 When your team contains a smaller number of employees, you can choose to manually input employees' mobile numbers and invite them to join Feishu. When your team contains a larger number of employees, you can batch import employee information by using an Excel file. Read and follow the instructions to import the information of hundreds of employees in just 10 minutes.
🔎 For more information, see:
Set up or adjust organizational structure
In Feishu Admin, you can restore a complicated organizational structure of a department, create an all-staff or a department group with one click, and make flexible adjustments as needed.
🔎 For more information, see:
Feishu Admin supports resource transfers before an employee is offboarded to well handle the employee's documents, events, group chats and other resources. You don't need to worry about losing valuable company resources due to employee departure or changes.
Feishu Admin supports setting the information to be displayed on an employee's profile page and adding custom fields for employees to meet your personalized needs. For example, you can add employee blogs or work documents.
🔎 For more information, see:
Configure approval and attendance apps
As an all-in-one office suite, Feishu creates an integrated and efficient office experience. It also offers official apps such as
Approval
,
Attendance
, and
Check In
as well as a wealth of third-party apps in
Workplace
. You can get apps for your company in
Admin
-
Workplace
and configure apps' accessibility for employees.
🔎 For more information, see: