Team managers can use Feishu Admin to manage data generated by all members in Feishu, analyze statistics of feature usage, and recover Docs that have been accidentally deleted.
📖 What are the information feature highlights of Feishu Admin?
•

​

Data reports

:

You can view all kinds of data overview and member activity details, and export department data reports.
•

​

Video meeting data

:

You can view data details including the number of meetings, participants, devices and recordings.
•

​

Meeting room management

:

You can manage the status and number of the team's physical meeting rooms.
•

​

File management

: You can manage permissions to view Docs summaries, restore Docs that have been deleted, and transfer Docs within the team.
•

​

Equity data

: You can view storage space and Buzz messages left, and purchase upgrade plans.
💻 As a team information manager, what can I do with Feishu Admin?
First, based on your company's needs, you can view all types of data usage in Feishu, manage Docs, video meeting recordings and perform other actions. You can also manage meeting rooms and the remaining storage space. Here's the detailed procedure:
On Feishu mobile app, click the
profile photo
in the upper-left corner -
Administration
to go to
Feishu Admin
. You can also use the
Suite Admin
gadget on Feishu mobile app for more convenience. For other methods to access Feishu Admin,
click here
.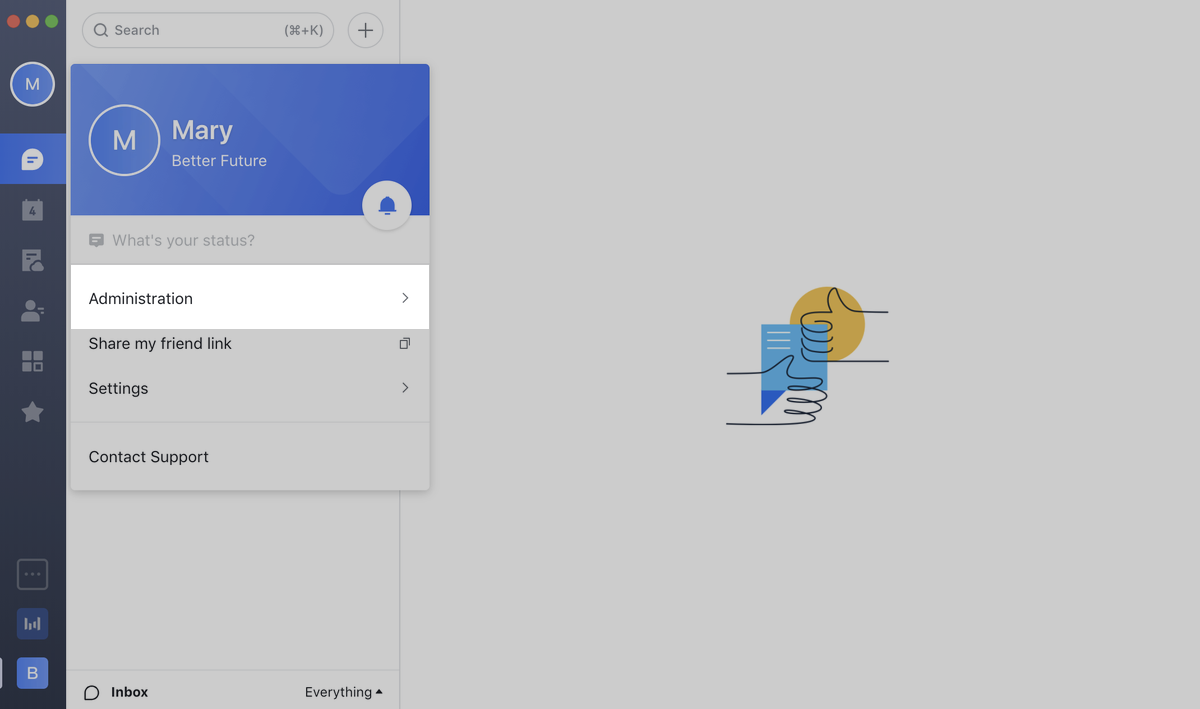 Feishu Admin provides access to a variety of feature usage metrics and support exporting data by department for detailed analysis. For example, you can analyze the numbers of new employees, separated employees, or active users within a specified period of time, or the usage statuses of various features such as the numbers of sent messages or created files. In order to protect data security, only super administrators have the permission to use this feature.
Manage video meeting data
Feishu Meetings supports meeting recordings to facilitate the review of important meeting archives and key information. In
Feishu Admin
-
Feature Management
-
Meetings
, you can view details of ongoing and ended meetings, and summarize all team meeting recordings.
Manage physical meeting rooms
You can input the information of a meeting room in the office area, so team members can view room availability and reserve rooms when they create an event, saving time and efforts. You can also add or delete meeting rooms, or set a room as inactive in Feishu Admin.
What if an employee deleted a file accidentally? How can I free up more space? In
Feishu Admin
-
Docs
, you can view all the files of your company, and batch delete, restore, or transfer the files.
With Feishu free plan, more companies can easily enjoy a first-class collaboration experience. Feishu provides 200 GB of cloud storage space for free. You can go to
Reports
-
My Equity
to view your remaining space and purchase an upgrade plan with one click.